The Huawei Y5 2019 is the latest entry level smartphone from the Chinese manufacturer to launch in Kenya. The phone is available in retail stores for Ksh 11,499 and is the successor to the Huawei Y5 Prime 2018 that we saw last year. As you may have noticed, Huawei has dropped the word 'Prime' from its Y series, maybe the Y has finally reached its prime ?.
If you have been keen on what's happening around the world, then you know Huawei is not in a comfortable place as the trade war between China and the US have forced some American companies to stop working with it. Some of these companies include Google and this has raised serious concerns about Huawei's mobile business. Huawei has assured its customers that its business is solid but some people are still worried.
The business issues aside, the Huawei Y5 2019 is quite an interesting device. It may be the ideal upgrade for those who bought the Y5 Prime 2018 or for anyone looking for a new entry level smartphone that can do what they want it to without breaking the bank. The Huawei Y5 2019 is competing with devices such as the Tecno Spark 3, Infinix S4 just to name a few. All these are great smartphones and the question you may be asking is, should you consider getting the Huawei Y5 2019? This is what we will find out in this review.

Design and Build
It is 2019 and how the phone you are using looks and feels is important. The Huawei Y5 2019 has a good build and this is thanks to the faux-leather back cover. It just looks different compared to the other smartphones around the same price range. Everyone I have shown this phone to was impressed and some people even thought this was a phone case. It looks like real leather from a distance and is the same style we saw on the Huawei Y6 Prime 2019 from earlier this year.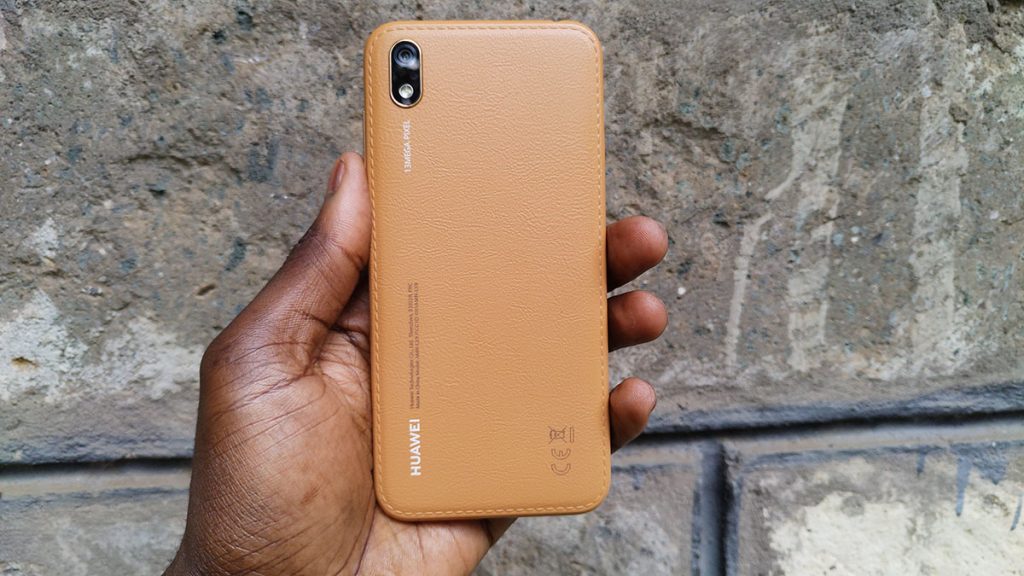 This type of back cover provides a comfortable grip when using the phone. It is not slippery at all and combine this with the phone's small size, there is no way the phone could slip from my hands. At the back sits a 13MP camera with LED flash but there is no fingerprint scanner. I am not sure why the company thought this is not important as I prefer having it in addition to face unlock.
The usual ports and buttons are available including the power and volume buttons on the right and SIM/Micro SD slot on the left. The SIM tray can accommodate two 4G SIM cards at the same time as the phone supports dual 4G VoLTE. The headphone jack is at the top and the Micro USB port is at the bottom.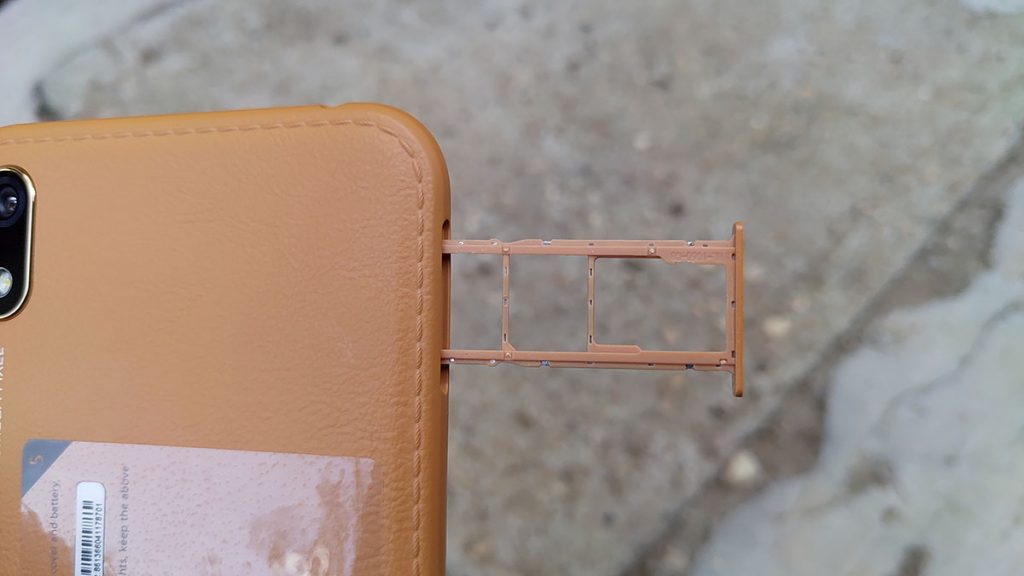 With the phone's small size, those who are not fans of the latest gigantic phones will feel at home. You will have no problems using this phone with one hand. It feels compact without feeling tiny and I love that.
The Display
With a 5.71-inch display, the Huawei Y5 2019 is not a huge smartphone. As I have mentioned above, this display is easy to use with one hand. I can easily reach all corners of the phone with ease. The display itself is on the cooler side and is brighter than some of the other smartphones it is competing with including the Tecno Spark 3 and the Infinix S4. I compared these phones and the Y5 2019 has very bright whites and may be the perfect one to use in different lighting conditions.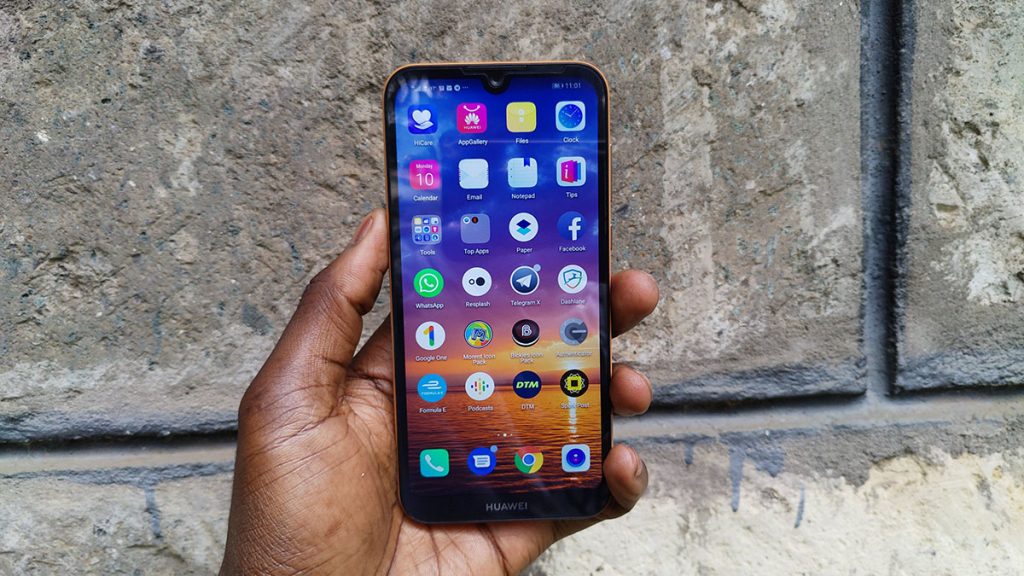 Speaking of different lighting conditions, the Huawei Y5 2019 can automatically adjust the displays brightness depending on the lighting around you. It does a good job at this compared to some of its competitors that I have mentioned above. I feel like this is something I have to mention as most entry level smartphones struggle with auto brightness but this has not been the case with the Y5 2019.
The colours are not the most vibrant with this display but that will not a big deal for most people. I got the Huawei Y5 2019 right after using the more expensive Huawei P30 Lite so it was easier for me to notice the difference between the two. Either way, the display on the Y5 2019 is still good and you will still have a good experience overall.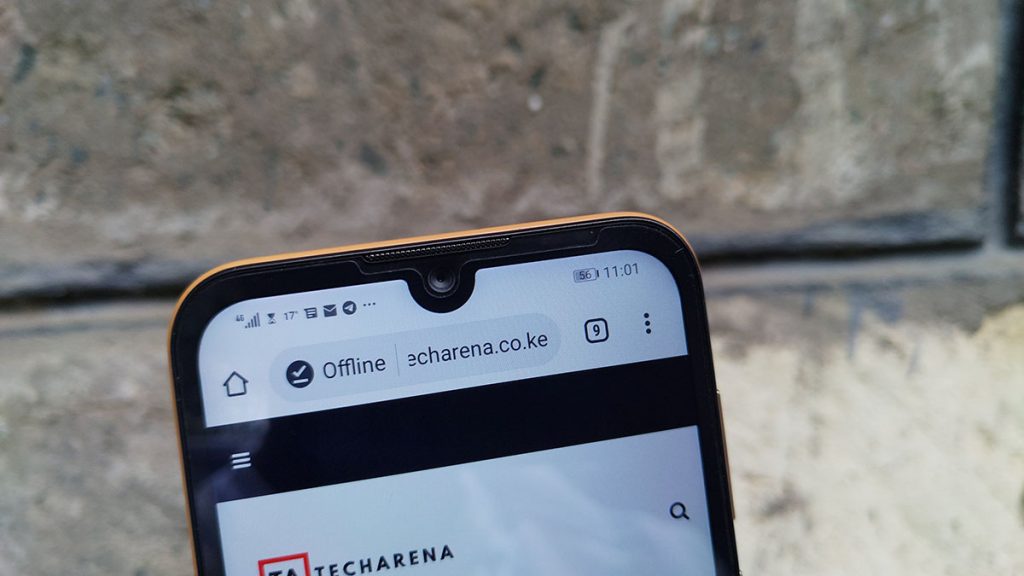 If you are into media consumption, this display is not that bad for that. For its price, it provides aa good experience with accurate colour reproduction and decent viewing angles. It is not a fingerprint magnet and my experience so far has been good. All I would want Huawei is to bump up the resolution a bit for an even better experience.
There is a waterdrop notch on this display but those who do not want it there a free to hide it under settings. The notch chops off videos on platforms like YouTube but not to an extent that annoyed me.
Software and Performance
Compared to the Huawei Y5 Prime 2018, the Y5 2019 offers a big improvement in performance. The Huawei Y5 2019 is powered by a 2GHz MediaTek Helio A22 Processor that is paired with 2GB of RAM and 32GB of internal storage space. This is a big improvement compared to what we saw on the Huawei Y5 Prime 2018.
Also Read: Huawei Y5 Prime 2018 Vs Huawei Y5 2019
Performance has been improved and I noticed that when I compared this phone to the Y5 Prime 2018. Apps open very fast and day to day tasks do not present any issues at all. I even managed to play a few games and the phone did not struggle in any way.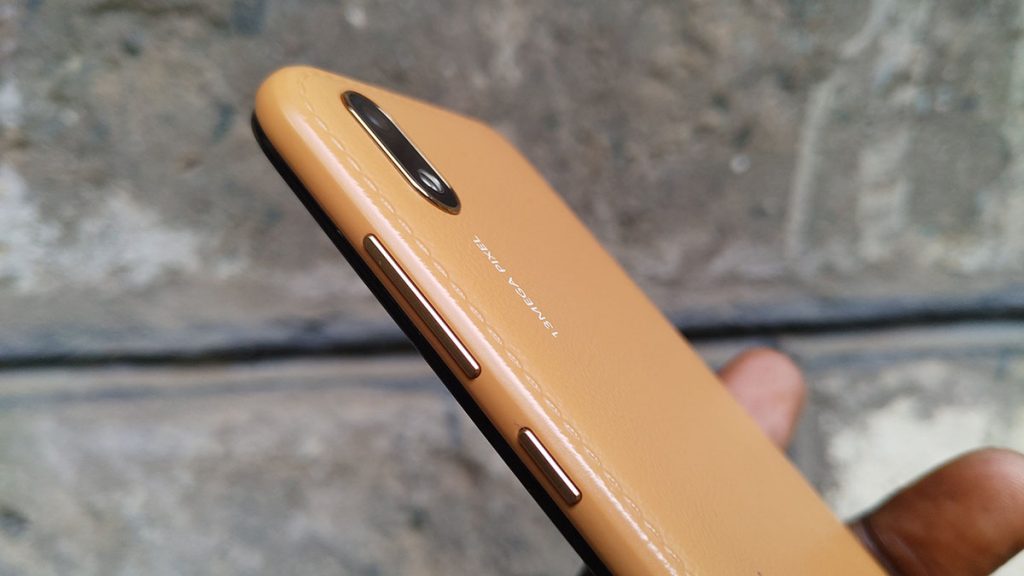 My only issue with this phone and its predecessor has to do with RAM management. The phone is very aggressive at this and this may be an issue when multitasking. You may be chatting on WhatsApp with someone and you hop on to a different app for a minute or so. When you come back to WhatsApp, you will find it has to restart and does not pick up from your chat. This can be frustrating to those who are always switching between different apps all the time. I do get that Huawei does this for improved performance but if the overall experience takes a beating, is it really worth it?
Besides my issue with RAM overall performance has been good. For day to day tasks, this phone runs smoothly and this is key considering its price. Most phones within this price tend to be frustrating but the Huawei Y5 2019 is not. If you are not a heavy user, you will not have any issues with this phone, it will do what you want it to without any problems. You are also getting 32GB of internal storage space as standard. You can use this to store all your photos and music in addition to installing all your favourite apps.
For the software, the Huawei Y5 2019 comes with EMUI 9 which is based on Android 9 Pie. The one thing I have always loved about EMUI is it comes with a ton of extra features we do not get on stock Android or other Custom UIs. These extra features improve overall performance and make the phone worth having compared to the others on the market.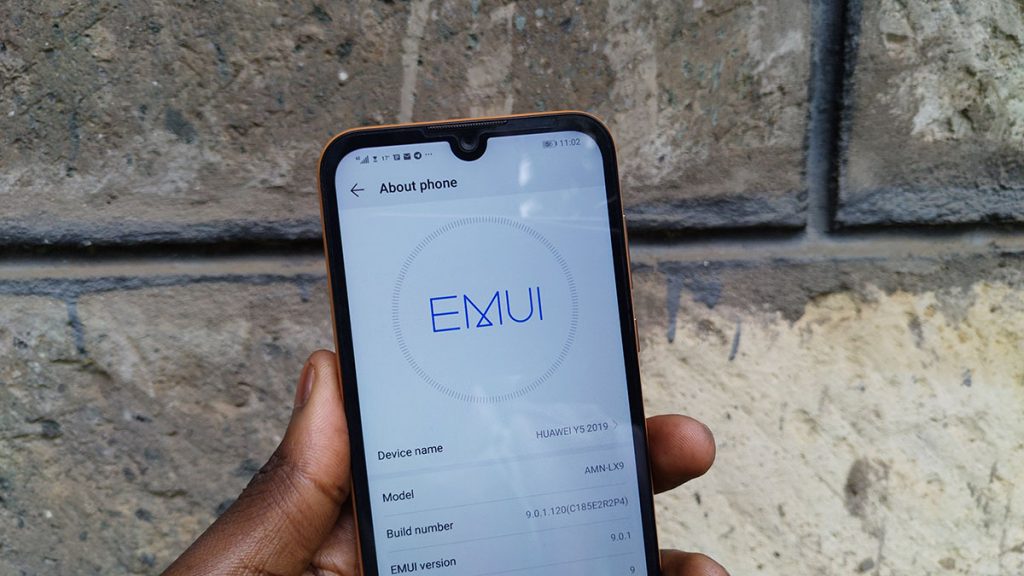 EMUI 9 has support for gesture navigations over on-screen navigation. Huawei has done a good job implementing this compared to what Google has done with Android Q. I have activated gesture navigation on this phone and it feel more natural than what any other Android manufacturer has done. I am planning to do a complete review of EMUI 9 to highlight some of its unique features as including them here will make this post long. To make sure you do not miss that, make sure you visit our Telegram channel here.
The software experience is good since it is finetuned by Huawei for its smartphones.
Cameras
I was really surprised with the performance of the cameras we have on the Huawei Y5 2019. This is not a camera-centric device but it does a good job. The back camera has a 13MP sensor that does a good job when outdoors. This is where the camera shines as it struggles a lot when indoors and I did not even bother trying to get more photos of that. When outdoors, it does pump up the saturation a bit but does it does not get out of hand. You still get realistic shots that are worth sharing online.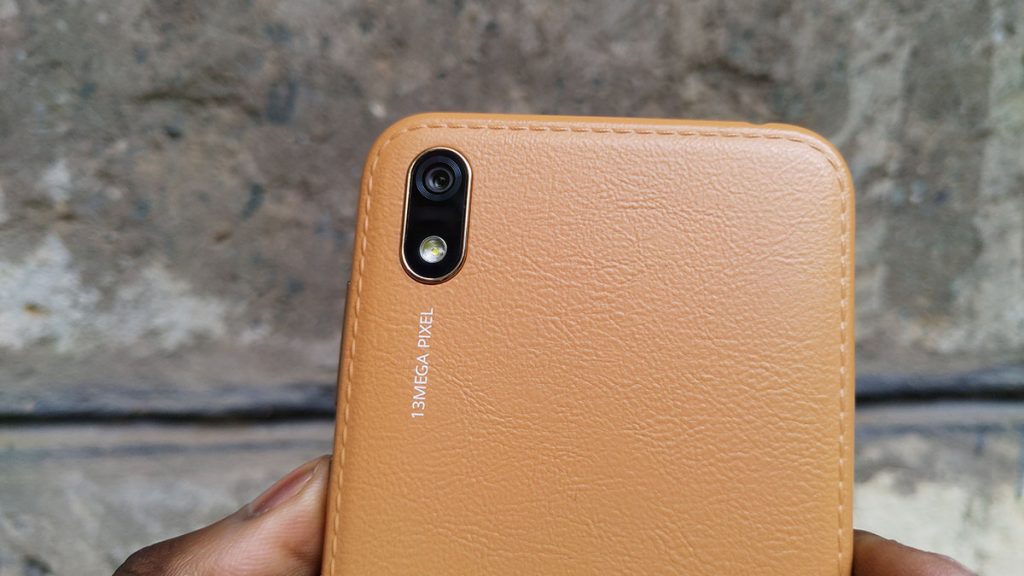 The camera has a Professional (pro) mode which is something we do not get to see on most phones within this price. With this option, you can adjust some of the camera settings before taking a photo. This is perfect for those who want more control when taking their photos. In addition to the pro mode, there is also a panorama and HDR option. For videos, you can record up to 1080p videos, an added advantage missing from some of the other phones it is competing with.
The selfie camera is a 5MP one that is also perfect for outdoor shots. It does a decent job at that and comes with a really good beauty mode that is not as aggressive as what we see on smartphones such as OPPO. When the lighting is not so good, the front facing flash is automatically switched on even before you press the shutter button to make sure the selfies you get are worth sharing. The front facing camera can also record Full HD videos, another option differentiating this phone from some of its competitors.
Below are some samples I got with the front and back cameras of the Y5 2019.
Battery
The one area where entry level smartphones shine is in battery consumption. Most of them will last an entire day, two or three depending on your usage. The Huawei Y5 2019 has a 3020 mAh battery, not that big, but could last me for an entire day with heavy usage. This phone is not power hungry so battery consumption is not out of control.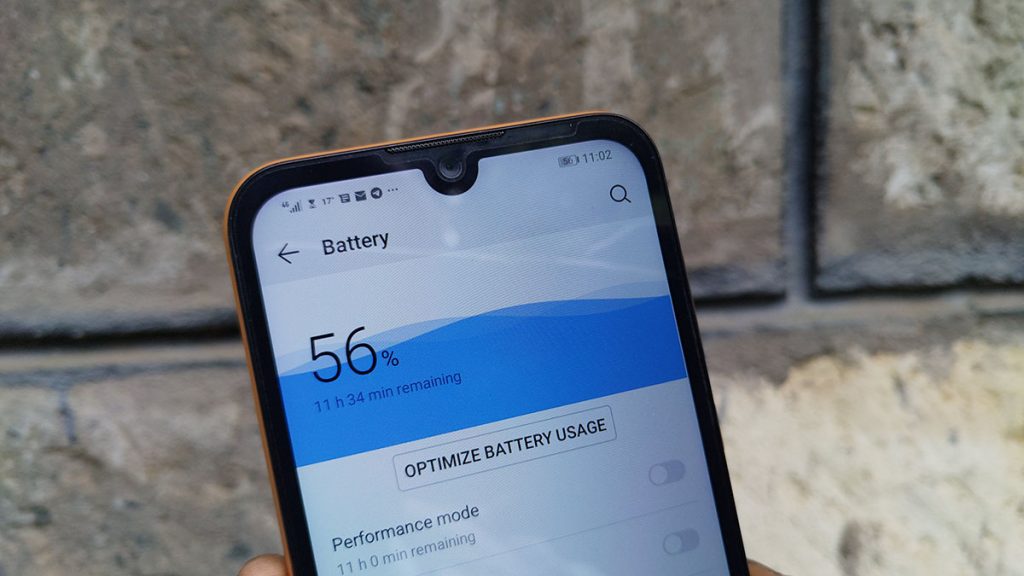 EMUI has two extra battery optimization settings that can get the battery to last longer. These are just some of the features that make EMUI stand out and I find the ultra-power saving mode to be useful when you are running low on battery and are not near a charging port. Switching it on gives you access to a few apps that you choose and limits background processes to ensure the battery life is extended. By activating this, you can extend the battery life by up to 80 hours depending on the amount left.
Since this phone does not support quick charging, I use the ultra-power saving mode when charging to get it to charge faster and surprisingly it works.
Conclusion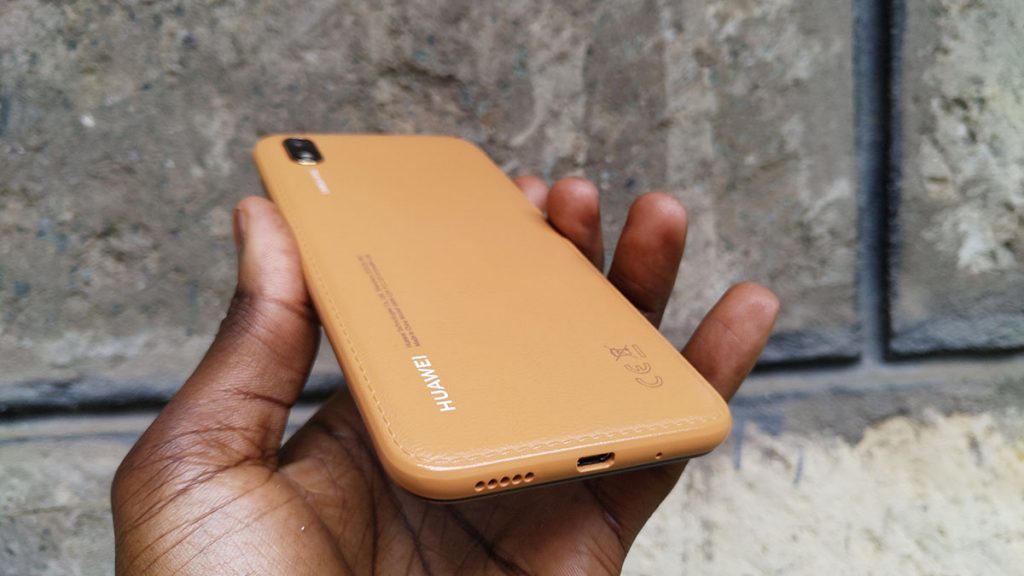 The Huawei Y5 2019 comes to the market at time when Huawei is on the hot seat with the issues it has with the US government. That may overshadow what this phone has to offer but I do not think it should. This is a good entry level smartphone that does what it promises. It is priced well and the only issue I have is with RAM management. It is a well-built phone that I would recommend for anyone who wants a reliable phone at this price. It does not do a good job in the camera department as the likes of the Infinix S4 and even the Tecno Spark 3 but holds its ground to some extent.
What I Like
Design and Build quality
Good performance
Very good battery
EMUI has so many useful features
What I didn't like
Cameras could have been better
RAM management is very aggressive
Now Read: The Huawei P30 Lite Review