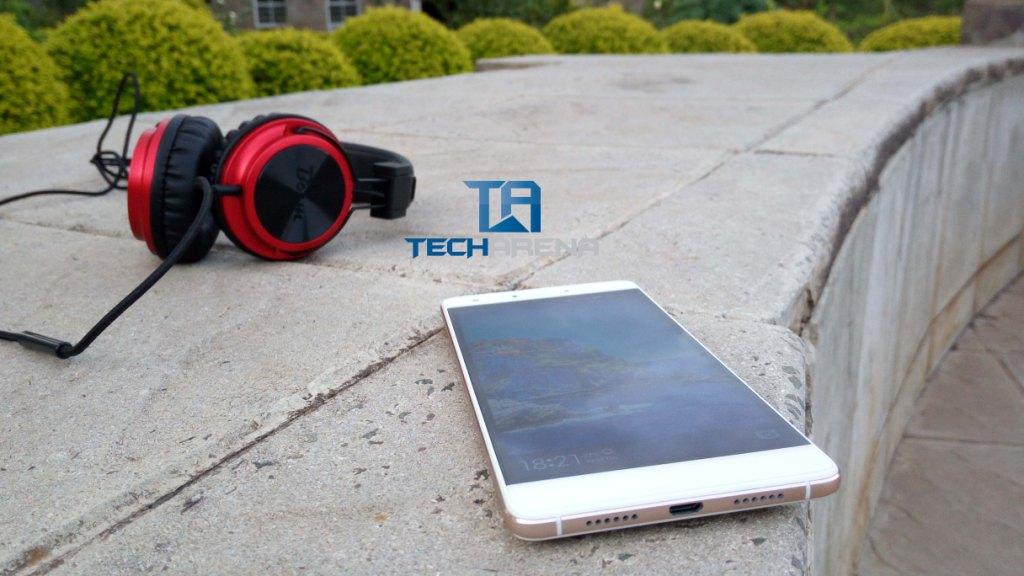 The hype is almost dying down, it's been exactly two weeks since I got my hands on the Boom J8 and 10 days since the official launch by Tecno at Garden City Mall during their first "Brand Day".
Tecno Boom J8 is an update to last year's Boom J7 and – spoiler alert – it is a BIG update! As promised, this review would be different from the rest. We will look at what the average user cares about and not what we geeks care about, but if you're interested in checking the detailed specs list, the link is right below:
Read More: Tecno Boom J8 Specifications
If you have a thing for boxes and product presentation, check out our unboxing and first impressions:
Read More: Tecno Boom J8 Unboxing and First Impressions
Now let's get to it:
Design


I will not pretend that this phone does not look like a certain overpriced "fruity" phone: the curves, metallic frame, placement of the cameras and sensors, even the bottom speaker grills (btw, only one is a speaker and the other is a microphone – I feel cheated). This design is a good thing as well as a bad thing. I got so many positive comments about this phone, it is very attractive, feels super premium – I dare say more than the Phantom 5, but it shows lack of creativity on Tecno's part.
About the phone being slippery, this was the case only for the white variant which has a soft-touch plastic back, the black one has a sandstone finish making it easier to handle and grip.

The Boom J8 has a 5.5″ HD IPS Display, so yeah it is big, but with the current trend in phone sizes, I just happen to love this size. Plus it is slim enough to handle without a lot of hand-gymnastics. Although there is that annoying black strip along the screen border that increases the bezels, it's not a big deal but don't I wish it wasn't there.

You can't see it in the pictures above, but there is a hidden notification light at the bottom-front of the phone that Tecno refers to as "breathing light" and it is super sleek – probably the best and most unique feature.

Software
When you turn on the device, you're greeted with Tecno's new user interface, HiOS. If you have not heard of HiOS before, check out the link below. Here's where the disappointments start, well kinda, HiOS runs on top of Android 5.1 Lolipop, being that we're in April of 2016, many many months after Android Marshmallow was released, you'd think Tecno would get the hint. Anyway, the software experience is good, but not great (I hate the icons, but awesome animations). There are the usual gimmicky additions to the software such as double tap to wake/sleep, drawing certain letters on the screen to launch quick apps, such as an 'M' for music and 'C' for camera, a few customizations (themes and font) and neat battery saving options (Hi Manager). The best part of the software are the music-centered features and this takes us to our next step, the music experience.
Read More: Tecno's HiOS First Look
The Music Experience

Being a music phone, Boom J8 has some neat tricks under the hood. The default music player is the Boom Player, that has Boom Maxx for tweaking the sound and doesn't it work great! Once you turn on Boom Maxx, the sound that comes off this phone is great, even the loud speaker has some bass to it and it is very loud. To add on to that, the breathing light we mentioned earlier, synchronizes with the beat of the song you're listening to and flashes as if it is dancing to it (reminds me of Sony Xperia SP).
Read More: Tecno Boom Player Review

Did I mention the Boom J8 comes with Boom Headphones? Yeah, it does. As part of the music experience, Tecno decided to go with free headphones instead of earphones as an accessory. I commend this move but I have a few issues, the headphones always hurt my ears, and no, not with the loudness but the cusion is not comfortable. I gave it to a couple of other people and got the same feedback. The build quality is just meeh, no premium material here, so they definetely do not coincide with the phone's build. As for the sound, I'd give it a 6 out of 10, the bass is there but on the minimum. I found myself using my personal earphones most of the time. Without considering my disappointment with the Boom Headphones, I am utterly impressed by what Tecno have done with the music experience on this phone.
Performance

So how does the Boom J8 perform when you're bored with listening to music and decide to play a game maybe switch between multiple apps? The answer is really well. In my short time of trying to torture this device, I only managed to make it heat up alittle but never slowed it down. The 2GB RAM on this device works great. Apps open fast, even switching between two running apps is flawless, rarely did I have to wait for an app to refresh when I switch back and forth. Great job Tecno.

Camera

I know this is a music phone but it never hurts anyone to have a great camera coming with such a beautiful phone. I wish this was the case, I really wanted to love the camera but I was disappointed. The 13MP back camera takes good photos in bright sunlight, decent enough to share on social media but when the light goes down, so does the quality of the image. The 5MP front camera, despite having a blinding front-facing flash, suffers from the same issue. The quality is better than some "things" I have seen before, Tecno is probably saving their better camera for the next Camon device (Camon C9?). Have a look at the images below to see for yourself:

Battery Life

This is the biggest concern of everyone without a power bank, or those tired of walking around with power banks bigger than their phones.
Good news, you can now throw away your power banks – or give them to iPhone users. The 3000 mAh battery on the Boom J8 is great (I have used this word too much). I have never felt the urge to plug in the device in the middle of the day, even when I am using the device to take photos, videos and listen to music while playing games (ok, here you will have to plug it in). I have started my day at 8am with the device at 100% and it will get to 8pm when it is between 30% and 40%. However it is important to note that it takes over 3 hours to charge it from 0% to 100% (disappointment). Geeks can enjoy the screenshots below:





Verdict


Having looked at how the phone puts up on a daily basis, it is time to present my verdict. The Boom J8 has a great design, even though it is copy/paste, the addition of the breathing light makes this fact bearable. The camera is not great, especially in low light but it is a music phone and it does the music part like a boss. I didn't like the headphones though, I would prefer really high quality earphones instead, as I do not have to deal with the bulk. The battery life *hat off* is awesome on this phone, I wish it had Android Marshamallow to make it even better but HiOS does a good job for now.
So, for a price of Ksh. 16,999 ($168) is this phone worth it? There is no perfect phone and Tecno sacrificed the camera on this phone for a great design, build quality and amazing music experience. With that I conclude, the Tecno Boom J8 is worth every coin.