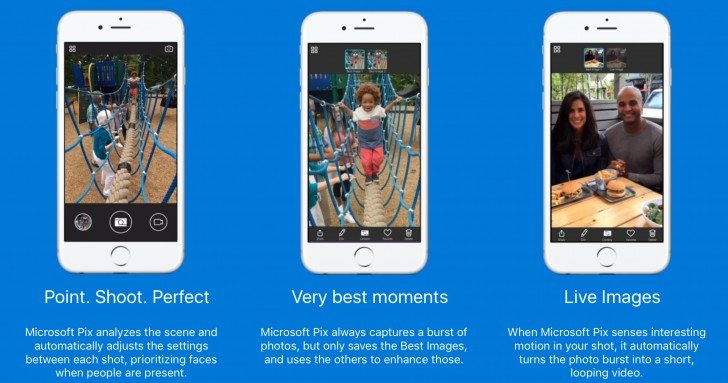 Microsoft has been focusing on smartphone apps the last couple of years as it tries to make sure more and more people are using its products no matter which mobile platform they are on. The company has a number of apps that can be downloaded for free from the Apple app store and the Google play store.
The latest app from the company is the Microsoft Pix that is available for iOS users. This is a camera app that the company says can take better photos compared to the default camera app on your iPhone.
Microsoft says that this app makes use of Artificial Intelligence (AI) to tweak your photos and videos you take to ensure you end up with the best of the best. When you take photos or are recording videos, Microsoft Pix will boost exposure by recognizing faces and other objects, keeps colors as accurate as possible and reduces noise to ensure the end result is something you will not be embarrassed when you share on social media.

Microsoft Pix supports Live image similar to Apple Live photos. Microsoft has revealed that this is a much better feature than Live photos since it eliminates camera instabilities and exposure inconsistencies.
Microsoft has revealed that Pix has been made using the same technology as its Hyperlapse app and this helps to stabilize videos. This the company says produces videos that are much better that those produced by the Apple app. This has to be proved as we cannot just take Microsoft's word as the gospel truth.
As for device support, the Microsoft Pix supports iOS 9 and above. This means that if you own the iPhone 5s, iPhone SE, iPhone 6, iPhone 6 Plus, iPhone 6s, and iPhone 6s Plus, you can get it on your device without any issues.
Microsoft is yet to reveal if this app will be available on Android and Windows Phone.
Also Read: Prisma Serve Issues Due to Overcapacity Will Be Resolved in A Couple of Days