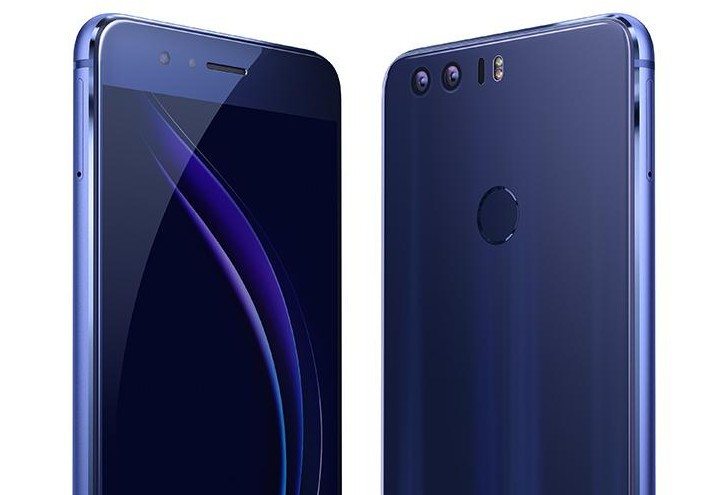 For a few months now, we have been hearing a lot about the Huawei Honor 8 smartphone. The Huawei Honor series is made up of affordable devices with better specs when you compare them to devices offered by other manufacturers. The Honor 8 takes over from the Honor 7 that was unveiled in 2015 and will be the premium device in the Honor series.
The Huawei Honor 8 has finally been launched and from its specs, it is clear that it borrows a lot from its big brother, the Huawei P9. Starting with the display, it comes with the same 5.2 inch one with a resolution of 1920 x 1080 pixels.  Powering this phone is the Kirin 950 processor coupled with 4GB of RAM and 32/64GB of internal storage space. The processor used on the Honor 8 is older compared to the Kirin 955 found on the P9 and this is one of the things Huawei has done to keep its price down and differentiate it from the P9. There is a 3GB model which has 32GB of internal storage space.
Read: The Huawei P9 Unboxing and First Impressions

The Huawei Honor 8 comes with the same 12MP dual camera setup you find on the flagship P9. This is one of the main selling points Huawei is using to push the P9 and it looks like the company wants those purchasing the Honor 8 not to be left behind. Still at the back is where you will find the fingerprint scanner. The front facing camera on the Honor 8 is the same 8MP one which is perfect for all your selfies and video calls.
For the OS, the Huawei Honor 8 comes with Android Marshmallow with EMUI 4.1 on top. This is the same software you will find on the flagship P9. As expected, the phone supports 4G LTE and has dual SIM functionality, One of the SIM slots can also be used microSD card slot.
Providing all the power is a 3,000 mAh battery with fast charging. This battery can be charged using the USB Type-C port similar to the one on the P9. The fast charging feature is not the best on the P9 that a reviewing and I hope the one on the Honor 8 is much better.
Pricing and Availability
The Honor 8 will be available in China as from July 19. The 3GB/32GB RAM version will retail at $298 (approximately Ksh 30,000), the 4GB/32GB RAM model will be available for $343 (approximately Ksh 35,000) with the 4GB and 64GB model will be available for $373 (approximately Ksh 38,000).
Available colors include Pearl White, Sunrise Gold, Midnight Black, Sakura Pink, and Sapphire Blue.
Also Read: Huawei Officially Unveils the Honor 5A with 2GB RAM, 13MP Camera and A $105 Price Tag