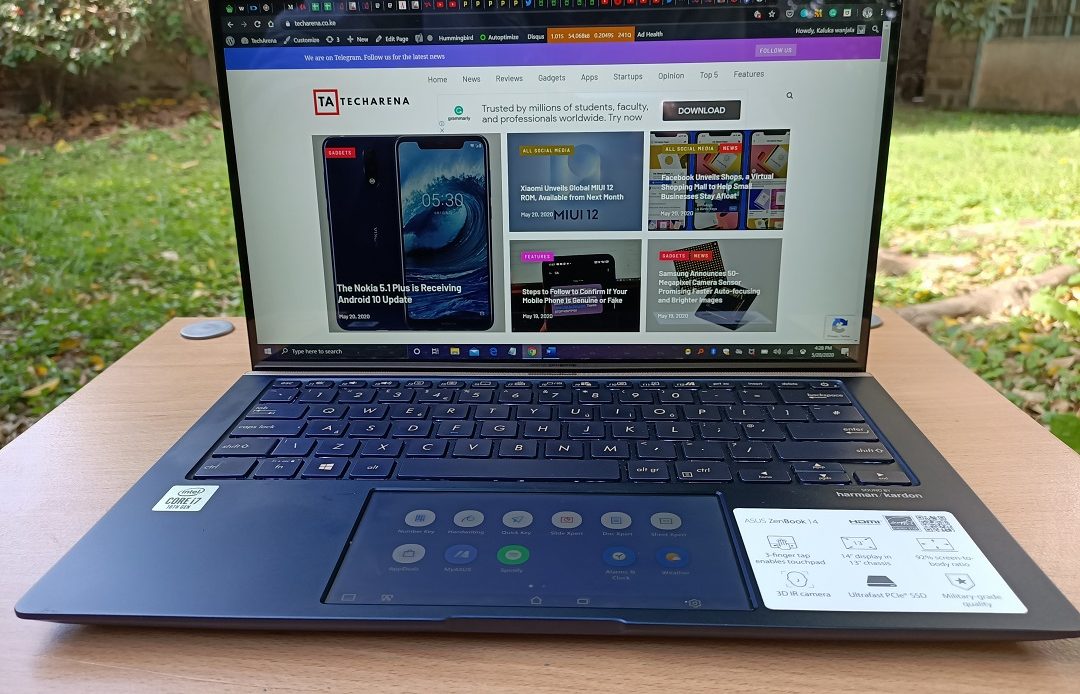 The laptop market has always been competitive, there are so many players with devices in different price segments targeting different buyers. Asus is one of the players in this market and the ZenBook series is one of its top of the line devices. These compete with some of the best laptops in the world and they are made for creatives and other professionals.
I have been using the new ASUS ZenBook 14 (UX434F model) for a while and in this post I will share my thoughts on it and if it is a laptop worth buying.
The new ASUS ZenBook (UX434F) is pretty much the exact laptop you would have in mind when looking for a premium and modern laptop. It is lightweight to easily carry it around at about 1.3KGs, has very powerful internals, good display, offers awesome typing experience and is built to last. Fun fact, this review was written on the same ZenBook 14 that I am revieweing.

Before we get to the review, let us look at its key features.
| | |
| --- | --- |
| Display | 14-inch, 1920 x 1080 px resolution, NanoEdge, |
| Processor | 1.8Ghz Intel Core i7-10510U |
| Graphics | Intel UHD Graphics 620 |
| Storage | 512 GB |
| Memory | 16GB DDR3-2133 |
| Ports | 1 USB 2.0, 1 USB 3.1 Gen1, 1 HDMI, Audio Connections: 3.5mm, Card Reader: microSD, USB-C |
| Battery | 50 Wh Lithium-Polymer, 3-cell |
| Operating System | Windows 10 (64bit) |
| Keyboard and Trackpad | Backlit keys, Precision trackpad |
Pricing and Availability
The ASUS ZenBook 14 UX434F is available in Kenya for Ksh 140,000 and you can get it from Bright Technologies located along Kimathi Street. This is not cheap and this review will help you decide if it is worth your money.
Design and Build
The ASUS ZenBook 14 is a premium laptop and that is evident from its design and build quality. It feels premium from the very first time you interact with it. You will also notice how small and light the laptop is from the first time you carry it. ASUS has said that this is the world's most compact laptop and I believe them. The lightweight and small nature makes it perfect for business settings and travel.
You get a very clean look on the outside with the ASUS logo on the outer shell. The Royal Blue colour give it a professional and luxurious feel to it. There are a number of ports included with the power button, HDMI port, USB 3.1 Type A and USB 3.1 Type C ports on the left of the laptop. The USB Type C port is included but you cannot charge through it, I would have loved if that was an option. On the left we have the card reader, USB 2.0 port and the headphone jack.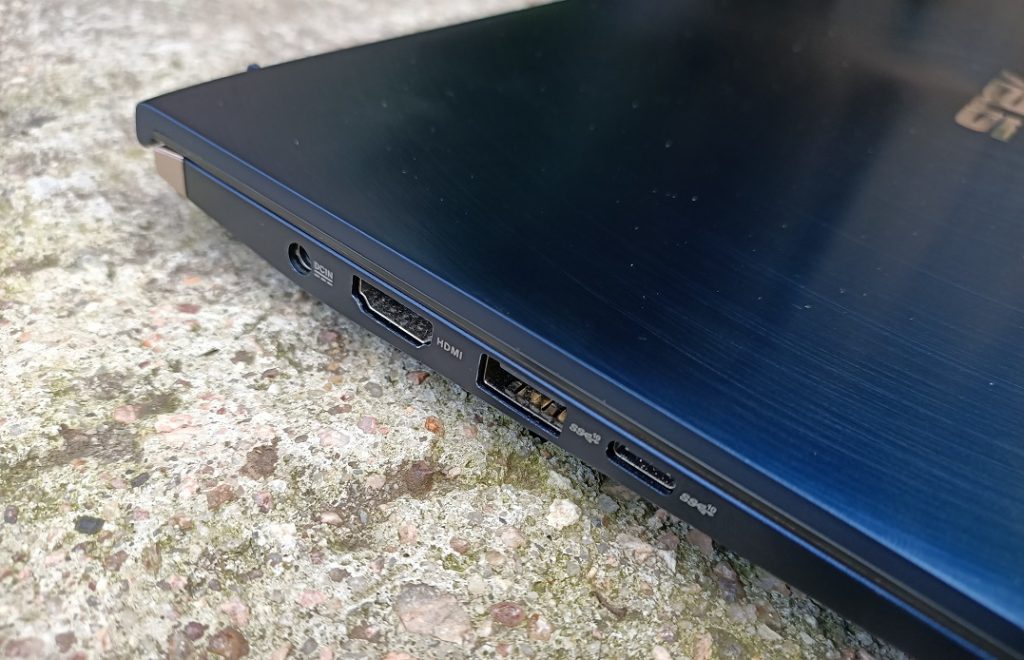 Opening the laptop we get to see the Ergolift design that ASUS has kept in this series. With this, the laptop is lifted up a bit when you open in and this makes for a comfortable typing experience as well as allowing for the smooth flow of air.
The gold accents are evident on this laptop with an entire stripe above the keyboard giving it a very premium touch.
The keyboard feels sturdy and typing on it feels good. I do type a lot and had to mention that as I have used many laptops before and the typing experience varies with some being very bad but on this one, it is very good. The one thing I do not like about the keyboard is how the power button has been included in that and placed very close to the delete and backspace keys. I have found myself powering off the laptop when I just wanted to delete something.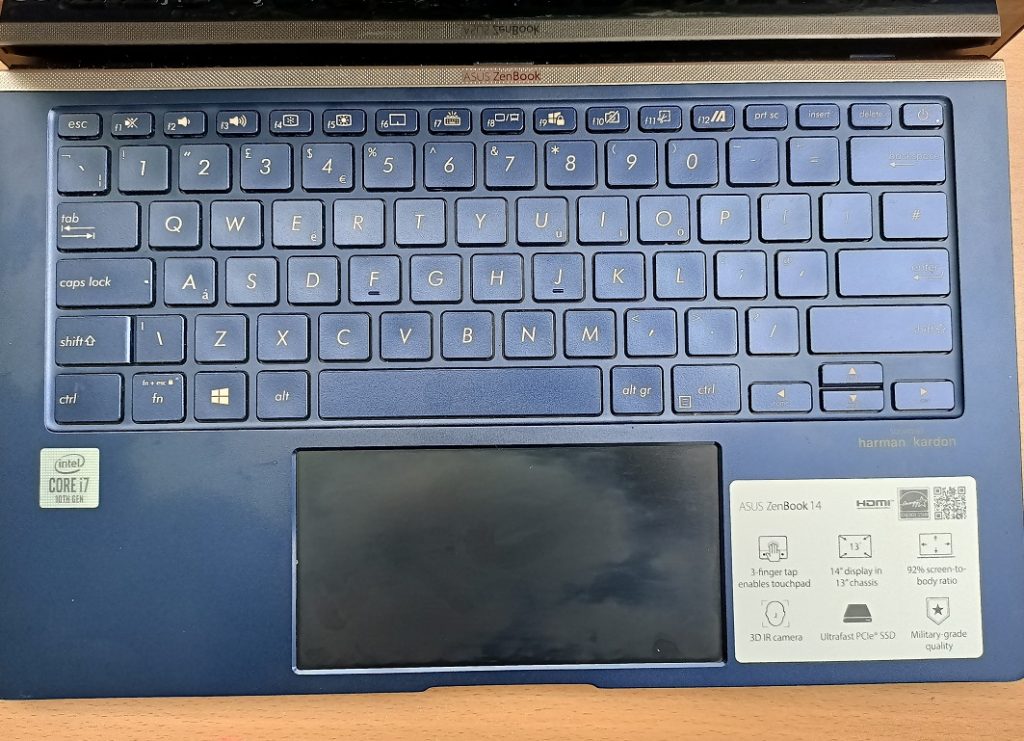 There is also the Harman & Kardon branding and this lets you know that the sound will be good. The sound quality was good with very rich base but not very loud. For media consumption, this is very good as long as you do not have the laptop on your lap as that muffles the sound a bit. Overall, the sound is good and very rich.
Display
The new ASUS ZenBook 14 comes with a 14-inch display as its name suggests. You get very thin bezels and amazingly ASUS has been able to still include the 3D IR camera above the display. Some other manufacturers including Dell have not been able to do this and moved the camera to other locations. Speaking of the camera, you can use it for Windows Hello and even for your video meetings as it is good enough for that. It is not a high-resolution camera but works for the most part.
Back to the display, it has a resolution of 1920 X 1080 pixels. ASUS is calling this a NanoEdge display that is very sharp. The display itself is very glossy and shiny and may not be ideal if you are normally using your laptop outdoors or in a very bright room.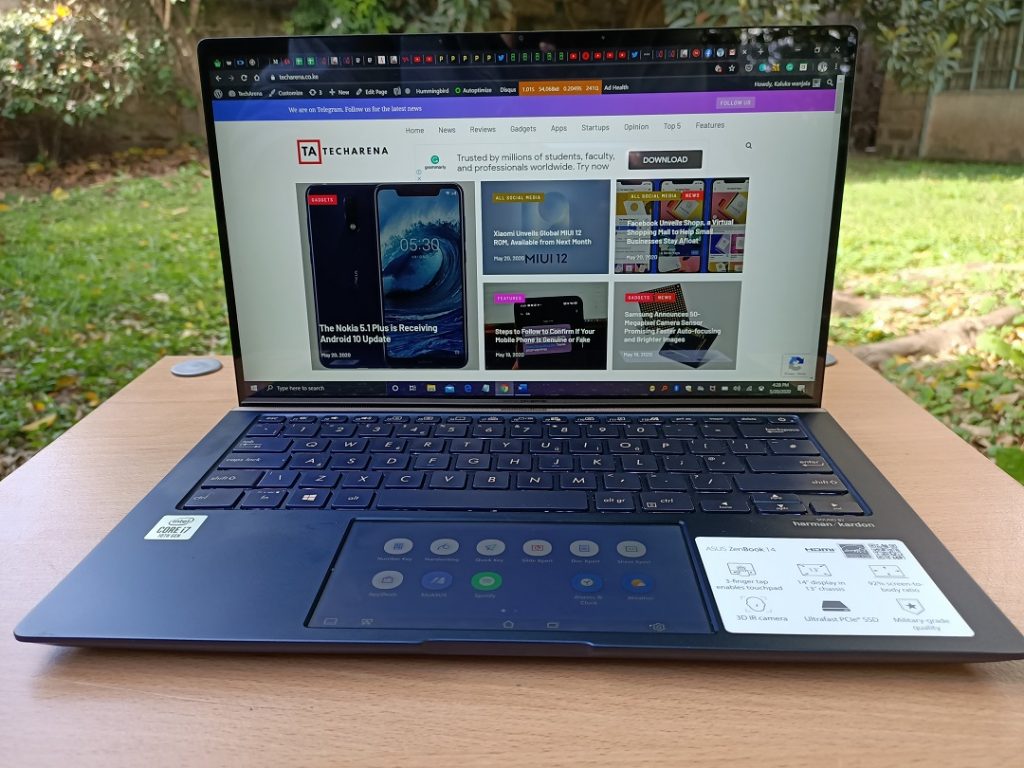 Even with that said, text and photos are very crisp on this display. The colours are also rich making it perfect for media consumption. It pops out really well and is exactly what you would expect on a laptop within this price.
This is a touch enabled display and that makes it perfect for creatives or anyone who prefers using that. The touch sensitivity is on point and at not time was I disappointed with it.
There is a secondary display that ASUS is calling Screenpad 2.0. This is located on the touchpad, actually it is the touchpad. You can use this as a secondary display to have some apps such as Spotify while you are working on the main display. When activated, the touchpad settings are deactivated so it is best to use this if you are using an external mouse.
I did not get to use the secondary display that much but I get its use. You can have an app open here with some other apps on the main display. You can also decide to have the secondary display act as a NumPad as this laptop does not come with a dedicated one.
Performance
The ASUS ZenBook 14 comes with the new 10th generation Intel Core i7 processor that ensures it runs as smooth as you expect it to. This laptop is meant for creatives and business executives and will not disappoint. I have no issues with performance and I do not expect anyone to. This is not a gaming laptop as that is left for the ASUS ROG series. You can read my review of the ROG Strix here. Even with that said, the laptop can handle light gaming as long as you do not push it to the extremes.
For day to day use, this laptop is ready to handle everything you throw at it. It can even handle some light photo editing with Adobe Lightroom and Photoshop. You can edit videos on it with Adobe Premier Pro, I tried that and it did a good job. I could edit and render the videos without any problems. If you are into heavy video editing with 4K content or something of the sort, this laptop will be able to do it but may struggle a bit.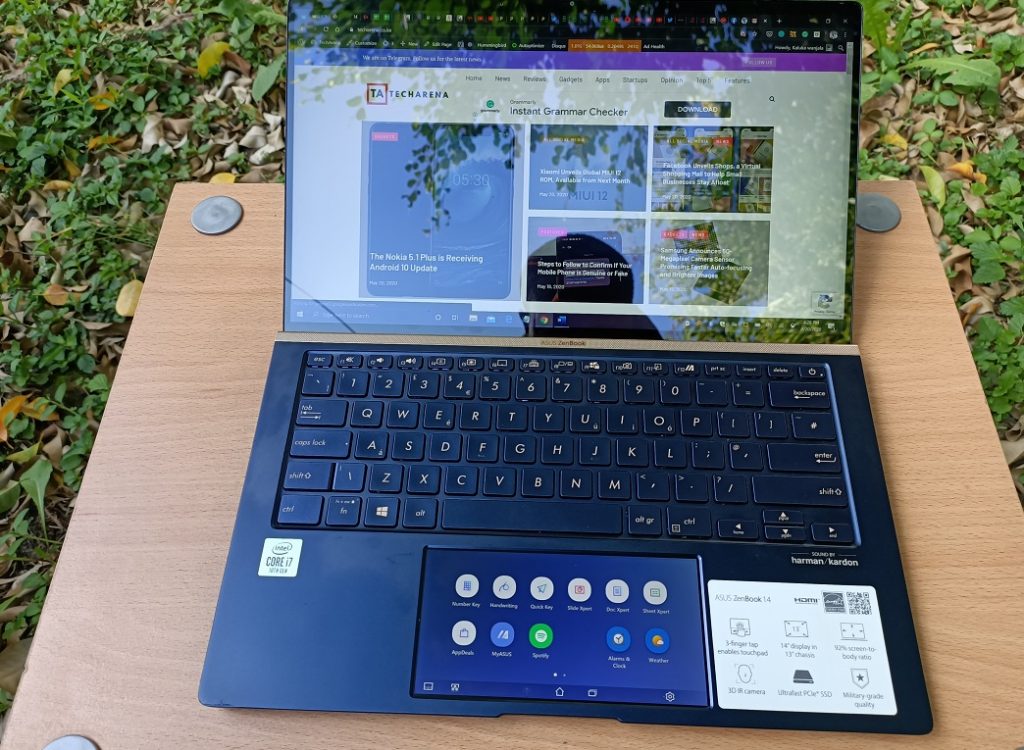 I have to say the performance of this laptop is what has impressed me so far. I does the job well as you expect it to.
Battery life
ASUS claims that this laptop can give you over 12 hours of battery life. In my usage, I could manage to get about 7 hours on a single charge with moderate use and always connected to the internet. If you start running demanding apps like those from Adobe and if you are always streaming media, the battery life may be affected a bit.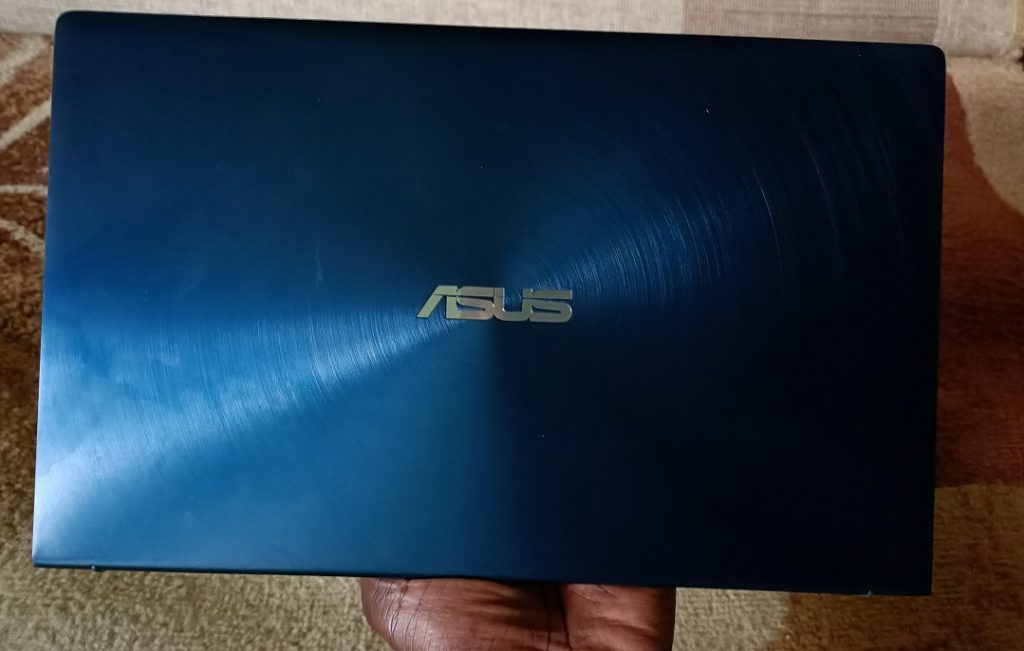 Overall, you are getting good battery life with this. It can get you through an entire workday without any issues and this is good enough for most people.
Verdict
The ASUS ZenBook 14 UX434F is a good laptop that I would recommend for anyone. Unless you are a serious gamer, this laptop will deliver no matter what you throw at it. It looks simple but underneath it has some very powerful hardware that is ready to handle anything. I have loved my experience with it so far.
The laptop has an updated design that looks modern and stylish. It does deserve a spot of the table with all the other premium laptops you may have in mind. The design and build quality is up to standard and will satisfy even the picky buyers.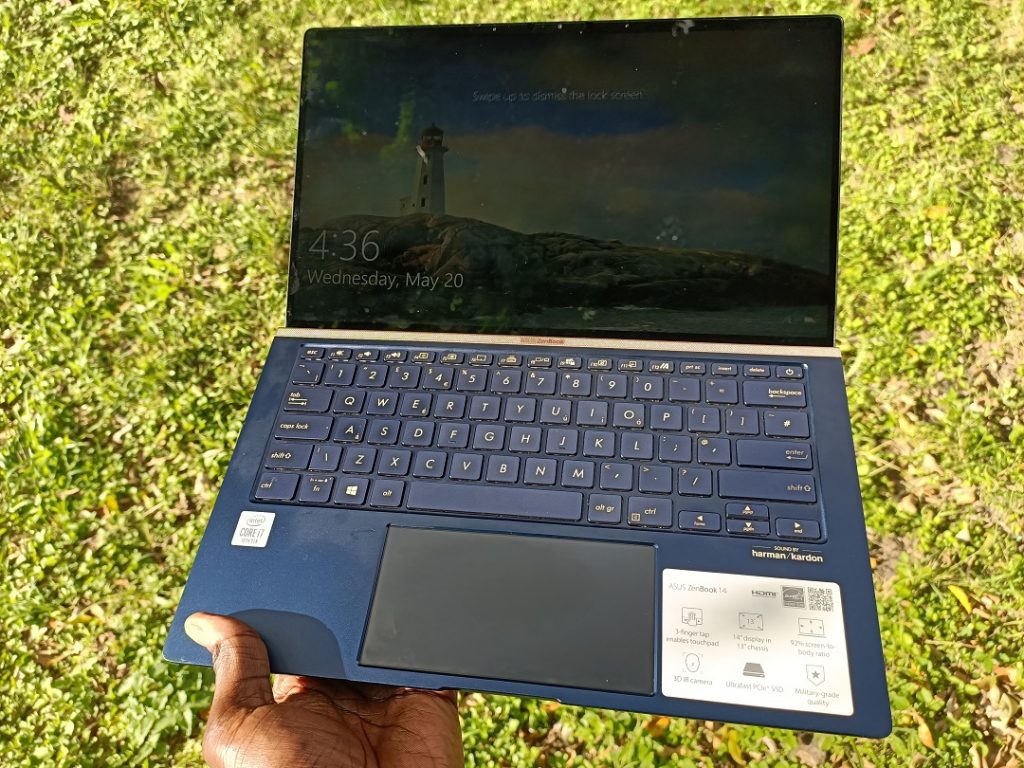 The laptop is small and light enough to carry around and its portability makes it perfect for business and creative buyers. You will rarely notice you are carrying it around most of the times. Its charging adapter is also small and lightweight making it easy to carry too.
I would definitely recommend this laptop to anyone and if I had the money to buy one, I would definitely get it, it is that good. It is a very subtle laptop that does not scream performance but does deliver on that once you start using it. It definitely offers you value for your money and does that it a sleek way.
Also Read: The Asus ZenBook Pro Duo UX581 Review