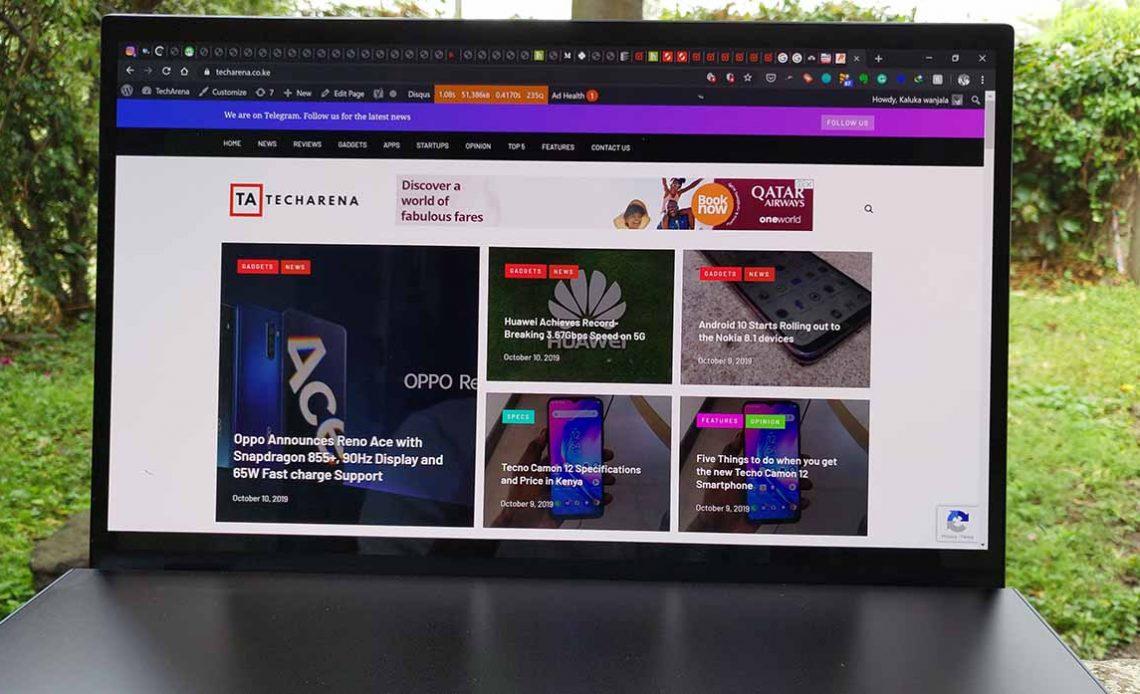 When you are planning to buy a new laptop, you do have some requirements that should be ticked on the one you get. This is especially so if you have specific needs as you do not want to get a device that does not deliver to your expectations.
I have been using the Asus ZenBook Pro Duo for the past two weeks and I am confident enough to share what it has to offer. This laptop is made for creators and it stands out as it has two 4K displays, the main one as is with any other laptop and a secondary one above the keyboard that Asus is calling Screenpad Plus. Both are touch sensitive displays and this is such an interesting combination for a laptop and I was curious if this was just a gimmick or if the setup makes sense.
Including two 4K displays is an interesting concept and the second display is not just an extension of the main one but an additional one that you can even turn off when you are not using it. Let us find out if this will be your next laptop or not.

This is the future of laptops made for creatives and we will see more of this design language from other manufacturers.
Before we get into the review, let us first list down the specifications of the Asus ZenBook Pro Duo.
CPU: 2.4GHz Intel Core i9-9980HK (octa-core, 16MB cache, up to 5GHz)
Graphics: Nvidia GeForce RTX 2060
RAM: 32GB DDR4
Screen: 15.6-inch, OLED Ultra HD (3,840 x 2,160), 14-inch Ultra HD (3,840 x 1,110) touch display
Storage: 1TB SSD
Ports: 1 x Thunderbolt 3 (USB-C), 2 x USB-C 3.1, HDMI 2.0, headset jack
Connectivity: Intel Wi-Fi 6 with Gig+ performance (802.11ax), Bluetooth 5
Camera: IR webcam with Windows Hello support
Design and Build
If you thought laptops have very boring and uninspiring designs, think again. The ZenBook Pro Duo stands out as it look like nothing you have seen before. The ZenBook Pro Duo is chunky but still looks sleek and not as bulky as the gaming laptops we see around. It is not as slim as most of the other ZenBooks on the market but with the components it packs underneath, I wasn't expecting it to be as thin as a ZenBook.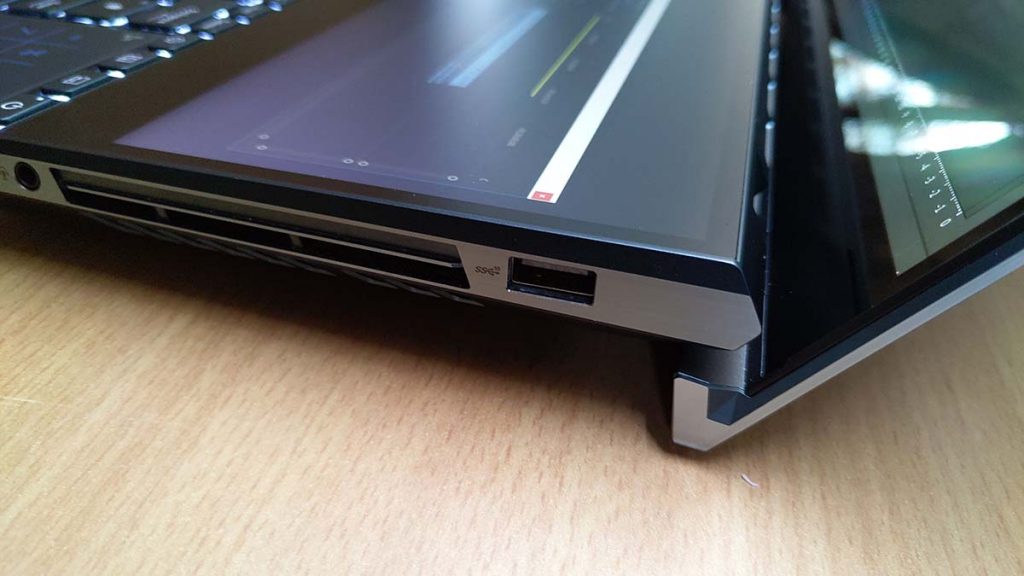 This is a powerful laptop that is rivaling your creative desktop setup. If you normally use a desktop setup with two displays or if you have a laptop and an external monitor, this is the laptop for you. With this in mind, the secondary laptop makes sense as it is not there just as a gimmick but it is useful as we will see later in this review.
As I have mentioned above, the ZenBook Pro Duo isn't as bulky as a gaming laptop and you will not have a problem carrying it around to work every single day. This is one of the things that make this laptop stand out for me to be honest, it is all about being powerful and portable for a variety of needs. It is still heavy compared to most ZenBooks on the market.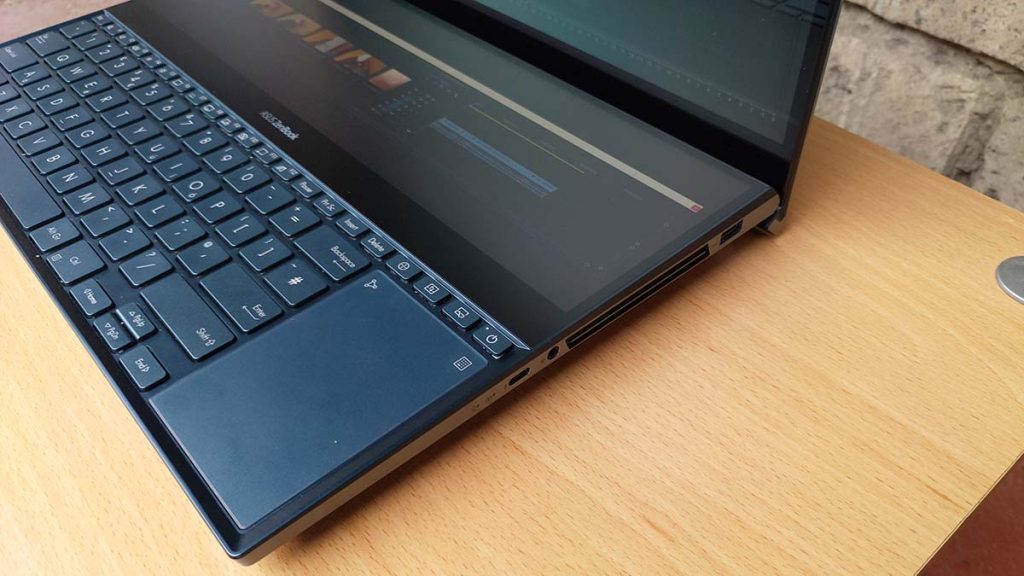 With the secondary display, the keyboard has been pushed down a bit a design we have seen on the Asus ROG Zephyrus gaming laptops. It feels awkward at first if you have not experienced it but you can get used to it after a few days. The keyboard is right next to the bottom edge of the laptop and most of us are not used to this style, we are used to having the touchpad after the keyboard and that is the way it has always been.
If you type a lot, like I do, this is not the best setup but Asus has included a 'palm rest' to help out with that. I find using the palm rest more comfortable and natural. Connecting the palm rest to the laptop is straightforward and so is removing it.
The touchpad is on the right of the keyboard and again, this is not want we find on most laptops and will take a few days to get used to. The touchpad can also be turned into a numbers pad as the laptop does not have a dedicated one. You can still use the touchpad with the numbers pad activated.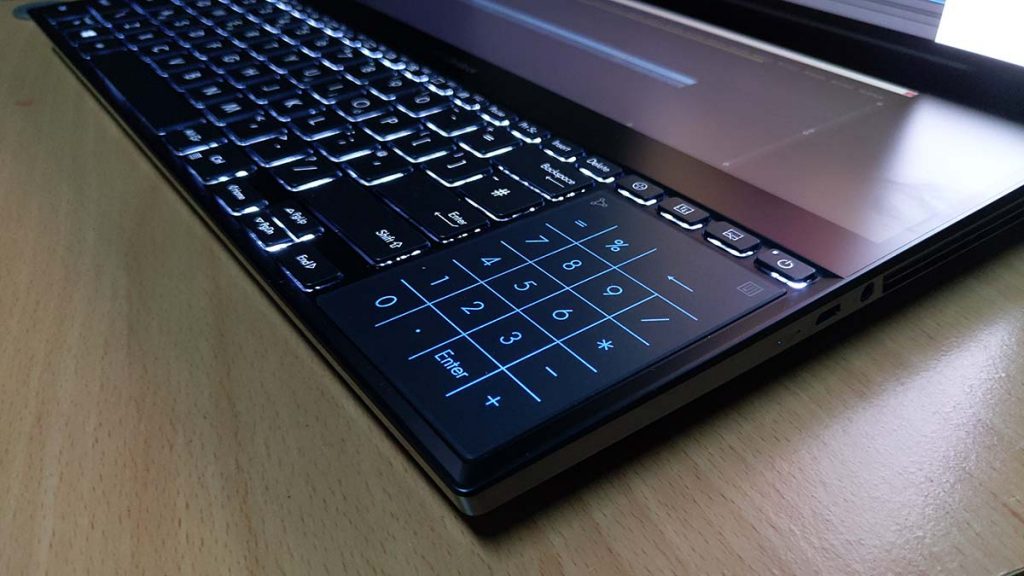 I use an external mouse so having the touchpad on the right was not an issue for me and most of the times I have the numbers pad activated. There is an option to increase the brightness of the numbers pad and I found this to be cool. It makes it perfect for use in different lighting conditions that you may be in.
The Displays
With two displays, the Asus ZenBook Pro Duo promises a lot and I did have a lot of expectations before getting this review unit. Both these are 4K displays and they look stunning.
Both displays are just stunning. I was expecting so much from them and they delivered.
The main display is a glossy one with very sharp and vibrant colours. This is a touch sensitive display, perfect for creators and Asus has included a Pen if you need one. I watched a few movies on this display and the experience was just amazing, the colour reproduction is top-notch.
If you are into photo or video editing, this display is perfect for you. Even though the display is glossy, the glare is not that bad. I even managed to use this laptop in a very bright room and was ok with it.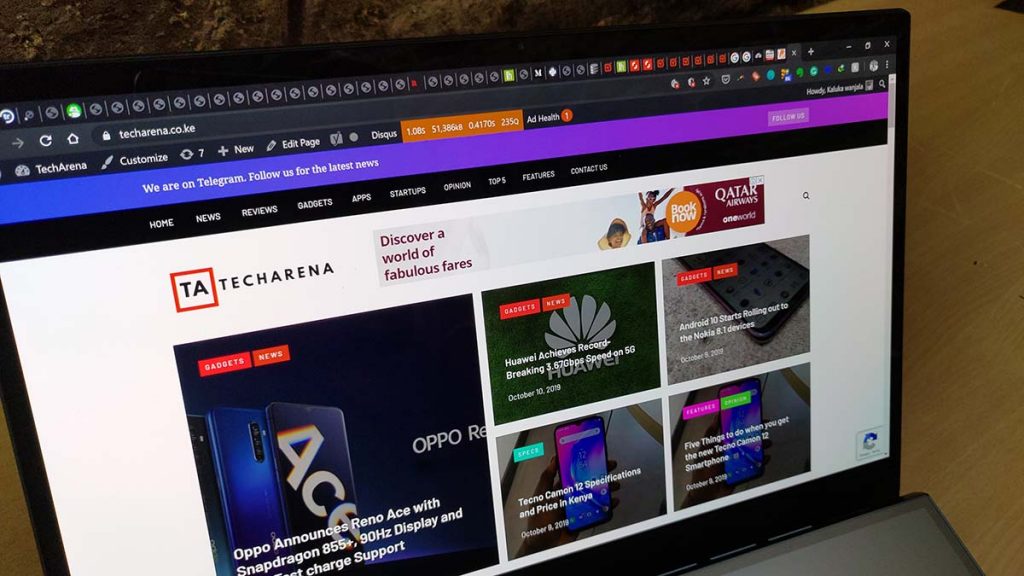 The display size is 15.6 inches with very thin bezels as is the case with most modern laptops.
The Screenpad Plus
The secondary display on the Asus ZenBook Pro Duo has a matte finish and is not as glossy as the main display. The Screenpad plus is slightly lifted when the laptop is opened and this is not just for improved comfort but it also makes it easier to see what is on the main display and also what is on the secondary display. I did not have to keep stretching my neck just to see what is on the secondary display.
Since Windows treats the Screenpad display as an independent display, you can interact with it independently of the main display. There is an option to use it as an extension of the main display but I prefer using it as an independent one.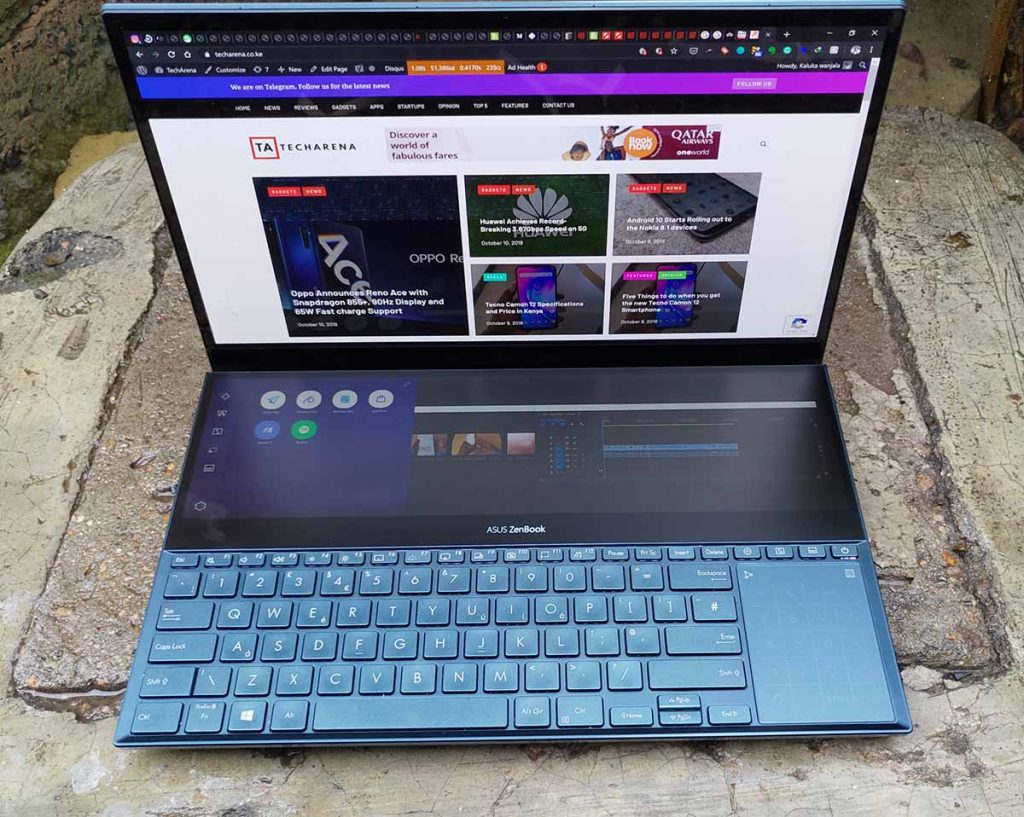 If you use two displays as part of your setup right now, the Screenpad Plus will be the perfect addition for you. It eliminates the need of having an external display to some extent.
I edited some videos on this laptop using Adobe Premiere Pro and had the video preview on the main display and the media files and my timeline on the Screenpad. In this setup, I could see the video I am editing in a much bigger screen and this is always a good thing. Since the Screenpad Plus is also touch screen, I use the pen to bring my project files to the timeline and play or rewind through different sections of the timeline.
In summary, you can use the Screenpad Plus to your liking. You are free to make it what you want for better productivity.
Besides productivity, in most cases I would use the secondary display to display some additional apps such as Spotify while I have the browser or documents editing software on the main display. When working on something on the main display and want something to reference to, I would have the reference document on the Screenpad Plus. This makes it much easier as I would have to keep switching between the different documents if I did not have the two displays.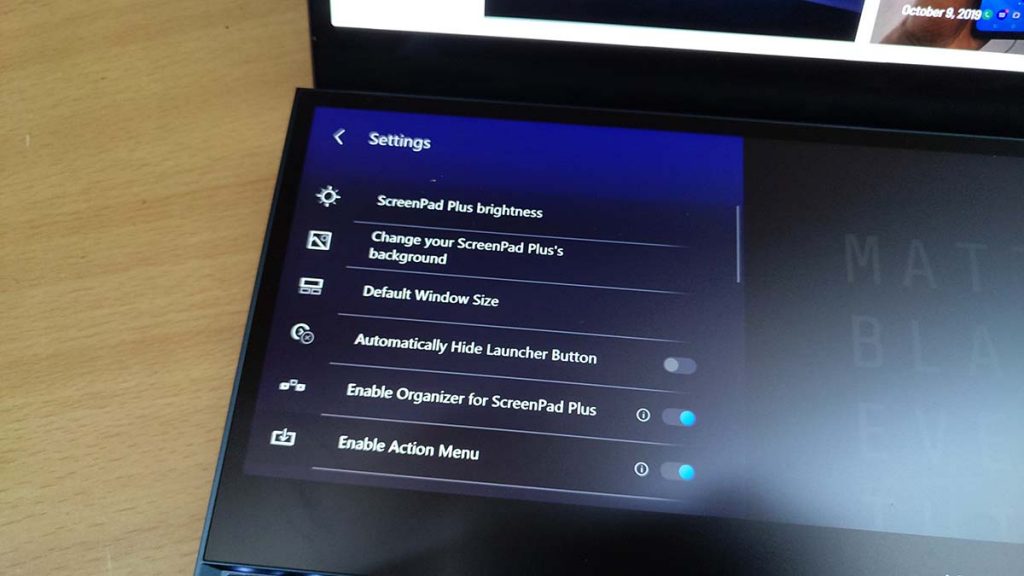 There is an option to save presets on the Screenpad Plus if there are settings that you use on a regular basis. For example, if you normally have Spotify and your To Do list on the secondary display, you can save that as a preset and easily have access to those without going through multiple steps.
If you do not plan to use the Screenpad Plus, you can switch it off. Switching it off also saves the battery to some extent. The Screenpad Plus is more than just a secondary display, it has extra functionality that makes it useful for any creator.
Performance
The screen and displays aside, the performance is one key aspect of any laptop. With the Asus ZenBook Pro Duo, you get premium performance. This laptop is meant to handle heavy tasks and does that very well. Anything I threw at it was handled as I expected it to.
I got the version with an Intel Core i9 processor (9th generation), Nvidia GeForce RTX 2060 graphics card, 32GB of RAM and ITB of SSD. With these specs, you expect nothing but the best performance and that is what you get. I could edit videos with Premiere Pro without any fuss and rendering the same video took just a few minutes.
With the Intel Core i9 processor, multitasking was smooth and this impressed me a lot. I could easily run different demanding software without the laptop slowing down. If I start doing this with my current laptop, it will start complaining after a few minutes.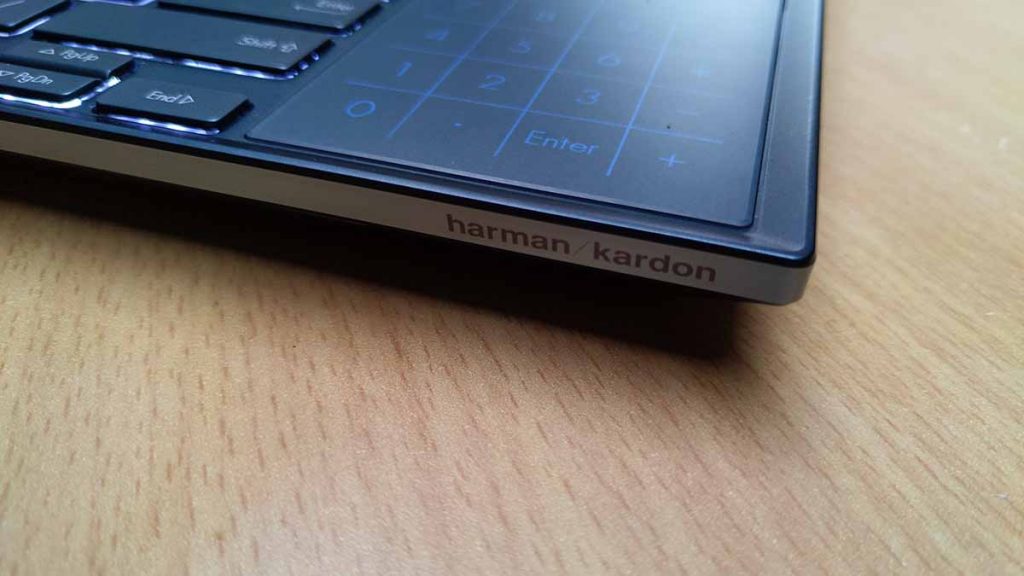 With all its power, the Asus ZenBook Pro Duo has a very good cooling system. When opened, it is lifted from the surface a little bit and this allows the smooth flow of air through the laptop. The laptop also has big air vents that ensure the air flows freely. This is important as it ensures the laptop does not overheat as it is a very powerful one that is at risk of that.
I used this laptop for work mostly but I am sure it can be equally as good when gaming. If you want reliability, power and productivity, the Asus ZenBook Pro Duo is the one for you.
The Battery
The Asus ZenBook Pro Duo is a chunky laptop and I was expecting it to have a massive battery. The battery is big and last long but not as long as I expected it to. The battery lasts for between 4 to 6 hours and this is not that great for a modern laptop. This means that you cannot leave the house without the charger.
With the two 4K displays and a power-hungry GPU and powerful CPU, I get why the battery does not last very long. There is an option to turn off the secondary display when not in use and this can help improve the battery life a bit.
With future devices, Asus should improve on the battery to make this series even better.
Ports
For the ports, there are quite a number of options; On the right is a Thunderbolt 3 USB-C port, a headphone jack, USB 3.1 port. On the left is the power port, HDMI port and a USB 3.1 port. That's it. I was a bit disappointed as it does not have an SD card slot. This laptop is meant for creatives and I was expecting such a port as most of them would want to transfer their video/photo files from their SD cards directly to the laptop.
Conclusion
The Asus ZenBook Pro Duo is a very impressive device. It is perfect for creators with two 4K displays that are quite useful. I see very may use cases for the secondary display even for non-creatives.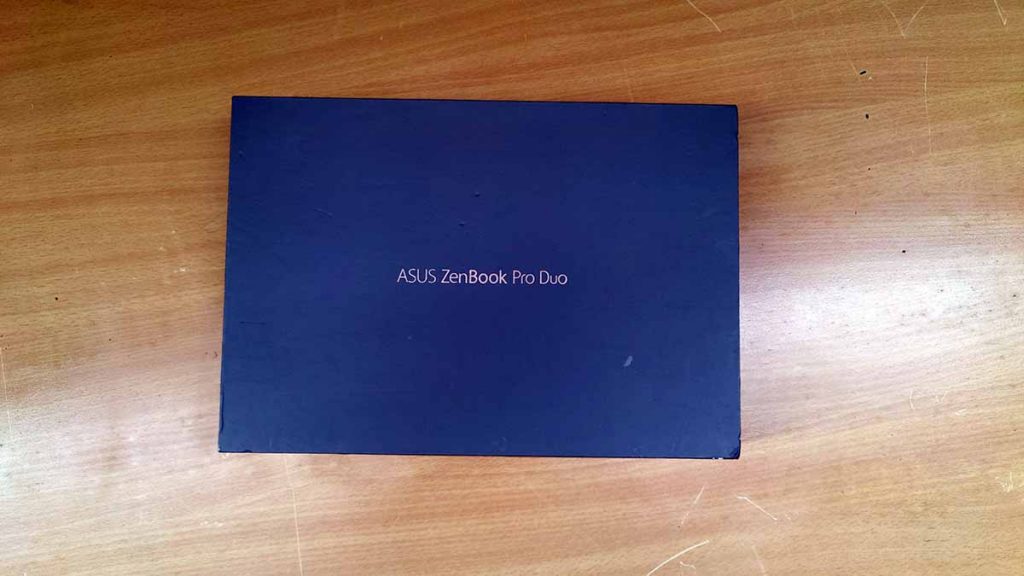 The laptop is very powerful and this is a must for those running demanding software. For something that is portable, this is a plus.
The one area I would love to see improvements is in the battery department, I would have loved a battery that lasts a bit longer considering how power hungry this laptop is.
Also Read: ASUS Zenbook 14 UX433 – Sleek and Powerful Laptop