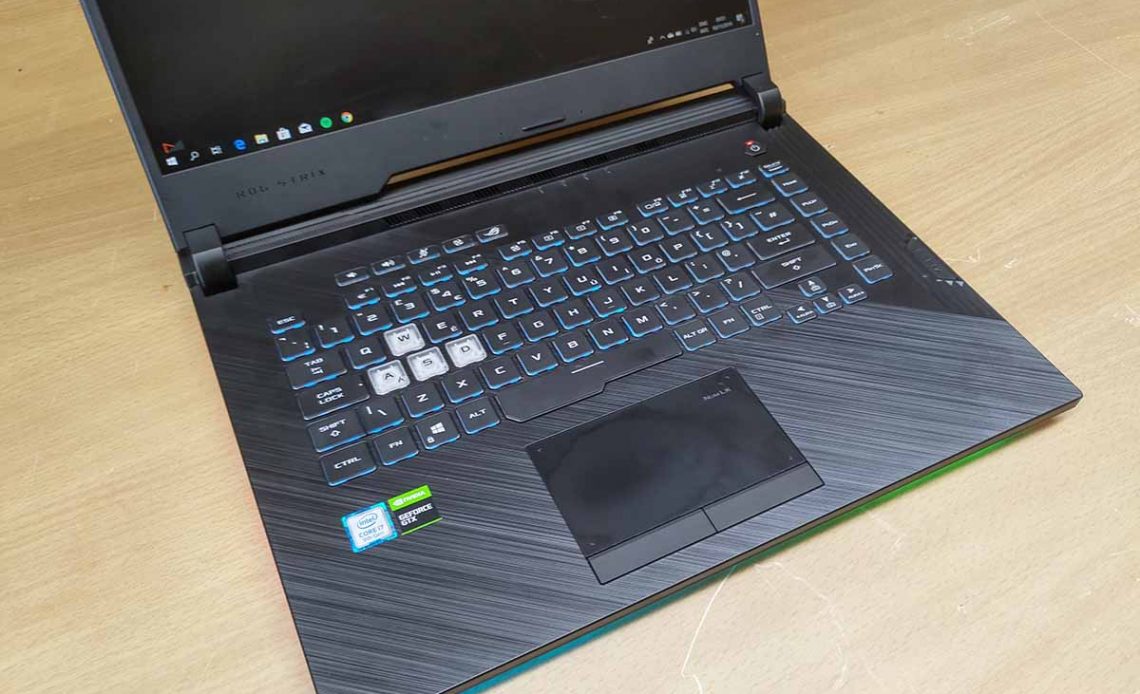 Over the years, gamers have been moving from primarily using desktop computers to laptops. There are those that still prefer building their own gaming PCs but we have been seeing some casual gamers and eSports players go for laptops for gaming. The portability provided by gaming laptops makes them appealing to some people
Asus has a number of ROG gaming laptops for different needs and in this review, I will be looking at the Asus ROG Strix G531GT. This is the model that we will be having in Kenya and the one I have comes with the Intel 9th generation Core i7 processor (9750H) with the NVIDIA GeForce GTX 1650 GPU. With this combination, you are expecting a decent gaming performance.
With the configuration I have, I found it decent for gaming, which is what I primarily used it for, but you can use it for whatever you may wish. It does handle really well and was better than I expected to be honest and even for my work, it did not disappoint. This laptop is available in Kenya starting from Ksh 139,0000.

The Asus ROG Strix G531GT provides Powerful gaming performance on the go.
Before we get to the review, let us look at the ASUS ROG Strix G531GT specifications.
| | |
| --- | --- |
| Display | 15.6-inch, 1920 x 1080 px resolution, 120 HZ, 3ms response time |
| Processor | 2.6GHz Intel Core i7-9750H |
| Graphics | NVIDIA GeForce GTX1650 GDDR5 4GB |
| Storage | 1TB SSD PCIe |
| Memory | 16GB DDR4 2666 MHz |
| Ports | 3x USB-A 3.1, HDMI 2.0, Ethernet port, headphone jack |
| Battery | 48Wh, 150W power adapter |
| Operating System | Windows 10 (64bit) |
| Keyboard and Trackpad | Backlit Chiclet all-Zone RGB with marked WASD keys, N-Key Rollover, Precision trackpad |
Design and Build Quality
The Asus ROG Strix G531GT has a polycarbonate body that feels sturdy and not cheap. It does not look cheap either thanks to the brushed look that Asus has gone with on this laptop. The feel of the brushed polycarbonate is good and I like it cause it is still a head turner but not too flashy. If you use your laptop in coffee shops or in public a lot, you will like how subtle this is.
The keyboard is well spread with no dedicated number pad, for that, you will have to use the trackpad as it as it has the numpad embedded there. You do have to activate it by long pressing one of the corners of the track pad. When not using it, you can just turn it off by following the same process.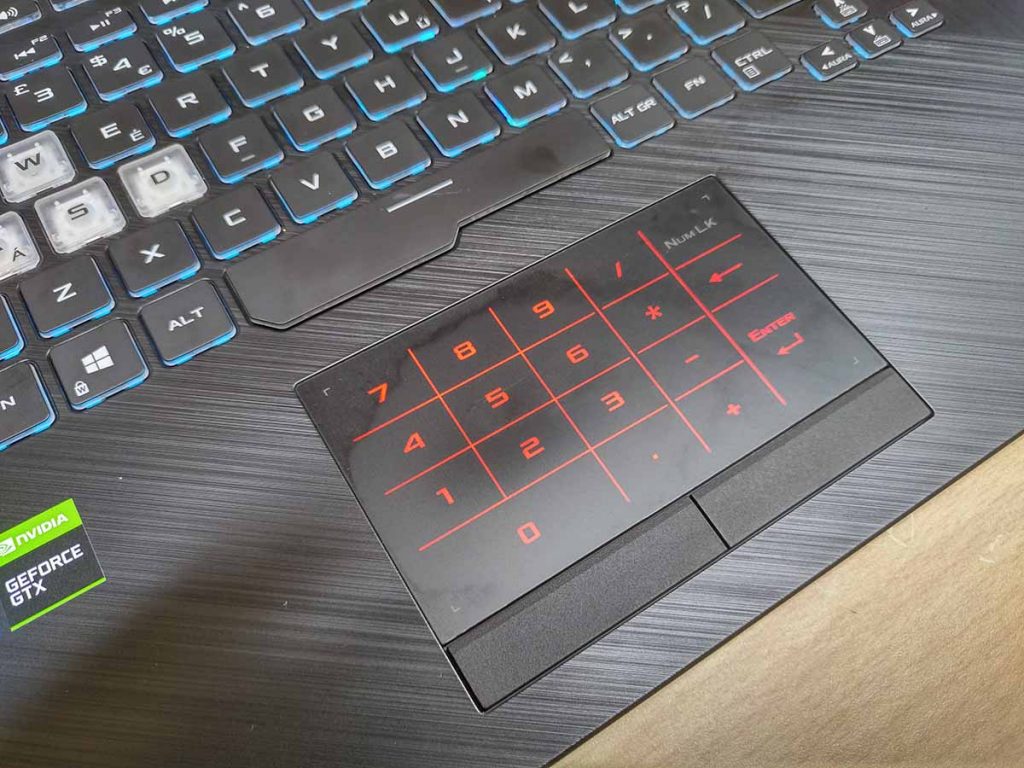 The keyboard is backlit with RGB colours, a feature we see a lot of gaming keyboards. There are different settings for this and I will get to them later in the review.
For the display, it has thin bezels on the top, right and left but you will notice a big chin at the bottom. Below the display and bottom chin is and airgap which helps with cooling and circulation of air. I really do not mind having it there and most of the times I didn't even notice it was there. Most people who see the laptop for the first time notice it.
The hinge feels very sturdy too and I could easily lift the laptop's lid with one finger without flipping over the entire thing. The lid extends quite well and allows for use at different angles, something we all appreciate. The three USB-A ports are on the left side together with the headphone jack while the power, Ethernet and HDMI ports are on the very front section of the laptop. Next to these are the ventilation openings to help with heat dissipation. There are no ventilation openings on the sides and I love this. I did not have to worry about my hands being warmed up after using the laptop for extended periods of time as it has with other laptops. This is a small but very useful design choice in my opinion especially for gamers. The laptop does not feel hot on general even after using it for hours thanks to its cooling systems.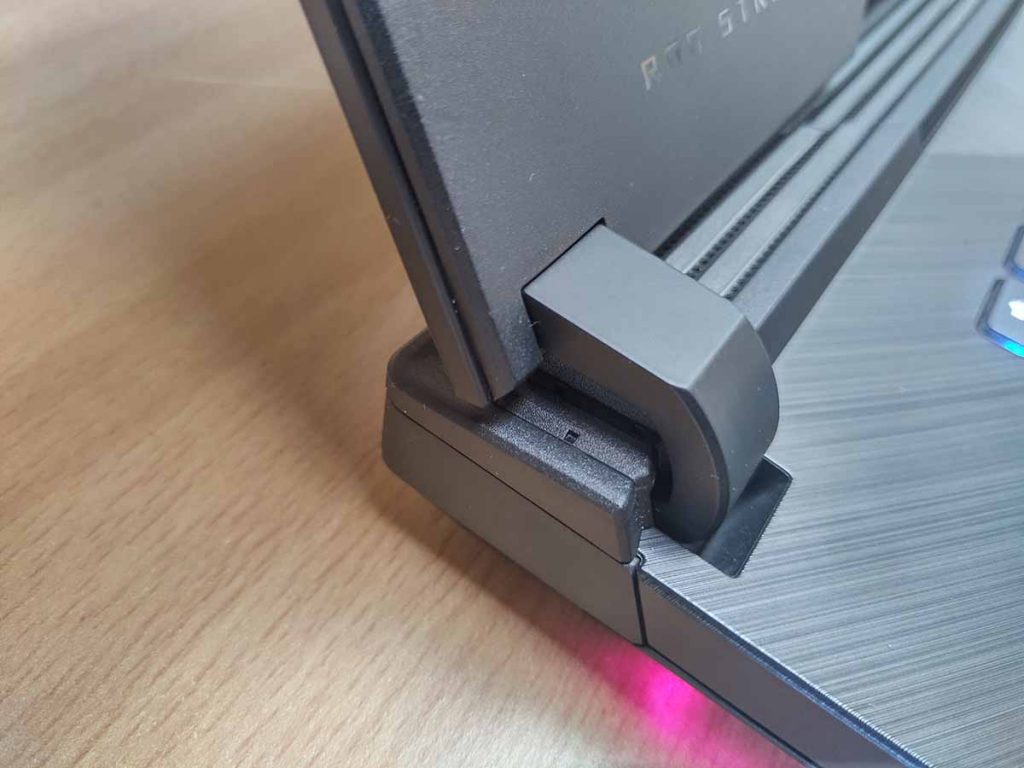 There is an Asus ROG logo at the back of the lid but it does not light up. This could have been a cool feature to have and is available on other Asus ROG laptops and I expected it here too.
One thing you may have noticed is missing is the webcam. The Asus ROG Strix G531GT does not have one but I got an external webcam with this review unit. The speakers are at the bottom and the sound is good and rich in my opinion. If you have used a slightly more expensive ROG laptop, these speakers will disappoint. For the rest of us, they are pretty good and get the job done.
Display
For the display, the Asus ROG Strix G531GT that I got for review was 15.6 inches in size with a resolution of 1080p. This is quite good and standard for most laptops. This display has a 120Hz refresh rate and 3ms response time. If you are a gamer, then you know that this is not bad.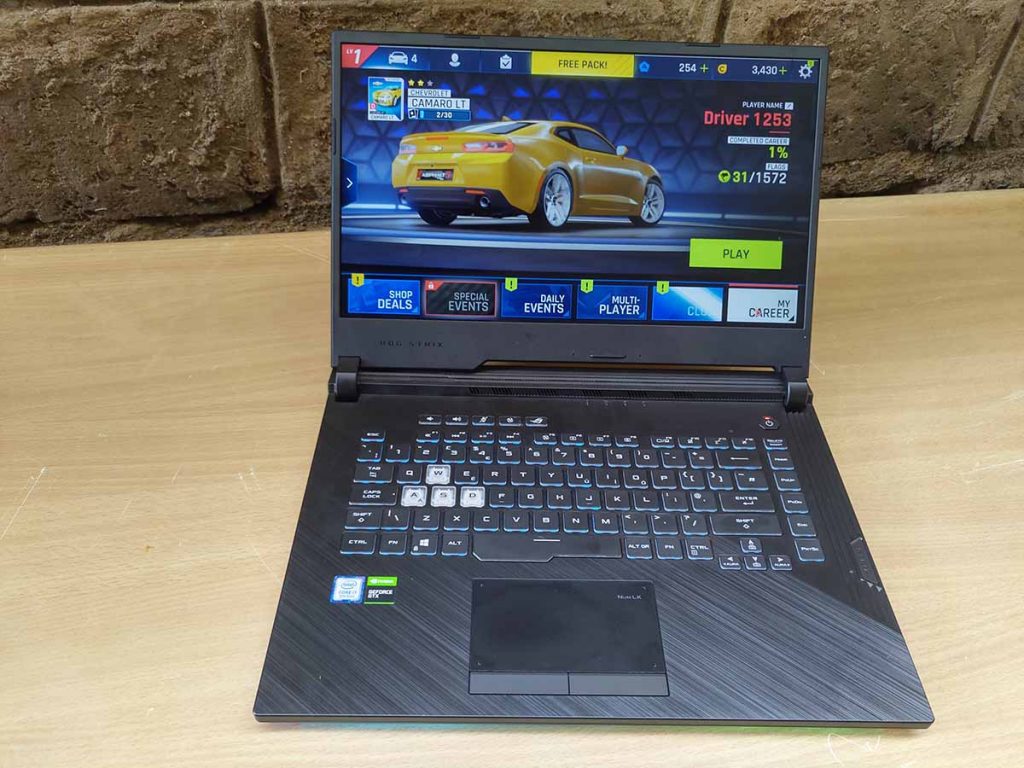 This display is very crisp and clear. I used it mostly indoors and it worked perfectly for me. I think it will be equally as pleasant outdoors. This display has very good colour reproduction and ASUS' own Game Visual software let users set different profiles depending on their needs. These are small additions but they do make the overall user experience better. It is not just fine tuned for gaming but can be used by content creators or you can use it for entertainment. It is not the brightest display I have seen and given that this is a gaming laptop, I was expecting it to be better in this regard.
Keyboard and RGB Lighting
As I have mentioned above, the keyboard is quite good. The keys are well spaced for easy typing and there is no dedicated numpad so you have more space for a keyboard that is not crowded. At the very top of the keyboard we do get some dedicated keys for the volume up and down, mic mute, fan profile selector and to open the ASUS Armory Crate software. This software lets you see and change some of the key settings of the laptop. For example, through it, you can see the CPU and GPU speeds, change fan speed, see CPU temperature, change the RGB colours etc.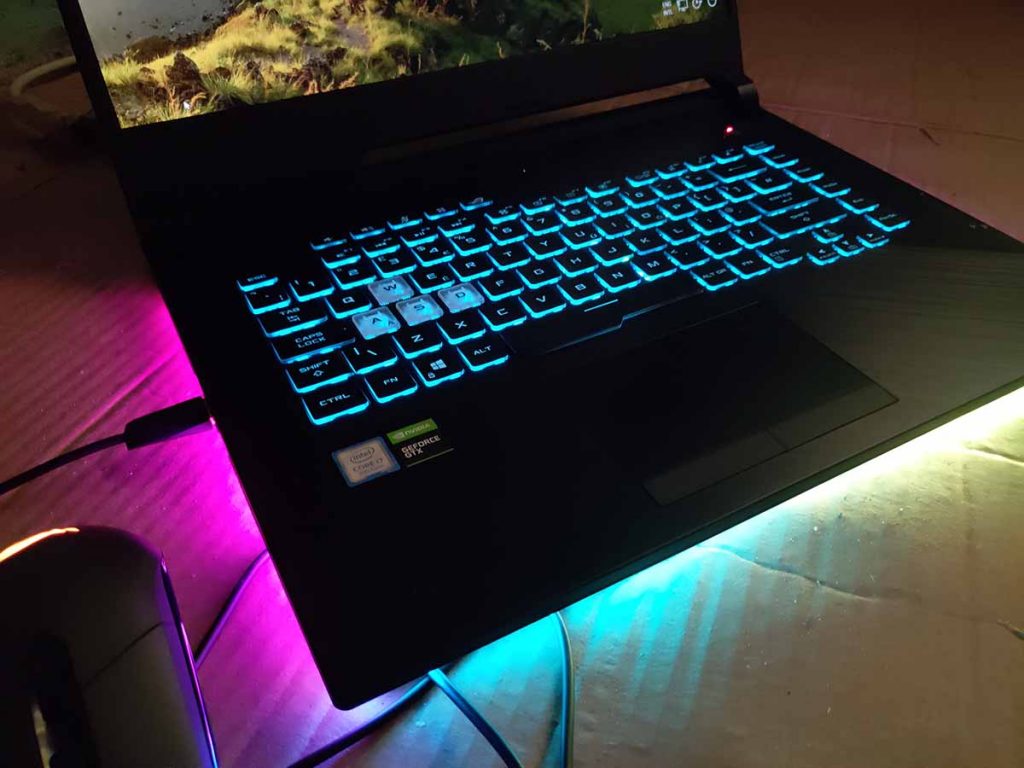 I have already mentioned that the keyboard is RGB backlit for that gaming feel. In addition to this, there is an RGB strip at the bottom section of the laptop and this is linked to the keyboard back light. You can choose different profiles for the colours that you want on both the keyboard backlight and the RGB strip depending on your taste. There are quite a number of settings that I did not get to all of them during the review period.
The keyboard light brightness can be adjusted and this also adjusts the brightness of the RGB strip. You can also turn both of them off and I would have wished for there to be a setting to just turn the strip off and let the keyboard one on. The arrow keys on the keyboard are also small and may be uncomfortable to use for some people.
The one thing gamers will really appreciate on this keyboard is that Asus has made sure the W, A, S and D keys are highlighted. If you game then you probably use these keys a lot and having them highlighted is useful. You can easily see them and do not have to fumble every time you want to use any of them.
From the look to the feel and performance, this laptop will spark the gaming spirit in you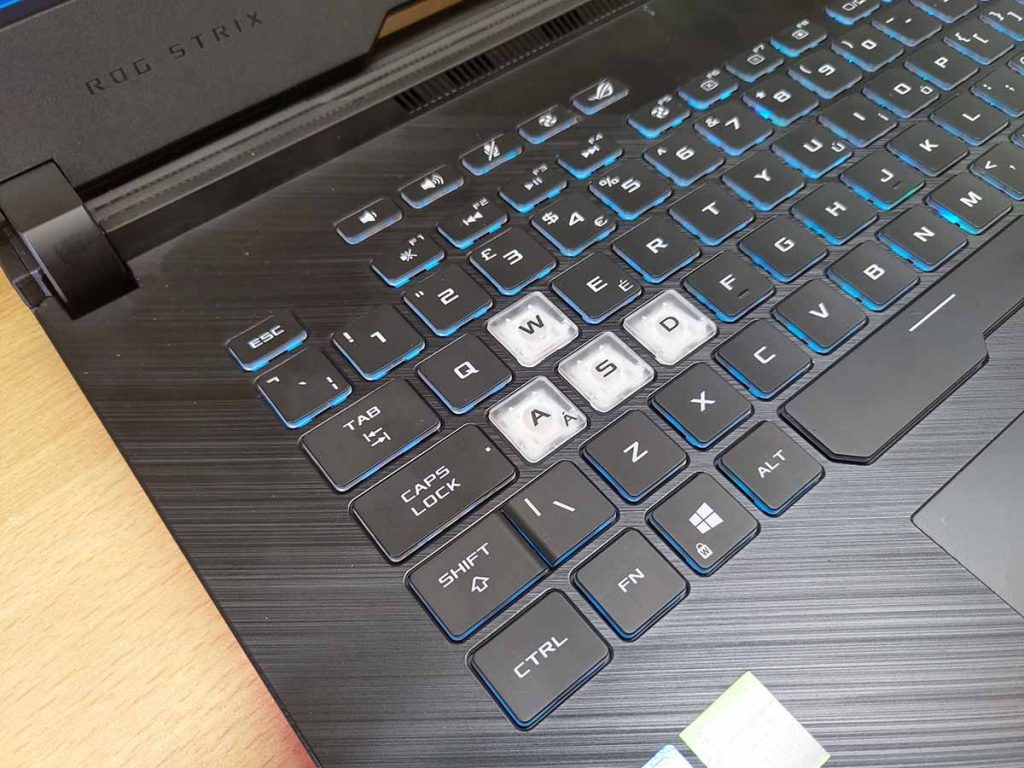 The trackpad on its part is quite good. It is big enough and has separated left and right buttons. With the review unit, I also got the Asus Impact mouse so I did not use the trackpad that much. The Asus Impact is quite good and has the ROG logo that lights up, pretty much my favourite feature on it.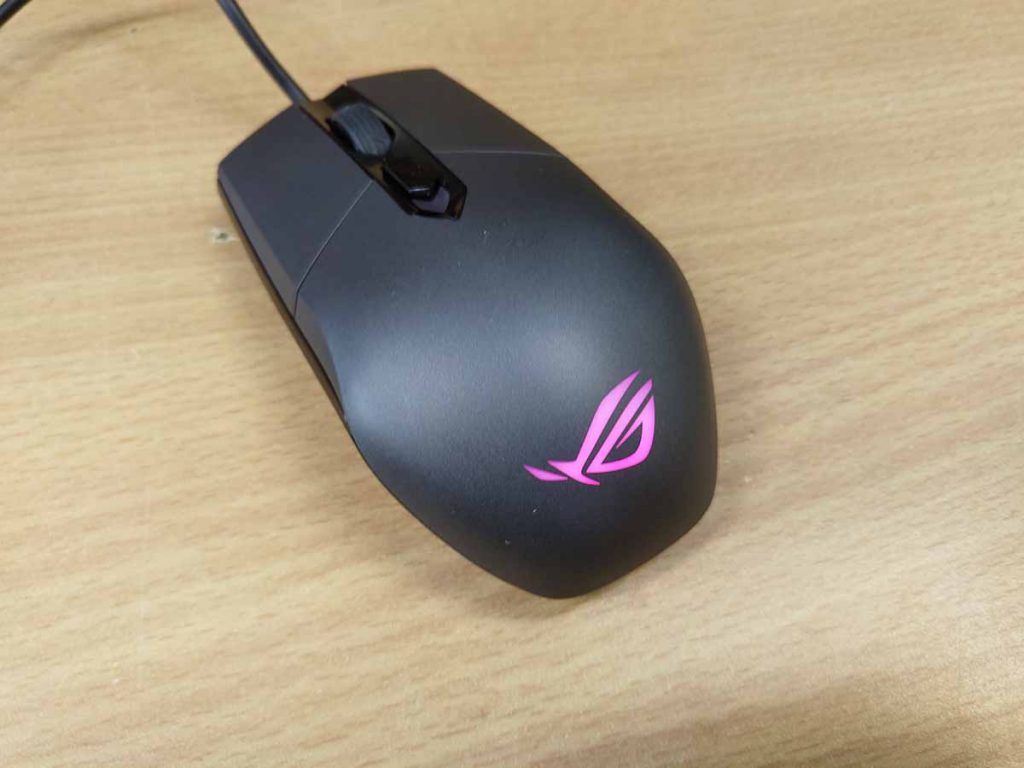 Performance
Since this is a gaming laptop, performance is a key element for those planning to buy it. During my review period, I was thoroughly impressed with how it handled most titles without any issues. The GeForce GTX handled the games I played smoothly all the time.
Besides the GPU, my model has the Intel i7-9750H processor and 16GB of RAM. You pretty much expect reliable performance with this combination if you are using this laptop for simple and complex tasks alike. I did not have any instances when it slowed down even when playing PUBG and Overwatch.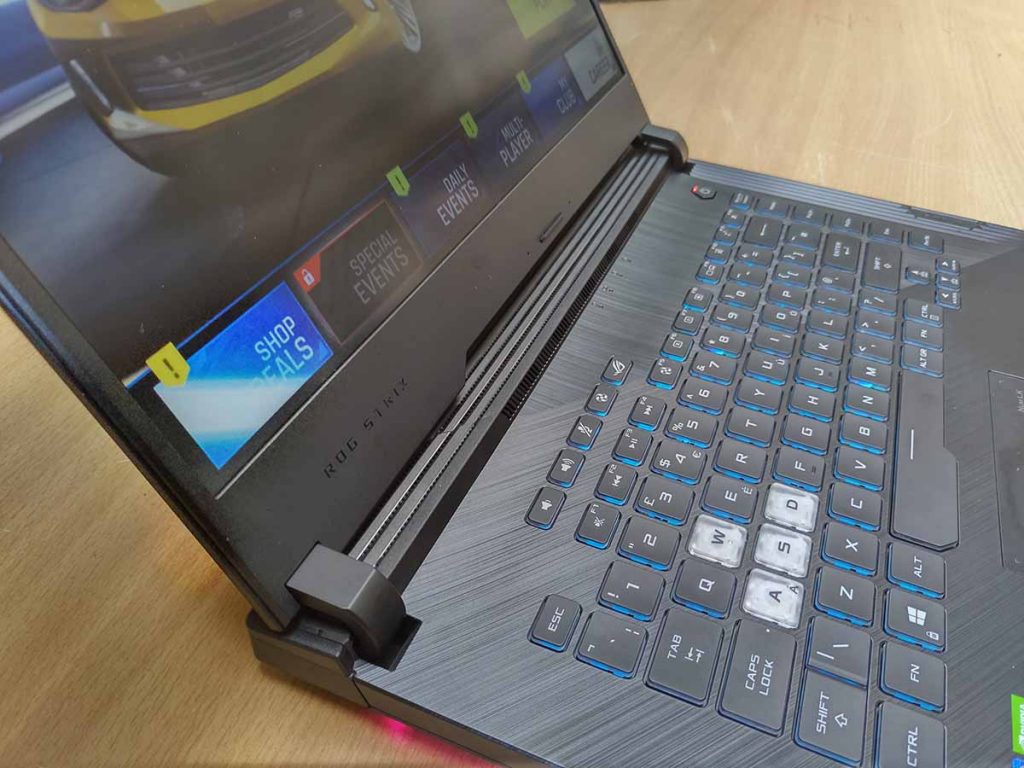 The refresh rate is 120Hz and this is when you are charging it, when running on battery, you get 60Hz. I was always using it with the power cord plugged in so I got the best of it. The refresh rate you get will also depend on the title you are playing.
When gaming, the CPU temperature rises but it does not get that high with the many ventilation ports on this laptop. You can also adjust the Fan speed if you feel like it is heating up.
The Battery
The battery on the Asus ROG Strix G531GT is not the best compared to other products from Asus. Expect less than 5 hours of battery life for normal day to day usage. If you start gaming, the battery will take a beating as this is a powerful laptop and it does drain the battery very fast. You can tweak the power settings under the Asus Armory Crate to get more battery life out of it.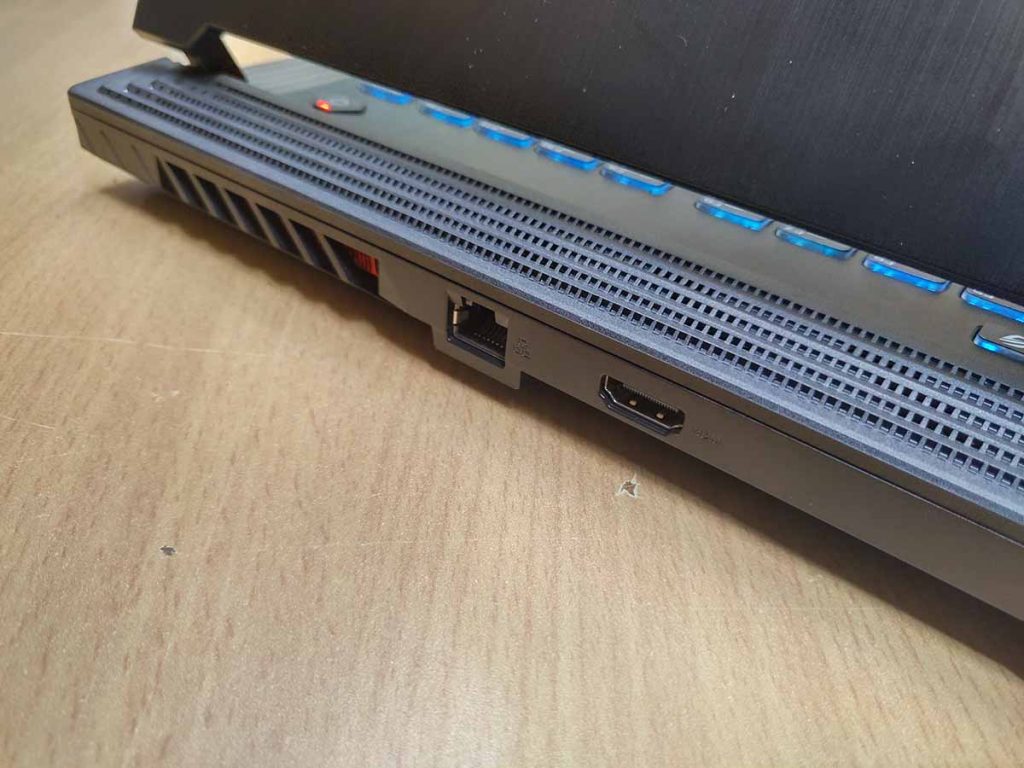 Charging this laptop up takes about one and a half hours. This is quite good in my opinion and I have nothing to complain about.
Is it right for you?
So you may be asking, after all that, is the Asus ROG Strix G531GT right for me? If you are a casual gamer or a wannabe eSports star specifically into First Person Shooter (FPS) games, this laptop is worth considering. It is powerful to handle most titles.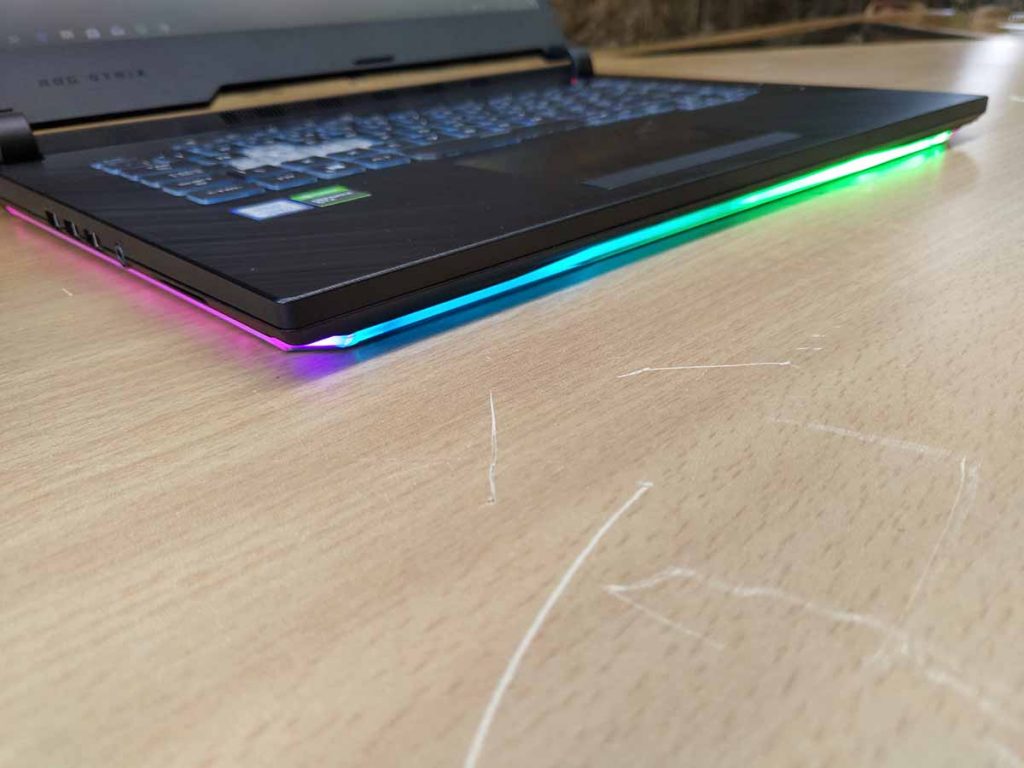 It is a reasonably priced laptop that comes with the latest hardware that will serve you well. Apart from the display not being bright enough and the battery being poor, I pretty much love most of the other features of this laptop.
Also Read: The Asus ZenBook Pro Duo UX581 Review