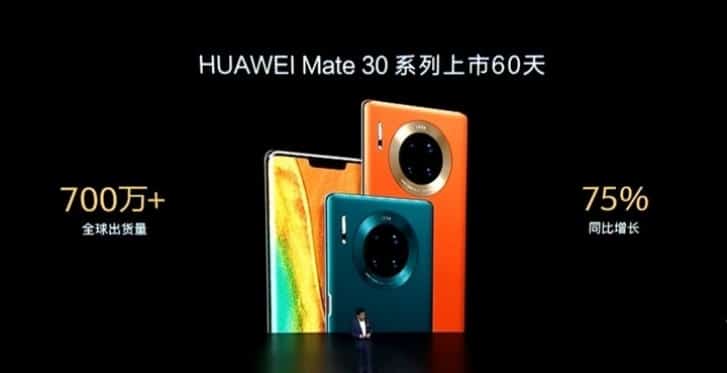 During the launch event in China today where the company unveiled the Huawei MatePad Pro, Huawei's CEO, Richard Yu, revealed sales statistics of its latest flagship devices.
Yu says that the company has managed to sell over 7 million Mate 30 devices in two months. The stats include sales of the following Huawei Mate 30 series devices; Huawei Mate 30, Huawei Mate 30 Pro, Huawei Mate 30 5G, Huawei Mate 30 Pro 5G, and the Huawei Mate 30 RS Porsche Design.
This represents a 75% increase in sales as compared to the Mate 20 series sales in a similar period.

The massive increase in the number of sales has been achieved even though the devices are only available in China and few select Asia Pacific markets. Huawei has seen an increase in sales in the home market in China since the US ban kicked in which has been cited as a patriotism act by the country's citizens.
In the last update the company provided regarding the sale of their new flagship devices, it was revealed that the company had sold over 1 million devices in just 3 hours.
To date, Huawei has not revealed plans on launching its Mate 30 devices in any other markets apart from the few where the devices are selling.
Huawei recently launched its foldable device in China and saw massive sales as well. The company's stock was depleted in just minutes during the first sale.