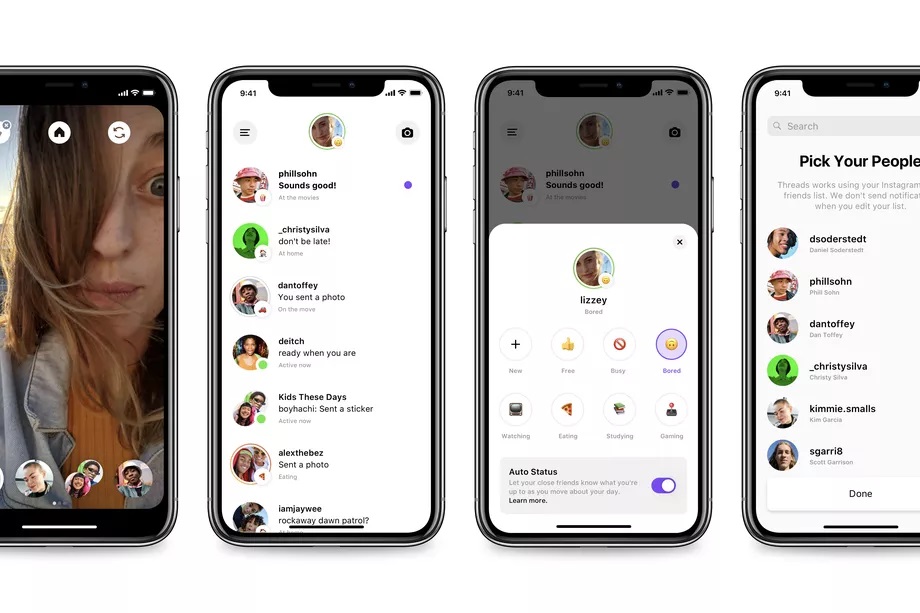 Not long ago, reports surfaced online about Facebook's photo-sharing app Instagram working on another messaging app. The new chat app called Threads was "meant to promote constant and intimate sharing between users and their closest friends."
It is built around Instagram, so all Instagram's "Close friends" list will still be your chat buddies in this new chat app. As if we haven't had enough of chat apps already – in this space, like the Chinese smartphone industry, is becoming hard to keep up with.
Unlike on Instagram, Threads allows users to share more personal information with their "Close friends" including location, speed, and battery life.

Threads is a very simple app with only has three components – a camera, inbox, and status screen. The inbox tab here is a mirror of your Instagram messages but only from users in your Close friends' list. The camera does essential functions as you'd expect it to do – taking photos or videos. There are no filters here, btw.
For the status section of the app; you get to pick an emoji then type out a few words or choose from premade ones. Finally, you can then decide how long the status should be live ranging from one to four hours.
Besides, there is also an auto-status toggle available on the status screen that you can turn on for automatic status updates. Turning on auto status will give Instagram permission to learn where you are and update accordingly.
"Threads will request your location, movement, battery level and network connection from your phone in order to determine what context to share," the company said.
On matters privacy, Facebook says, "Auto Status will not share your precise location with your friends, and when Threads sends location information to our server to look up locations, it's not stored there – this information is only stored on your device for a limited time. It is also deleted if you remove Threads."
Threads is already available for download on Appstore and Google Playstore if you want to see what it is all about.
Also Read: Instagram for Android finally working on app shortcuts