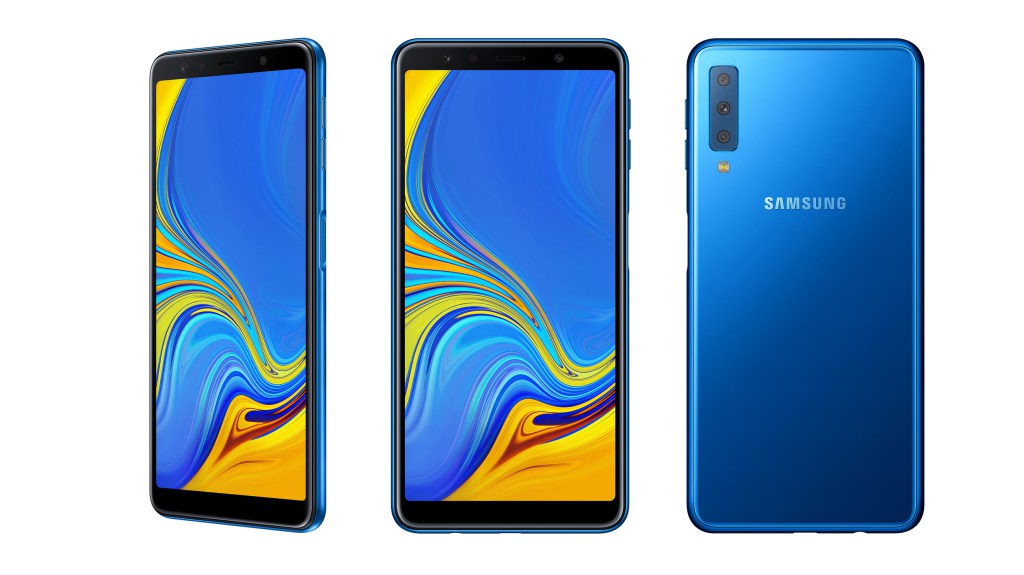 If you thought we could only see smartphones with two cameras at the back, then you are wrong. We now have smartphones with three and even four cameras at the back. Samsung has the Galaxy A7 with three cameras at the back and the Galaxy A9 with 4 cameras at the back.
The Samsung Galaxy A9 is not available in Kenya at the moment, the company will be launching it next month. The Galaxy A7 with the three cameras on the other hand is available in the country starting at Ksh 40,000, quite expensive. The company has announced that the Galaxy A7 is available in Samsung Experience Stores and authorized dealers in four different colours – blue, black, gold and pink.
The three cameras are its main features but not the only ones that stand out. This is a Ksh 40,000 smartphone and you do not expect them just to be overrated camera phones. Speaking on this, Charles Kimari, Head of Mobile Division said the company is committed to delivering meaningful innovation to all consumers across the Galaxy family. "That's why we're excited to introduce innovative new features to the A series with the Galaxy A7, a practical but powerful device that is built to help make your everyday both convenient and extraordinary," he added.

For the triple camera setup, Samsung has used an 8MP ultra-wide lens, 24MP normal lens and a 5MP lens for depth of field to ensure you can get good portrait shots with the background blurred. If you have been watching what has been happening in the smartphone space in Kenya and around the world, then you know that consumers want the best of the best when it comes to the camera. Sometimes even gimmicky features that let customers think the cameras are really good have helped some manufacturers sell devices. Samsung has not been aggressive this but it looks like it is changing things going forward. This three-camera setup will definitely get people talking and I can't imagine how crazy it will be with the 4-camera setup on the Galaxy A9.
I know some people are already asking, do we need the three cameras? Well, that is definitely up to you. This is not a cheap smartphone but if you have the money and want to experience it, go ahead and get it. If you are not a camera nerd, this is not a must have phone.
Some of the other key specifications of the Samsung Galaxy A7 are listed below.
Display Size: 6.0 inches with a resolution of 1080 x 2220 pixels
Processor: Octa-core 2.2 GHz Cortex-A53
RAM: 4/6 GB
Storage Space: 64GB/128 GB, can be expanded up to 512GB using a microSD card
GPU: Adreno 512
Android Version: Android 8.0 Oreo
Connectivity: 2G/3G/4G
Camera: 5 MP, 8 MP, 24 MP Cameras at the back with a 24 MP front facing one
Battery: 3300 mAh non-removable battery