Even before all existing Android smartphones get Android Nougat, Google is already working on Android P and its first developer preview is out. This is the very first public developer preview and is not recommended for everyone.
From this first developer preview, Google is introducing the dreaded 'notch' to the ecosystem. We saw this notch on a handful of devices last year including the Essential phone and the iPhone X. It is not a pretty design feature but is sort of necessary as we strive to have thinner bezels on our smartphones. The notch is not just an irrelevant addition, most of the times it houses some key components we are used to having on the front of the display including the front facing camera, sensors just to name a few.
Given that the notch seems to be gaining popularity this year, Google wants to ensure there is OS-level support with Android P. We have already seen some manufacturers including LG showcase devices with this notch for some reason even though it is not appealing to look at. This is why Google has included it in the first developer preview that it has released. We should also expect to see many more devices with this notch, this should be the case with most of the Chinese manufacturers who seem to copy everything Apple does. With notch support, OEMs will have to enable it if they want to and does not mean that we will see it on all devices.
Back to Android P, this first developer preview also introduces indoor positioning via W-Fi RTT. This will make it easier to calculate the phone's position with an accuracy on 1 to 2 meters as long as the said phone has the required hardware support. I hope we will end up seeing some indoor navigation apps from this.
Messaging notifications have also been improved, smart replies are now OS-wide and all is needed is for developers to enable them. There will also be pictures and stickers in the messaging notifications. Still on the notifications panel, the design has been altered a bit and so are the Quick Settings toggles.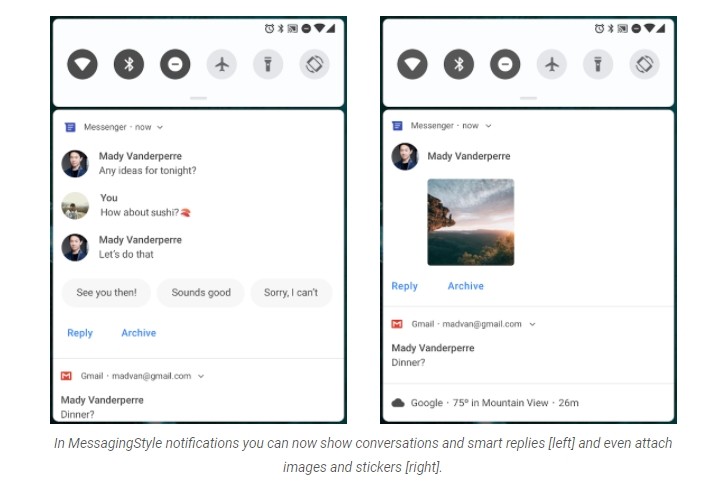 An interesting addition is the multi-camera API that enables bokeh, seamless zoom and stereo vision on devices with two cameras on either the front or the back. This is a tricky move by Google and we will wait and see it manufacturers embrace this and ditch the third-party solutions they have been using.
What's Exciting
Given that this is the first developer preview, we have a handful of new features to get excited about. Keep in mind that things may change and we may not have all of them in the final release. I am particularly excited to see the redesigned messaging notifications, changes in the camera API and overall improvements in the user experience brought about by the Autofill framework and restrictions applied to apps that are idle.
As I have mentioned above, this is the first developer preview that can be installed on Pixel smartphones. It is not recommended for use by anyone but for developers who want to use it to test their applications. It is most likely has a lot of bugs as it is. The next Developer Preview will be released in May.
Also Read: Android Nougat Finally Makes Its Way To The Top Of The Android Variants' Leaderboard