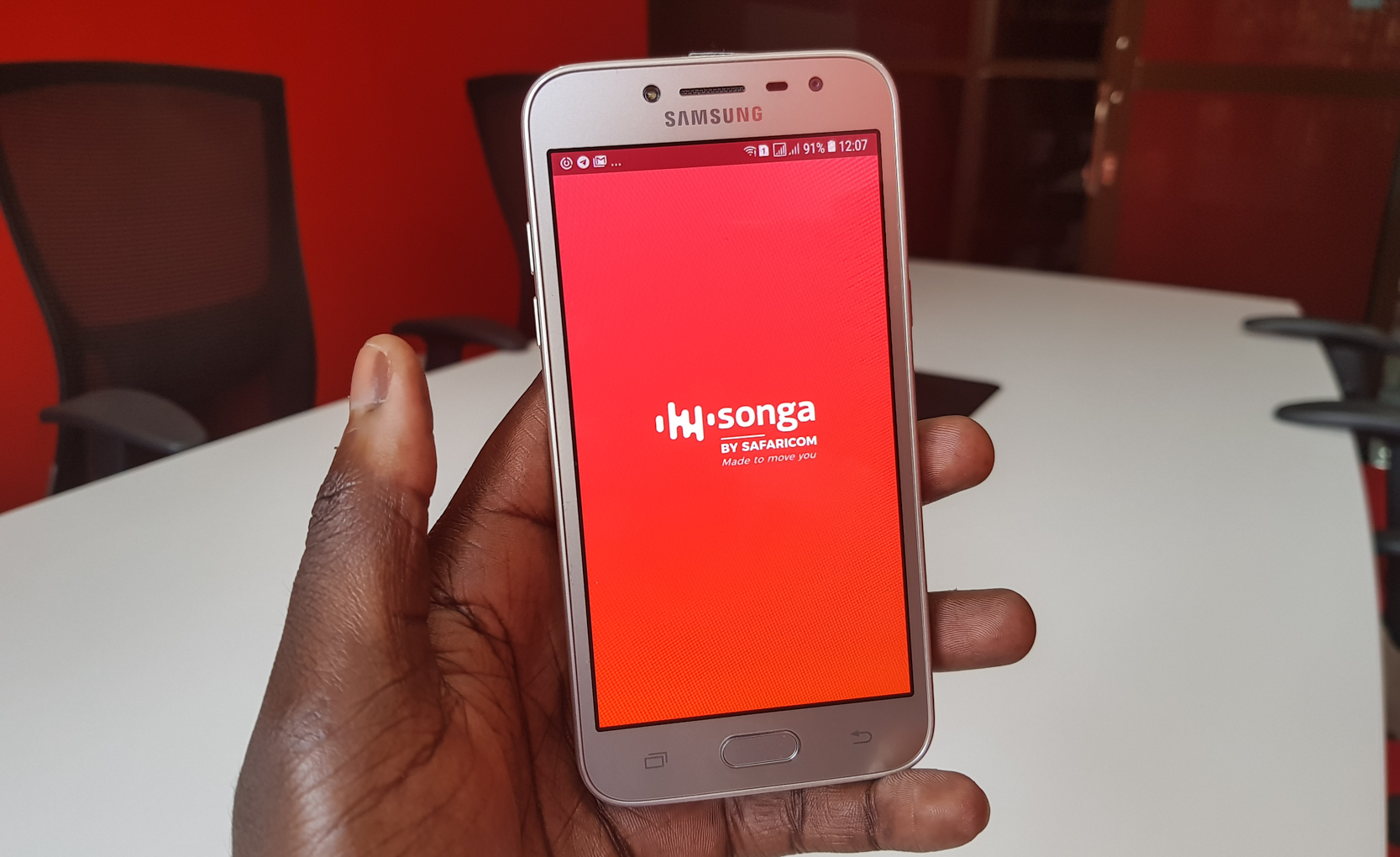 A couple of days back, Safaricom introduced its latest product, SONGA. This is a music streaming application that the company hopes will be the top music streaming application in Africa. Given that this is a new product, I was excited to see what it has to offer and if it is worth the hype. Below are some of the things I found out about this app.
Available on Android Only (at least for Now)
At the moment, SONGA is available on Android only. The company says that an iOS version is on the way but no exact date had been given. If you are on Android, you can get the link to download the app by dialling *812# on your Safaricom line. If you don't want to do that, you can also download the app directly from the Google Play Store here.
Still In Active Development
When you try to download the app from the Play Store, you will be notified that it is still under development and may not be stable. And true to that, the app is not very stable as I found out. It crashes for no particular reason from time to time. Don't get me wrong, the app is usable but be prepared for this as it will happen at some point.
As for most of the other internal features of the app, they work perfectly. The signup process did not have any issues but I know of people who have had problems with this.
The one problem I have had so far comes when you are playing music. When you are playing songs from one album and get to the last song, the 'Next-song' button is still there but when you tap on it just replays that last song (current song) and doesn't replay the songs in the album or even play another song in the same genre. With this, you may end up tapping the button and having it replay that one last song until you realize that nothing is going to happen.
Local and International Songs
SONGA has a good collection of local and international artistes on its platform. Not all local artistes are there but a handful of them to get you started. The company says that over 400,000 artistes are listed there. The good thing about their collection is that it is diverse and has some international artistes for those who are not big fans of local ones.
Not Free
If you are planning to download SONGA, you ought to know that it is not a free service. This was sort of expected as the company has to make money. There are three different subscription options; daily, weekly and monthly. The daily option is KES 25 per day, weekly one is KES 150 every week and for the monthly one, you will have to pay KES 499. On top of this, you will still need a data connection so keep this in mind before subscribing.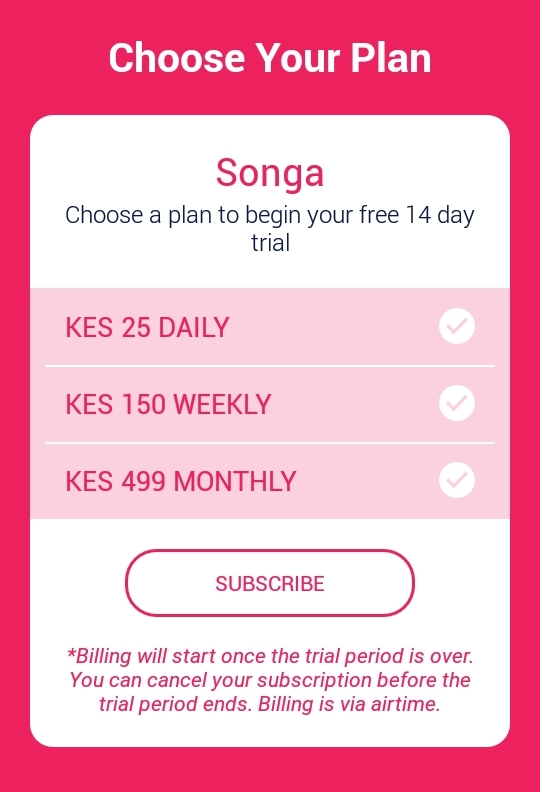 Before you pay, you get a free 14-day trial period to see if the service is worth your money.
Downloadable Songs
Speaking of an active data connection, the one thing I like about SONGA is that it allows you to download some songs when you have an internet connection and listen to them offline. At the moment, I haven't seen a limit to the number of songs you can download. You can even download entire albums at once if you want to. I haven't looked into the download option but I guess it employs some sort of DRM to prevent unauthorised distribution of the downloaded music.
You can also use the app to listen to some local radio stations that include Homeboys Radio and a bunch of stations by Radio Africa Group.
For Safaricom subscribers only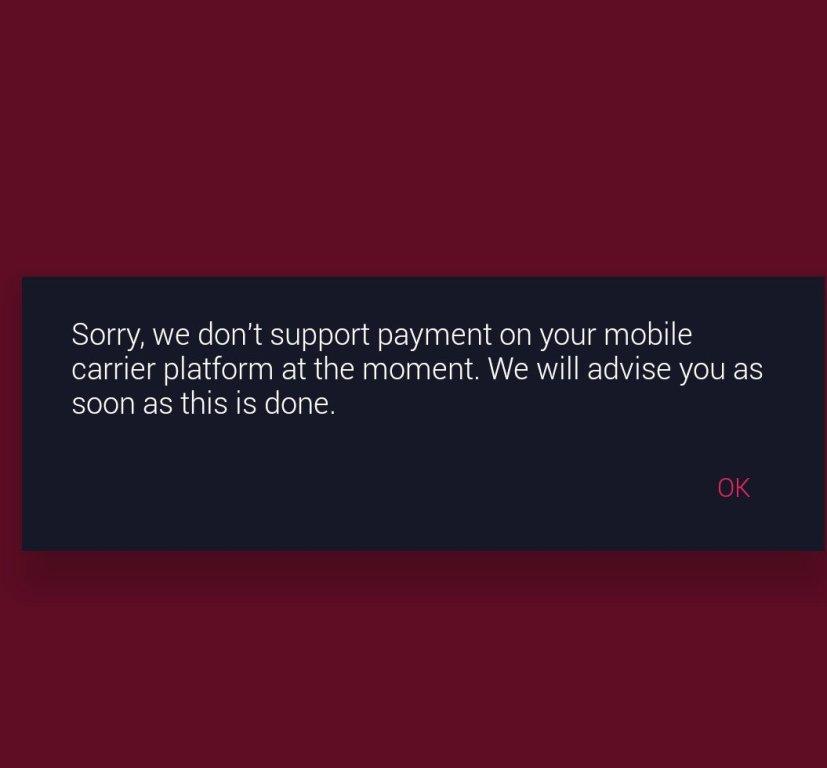 At the moment, you can only subscribe to any of the packages if you are a Safaricom subscriber. I know this is very weird and I don't understand why it is the case. To subscribe to a package, the money, let's say KES 25 for the weekly option, will be deducted from the airtime you have on your phone and for this to happen you will have to have a SIM card from Safaricom. There are no other payment options, even M-Pesa but I am pretty sure they will be added down the line. Limiting payment options to just the airtime is just weird.
Will You Get It?
So, is this that good of an app to get? I downloaded it to test and get the free trial run but I am still not convinced I will use it past that. My reason for that is the app is good with a good collection but not all artistes I am interested it are there so why should I pay. Its discovery feature is more of a curated option and not a recommendation system so you end up with pre-selected artistes you should listen to. No particular new way of discovering new artistes like other music streaming services. Either way, I will use the app for the next 14 days and decide after that.