Google is not very open with the exact numbers when it comes to the total Pixel smartphones it sells. The best the company has said is that shipments doubled in 2017 compared to 2016. Even though Google is being secretive, IDC, a top market research company, says that over 3.9 million Google Pixel phones were shipped in 2017.
Francisco Jeronimo who is IDC's Research Director released the actual number that are at par with Google's own report that revealed the company doubled shipments in 2017. This is a big number but is still tiny compared to other established brands such as Apple and Samsung.
To put it into perspective, Google only shipped 3.9 million units and the market size is 1.5 billion. This is not so bad for Google as the company makes premium devices and thus does not target all users across the globe. The company also ignores most parts of the world when it comes to marketing its Pixel devices and this might be the reason why it only shipped 3.9 million devices.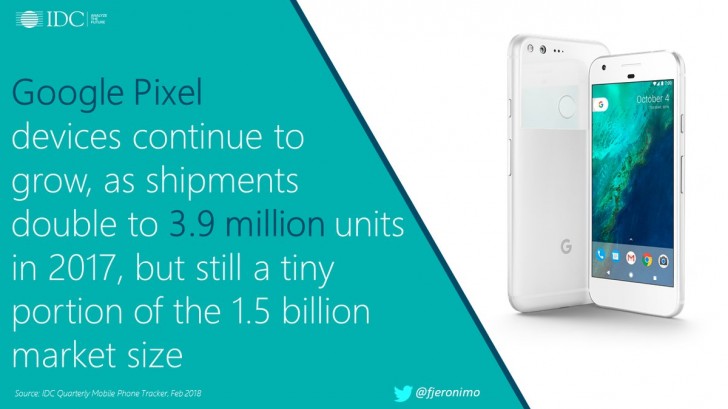 Read Now: HMD Global Sold 8.45 Million Nokia Smartphones In 2017
Selling 3.9 million smartphones is not as impressive when you realize that the new entrant into the market, HMD Global (Nokia phones) managed to sell over 8 million units in 2017. The company already had an advantage with the Nokia name and sells its phones in almost all markets across the globe. This may be so but in the end it sold more units than Google and that's that.
It is very hard to break even targeting the premium smartphone segment but Google is trying. It is competing with manufacturers such as OnePlus that tend to offer really good devices at much lower costs and most consumers tend to go with such manufacturers. This may be the case but if Google keeps up with the work it did with the latest Pixel 2 smartphones, it will attract consumers who want the best of the best when it comes to smartphones.