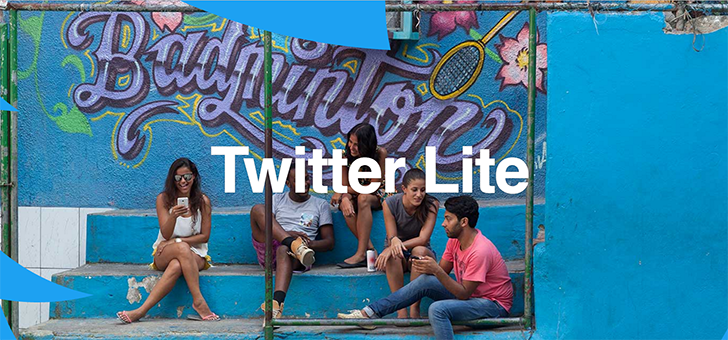 We all know that mobile data is very expensive. This is especially so for a country like Kenya where data costs can easily get out of hand if not closely monitored. With high data costs, website and online property owners are at risk of losing visitors to their platforms if the said platform consume a lot of data. With that in mind, most of them find ways to ensure visitors to their platforms do not spend all their data on them.
We have seen Facebook roll out lite versions of its main app and the messenger app. These apps are meant for those who want to use these services but do not have unlimited data plans. These apps have the core functionality of the main apps but are toned down to get rid of some of the data hungry features that users may not necessarily need.
Twitter doesn't want t be left behind and the social networking site launched Twitter Lite not so long ago. Twitter Lite started as a mobile website early this year but is now an app available to a few users around the world. The app was first tested in the Philippines and now is expanding to 24 more countries.

The countries it will be available in include Algeria, Bangladesh, Bolivia, Brazil, Chile, Colombia, Costa Rica, Ecuador, Egypt, Israel, Kazakhstan, Mexico, Malaysia, Nigeria, Nepal, Panama, Peru, Serbia, El Salvador, South Africa, Thailand, Tunisia, Tanzania, and Venezuela. Most of these are emerging and developing economies. For us in Kenya, we are not getting the app at this time even though it would be perfect for us. I just hope that Twitter has plans to bring this version of its app to this part of the world soon.
'Twitter Lite is supposed to be light and quick to load even for those using slow 2G networks. Most of these people are in emerging and developing countries. The app itself is 3MB in size and this is to ensue it does not take so much space on your device. If you are in the above-mentioned countries and want to get the app, head over to the Play Store and grab it. If your country is not listed above, you can still head over to mobile.twitter.com if you want to save data when accessing Twitter.
Also Read: Google Launches Datally To Help You Control Your Data Usage