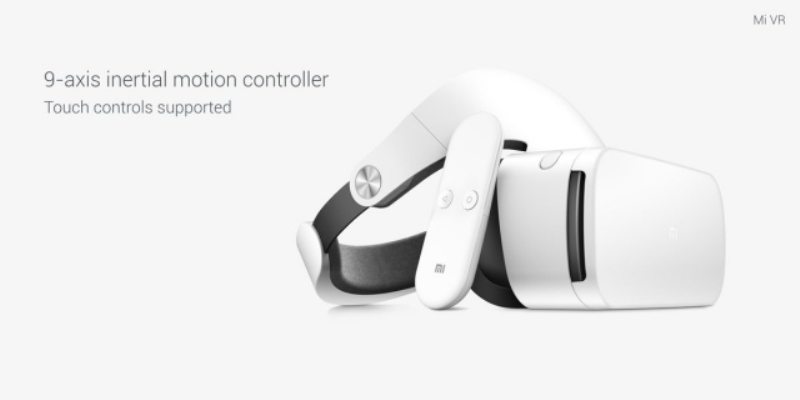 Back in August, Xiaomi unveiled its first virtual reality headset, the Mi VR Play. We never heard about this virtual reality headset since then and it was clear that Xiaomi wasn't ready to push it aggressively as it has done with its other devices.
Fast forward to October and Xiaomi is back at it again with a new virtual reality headset, the Mi VR. This new VR headset will be compatible with select devices from the company including the Mi 5, Mi 5s Plus and Mi Note 2. The new VR headset looks much better than the first one if you ask me.
The new VR headset from Xiaomi also has a 9-axis motion controller and a remote control with a trackpad and 9-axis motion sensor. Xiaomi says that the VR headset has a 16-millisecond response time. Is this just a gimmick? Only time will tell, the headset has to be tested in real world environments to prove this.

Xiaomi says that the combination of dedicated motion sensors, system level optimizations and a high-performance smartphone will significantly reduce motion sickness. This will go a long way in convincing some users that it is the VR headset to get.
The price of the Mi VR is about $29 (approximately Ksh 3,000) in China. When it gets here (Kenya), expect the retail price to be a bit higher than this.
VR Content
With the announcement of this new VR headset, one question people will be asking is, is there enough content? Xiaomi says that its MIUI VR marketplace has about 30 VR apps, over 500 panoramic videos and over 200 registered developers. These are the developers Xiaomi hopes will create enough content on the store.
Besides all the features mentioned above, the $29 price tag is what excites me. We rarely see VR headsets from established brands within this price range. We will be keen to see if this price helps with sales.
Also Read: Oculus Disables Note 7 Support for The Gear VR