By now, you probably already know that Nokia is getting ready to get back to the smartphone and devices market. The company has been away ever since it sold its mobile division to Microsoft. The agreement between the two companies stipulated that Nokia could get back to the market only after the end of this year (2016).
With 2016 coming to an end, Nokia is hard at work preparing its comeback. We have already heard that the company has a number of smartphones that it plans to release when it officially re-enters the market.
Before we get to the smartphones, Nokia apparently has a 13.8-inch tablet that we might see anytime soon. The device was leaked on AnTuTu sometime back but we are now getting a confirmation of what it is through a GFX Bench listing. We had previously thought that this will be a smartphone but it looks like we were wrong as this is going to be a tablet. The GFX Bench listing reveals that it has a 13.8-inch display with a 1080p resolution.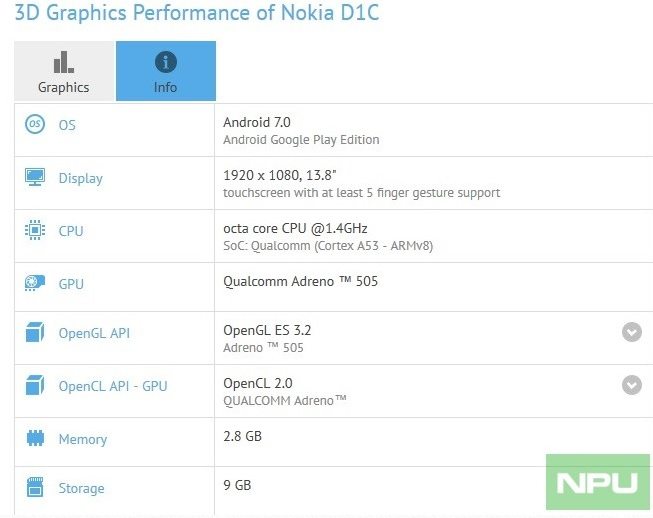 This tablet is referred to as the Nokia D1C and will be powered by the Snapdragon 430 chipset paired with 3GB of RAM and 16GB of internal storage space. It will run on Android 7.0 Nougat which is something we expected. The 3GB of RAM is what excites me about this tablet, we rarely see tablet with such RAM and we have to give it up to Nokia for going that way.
As for the camera, the Nokia D1C has a 16MP camera at the back that can shoot 1080p videos and an 8MP front facing one that can also shoot 1080p videos.
Just like the Nokia N1 tablet, the D1C will be made in collaboration with Foxconn. We will know more about this tablet in the coming weeks.
Also Read: Welcome Back Nokia! Here Are a Few Things You Need to Know