We all know that Microsoft is not having an easy time getting people to use Windows 10 Mobile. The number of people buying Windows 10 Mobile devices is not growing as fast as we had expected. People are not embracing Windows 10 Mobile and this has led to a few people to speculate the death of the platform altogether.
Being someone who has used Windows Phone before, am not impressed how Microsoft has handled Windows 10 Mobile so far. The company has just not actively promoted it or even try to get people onboard. This has meant that its growth has been so slow and only now has it reached 14%. It's almost one year later and only 14% of all those using Windows Phone have the latest iteration, this is very bad. This is something you expect from platforms such as Android and not Windows.
According to AdDuplex, Windows 8.1 is still king with 77% market share. Since no new phones are coming with Windows Phone 8.1, it is safe to assume that existing customers are just not upgrading. The question to be asked then will be, why should they upgrade? Microsoft is treating Windows Phone as a platform that is on its death bed, how confident should the end consumers be that the platform will be around one year from now?
Even with what I have said above, Windows 10 Mobile's market share is growing, even though at a slower pace. According to AdDuplex, last month, Windows 10 Mobile's browth doubled from 0.5% to 1% and this month it has doubled again. This is great and it is time Microsoft came into the picture and show us Windows Mobile is here to stay.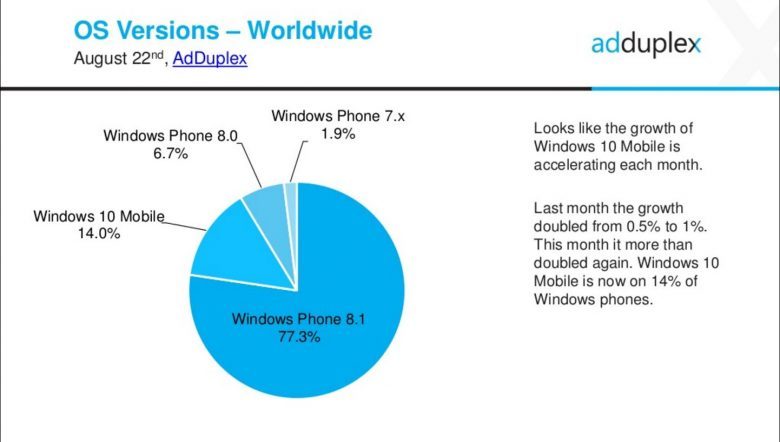 Windows 10 Sub Groups
Digging deep into Windows 10 Mobile, 52% of those running the platform have already installed the Anniversary Update that started rolling out a few days ago. The older version 1511 has a market share of 41.3%. The Lumia 550 is the most popular Windows 10 device with a market share of 12.9% with the Lumia 640 following closely with a market share of 12.7%. Third on the list is the Lumia 535 with 12.2% market share and the Lumia 640XL with 10.9% market share.
Popular Windows Devices
As for the devices themselves, AdDuplex has revealed that the Lumia 520 and 535 are still the most popular ones overall (both on Windows 10 Mobile and Windows Phone 8.1). Both these are entry level devices and show that Windows Phone has a higher chance of success if Microsoft decided to target this market. The Lumia 520 and 535 have a combined market share of 22.7%. The Lumia 640 comes in third with a market share of 9.8%.
As you can see from the list above, apart from the entry level Lumia 550, none of the recent Lumia smartphones (read Lumia 650, Lumia 950 and 950XL) are popular among users. Microsoft should learn a few things from this and realize that the entry level market segment is where they can make the most money.
Also Read: The Microsoft Lumia 550 Review