WhatsApp has announced that it will be rolling out end-to-end encryption across its platform to ensure messages sent are fully protected. This feature has been available for Android since 2014 but from today will be able to work on all platforms including iOS, Android, Windows, S60, S40, and BlackBerry OS.
This new update brings end-to-end encryption to all aspects of WhatsApp from one-on-one chats, group chats, voice calls, voice notes, attachments. We first reported that this update was coming to WhatsApp a few weeks ago and it is finally here.
Read: WhatsApp Will Reportedly Add End-To-End Encryption to Voice Calls and Group Chats
In a statement, the company said, "The idea is simple: when you send a message, the only person who can read it is the person or group chat that you send that message to. No one can see inside that message. Not cybercriminals. Not hackers. Not oppressive regimes. Not even us. End-to-end encryption helps make communication via WhatsApp private – sort of like a face-to-face conversation."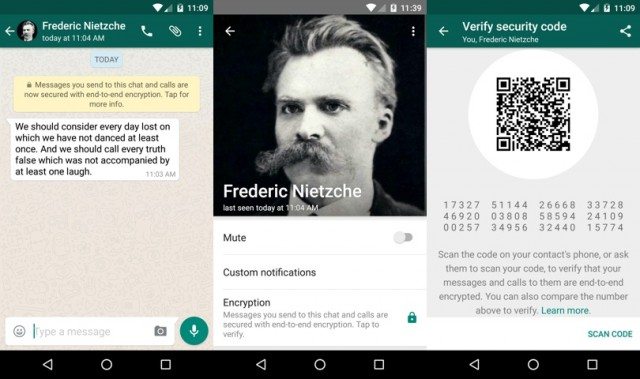 With end-to-end encryption, the message can only be read by the intended recipient. If you have been on WhatsApp today, you may have noticed a notification telling you that the messages you are sending to a particular recipient are encrypted. If you are not seeing this message, your messages are not encrypted.
All users have to be using the latest WhatsApp version if you the messages are to be encrypted according to Open Whisper Systems. "To make this transition as clear as possible, WhatsApp clients notify users when their chats become end-to-end encrypted. Starting today, users will see a notice in their conversation screen as their individual and group chats become end-to-end encrypted. Additionally, the encryption status of any chat is visible under that chat's preferences screen."
You can also choose to verify the authenticity of an encrypted session easily as WhatsApp lest you do this.
Read: WhatsApp Is Working On a New Update to Bring Features for You to Customize Your Messaging Experience