We all know that Facebook is the king when it comes to social media. The platform has steadily attracted new users to its site even as competition in the field gets tougher.
To show big Facebook and some of its companies are, Mark Zuckerberg has shared some statistics about the different platform he has direct control over. He shared that Facebook had over 1.59 billion monthly active users by the end of last year (2015). Out of all these users, over 1.04 billion of them use Facebook on a daily basis, are you part of the number? I know I am.
Out of all these monthly users, over 1.44 billion of them are believed to come via mobile according to Engadget, a significant number indeed. The publication went ahead to point out that 934 million mobile users visit Facebook on a daily basis.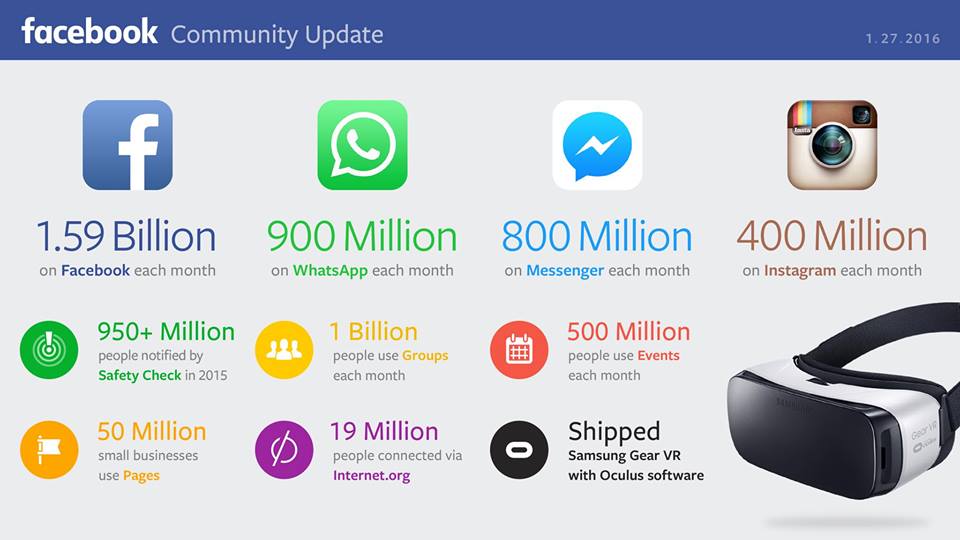 Apart from Facebook, Mark Zuckerberg also showed us that the other platforms under his control have grown significantly as you can see from the photo above. The photo shows that WhatsApp (which Facebook bought a while back) has over 900 million active monthly users. This means that WhatsApp is about to overtake Facebook in terms of popularity.
Read: FaceBook Acquires WhatsApp For $19 Billion
Facebook's main chatting platform for mobile, Messenger, has also grown slightly and now has over 800 million active monthly users. This puts it at number 3 out of all of Facebook's platforms. It is followed closely by Instagram which has slightly over 400 million monthly active users. This is very impressive for Instagram and it looks like the photo/video sharing application is giving Twitter a run for its money.
Going forward, expect Messenger and Instagram to continue growing even more. With the scraping of annual subscription fees, expect WhatsApp to also continue growing. Facebook may also continue growing but it will be as fast as it has been.
Read More: WhatsApp Gets Rid of Its Annual Subscription Fee
Source: Facebook