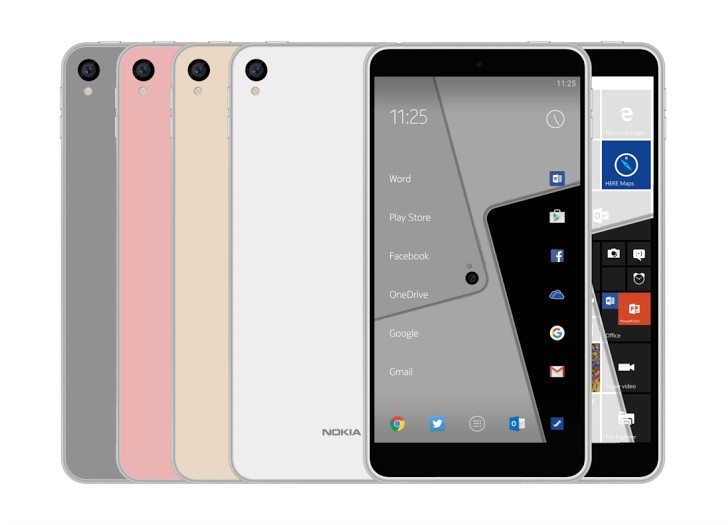 Nokia left the smartphone market a while back after its mobile phone division was acquired by Microsoft. A few months after this acquisition happened, we started hearing that Nokia was planning a comeback and the earliest this was to happen was 2016. This has even been confirmed by Nokia's CEO so it is not another unsubstantiated rumor.
As we get close to 2016, expect to see information about Nokia's comeback devices. The first of these leaks started rolling out a few months ago and now we even have images believed to be of the device, the Nokia C1.
The first image of the leaked render gives us a clue as to what the Nokia C1 will have in terms of design. From the render, the Nokia C1 will look absolutely beautiful if this turns out to be true. Keep in mind that we have seen supposed renders before some of which turned out not to be true.

The renders also reveal something interesting that I was clearly not expecting. They show that the Nokia C1 will come in two variants, one powered by Android and one powered by Windows 10 Mobile. Probably Nokia has not forgotten where it came from but considering that it had a hard time ranking up sales when it was focusing on Windows Phone alone, the company probably wants to spread the risks properly. Up until this point, we had known that Nokia has plans to embrace Android and we never heard of any plans to make devices powered by Windows Mobile.
With these new renders, it is unclear what Nokia has in store and we are not 100% sure that the company has plans for the Windows Mobile ecosystem. Probably the company may decide to make Windows 10 Mobile powered devices in limited quantities but I highly doubt this will happen.
We will update you on this and what Nokia plans for its smartphone business as we get more information.
Read More: These Images Are Proof That Nokia Is Planning To Re-Enter The Smartphone Market