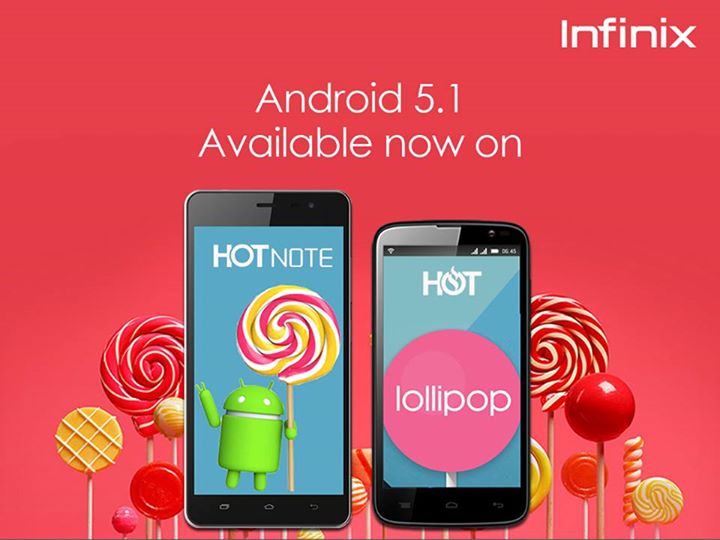 One problem most people have always had with new entrants into the smartphone industry (Android) is getting the latest update from these manufactures. Most of these new manufacturers tend to focus on manufacturing and releasing new phones rather than pushing the latest Android version to their customers.
This has been the case ever since Android came into existence but one company is looking to change this. That Company is Infinix, the company that has been in Kenya for a very short time. The company recently announced through Facebook that the Android 5.1 Lollipop update is available for the Infinix Hot Note and the Infinix Hot.
Read More: Infinix X507 Specifications and Price in Kenya

Through Facebook, the company said, finally,
"Android 5.1 Lollipop is available on Infinix #HotNote X551 and #HOT X507!!! You can download the first Beta version of Android 5.1 Lollipop."
With this move, I expect the latest from Infinix, the Zero 2 (X509) will also be getting Android Lollipop as we go ahead.
For a company such as Infinix to support even its cheapest device says so much about them. It is really a good move to Infinix especially supporting the Infinix Hot which costs less than Ksh 10,000. Most manufacturers with smartphones within this range do not support them that well except for the Window Powered smartphones from Microsoft.
Setting the Pace
Let's all hope that the other manufacturers are taking notes and will follow suit soon. Most Smartphones in Kenya are entry level devices and to see manufacturers supporting them with the latest updates is a good thing.
Read More: Infinix Hot Note X551 Specs Overview and Price in Kenya
To get the Lollipop update for your Infinix Hot or Hot Note, follow the steps below:
Infinix HOT NOTE X551: http://bbs.infinixmobility.com/forum.php?mod=viewthread&tid=2226&extra
Infinix HOT X507: http://bbs.infinixmobility.com/forum.php?mod=viewthread&tid=2224&page=1&extra
Source [Infinix]