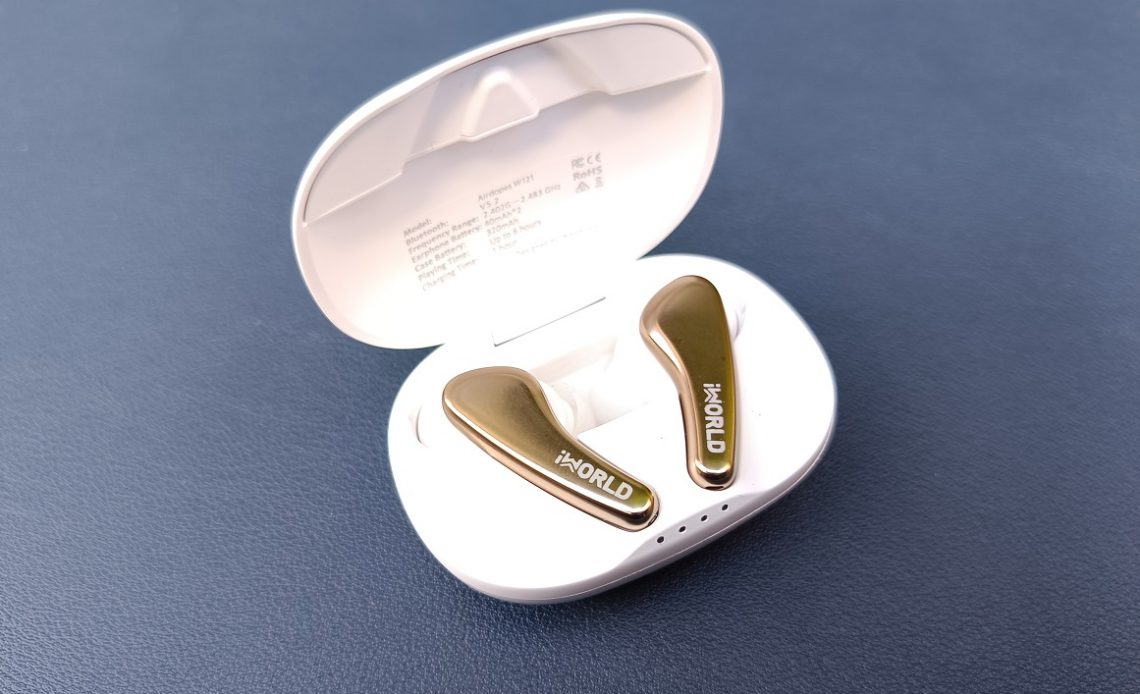 Wireless earbuds have been gaining popularity in Kenya recently and you can get them in different shapes and sizes. Ever since I started using wireless earbuds, I have never gone back to wired earphones. They just work so well for me and I do not see myself ever going back. 
Recently I got a chance to use the Airdopes W121 earbuds by a Kenya company called iWorlds. These are True wireless earbuds that you can get from Jumia for Ksh 1,999. You can get yours by clicking here. This is a very competitive price considering what the earbuds have to offer. 
iWorld is  a Kenya company based in Mombasa. The packaging indicates that the earbuds are designed in Kenya and manufactured in China. They even have Eric Omondi on the package, I never expected that. I was really curious to see what they have to offer when the company sent two for me to review.
When looking at wireless earbuds, I mostly focus on two main things, the sound quality and the battery life. These are the main things that are of interest to me before anything else. 
Unboxing the iWorld Airdopes W121 earbuds
From the box, the Airdopes W121 earbuds do have a premium touch to them. If you have used earbuds within this price range, then you know most do not focus on the packaging at all. iWorld took a different approach. Most people who saw the box they came with thought they were a bit more expensive than their actual retail price. That is a good thing as you know you are getting quality products at a fraction of the cost.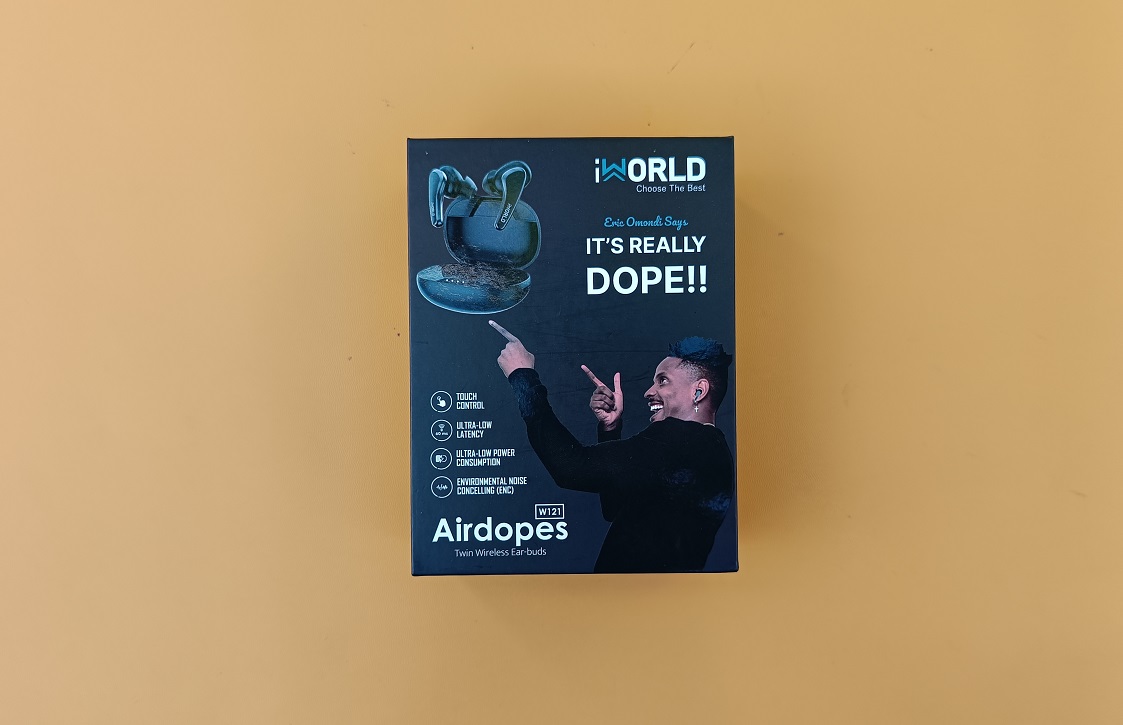 Inside the box we do have the;
Earbuds in the case

USB C charging cable

Extra ear tips

User manual and instruction
What it's like to use the iWorld Airdopes W121 
The Airdopes W121 features a matte, plastic case for charging. This has a rounded rectangular shape. It is not slippery and does feel good to hold. The iWorld logo is at the top and you won't miss it. At the front part we do get the LED indicators that you can use to see the battery level of the case. The one thing I noticed about these indicators is that they take sometime to turn off when you close the lid. I am not sure why that is the case as they can be distracting. In my opinion, they should turn off at most 20 seconds after you close the lid. At that point you will have known the battery percentage level of the lid and charge it if you have to.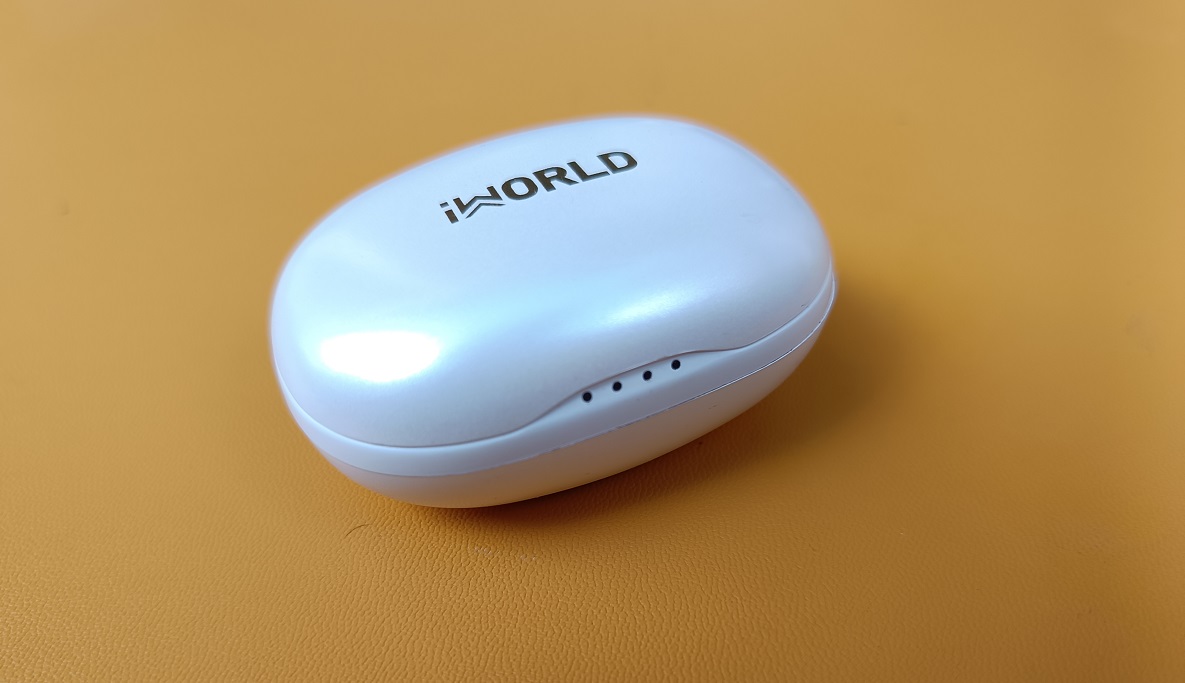 Besides indicators, the case has the USB C port for charging. Having a USB C port means that you can charge it with any other USB C charger that you may have around your house. This is a small but appreciated addition for me. 
The lid is easy to open and when you do you get to see the earbuds with the iWorlds logo. I got the white ones with gold accents which look quite good.
The earbuds have a blinking light indicator at the top when they taken from the case. The light stops bliking when you pair them with your phone. They are easy to pair with your phone,just switch on bluetooth and you will see 'iWorld W121', tap on it to pair.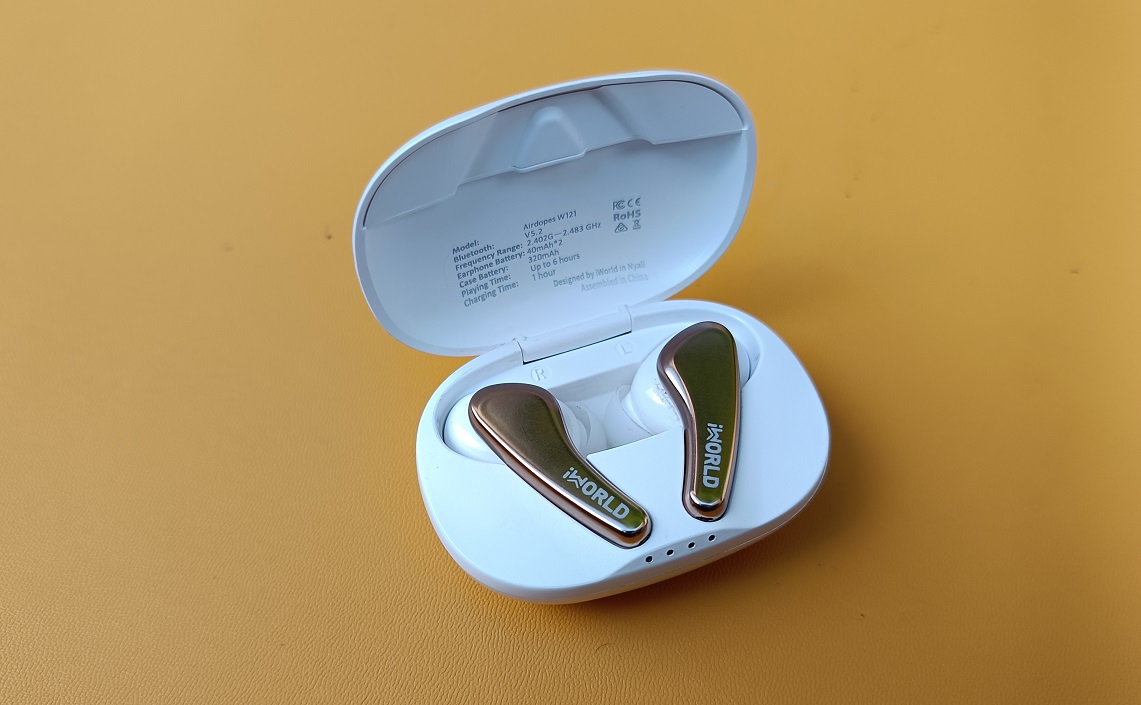 The Airdopes W121 have rubberized tipsthat make them fit comfortably in your ear. As i mentioned above, there are extra ear tips that you can use if you end up sharing your earbuds with someone or if the ones that come attached do not fit comfortably. 
With how comfortably these earbuds fit, they can be ideal for exercises as they do not fall off at all. If you do a lot of physical activity, these are the earbuds to get. 
How to  control the iWorld Airdopes W121 earbuds
The Airdopes W121 earbuds support touch controls which means that you can adjust music volume, play/pause music just by tapping on the earbuds. The exact way to do this is indicated in the user manual. Overall, this is easy and once you master it, the convinience is just too good. No need to interact with your phone to change the volume, play next etc, you can just tap or double tap on the earbuds to do this and more. You can even activate Google assistant by tapping on the earbuds. The touch sensitivity is reasonable, not too sensitive to be activated with every accidental touch.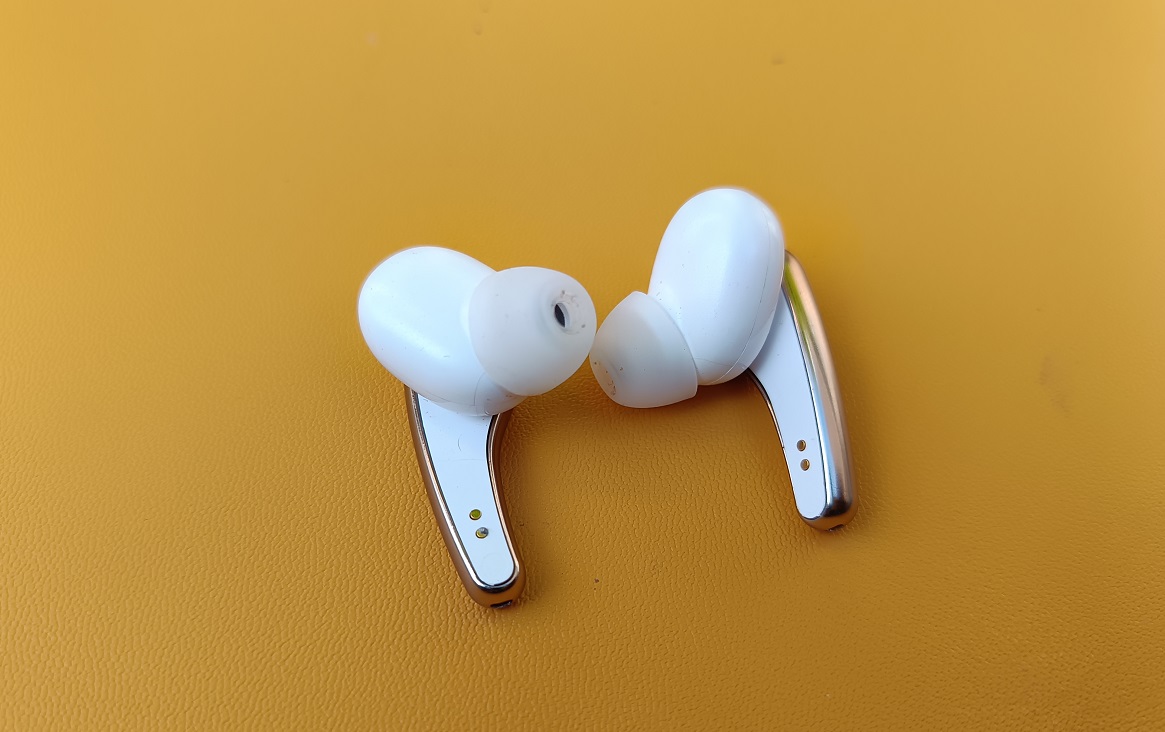 There is no app to customize the touch controls so you will have to use them as they come. I was not really expecting this on these earbuds but I just had to mention that for those who may have such questions. 
How long do the iWorld Airdopes W121 earbuds last?
iWorld is promising up to 6 hours of use on a signle charge, I have gotten close to this in most cases. I don't use the earbuds for 4 or even 5 hours continously and when I am not using them, I store them in the case which also charges them.With that in mind, I rarely run them low and for the two weeks I have been using them, I have not had any issues.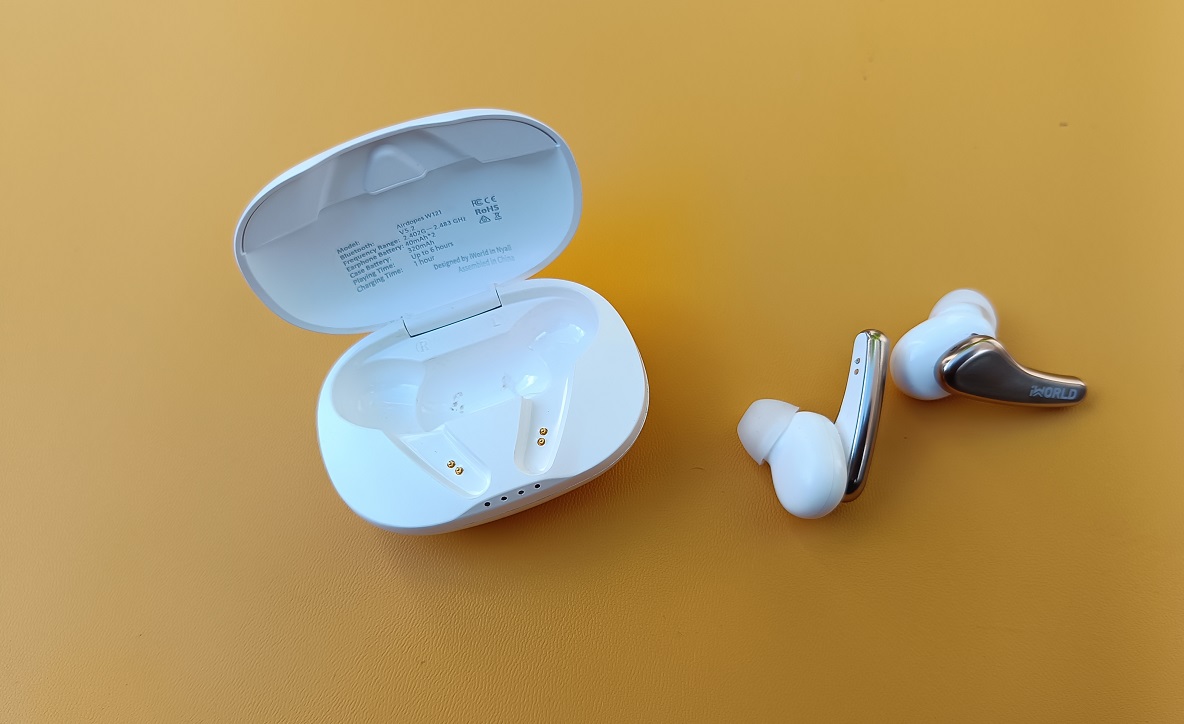 If you are interested in the technical details, the earphones battery ccapacity is 40mAh  for ear and the case is 320mAh . The case takes about an hour to fully charge.
iWorld Airdopes W121 Sound quality
These earbuds support AAC, have good and balanced bass that should be good for most people. They perform well even at high volumes. They also work well for phone calls, you will hear the person on the other end clearly and the microphones are good for the other person to hear you clearly. I mostly used these for music and the experience was good.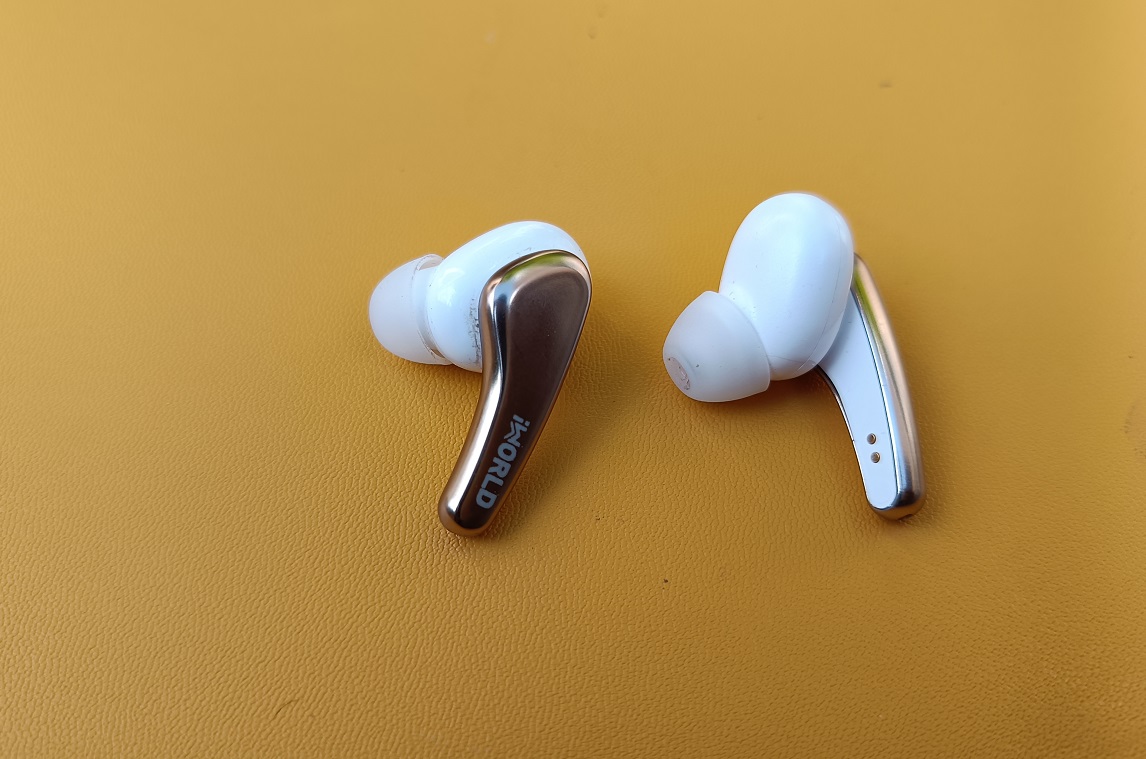 The earbuds also have very low latency which is important when watching videos or playing games on your phone. You do not want the audio and video to be out of sync and these earbuds ensure that. 
These earbuds have Environmental Noise cancelling which is not Active Noise ccancelling but almost as good. They are able to cancel out the noise around you for an immersive experience.They do a great job at this and when you have them on, you will rarely hear what goes ojn around you. 
Should you buy the iWorld Airdopes W121 Earbuds?
If you are looking for affordable earbuds with good sound quality, these earbuds are perfect for you.At Ksh 1,999, they are reasonably priced compareed to what they have to offer.The sound quality is unmatched at this price and in most cases you will have to spend a little bit more to get a similar experience. I have loved using these earbuds so far. They pair with any phone easily and the process is starightforward with no complications. 
The touch controls are also easy to use and make the user experience much better.You do not have to keep taking out your phone just to adjust the volume,play or pause mushc etc.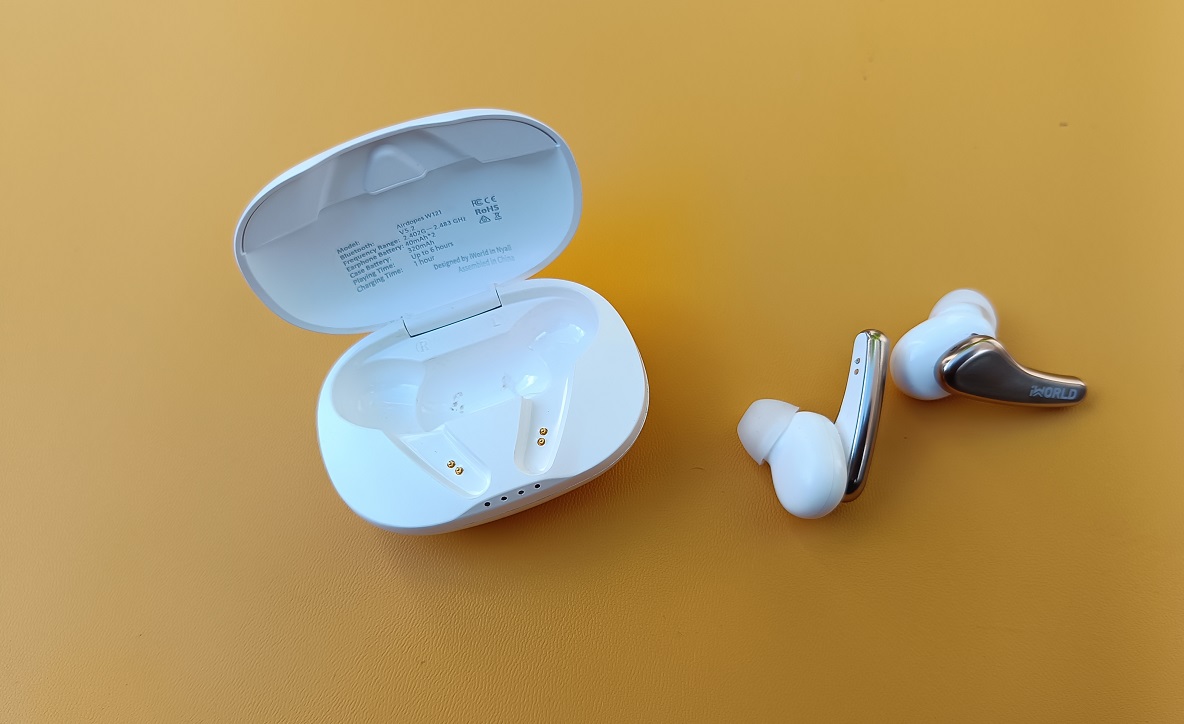 I was skeptical about the Envorimental Noise cancelling at first as I thought it reffered to how tight they fit. Having used them for two weeks, I have come to appreciate this, it makes the whole experience much better. 
The battery life is also amazing, at not time have i run out of battery when using these earbuds and that is a good thing. They are realible to use outdoors and aways from the office or your house. 
These earbuds tick my two main boxes, the battery life and sound quality and for that they are easy to recommend. If you are interested in a pair, you can get them from Jumia here. 
Read: The Huawei Band 6 Review