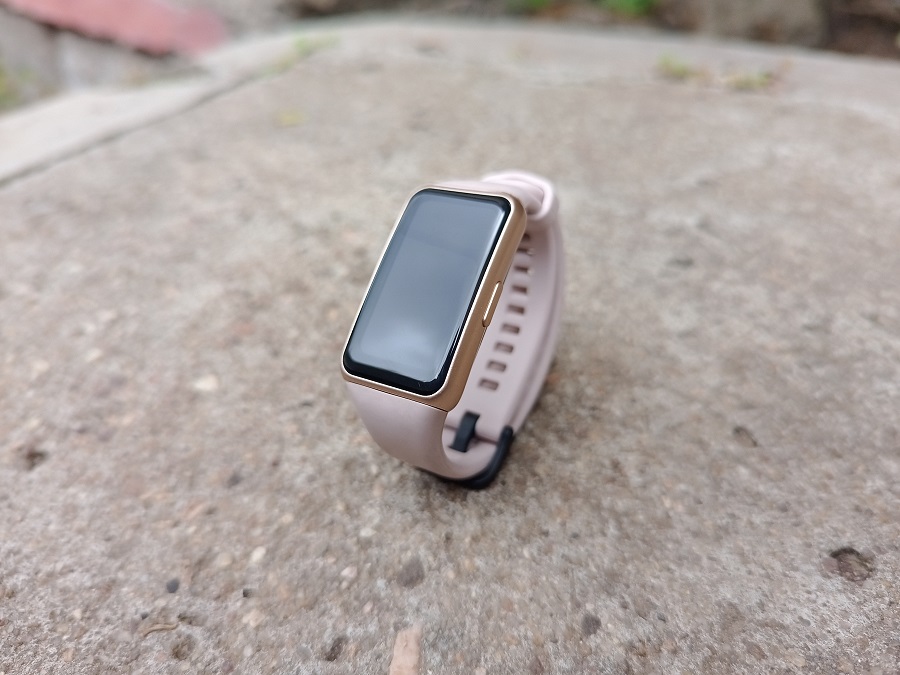 The Huawei band 6 is the latest wearable from the company to launch in Kenya. This fitness band officially went on sale in Kenya yesterday and you can get it for as low as Ksh 6,999.
I have been using the Huawei band 6 for a few weeks and thought I should share my thoughts on it. I got the review unit from Huawei and right before using the band 6, I have been using the Huawei Watch Fit which is available for a much higher price.
The unique selling point of the Huawei band 6 is its two-week long battery life. This is impressive for a fitness band of this scale but is it the only thing it has to offer. This is what I will be sharing in this post to help you decide if it is worth your money.
Design and Display
The Huawei band 6 is an entry level smart band with a compact design and build. It does look the part as you would expect it to. The rubber band strap is flexible and conformable for wearing for extended periods of time. This is not the same thing you can say about other entry level fitness bands and thus commendable for Huawei to pull  off.
The back of the Huawei band 6 has a number of sensors that make the whole fitness aspect of this band useful. You get a heart rate monitor, sleep sensor, stress monitoring sensor and SPO2 sensor.
For the display, the Huawei band 6 has a massive 1.47-inch AMOLED display. This is a massive display considering the small size of the band. The display is quite good offering natural colours with very good contrast all day. This display size is just good and reliable.
Huawei lets you choose the watch face you want for your watch with 32 options available. You can even download a ton more through the Huawei health app which is needed to pair the band with your smartphone. These are just ways for you to customize your fitness band to fit your lifestyle.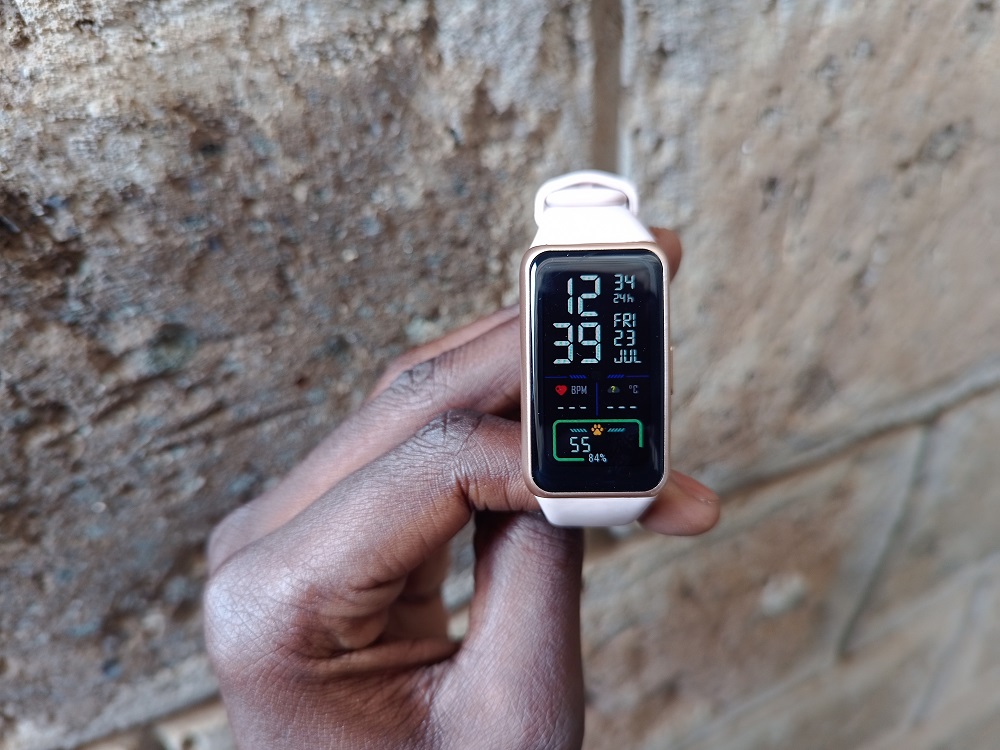 The Huawei band 6's display is slightly curved on the edges and this makes swipe and touch gestures smooth. It feels natural to perform these moves no matter where you are on the menu screen.  You should note that even though there are different brightness levels to choose from with the band 6, there is no auto brightness option so the display can get bright at night if you are in a dark room.
The font size is also good making it easier to see what it on the display. This is not only important when navigating through the fitness band but is also useful if you have enabled notifications from your phone to be displayed on the band. It is easy to see all notifications at different angles. The notifications are not actionable so you cannot do things like replying to messages right from the band 6.
There is a physical button on the right side of the band 6 and pressing it gives you access to some of the key features and settings menu of the band 6. Swiping left when on the home screen gives you access to 5 features of the watch that you can customize to display the features you interact with the most. This further helps with the customizability of the band 6.
Performance –  Fitness at its core
The Huawei band 6 has fitness at its core but before we get that, let us just highlight its OS and some extra performance features. The OS is well optimized for the band and this is the beauty of working with custom OS. It feels smooth and not over complicated.
You can pair the band 6 with your smartphone as we have mentioned and this will also be useful if you are into exercising and may want to track your movements as it does not have a built-in GPS to track where you have been.
Through the band 6, you can also control music that is playing on your phone without having to take your phone out. Just make sure the Bluetooth connection between the band 6 and your smartphone is on for this to work.
96 Work Out Modes
The Huawei band 6 has a total of 96 workout modes to choose from but that number should not scare you. Even though this number is huge, about 10 of those are actually useful modes as some of the others do not do anything different apart from tracking heart rate and calories burned. They are still useful to have around as they provide a way to differentiate your workouts and see where you may need to improve.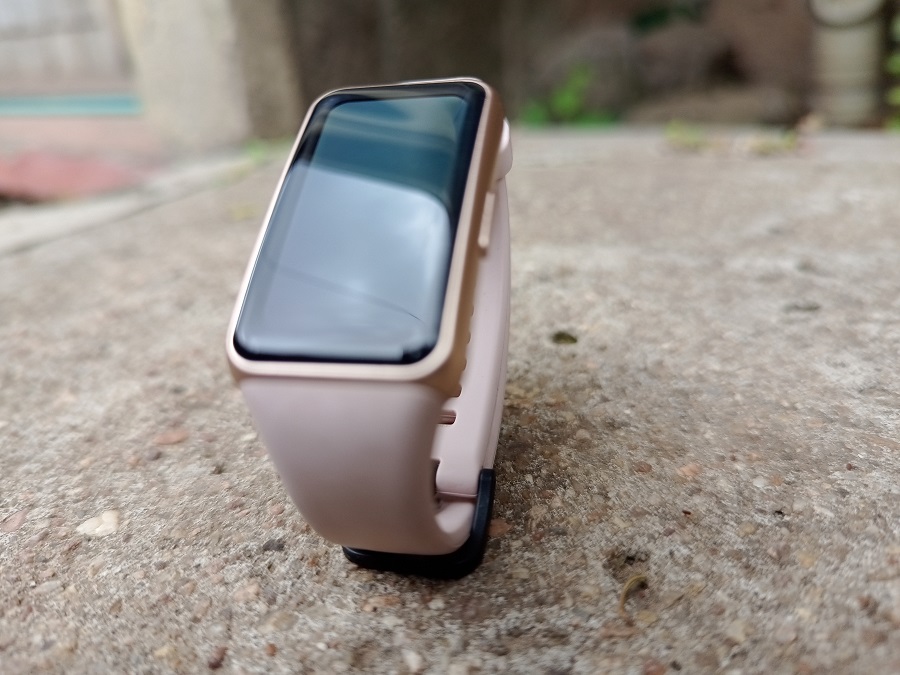 The band 6 supports auto workout detection and this is useful when you start working out and forget to set the workout mode on your watch. You can then view the workout details on the band itself and the same details will be available on the Huawei health app if you synchronize the data.
With the workout features, you can define your goals in terms of time of the workout, distance, calories etc. This allows you to get exactly what it is that you want. This simplifies the process for you allowing you to achieve your fitness goals.
Besides fitness, the band 6 can also track a number of other features including heart rate,  stress level and sleep monitoring. Sleep monitoring is accurate and is one of the things I have always loved about wearables from Huawei. I experienced this with the Huawei Watch GT when I was using it and it is now available on the band 6 which is available for just Ksh 6,999.
You can view the detailed analysis of your sleep patterns on the Huawei health app and it does have recommendations if your sleep quality is not so good.
Besides the two, the band 6 also supports continuous blood oxygen monitoring and will alert you when the levels are too low. This lets you live a healthy life.
Battery Life
Huawei promises two weeks of battery life with the band 6 and it does get close to that. I occasionally managed to get between 9 and 10 days on a single charge which is impressive. This is quite good considering that the band is almost always connected to the phone via Bluetooth.
Charging the band 6 is easy and straightforward using the charging connector provided. It does charge from 0 to 100% in less than an hour.
Verdict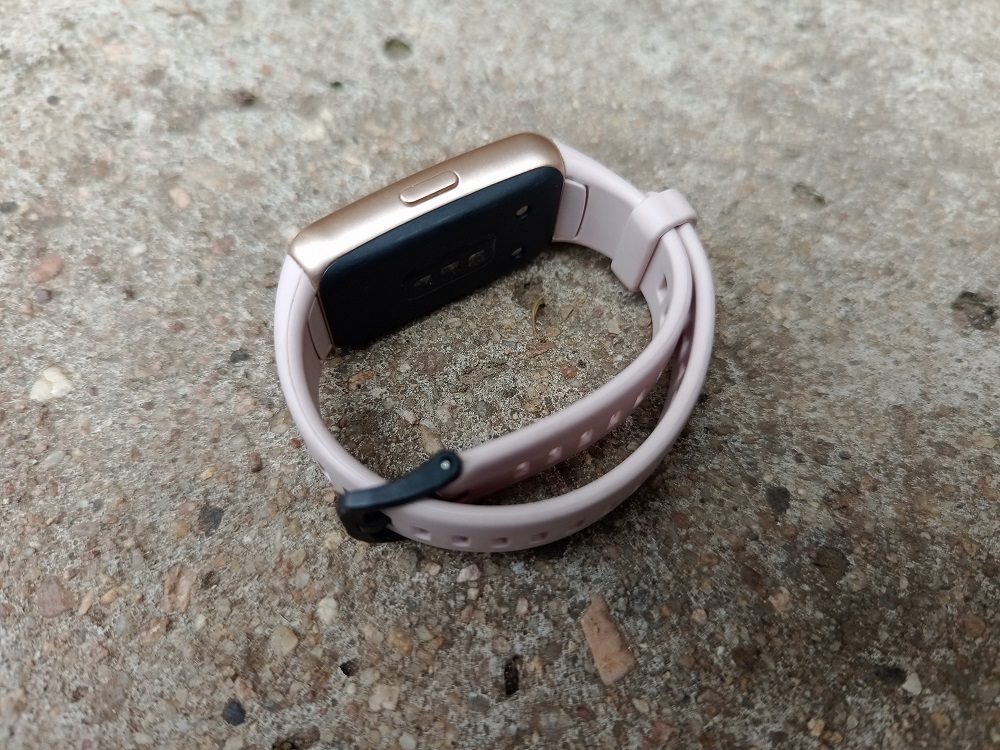 The Huawei band 6 is definitely the fitness band to get for those who are just getting started with their fitness journey. It is simple to use and straightforward for anyone to get started and monitor all the key fitness aspects of their lives.  It can also be a good smartwatch alternative for anyone who wants a simple wearable but is not willing to spend money on smartwatch.
At Ksh 6,999, the Huawei band 6 offers good value for your money and considering what it offers, I do not see any good alternatives that compete with it.
Read: The Huawei Band 6 in Kenya – Top 4 Things to Know