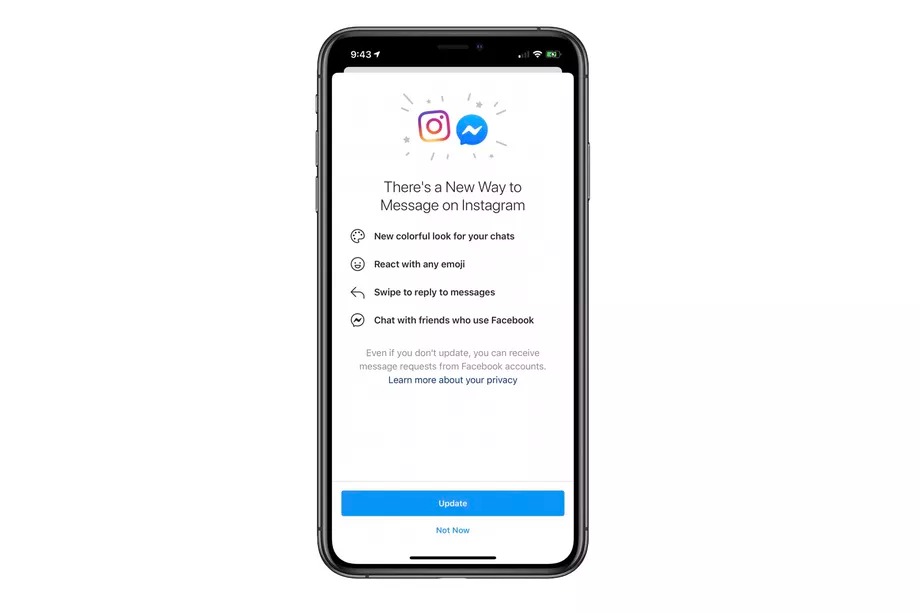 Facebook's Founder and CEO, Mark Zuckerberg, has in the past opened up about the company's plans to merge its portfolio of messaging apps.
In a recent update — on both iOS and Android devices — rolled out on Instagram, a new way to chat has been added which integrates Facebook and Instagram.
According to the update's feature highlights; Instagram users can now "chat with friends who use Facebook" – a critical milestone in the company's mission to integrate its services. There are some nifty incremental updates as well.

Instagram has added a new colorful outlook inside the DM section, emoji reactions, and swipe-to-reply functionality.
The usual DM icon – located at the top right – has been changed to a Facebook Messenger logo icon.
According to the Verge, who first spotted the feature, it's not possible to message your Facebook friends from Instagram – yet.
It basically doesn't work as purported. Despite that, the bigger picture here is; the company is slowly making key changes to meet Zuckerberg's mission of integrating Messenger, Instagram, and WhatsApp.
Facebook initially planned to wrap up the integration mission by the end of last year – but that didn't happen.
From last year's exclusive report about the integration of Instagram, Messenger and WhatsApp; the platforms will have a "single underlying messaging platform or protocol," but will remain independent.
The implications to the consumer side are; they will be able to chat seamlessly across Facebook's portfolio of messaging services.