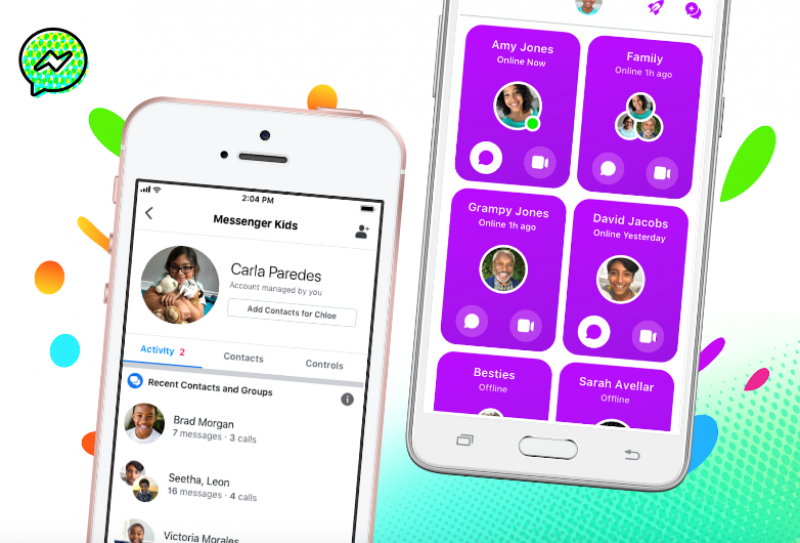 Facebook has unveiled a new Messenger version curated solely for your kids. Messenger Kids is both a video chat and messaging app that will help give parents supervision over their children's online activity.
The app is designed for children between the age of 6 and 12 years. Through Messenger Kids, children can connect both with their family and friends but in a parent-controlled space.
Basic working mechanism of Messenger Kids is that parents are the ones who create the account and are provided with a "Parent Dashboard" to keep tabs on their children.

Parents can;
Monitor recent contacts, chat history, and reported and blocked contacts
See a log of images and videos in chats
Supervise friending by approving or rejecting new contact approvals by children
Logout remotely
Download their child's information
Through Messenger Kids, children can send texts, and even photos and videos to their connected contacts. The app is even added with kid-appropriate features like playful masks, emojis, sound effects, a library of kid-appropriate and specially chosen GIFs, frames, stickers, masks and drawing tools.
"We know that parents are turning to technology more than ever to help their kids connect with friends and family online. With privacy, security and parental control at the heart of the app, Messenger Kids provides a safe, fun space, controlled by parents to do exactly that," said Kojo Boakye, Facebook Public Policy Director, Africa.
Messenger Kids has been under works for years, says Facebook. They worked closely with youth advisor, child safety advocates, and educators across Africa to build a service that not only has inbuilt parental control but also helps kids learn how to connect responsibly online. The app is available on both Google Play and Apple's App Store.