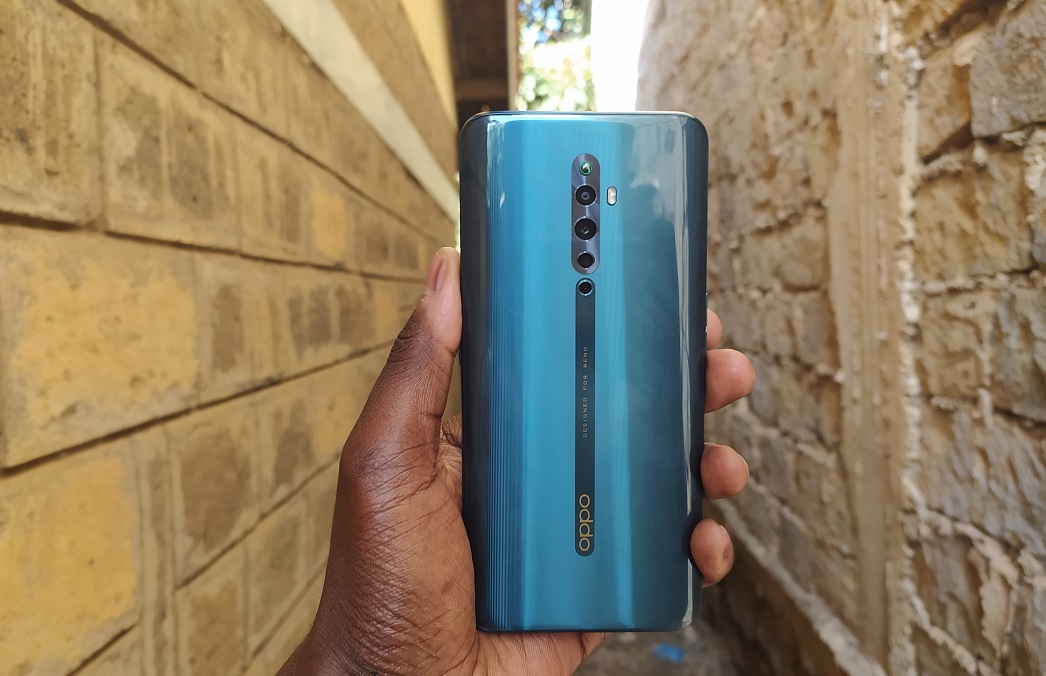 The Oppo Reno 2F is the latest smartphone from the company that is available in Kenya for Ksh 39,999. I have been using the Reno 2F for a few weeks now and in this review, I will share my experience with it.
The phone is available in retail stores in the country and is part of the Reno series from Oppo. It comes with the specifications you expect to find on a 2019 mid-range smartphone. As this is a Reno device, the camera is one of its key selling points but not the only one. Below are some of its key specifications before we get to see what else the phone has to offer.
Display: 6.5-inch AMOLED Display, 1080 x 2340 pixels
Processor: MediaTek MT6771V Helio P70
GPU: Mali-G72 MP3
RAM: 8 GB
Storage: 128GB internal storage, expandable via microSD card up to 256GB
Cameras: Quad: 48MP + 8MP + 2MP + 2MPrear camera, 16MP pop up front-facing camera
SIM: Dual SIM
Battery: 4000mAh battery
Android: Android 9 Pie; Color OS 6.1

Design and Build Quality
The Oppo Reno 2F looks really elegant straight out of the box. I got the variant that Oppo is calling Lake Green and this looks quite good. It has a glossy back cover that looks premium and very different from most other smartphones we have on the market. Oppo is trying to differentiate its products from those offered by competitors and that is evident when you use this phone.
At the back is where we find the quad camera setup made up of a 48MP main sensor, 8MP wide angle lens, 2MP depth sensor and the last 2MP sensor is a monochrome sensor. The four cameras are aligned vertically at the centre. This is good with weight balancing and makes the phone comfortable and easy to carry around. Speaking of the weight, the phone is not that heavy even with its massive size, it is actually lighter than one of its main competitors, the Vivo V17 Pro.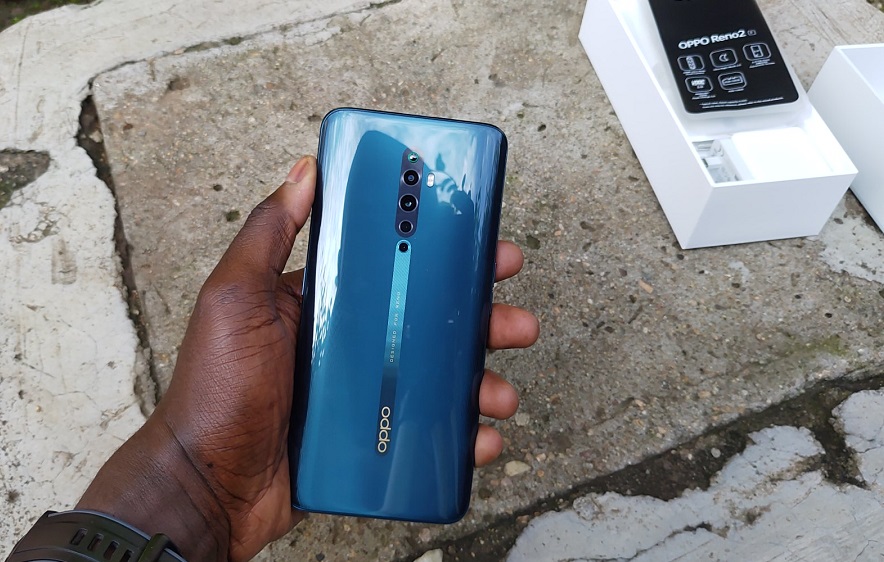 The Oppo branding is also at the back and is aligned with the cameras. This is a very clean design with no distractions and again looks quite unique compared to what we see from other products on the market. There is Gorilla glass protection covering the back of the phone to protect it from scratches when you accidentally drop it. I did not drop mine so I can't say how good this is but it should be good. Just to be safe though, I would recommend you use the provided transparent back cover to protect the phone. The cover snugs on the phone tightly and is not the easiest to get off but I guess that is not a big deal to may who end up using it.
The edges of the phone are quite smooth and more comfortable that what I experienced with the Vivo V17 Pro. On the sides we have the usual ports and buttons with the power button on the right and the volume keys on the left of the phone. The power button has a green accent that gives it a unique look. Above the power button is the SIM tray that can house two SIM cards and a MicroSD card.
Even though the volume keys are within easy reach when the phone is sitting on your hands, the power button has been pushed down a bit and is not necessarily on the perfect spot. This is the case for me and I have bigger hands so things might be different for you.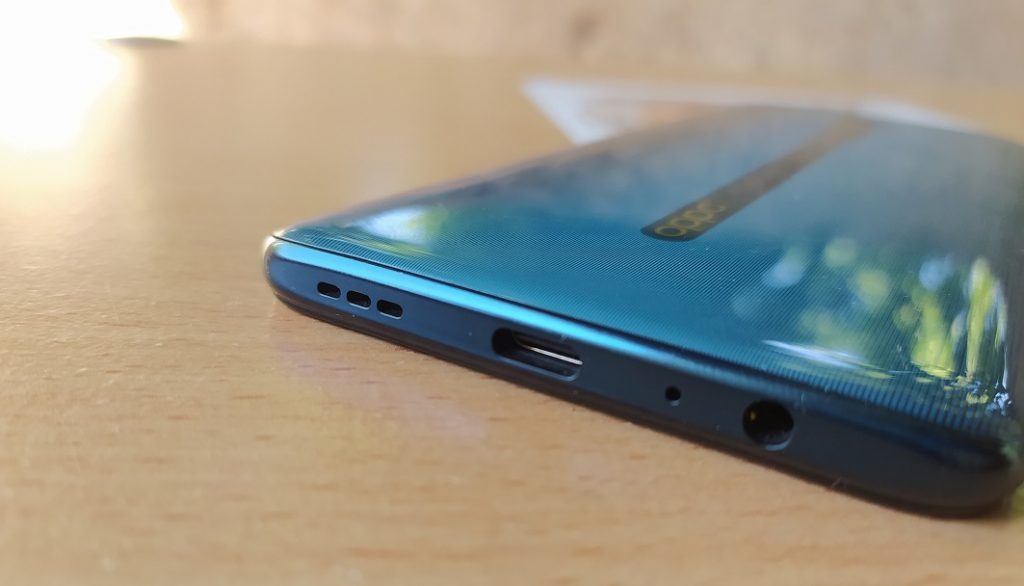 The speaker grille, USB C port and headphone jack are at the bottom. It is good to see Oppo keep the headphone jack and other manufacturers are doing away with it.
Just above the cameras is something that at first you may think is another camera lens but it is what Oppo is calling the O-dot. This is just a ceramic node that raises the phone a bit to protect the cameras from scratches. The Reno 2F has a flat back with no camera bulges and having the O-dot is helpful and it keeps the cameras safe. These are just the tiny design features that make this phone unique.
Display
Flipping the phone to see the display, we get to see the massive 6.5 inch AMOLED display with very thin bezels. There is no notch as the company has opted for a pop up selfie camera as opposed to the traditional one. This is not the first time we are seeing such a display on a smartphone by Oppo.
Just like on the back of the phone, we get Gorilla glass protection on the display which will keep it safe from accidental scratches. The phone also comes with a screen protector pre-installed.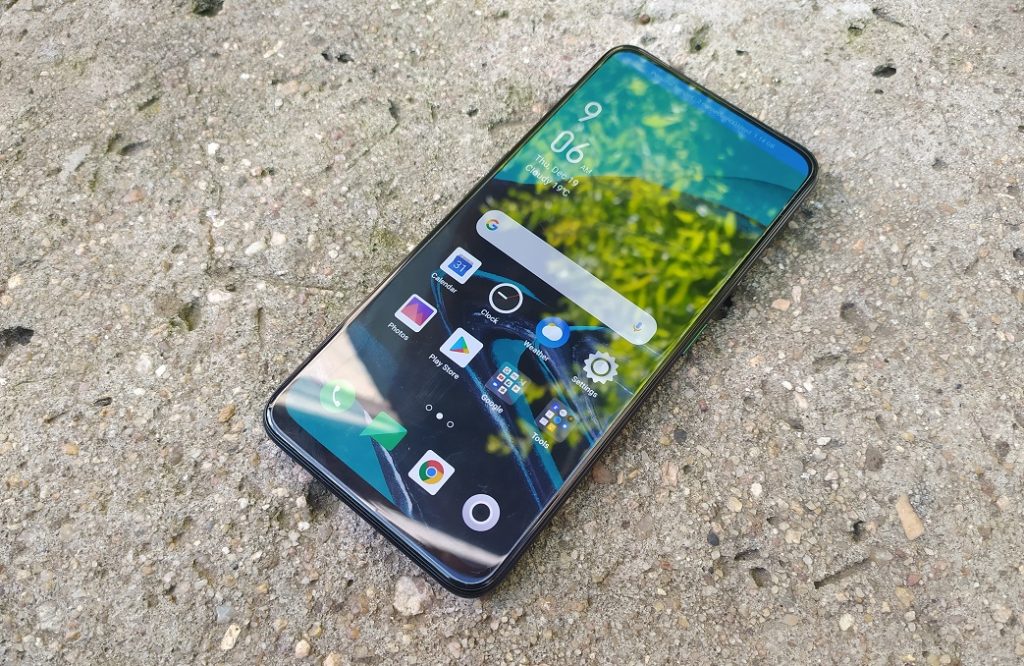 With such a massive display, you get more space to work with. If you work from your phone sometimes like I do, you can easily get stuff done without it feeling too smalle. For those who consume media on the phones, this display is just the best. It is big and very vibrant for that. Gamers will also enjoy the experience as they have a bigger display to deal with.
Using the phone outdoors presents no serious problems. Under direct sunlight, the glare can be too much but not to levels that make it impossible to see what is on the screen. I could easily use the phone under direct sunlight but I hoped for the brightness to go a bit higher.
This is an AMOLED display so you should expect deep blacks and this is perfect when watching movies on this phone.
Also Read: Oppo Reno 2F specifications
Performance and Software
The Oppo Reno 2F is powered by the MediaTek Helio P70 processor that has been paired with 8GB of RAM and 128GB of internal storage space and the Mali G72 MP3 GPU.
Performance is quite good on this phone and is very reliable. From simple day to day tasks to gaming, the phone was reliable all through. This is not a gaming phone but it does handle most intensive games very well. I played PUBG and Call of Duty well on this phone. There were a couple of frame drops but nothing serious. When playing these games in medium settings, the experience was way better.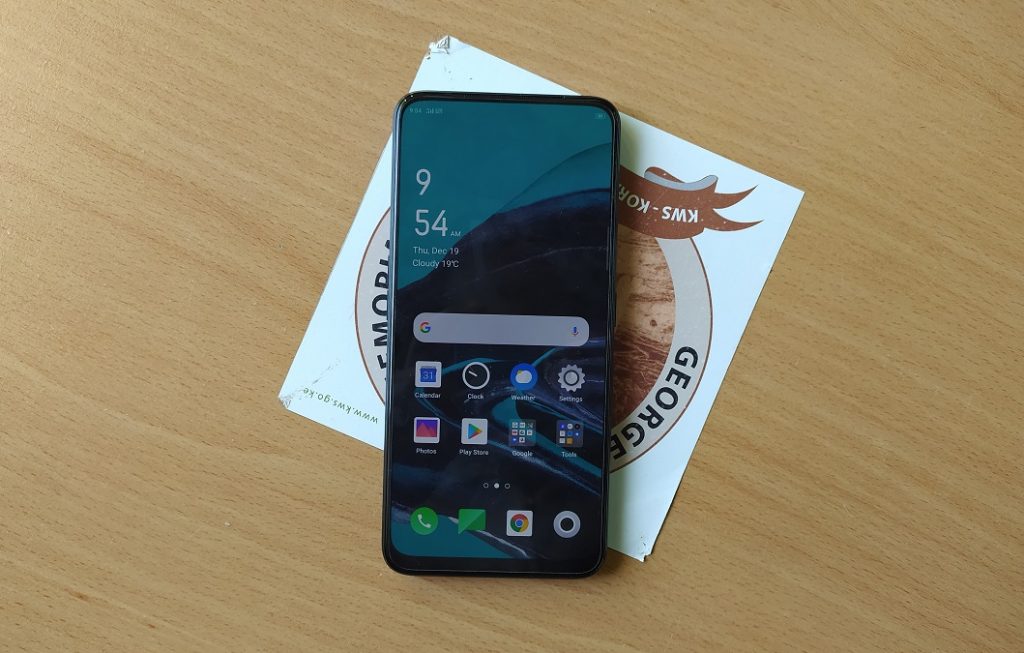 When it comes to multitasking, the Oppo Reno 2F was a beast. The 8GB of RAM comes into play here and you see the phone handle that really well. It does not feel slow at all even when switching between two games. This is what you expect for a smartphone within this price and it is exactly what you are getting.
If you watch a lot of movies or listen to music on your phone, you may be happy to know that the Oppo Reno 2F comes with Dolby Atmos. This provides for a good experience especially when listening through the earphones provided in the box. The sound quality is quite good and the experience is excellent. The phone's speakers are also good with rich sound even at high volume.
For the software, the Reno 2F comes with Android 9 Pie with ColorOS 6.1 out of the box. This is Oppo's custom UI that can be useful as it has a little more features and options than you would get if you got a phone with stock Android. If this is the first time to use ColorOS, it takes time to get used to it and the iOS inspirations do not help with that.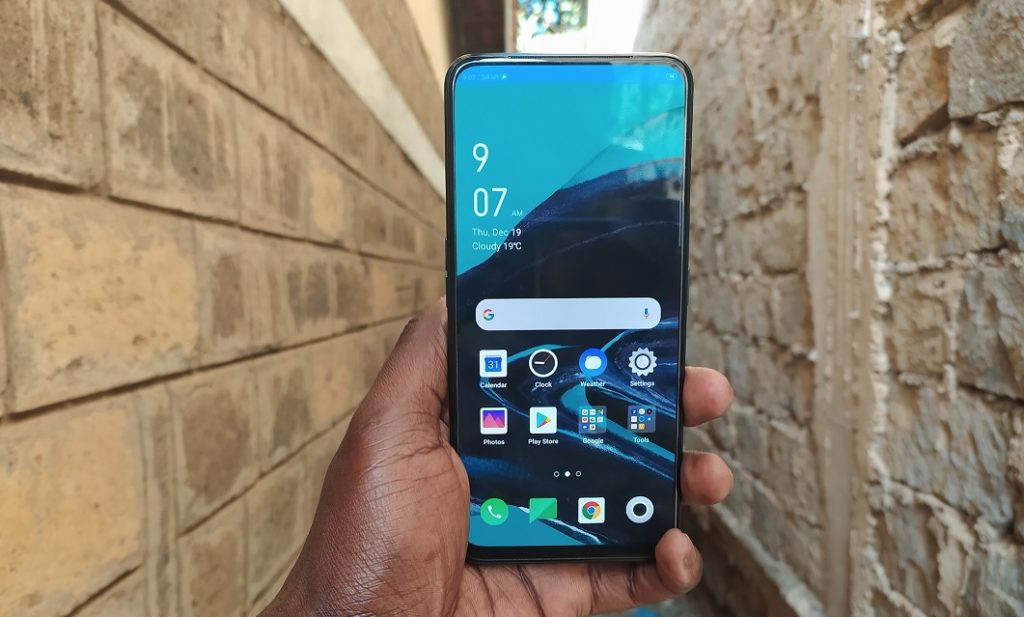 There is gesture navigation support with very good implementation. This phone comes with Android 9 and as you probably know (or don't), Google is implementing that on Android 10 right now. With gesture navigation, you get a different feel on this phone and I prefer that over on screen navigation.
The one thing I do not understand is why the Reno 2F does not have support for system wide dark theme. This phone has an AMOLED display and that would have been excellent here. This is something that can be added with a software update and I hope that happens very soon. A dark theme looks good and can help conserve the battery while at the same time make the phone comfortable to use at night.
There is support for both face unlock and fingerprint unlock. The fingerprint scanner is quite fast and is an optical one and not the more expensive ultrasonic scanner. It does work well and the improvements on the optical scanners have been good overtime. It is good to have both options and I prefer the fingerprint scanner so far.
Cameras
Now to the cameras, we do get the 48MP, 8MP, 2MP and 2MP sensors at the back. They are quite good in different lighting conditions and capture detailed shots. The photos are quite good but the saturation is a bit above normal. This is especially the case when the 'Dazzle color' feature is on. This can be good when the lighting is not so good but in most other cases it adds saturation and makes the shots unrealistic. The photos are good for sharing on social media but if you want realistic shots, you should remember to disable that feature.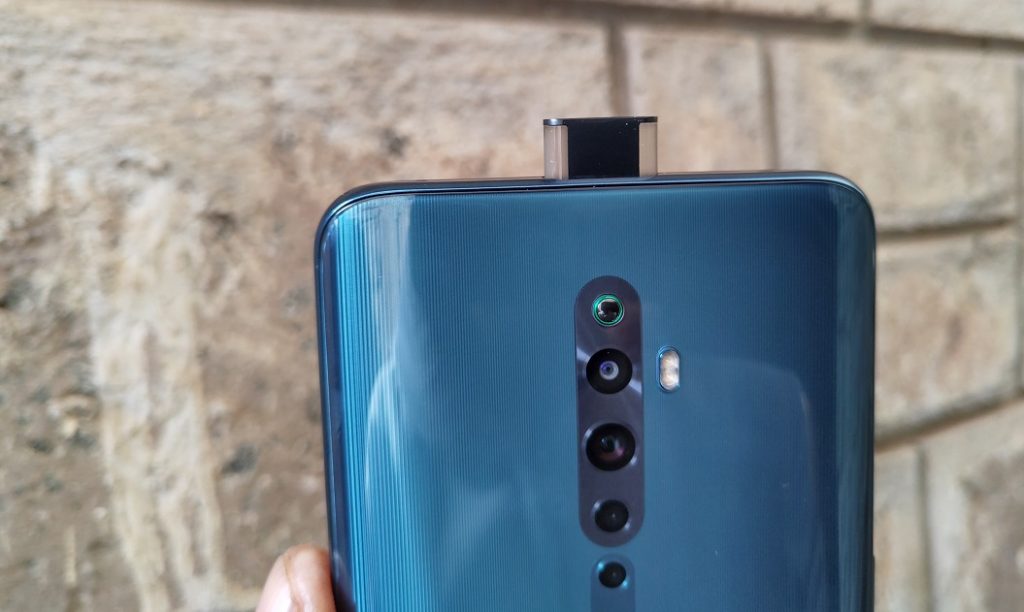 One of the main things Oppo markets with this phone is the Night mode feature. It is supposed to take very good shots in such conditions but I did not get good results. Yes, it takes decent shots but not the ones I would be happy with. There is still noise on these shots but overall the feature is useful but not the best on the market.
Portrait mode is good on the Reno 2F. The phone easily separates the background from the subject when using both the back and front cameras. It works well outdoors than it does indoors.
For selfies, the 16MP pop up camera us quite good too, nothing out of the ordinary. It does take balanced shots even when indoors and the saturation here is not overdone as it is with the back camera. It does overexpose the background a bit and this may sound bad but most people will not notice it.
Battery
As for the battery, we are getting a massive 4000 mAh unit that is enough for such a high performing smartphone. It does last an entire day of moderate to heavy usage so there is not need of walking around with a power bank.
Oppo has also included a smart power saving feature as part of Color OS 6.1 and this can help conserve the battery without compromising on the performance of the phone. There is also the power saving mode that can help you get a few more hours of usage if you are running low. These are just some tiny additions that make for a good experience.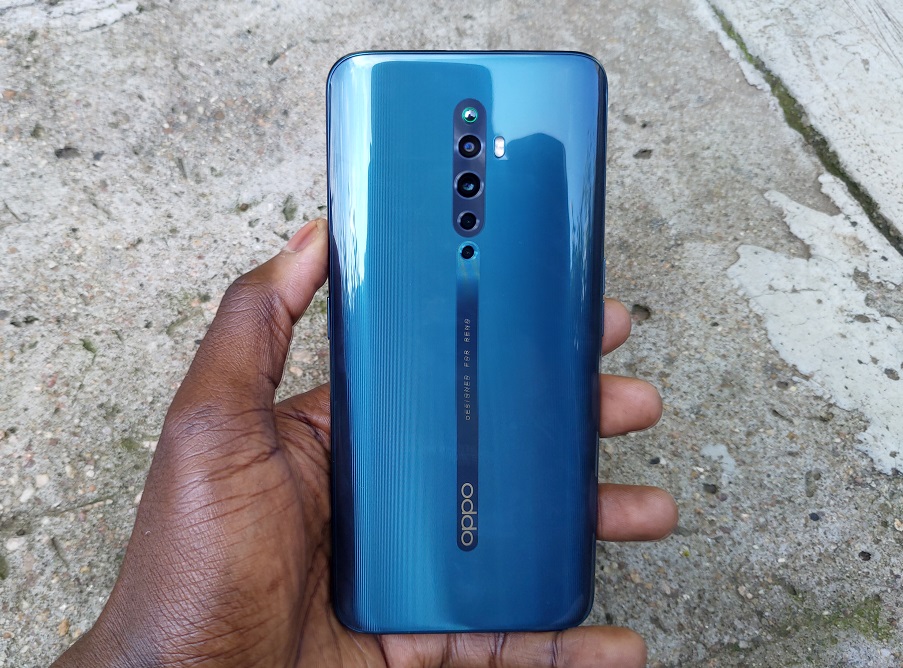 If you want high level performance, there is a High performance mode that you can activate to get that. This consumes more battery but can be useful if you want to run some demanding tasks.
For charging, the Reno 2F supports VOOC Flash charging that charges the phone so fast. This is the sort of feature you would want if you are the type of person who forgets to charge their phone overnight and do not have enough time to do that in the morning. You can get an entire day of usage with just a few minutes of charging.
Conclusion
The Oppo Reno 2F has been an interesting phone to review. When I got it from Oppo I thought it was all about the cameras but when using it, the cameras take a back sit as it shines in most of the other areas. It does perform well and the Helio P70 processor did not disappoint. The phone is well built and looks unique from most of the other products offered by competitors. It does look and feel premium.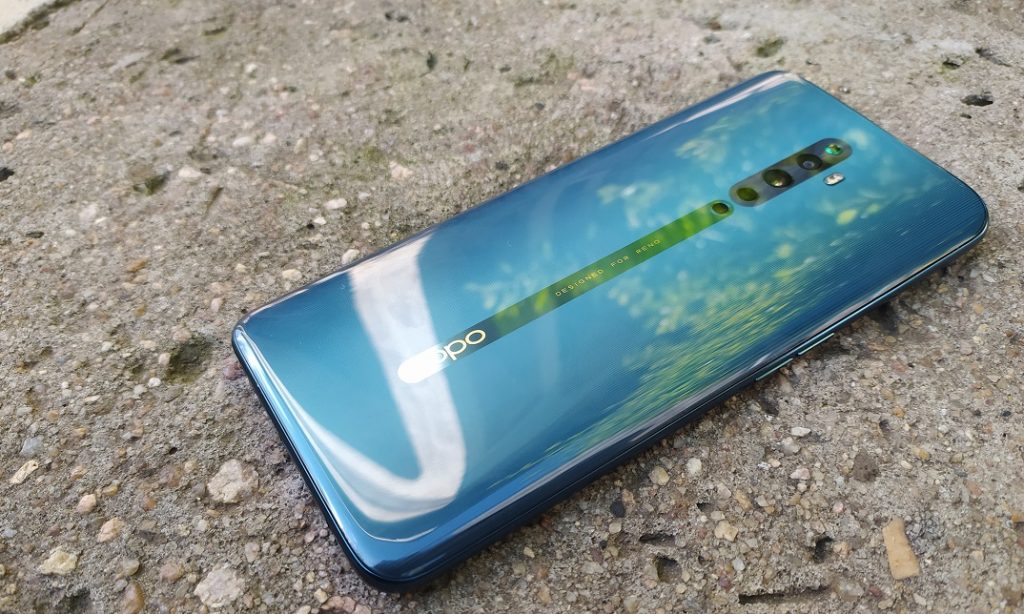 I was impressed with how good this phone in day to day use and even with heavy applications. The software experience was average as the custom UI comes with very useful features but I did not get to use most of them
If you are looking for a good all round phone for Ksh 40,000, this is worth checking out. I would recommend this phone to anyone who needs a stylish phone that is very powerful. If you just want a good camera phone, there are cheaper phones from OPPO for that. The cameras here are good but nothing out of the ordinary for me. Oppo has always made very good cameras and still does but this phone is for those who want more than just the cameras.
Also Read: The Vivo V17 Pro Review