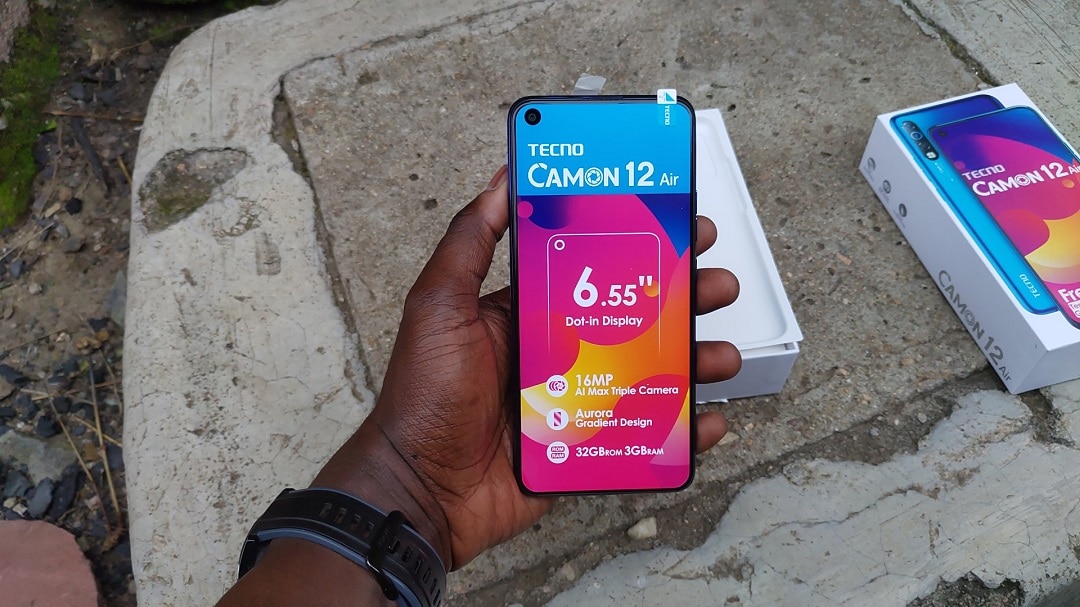 Earlier this month, I reviewed the Tecno Camon 12 which is one of the new devices in the company's camera-centric series, the Camon series. We have seen some really good cameras in this series before and with the latest iteration, I have been curious to find out what it has to offer.
Over the last couple of weeks, I have been using the Tecno Camon 12 Air, a bigger brother to the Camon 12. I used this phone extensively and in this review, I will share my experience with it to help you decide if it offers good value for money.
The Tecno Camon 12 and Camon 12 Air have similar features with a handful of differences.

Design and Build Quality
Starting with the design and build quality, we are getting the same one found on the standard Camon 12. The back is made of plastic and is not removable. The build feels very strong and not fragile in any way. The edges feel smooth and sit comfortably in the palms of my hands.
Still on the back is where we get the triple camera setup made up of a 16MP, 5MP and 2MP sensors. We also have the quad LED flash and the fingerprint scanner that as expected is good and responsive. Nothing else is included at the back except for the Tecno Camon branding.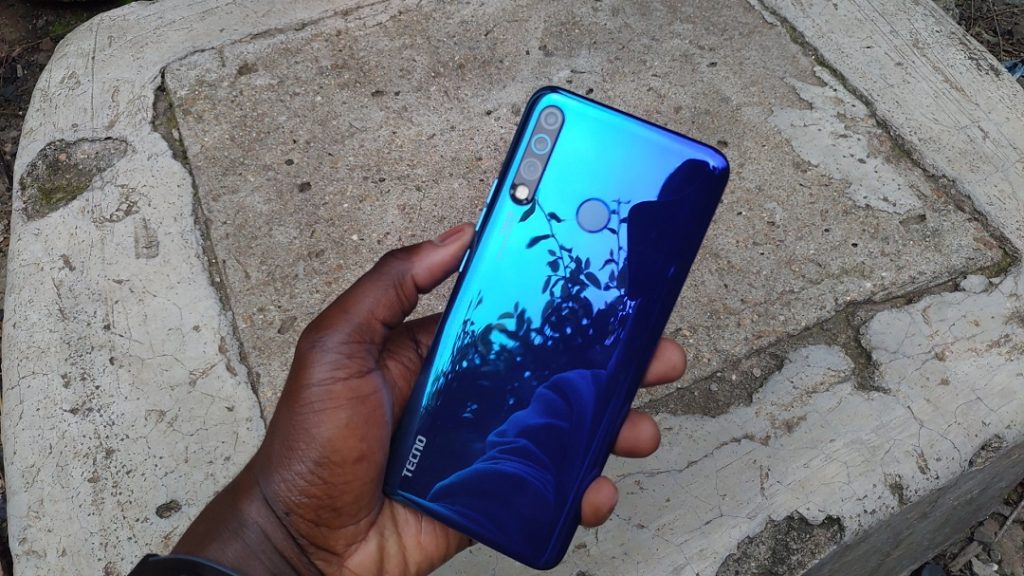 I got the Tecno Camon 12 Air in blue that looks really good. The blue has a glossy finish that is very reflective and slightly different compared to the other blues we have seen from most other devices from Tecno.
The back is a fingerprint magnet and you should be ready to wipe it after using it for a few days. Tecno does provide a free back cover that can help with this as well as keeping the phone safe from accidental scratches and drops.
Flipping to see the display, you will clearly notice that there is a punch hole at the top left section. This houses the front facing camera, this is an 8MP unit that takes good photos but not the best. I still love the front facing camera on the standard Camon 12 that takes way better shots.
Since the Tecno Camon 12 Air has a punch hole notch, it does have visibly thin bezels on the top and sides. The bottom chin is still huge but overall the bezels are quite thin and you may not notice they are there unless you are actively looking at them.
In summary, the Tecno Camon 12 Air has a modern design and very good build quality. For a smartphone that you can get through Jumia for Ksh 13,000, this build quality is really good.
Display
The Tecno Camon 12 Air has a 6.55-inch display with a disappointing 720p resolution. The display is good, very big and bright. It is pretty much the same display, slightly bigger though, as the one on the Camon 12.
With such a massive display, the Tecno Camon 12 Air is such a good device for consuming media. The display is big with good colour reproduction for an even peasant experience. Even with the punch hole on the top left corner, the experience is still good.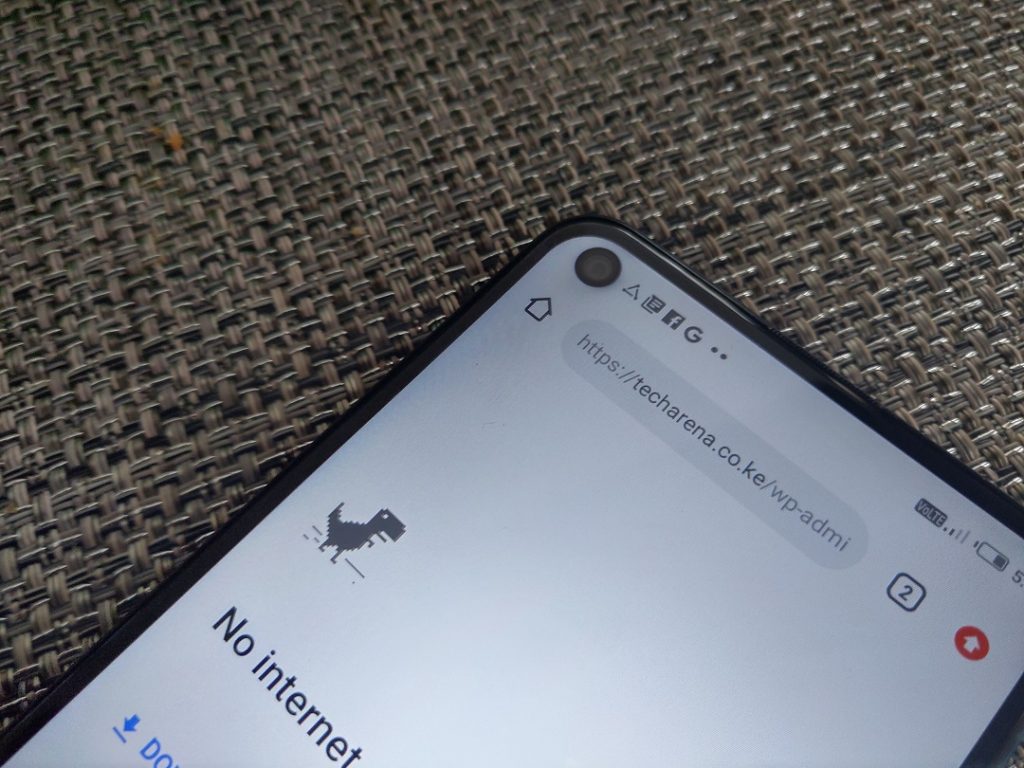 Tecno decided to use a 720p display which is disappointing in this day and age. I would have hoped for a full HD display to put this phone ahead of competition. We are in 2019 and expecting a full HD display within this price is not too much to ask.
The one thing I do not like about this display is that it does not get very bright under direct sunlight or in a very bright room. I have used other Tecno smartphones before and know how bright their displays were so I am not sure why this is not the case for the Camon 12 Air.
Performance and Software
The Tecno Camon 12 Air holds up against competition well. It does handle day to day tasks without any issues. It is powered by the MediaTek Helio P22 processor that has been paired with 3GB of RAM and 32GB of internal storage space. This is a good combination for this price and that is clear when you look at how the phone handles day to day tasks.
If you use some graphics-heavy apps or play a few games during your day, the Tecno Camon 12 Air can be a good choice. It does not slow down significantly when running these tasks and overall performance is quite good for its price.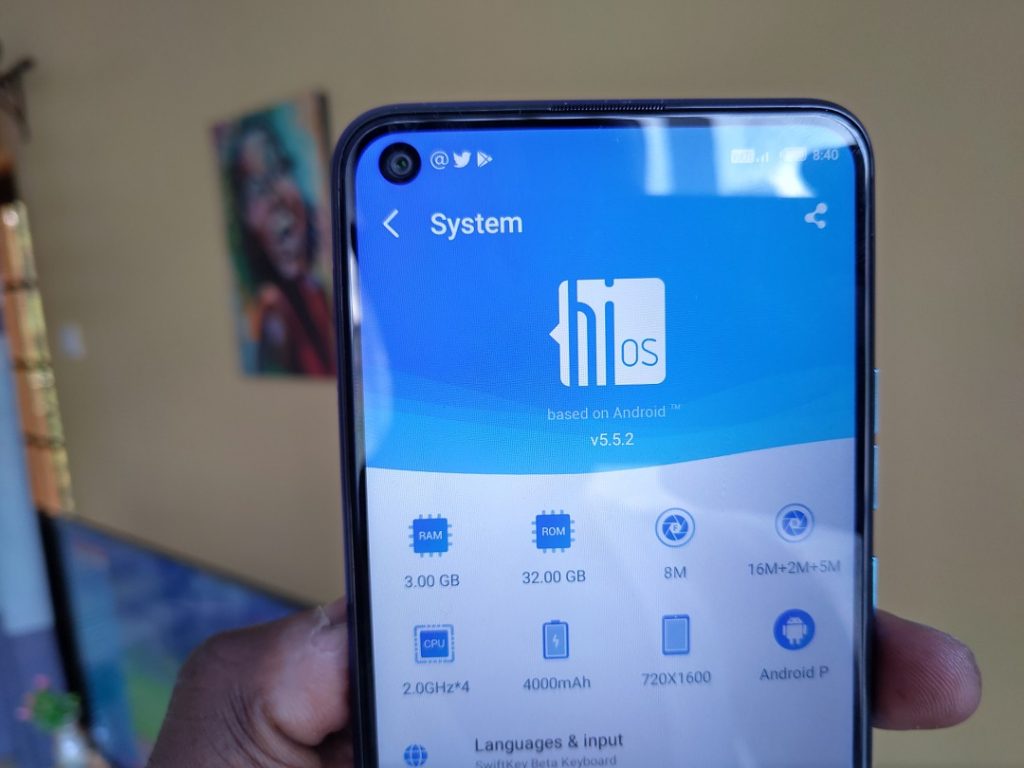 Having used the standard Camon 12, the performance improvements with the Camon 12 Air are noticeable. It feels much faster and quicker and is way efficient at RAM management and this makes for a smooth experience and perfect for multitasking.
For the software, the Tecno Camon 12 Air comes with Android Pie out of the box with HiOS 5.5.2. You get some useful features with HiOS that you may not have with stock Android. Tecno has added new features to its custom UI over the years and it is maturing but I don't think it is there yet. The company needs to add features that add value and not just gimmicks that get people excited.
Cameras
The Tecno Camon 12 Air is a camera centric device and it does have good cameras. With good lighting, the shots are well detailed with very good saturation. There are cases where the saturation and exposure appears overdone but nothing that irks me. I am not sure if it was me but I was expecting more from the Camon 12 Air and was not that impressed. This is comparing it to what you get from a device such as the Infinix S5 which is also a camera centric smartphone from Tecno's sister company, Infinix.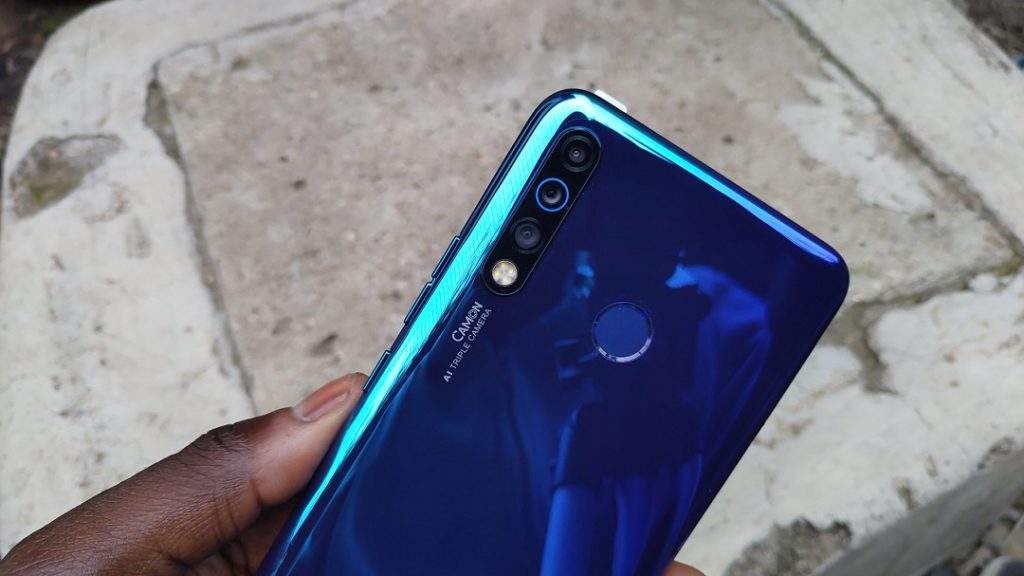 Indoor shots can be tricky to take and so are videos. If you zoom in a little bit, details are lost and the shots are not what you expect from a camera centric smartphone.
The selfie camera is an 8MP one that takes some really good shots. They are way more realistic than what we saw on previous Camon devices.
Battery
With a 4,000 mAh battery, you expect good battery life and that is exactly what you are getting. During my review period, I did not, even once, worry about running out of battery when I needed it. In most cases, I would go to bed and not think about the battery and get up and go by my day without worrying. I would top up the battery when I needed to.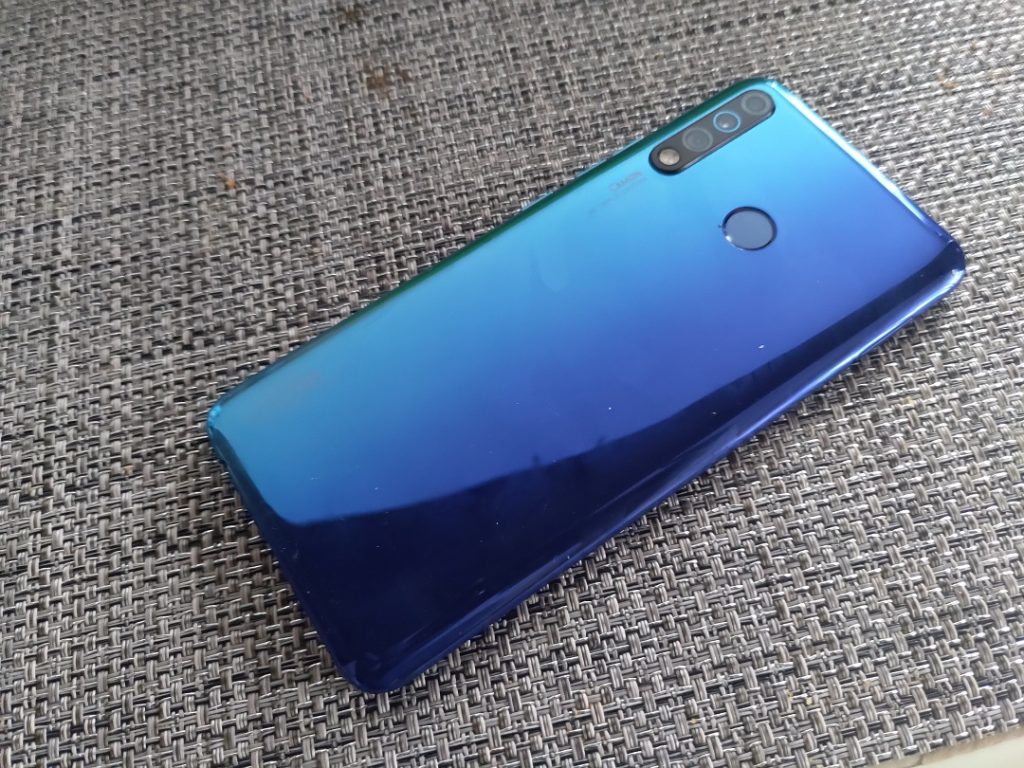 The Tecno Camon 12 Air does not support fast charging so you will need a bit of patience to get it fully charged. With such big batteries, Tecno should at least include fast charging support with the next iteration.
Conclusions
The Tecno Camon 12 Air is a really good choice in my opinion. I would choose this over the standard Camon 12 since its performance is way better and reliable. The phone has a modern design and a solid build quality compared to others within the same price range.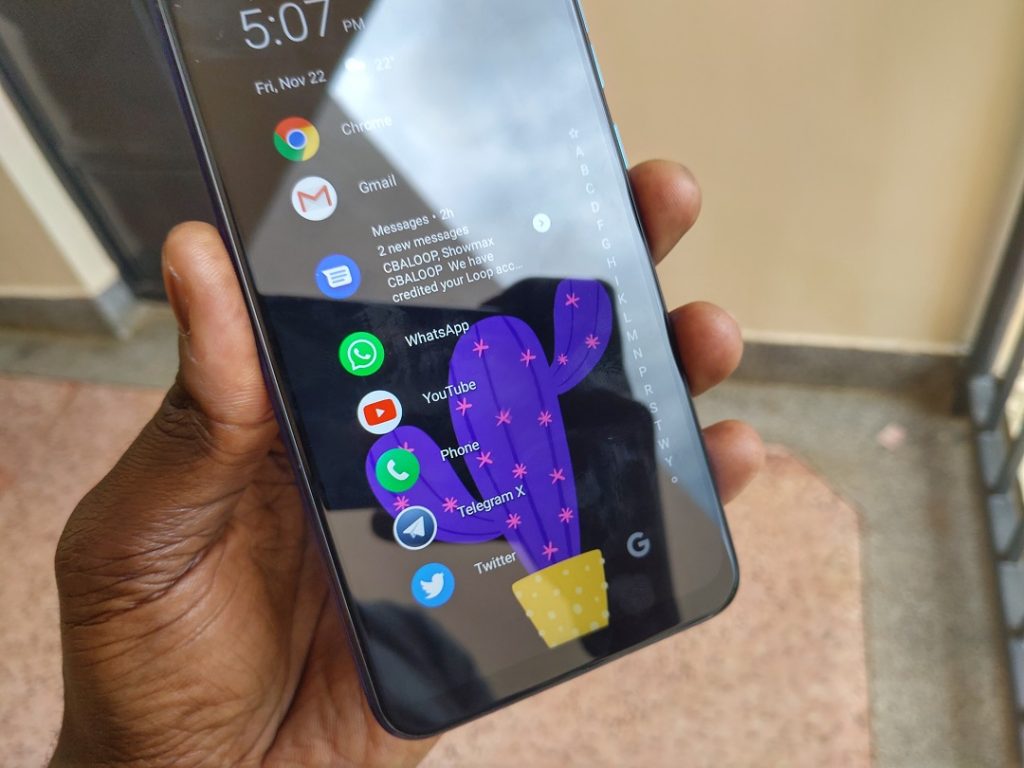 The cameras are good but could have been better considering that this is a camera-focused smartphone line.
Overall, it is a good choice with the latest features that I will defiantly recommend for anyone looking for a smartphone for Ksh 13,000.
Also Read: Five Things to do when you get the new Tecno Camon 12 Smartphone