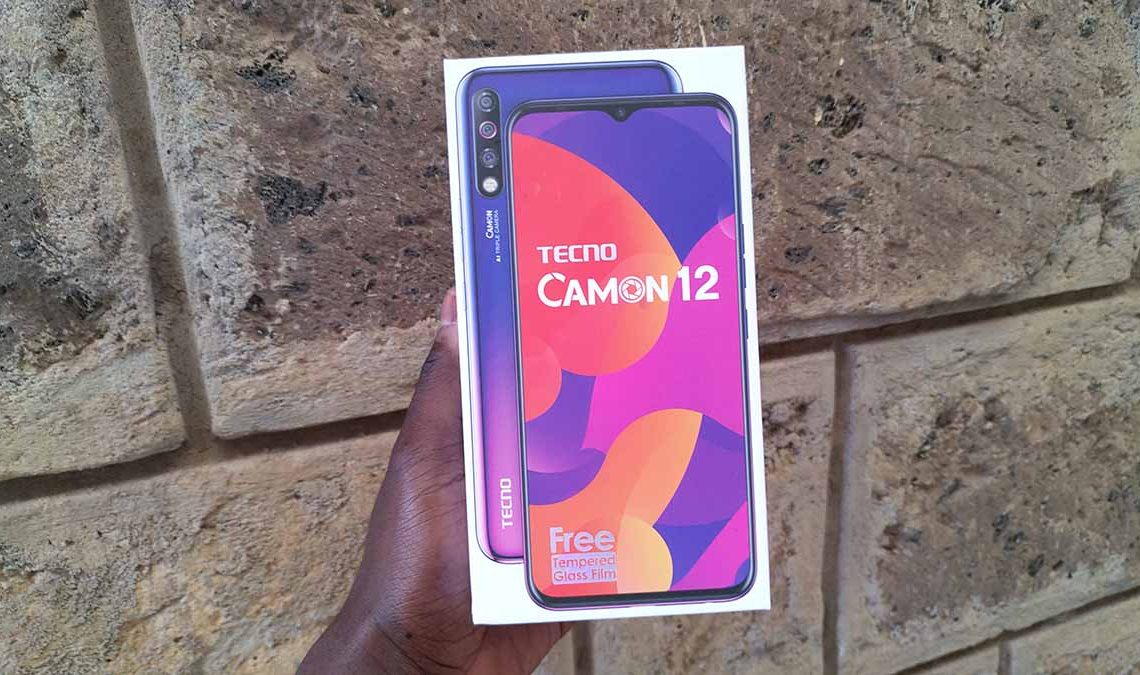 Tecno's Camon series has always been its camera-centred line-up that we have come to expect the best camera performance from. The Camon 12 is the latest in this series and you can get it in Kenya starting from Ksh 15,500.
Besides the standard Camon 12, Tecno also has the Camon 12 Air and Camon 12 Pro which are available for Ksh 13,500 and Ksh 19,500 respectively. All these three variants share some of the key specifications and features with differences being in the cameras, RAM capacity and storage space.
I have been using the Tecno Camon 12 for about a month now and I know all the good and bad that it has to offer.

Design and Build Quality
When it comes to the design, the Tecno Camon 12 is not that different from many other Android smartphones we have seen this year. It has a big 6.52 inch display with a waterdrop notch, slightly curved edges for better comfort and a non-removable plastic back cover. Speaking of the back cover, this is where we find the fingerprint sensor, triple camera setup and quad LED flash.
The Tecno Camon 12 has the traditional fingerprint sensor and not an in-display one, for that, you will have to go with the Camon 12 Pro. The fingerprint sensor works as you'd expect it to and besides unlocking the phone, it can be used as a shutter button to take photos, accept calls, initiate call recording and dismiss the alarm.
There are different colour options available and I got the one Tecno is calling Dark Jade, it looks like a blue-black gradient colour that is pretty good. This back is a fingerprint magnet but there is a free transparent back cover included in the box that I used to cover it not only to keep away the fingerprints but also protect the phone from scratches.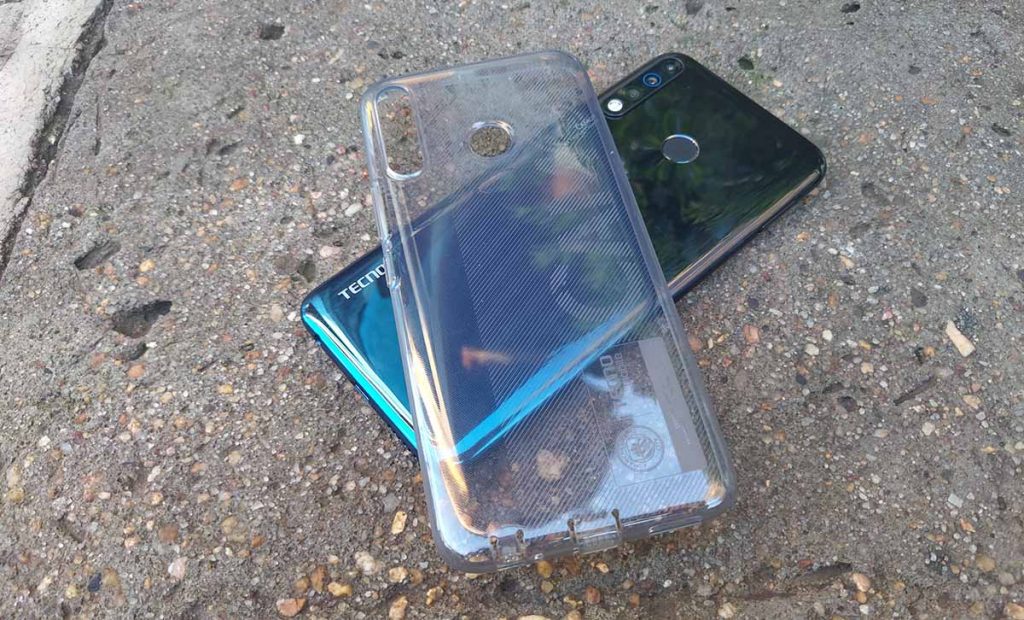 At the bottom is the MicroUSB port, speaker grille and headphone jack. On the right section you get the volume and power buttons that are easy to reach with the SIM tray that can hold two SIM cards and a microSD card on the left.
The overall build is quite good, nothing fancy in terms of the materials used but it feels solidly built.
Display
The Tecno Camon 12 comes with a 6.52 inch display as I have mentioned above. This is a 720p display, not full HD, but not many people will complain about that. At this price I was expecting a full HD display but I did not get that.
Like most smartphones in 2019, it comes with a waterdrop notch that is a small cut-out to house the front facing camera. Tecno has also included a free screen protector to help you protect this display from scratches.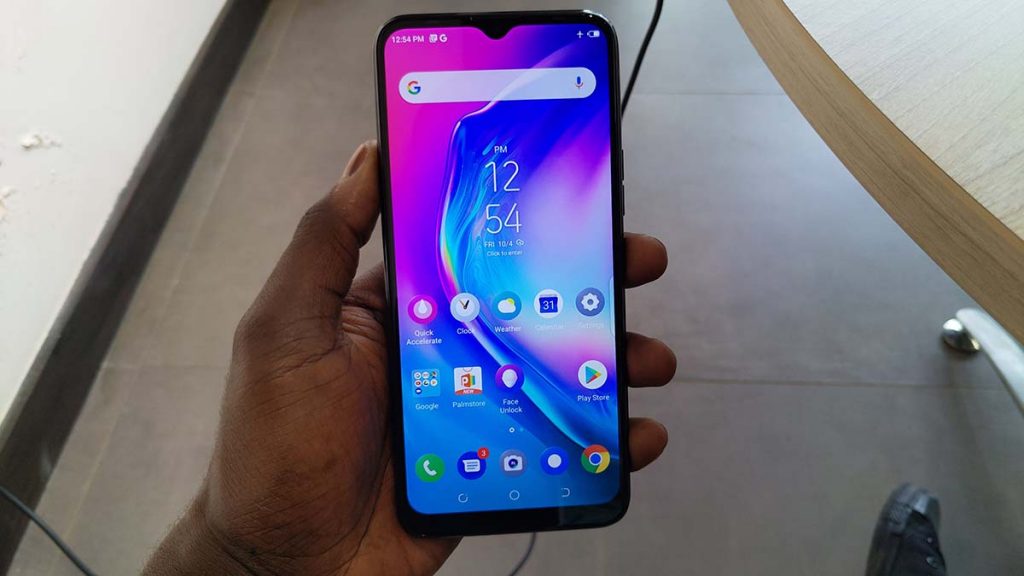 This display is very responsive and can get bright enough to comfortably use it under direct sunlight. It is not the brightest display I have seen but it is really good. The colours pop so well and has an auto brightness option that adjusts its brightness to match your environment.
Also Read: Tecno Camon 12 Specifications
If you love watching movies on your phone, this display will not disappoint. You get accurate colour representation and the videos look good and sharp even though its is not a Full HD screen. The one thing that disappointed me when watching movies with this phone is the sound quality, the speakers are not rich in sound and sound noisy most of the times.
Performance and Software
With the 2GHz processor and 4GB of RAM, you are expecting a decent experience and that is exactly what you are getting. The Tecno Camon 12 can handle most day to day tasks without any fuss. If you use your phone for basic things like calling, texting, social media, browsing and video streaming, the Camon 12 will not disappoint. If you are a gamer and play some intensive games, you may have some issues but nothing serious. Games load relatively fast and gameplay is not bad either, there are just some cases when they feel slow.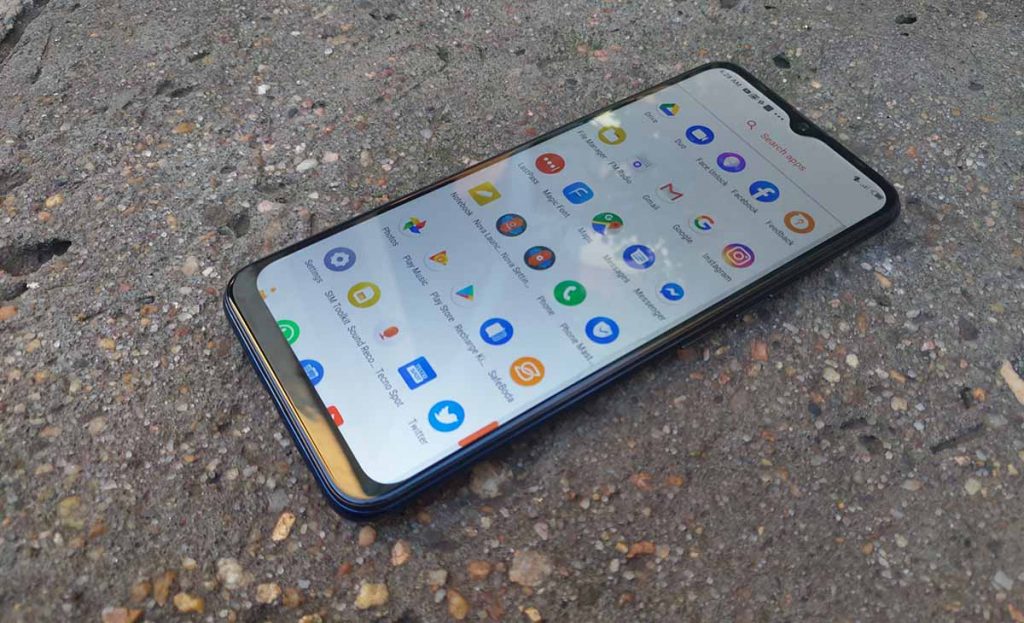 I did not have any serious quarrels with the RAM, you are getting 4GB of that which is good for most people. It is aggressive at times but in most cases it does a good job. For storage space, my review unit has 64GB of that and you can expand it further using a MicroSD card. This is good for a smartphone within this price range.
For the software, we are getting Android 9 Pie with HiOS version 5.5. HiOS is colourful as always and has additional features that make it a bit more useful. I am not necessarily a huge fan of this custom UI and I had to install Nova launcher.
Cameras
What is not to like about the cameras on the Tecno Camon 12. At the back we do have a triple camera setup made up of a 16MP main sensor, 8MP ultra-wide lens and 2MP depth sensor. The back camera takes some really good shots with very good exposure. It does well even when the lighting is not so good.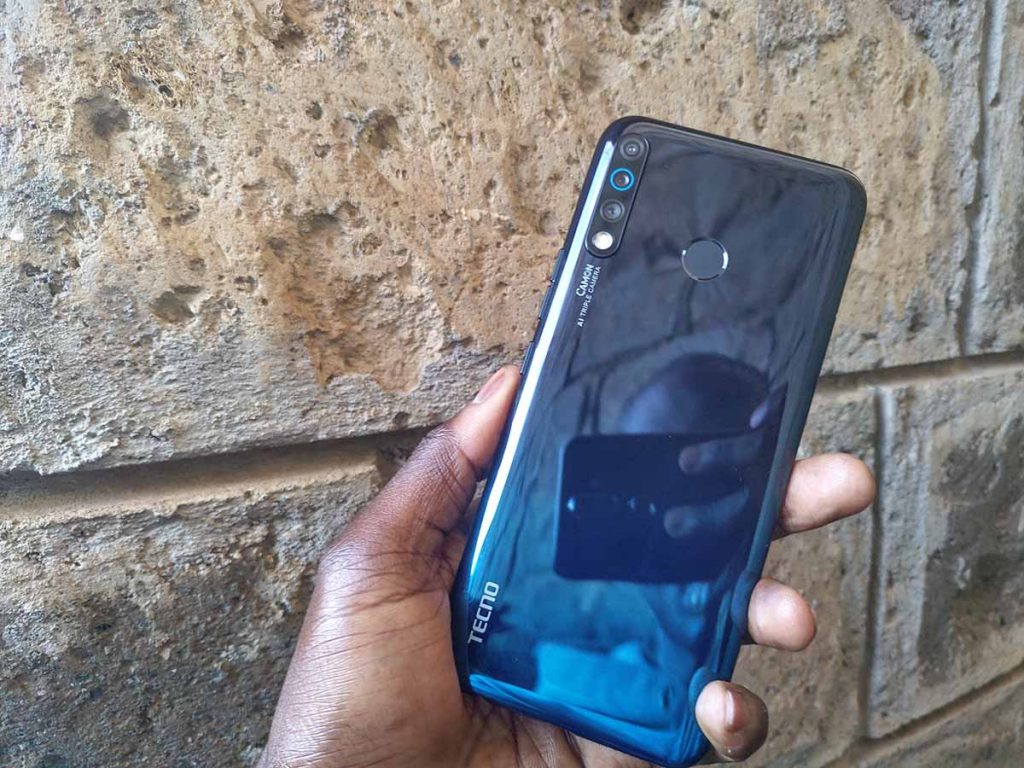 The ultra wide lens is not as wide as I have seen on most smartphones, yes, it does allow you to fit more subjects in your shots but I wasn't happy with the angle. It could have been better in my opinion.
The selfie camera on the other hand is really good, shots are well detailed and in some cases too detailed that you end up seeing the flaws on your face. Beauty mode helps with this and for those who like uploading their perfect selfies on social media, this is the camera to handle that at its price..
Check out a few samples below.
Battery
With a 4,000 mAh battery, the Tecno Camon 12 is no slouch. It will stay with power for an entire day or even two depending on how you use your phone. I got mine to last an entire work day with about 6 to 7 hours of screen on time. This is not bad at all from my experience.
Tecno has included some battery management features on HiOS that can help a little but not with much. I can't complain about that since this battery does not drain as fast considering the fact that this phone has a hungry processor.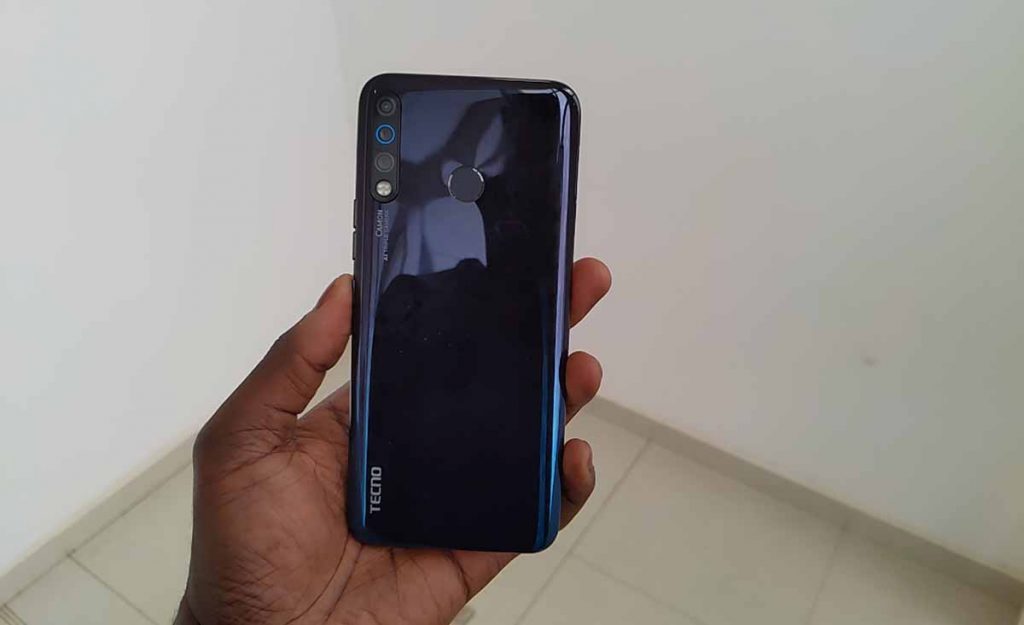 Overall, the battery is reliable for me but I just feel it could have been better. I have had a better battery experience with other Tecno smartphones and would love the same to be extended to these new ones that are not necessarily its cheapest.
The phone also does not support fast charging, you will need some patience as you wait for it to fully charge.
Conclusion
If you are looking for a phone that offers good value for money, the Tecno Camon 12 is worth looking at. At its price and looking at its specs, I definitely see the value of having one. The phone is well built and feel modern and can sit on the same table with other smartphones from other brands.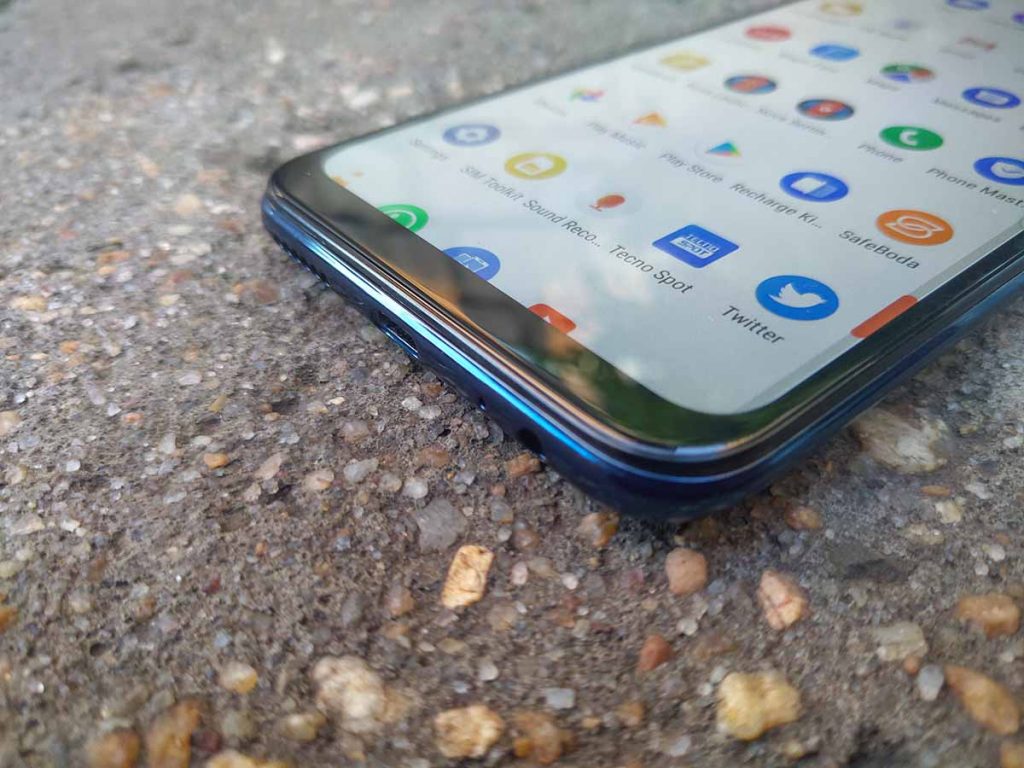 The cameras are alright but nothing out of the ordinary. This says a lot as the Camon series is a camera-centric device. At this price, I expected much better cameras from Tecno as the company has done in previous years. The selfie camera is quite good and takes some really good shots.
Performance is reliable and even light gaming does not cause any troubles. I am still not happy with the speakers as they sound awful especially at high volumes, Tecno can do better here. For security, we get both fingerprint sensor and face unlock.
The battery is reliable and since it does not drain fast, it should satisfy all your needs.
Also Read: Five Things to do when you get the new Tecno Camon 12 Smartphone