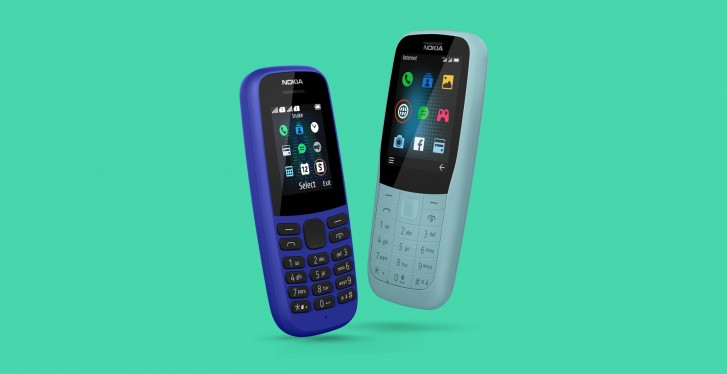 We all love smartphones and what they have to offer. Even with their evolution, there are still people buying feature phones for various reasons. Most people are surprised when I tell them that feature phones still have a significant market share even though there are cheaper smartphones available.
HMD Global is one company that is still investing heavily in the feature phone market. The company has unveiled its latest products, the Nokia 220 4G and the Nokia 105. The Nokia 220 4G borrows a lot from the original Nokia 220 that was unveiled back in 2014.
With the new 4G version, users will be getting a web browser to access the internet. If you have not figured out already, this is a 4G capable phone and this is commendable for a feature phone. The phone also comes with the classic Snake game that was very popular back in the day. Besides this game, there are other games available on a try-and-buy program for you to check out before purchasing.

Like most other Nokia feature phones, the Nokia 220 4G comes with a polycarbonate back that can be removed to access to two SIM card slots. Removing the back cover also gives you access to the 1,200 mAh battery which HMD says offers up to 27 days standby time.  
With the Nokia 220 4G, you are also getting an LED flash and FM radio. The phone will be available in Mint Blue and Black and should retail for €39 (approximately Ksh 4,500).
The Nokia 105
The Nokia 105 on the other hand is the successor to the Nokia 105 that we saw back in 2017. The two phones are not that different and they do have the same design and do not have any cameras, you will not be taking photos with this camera, will you? It does have an LED torchlight though 😊.
Some additional specs of the new Nokia 105 include an 800 mAh battery that is removable, a 3.5 mm audio jack, micro USB port and FM radio. It is available in Blue, Pink and Black and will retail for €13 (approximately Ksh 1,500).
The phones have just been announced and we are still not sure when they will be available in retail stores. I will update you when I get that information.
Also Read: Photo of Nokia's Rumored Android-Powered Feature Phone Leaks