If for some reason you have wanted to share your WhatsApp Status to your Facebook Story, you may be in luck as the company is currently testing this feature. The feature is available on the latest beta build of WhatsApp and this means that we will be seeing it on the public version of the app very soon.
WhatsApp has insisted that when using this feature, you will not be linking your WhatsApp ID with your Facebook account. The company says that it is using the standard Android and iOS data sharing APIs so those who were worried about this can breathe a sigh of relief.
Since WhatsApp is using the standard iOS and Android APIs, this means that it will be possible to share the WhatsApp Status to other applications such as Google photos, Instagram and many more. Facebook owns WhatsApp but the company has been clear that sharing the status between the apps does not mean sharing of the data as the two posts will be separate events in its systems.
On the beta version of WhatsApp, the sharing button is below the Status. This is a much better option than what users are forced to do right now if they want to share their Status with different apps. Right now, you have to do that manually and this is a tiring process if you ask me.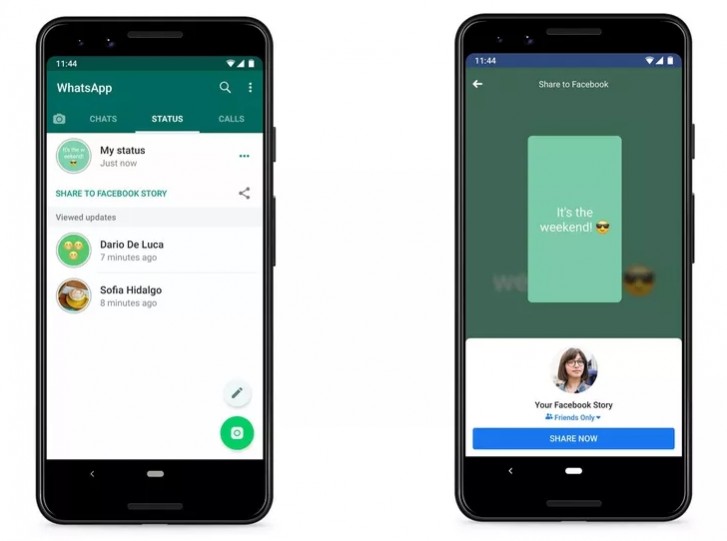 500 Million Daily Active WhatsApp Status Users
WhatsApp has previously reported that WhatsApp Status has over 500 million daily active users. This is massive for a sub feature of one of the world's most popular messaging app. WhatsApp itself has over 1 billion daily active users, not a number many other apps out there can achieve. WhatsApp hopes the inclusion of this feature will make it easier for people to share their Status and hopefully these people will rely on WhatsApp to create their Status and share them to other applications.
Also Read: WhatsApp Now Allows Text-Based Status Updates Just Like Facebook