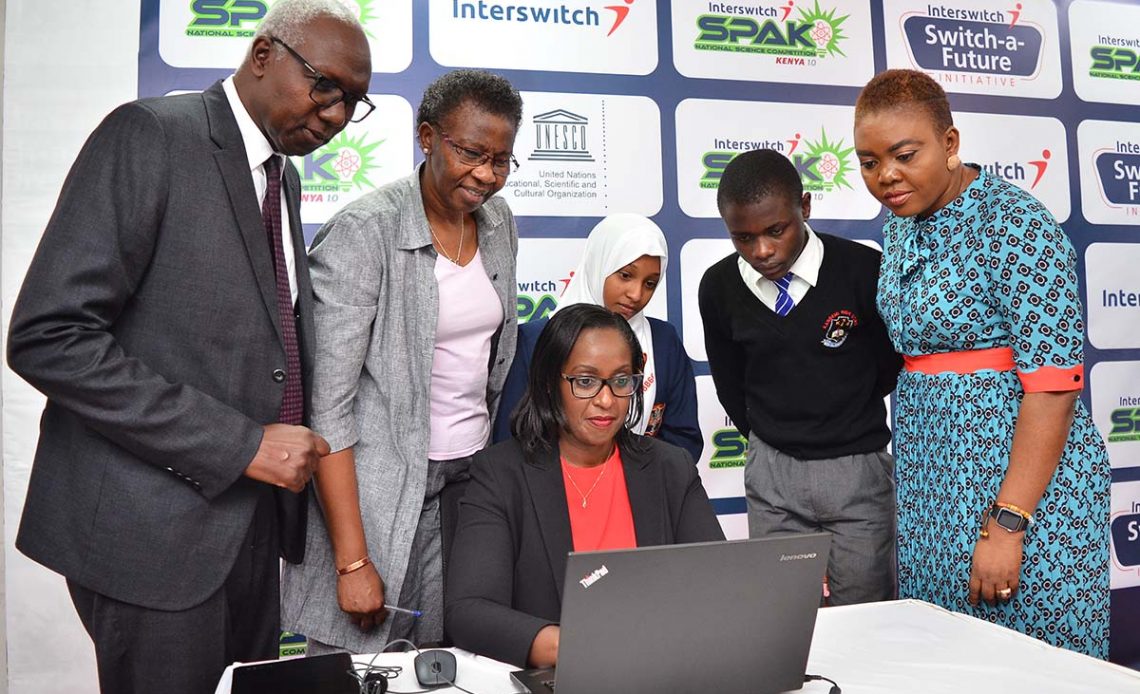 The Ministry of EDUCATION, Interswitch and UNESCO have launched a competition that gives secondary schools in the 47 counties a chance to nominate their best six Form 3 STEM (Science, Technology, Engineering, Mathematics) students for a competition dubbed InterswitchSPAK. The winner of this competition will receive a scholarship worth Ksh 1.5million, a laptop, signage for their school while the 1st and 2nd runners up will get Ksh 750,000 and Ksh 150,000 respectively and a laptop each.  The students must be aged between 15 and 18 years of age at the time of submission.
This will be a year long program and seeks to register 12,000 students across the country in the first six weeks after which a national qualifying contest will be held in about 50 centers countrywide. Through this, the competition organizers will be able to determine the best 54 students who will proceed to the next round and feature in the InterswitchSPAK Kenya 1.0 – National TV Quiz show to determine the top nine STEM students in Kenya.  
There will also be a mentorship session where speakers will take turns interacting and sharing real-life experiences with the students.

 "Research has it that in the next 10 -20 years most of the jobs available will have STEM integrated into them. So, for us at Interswitch, we began to ask the question: is Kenya ready for this, is the African continent ready for this? said Cherry Eromosele, Group Chief Product and Marketing Officer at Interswitch. "In answering this question, we realized that we must nurture and mold the students who are already studying STEM subjects, while also inspiring others to take up STEM subjects as they come of age.
She explained that InterswitchSPAK provides a platform that is preparing and empowering the future Africa problem solvers. "These future scientists, we believe, will not only solve problems, they will build and sustain businesses that will grow the Kenyan and African economy at large," she added.
Speaking at the event, NACOSTI Director General Dr. Moses Rugutt said the competition will be an annual event with a key message of raising the interest of students, parents, teachers and other key stakeholders in STEM education and its application in Kenya.    
"The STEM programme will by increasing the number of students interested in STEM subjects address national development objectives and challenges that require scientific skills to resolve. On the other hand, students derive maximum benefit from their participation and meeting their counterparts from other countries. Such experiences are never in vain," Dr. Rugutt said.
Now Read: Adoption of Cloud by Local Businesses is Key to Scaling Up Operations