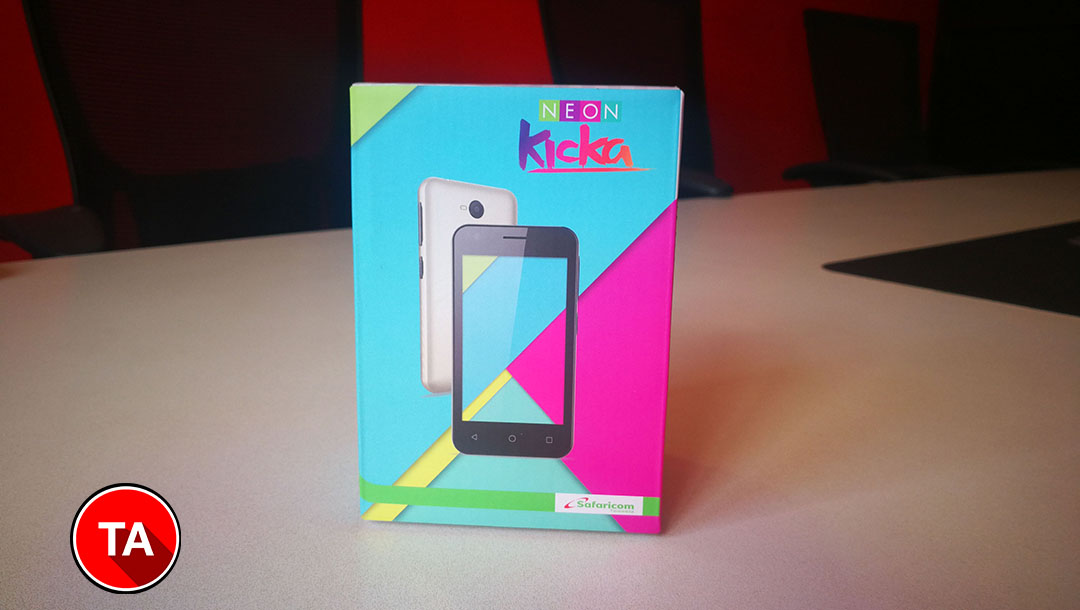 The Safaricom Neon Smart Kicka 4, quite a mouthful, is currently the most affordable Android Go smartphone in Kenya. The phone has been on the market for a few weeks and is available online through Masoko, Jumia and offline through Safaricom retail shops. At Ksh 3,499, the Safaricom Neon Kicka 4 is the perfect device for those who are looking for their first smartphone without spending so much on it.
In a market like Kenya, the Safaricom Neon Kicka 4 is seen as the perfect first smartphone for those coming from feature phones. Since the Neon Kicka 4 is an Android Go device, it should give users better performance and experience compared to other entry-level smartphones. Android Go is a version of Android that is tweaked to run smoothly on devices with between 512MB and 1GB of RAM. So, what does the Safaricom Neon Smart Kicka 4 offer? Let's find out.
What is in the Box?
In the box, we do get:
The Phone (Neon Kicka 4)
Earphones
Charger
Screen protector
Transparent case
Battery
User guide and warranty information
First Impressions
Taking out the phone out of the box for the first time, the back cover is what got my attention. The back is textured and this is rarely seen on entry-level devices. The cover is made of plastic but feels different from what I am used to and so far, I like it. This back cover is removable and doing so gives access to the 1500mAh battery (removable), the SIM and MicroSD card slots. You only get one SIM slot as with most phones sold through Safaricom shops. The MicroSD card slot can accommodate a 32GB card.
Flipping the phone over, you get to see the 4-inch display of the Neon Kicka 4. This 4-inch display is quite small from what I am used to but I got used to it within a few minutes of using the phone. It is the perfect size for someone who is coming from a feature phone. The display is standard for an entry-level phone.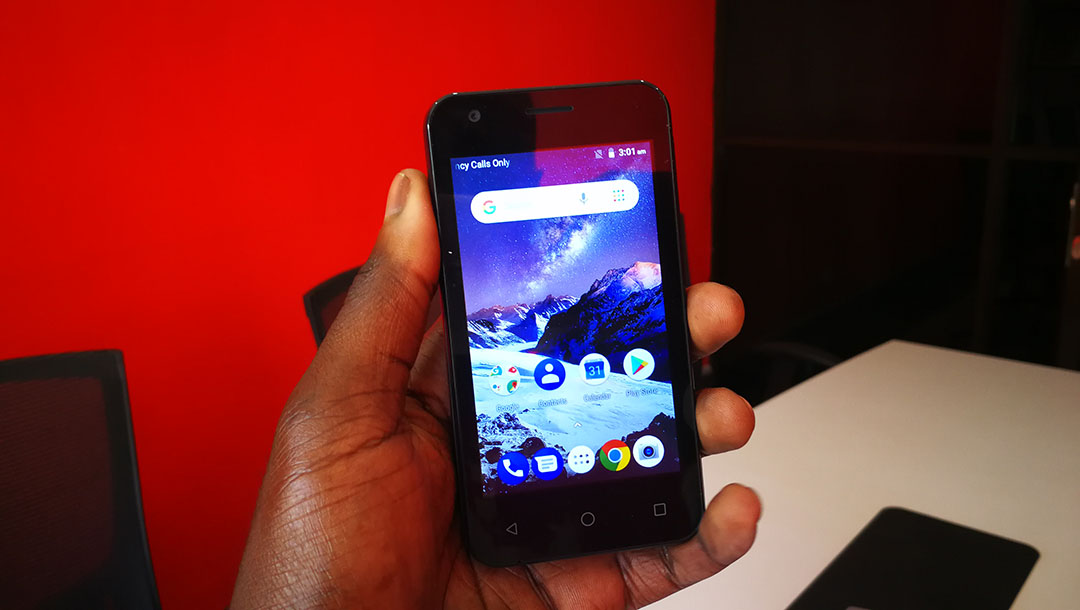 Switching the phone on for the first time, the first thing that you will notice and love is that the phone comes with very few pre-installed applications. If you have ever used Android before, then you know that some manufacturers like pre-installing unnecessary applications that you end up uninstalling. It makes sense for the Neon Kicka 4 to come with few pre-installed apps as it has 4GB of storage space which is not that big. Most of the apps that are pre-installed on the Neon Kicka 4 include the mySafaricom app and a few Go applications. These 'Go' applications are stripped down versions of popular apps from Google and they include Gmail Go, YouTube Go, Maps Go etc. These apps are made to offer users of Android Go a seamless experience without taking as much space as the standard applications.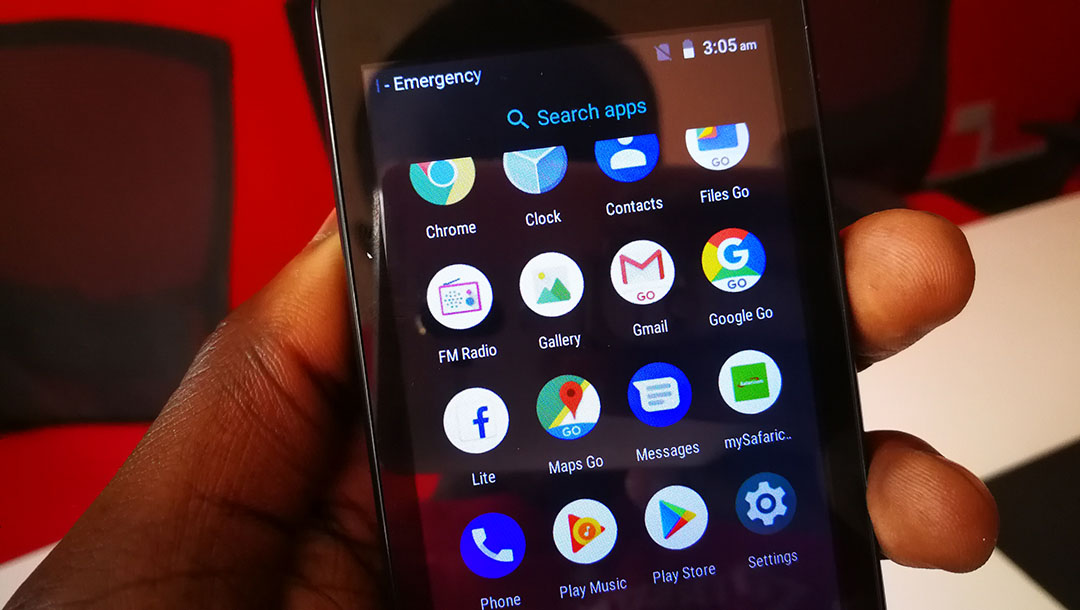 When you access the Play Store with this phone, you will see other recommended apps that do not take up a big chunk of the storage space and they are not too demanding. These apps offer the basic features that will give you access to their main services without pushing your phone to the limits. You can also install a few other lighter applications such as Facebook Lite, Twitter Lite etc as these will offer better performance for an entry-level smartphone such as this.
The performance of the Safaricom Neon Kicka 4 has been good so far. I have used other entry-level smartphones over the years and performance has always been an issue. I have used the Neon Kicka 4 for just a few days so it is not realistic to say much about the phone's performance as it is still new. I will be using it for the next few weeks and will touch on that in the full review. Even with that said, I am impressed with how it has handled things so far.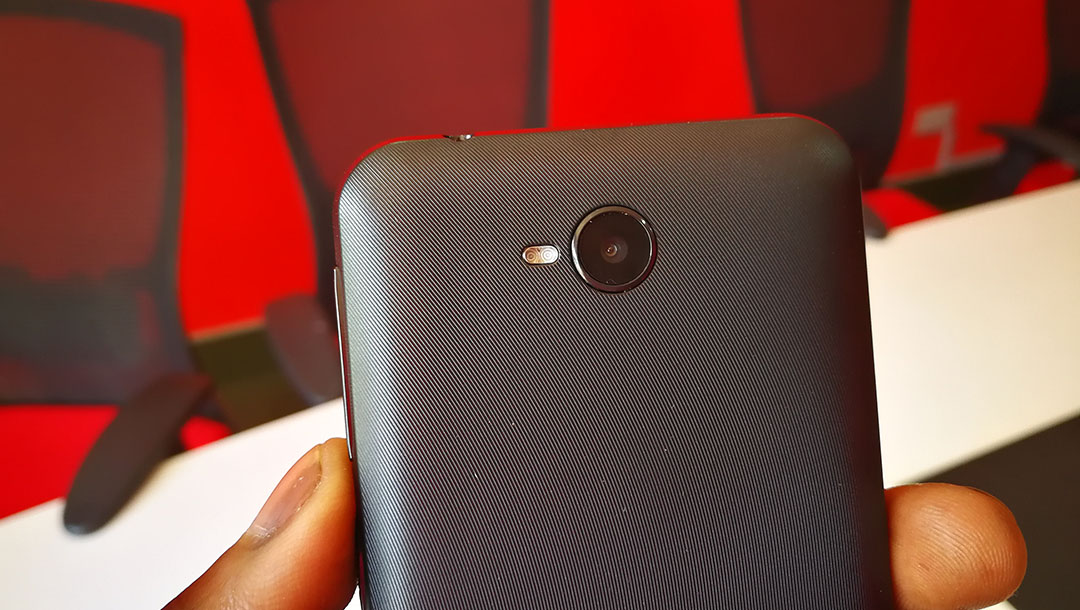 Some of the key specifications of the Safaricom Neon Kicka 4.
Display Size: 4 inches
Processor: 1.3 GHz Quad-core MediaTek processor
RAM: 512 MB
Storage Space: 4 GB, can be expanded up to 32GB using a microSD card
Android Version: Android 8.1 Oreo (Go Edition)
Connectivity: 2G/3G
Camera: 2 MP Camera at the back with a 0.3 MP front-facing one
Battery: 1500 mAh removable battery
Early Verdict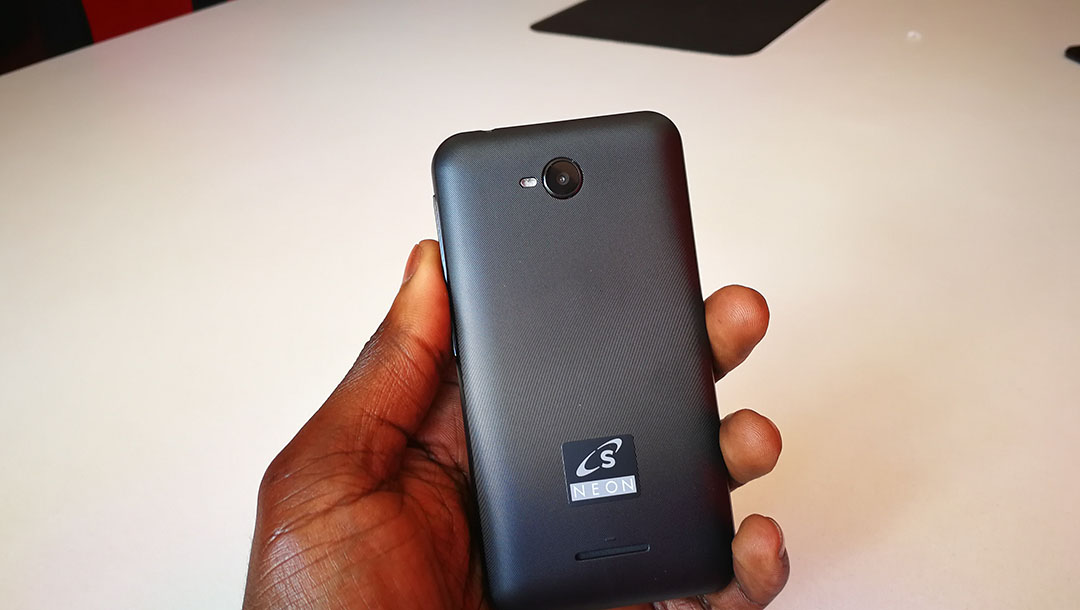 The Safaricom Neon Kicka 4 is a promising entry-level smartphone. I am impressed with its build quality and performance. This is currently the most affordable Android Go smartphone in Kenya that you can get for Ksh 3,499. It promises better performance and an overall better user experience for those who are just getting their first smartphone or for someone who is looking for a reliable second smartphone. We don't get to see that many smartphones for this price so the Neon Kicka 4 is an interesting one. I will be using this phone for the next few weeks and have a full review then.
Get the Safaricom Neon Kicka 4 on Masoko
Also Read: Safaricom Neon Smart Kicka 4 Specifications