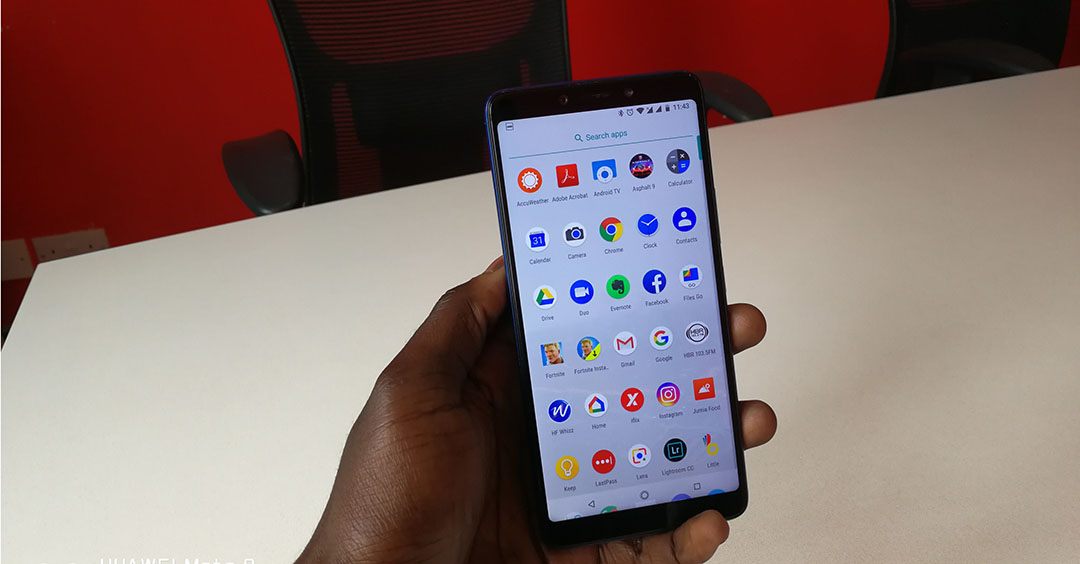 Out of the many devices Infinix has, the Note series has always been its flagship line for those who want a bigger screen, a bigger battery and just everything big and different from what they can get from other devices from the company. This has always been the case and the company is sticking to that with the Infinix Note 5.
The Infinix Note 5 has been in retail stores in Kenya for sometime now and I have had a review unit since then. For those who are interested in buying the phone, you can get it from Jumia from Ksh 17,939.  This puts it in the same segment as the Infinix S3, Tecno Camon X, Huawei Y7 Prime 2018, Xiaomi Redmi S2, OPPO A3s and many others. This price is very competitive as there are so many options for you to choose from.
Infinix is marketing the Note 5 as an Intelligent smartphone thanks to some of its AI features. I will get back to these AI features later on as they are not that many. We keep seeing smartphone manufacturers throw around the word AI everywhere and we will try and see if Infinix does that for the sake of it or if there are true AI features you get with this phone.
I did an unboxing post listing some of the things you get in the box and you can read more about that using the link below.
Read Now: The Infinix Note 5 First Impressions
Hardware and Design
Plastic back cover, glossy finish
The first thing I will look at is the design and build quality. The Note 5 has a plastic back cover with a shiny finish that looks really good in blue. There is a black variant but I don't think it looks that good.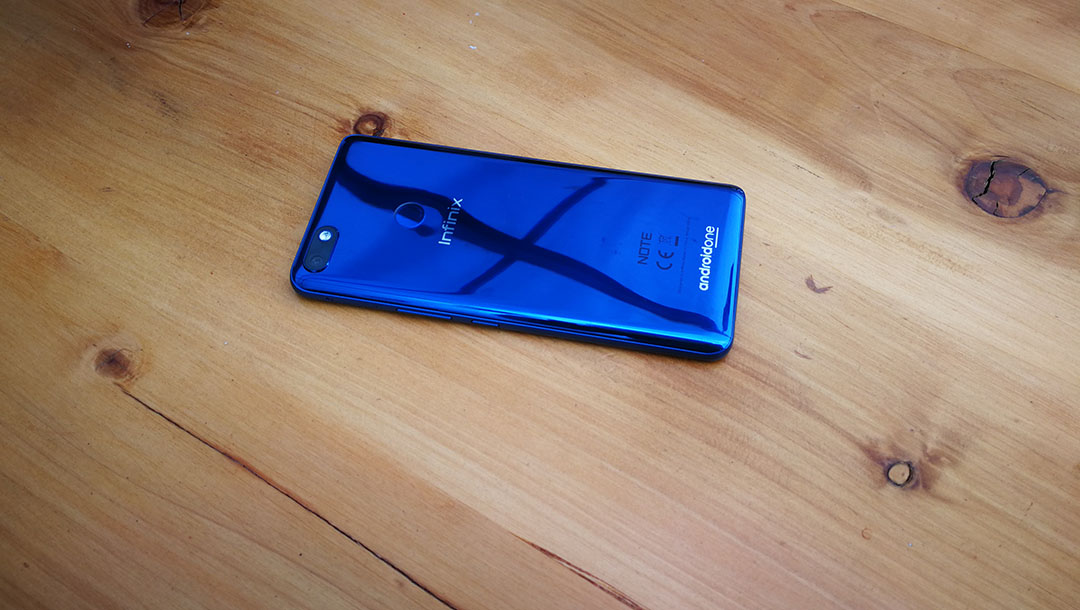 Even though the back is made using plastic, it is not cheap as some people may want to imagine. It is an Ok build for a smartphone that you can get for less than Ksh 18,000 on Jumia. The glossy back cover is a fingerprint magnet but I do not think that is a very big deal for most people, you can just wipe them off and you are good to go. The edges of the back are slightly curved and this makes it easier and comfortable to hold the phone. This is necessary as the Note 5 is not a tiny phone, its has a 6-inch display that may be a bit too big for some people even though it has the 18:9 aspect ratio.
The phone has handled everything I have thrown at it during the review period so I can say it will serve you well. The good thing is Infinix has included a free back cover to keep the phone secure for those who want that level of protection.
The overall build quality is just average, it is not the best out there but for its price it is good.
Software and Performance (Android One)
Android One, Android 8.1 Oreo, MediaTek Helio P23, 3GB RAM, Mali G71 MP2
The Infinix Note 5 is an Android One smartphone and this means that it comes with the pure form of Android as intended by Google. It does not come with XOS as with other devices by the company. This may not be the thing Infinix fans may want to hear but it just takes some getting used to. You will figure things out very fast. For those who have never used Infinix smartphones before, this is a good way to see what the devices have to offer while getting the same Android experience you can get on any other smartphone.
Since it comes with pure Android, you get very few pre-installed applications and this is a good thing. You can use the 16GB of internal storage to install the applications that you really care about. I am a big fan of Android One for this particular reason as I normally uninstall most pre-installed app anyways. Speaking of pre-installed apps, you do not get a file manager, FM radio and some of the other apps you are used to getting on most Android smartphones, you just have to download them from the play store if you have to use them.
The performance of the Note 5 has been good since day one. It is powered by the 2GHz Helio P23 processor from MediaTek paired with 3GB of RAM and 32GB of storage space. This is decent enough for most people and for handling day to day tasks as well as playing some games and using some heavy apps. I have not had any issues with the overall performance except for a few isolated cases where some apps (Asphalt 9 Game) keeps crashing.
Another issues that I noticed with the Note 5 is RAM management. The phone has 3GB of RAM and this is good on paper but I noticed that it does not keep apps in memory for very long. You switch between a couple of apps and when you go back to the one you were on, it restarts instead of picking up from where it was. This is very weird and happens from time to time and I did not expect that at all. I have used phones with less RAM that handled this better and I am not sure what is up with the Note 5.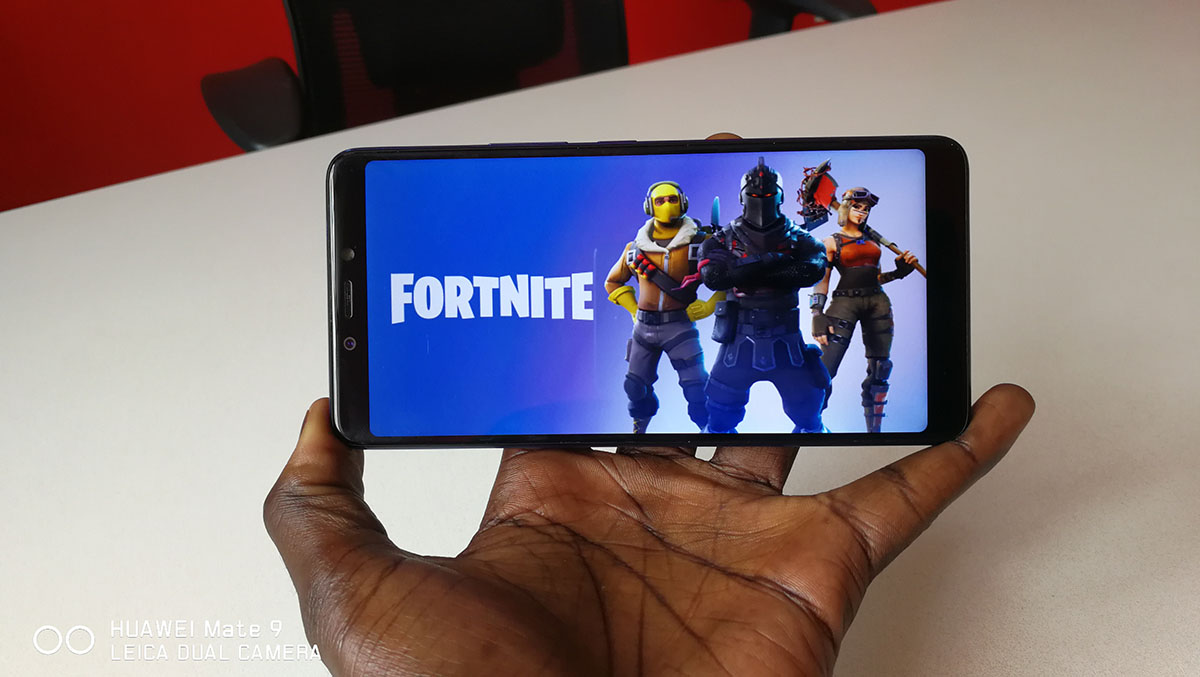 Besides the issue with the RAM, the overall performance of the Note 5 is superb. It does handle applications well, even the heavy and demanding ones. I did love Android one on this phone so much.
Infinix keeps calling the Note 5 and intelligent smartphone and alluding to the fact that it has AI features. I did not experience any AI features apart from Google Lens which helps you identify objects, plants, animals, products etc using the phone's camera. Beyond this, I did not see any other AI features on the phone.
For security, you do get a fingerprint scanner at the back of the phone. There is no support for face unlock.
You can check out some of the specifications of the Infinix Note 5 below.
Also Read: Infinix Note 5 Specifications And Price In Kenya
The Display
6 inch, 2160 x 1080 pixels,
If you love huge displays, the Infinix Note 5 is worth looking at. As I mentioned above, it has a huge 6-inch display with a resolution of 2160 x 1080 pixels. This display is good when indoors and even outdoors, It is very bright and the colours are vibrant. I watch a lot of videos on my phone and the Note 5 was able to give me exactly what I wanted, colour accuracy is superb.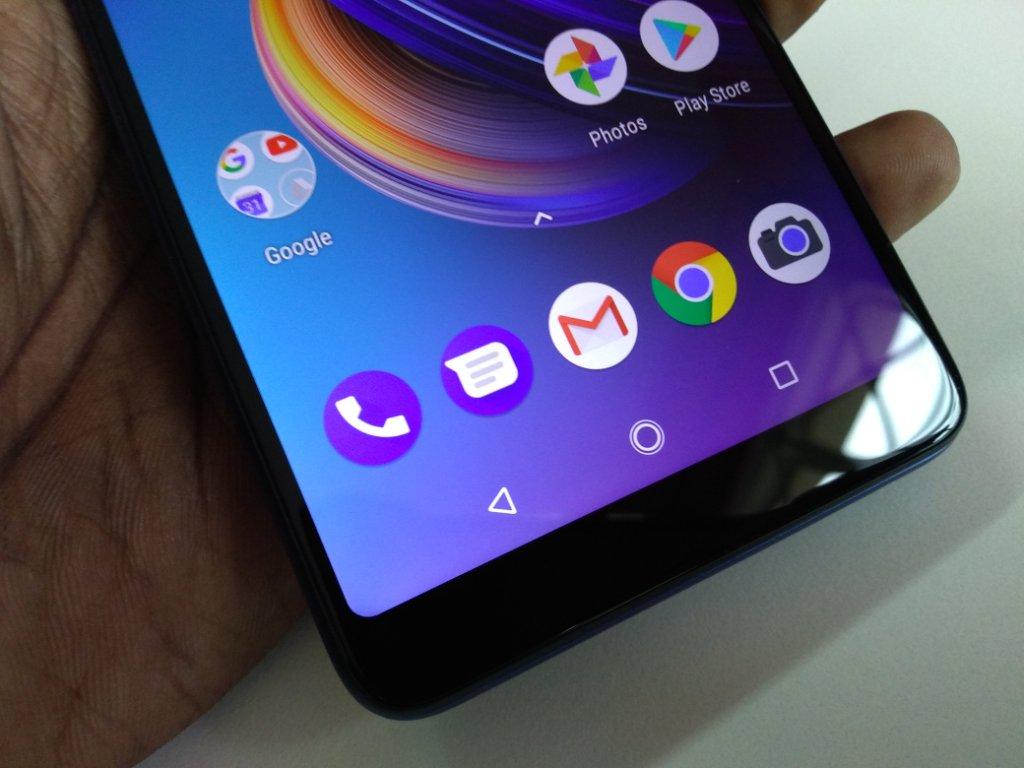 The only issue I have with this display is it is always bright even in the lowest brightness setting. This is not desirable when using the phone at night or in a dark room. Auto brightness does not work very well and most of the times I have had to change the brightness manually even though I have set the screen brightness to adjust automatically based on ambient lighting.
The phone has notification LED which only has one colour and there is nothing much you can do to change that. This means that you can't tell the notification you have without waking up the phone.
Camera
12MP at the back, 16MP for selfie
The Infinix Note 5 is not a camera centric device but it does have very good cameras. The back one is a 12MP unit with large 1.25µm pixels to help you take some decent shots even when the lighting is not so good. The front facing one is a 16MP one that is really good. I was impressed with both these cameras as they were better than I had expected them to be.
I did a full camera review with some of the samples that you can check out using the link below.
Also Read: Infinix Note 5 Camera Review
Battery
4500mAh, Fast charging support
How long do you think a 4500mAh battery can last you? Well, I have used many different smartphones over the years and the battery on the Note 5 is just on another level. I could constantly get up to 8 hours of screen on time and in some rare cases I got 10 hours of screen on time. This means that I could easily get the phone to last for up to 2 days on a single charge with heavy usage and in some cases that was extended to three or even four days.
Getting the battery to last this long is impressive in this day and age especially if you consider the fact that the phone does not come with any XOS battery optimization features. I just wonder how long it would last with these features. Most people I have talked to about this battery did not believe me and some of them were impressed and were considering getting the phone just because of that.
The battery also supports fast charging to get you a few hours of battery life with a few minutes of charging. This is a must for a smartphone with such a huge battery.
Conclusion
Worth it?
The Infinix Note 5 is a very good phone and probably the best we have seen from the company this year. It does what it was made to do really well and is some cases better that you'd expect.
What I Like
Battery – It is on its own level
Cameras – They surprised me
Performance – Better than I expected
Software – Android One is just the best
What I don't like
Display – It is good but the brightness issue has to be fixed
Also Read: The Infinix Hot S3 Review