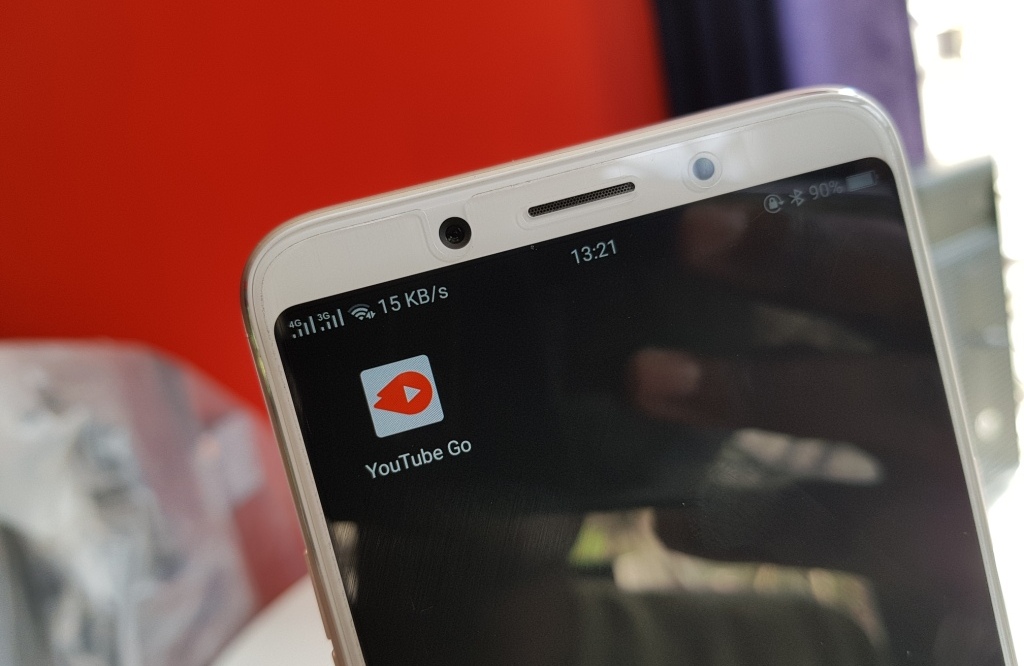 Back in 2017, Google unveiled YouTube Go for those who have entry level devices that may not have the latest and most powerful specifications. This was just one of the many 'Go' applications. Some of the others include Files Go, Gmail Go, Google Go, Google Assistant Go just to name a few. The company even introduced Android Oreo (Go Edition) as a version of its popular mobile OS for manufacturers who make entry level device with 1GB of RAM or less.
With all these 'Go' apps on the market, I decided to check out YouTube Go and see what it has to offer. I used it exclusively for consuming YouTube content for a little over a week when I was reviewing the Samsung Galaxy Grand Prime Pro 2018, you can check out that review using the link below.
Also Read: Samsung Galaxy Grand Prime Pro 2018 Review

The Galaxy Grand Prime Pro has 1.5GB of RAM and is powered by the Snapdragon 425 processor so it may not be the perfect device to run YouTube Go but it is close enough so I had to give it a try. During this period, this is what I found out.
Very Small Applications (8MB)
Before you start using YouTube Go, you will have to download it from the Play Store. When you do so, you will realize that it is a very light app, about 8.24MB in size. This is tiny compared to the standard YouTube for Android app which is about 32MB in size. The size difference has to do with the fact that YouTube Go, is a stripped-down version of the standard YouTube app. It does not come with all the features you get on the YouTube for Android app.
When you download and open the app for the first time, you will get a basic interface without the fancy animations. The videos are presented on the homepage as you'd expect. You will then see a home and downloads tabs at the bottom. I will talk more about the download feature later. No 'trending', 'subscriptions' and 'activity' tabs. YouTube Go is meant to introduce certain users to YouTube content and keep them there. This is why the company decided to go with a basic version that has the videos you may be interested in with no features that may make it unnecessarily big and demanding on your phone.
No Auto Refresh
If you regular use YouTube on your Android phone, then you know that the app auto refreshes regularly to show you the latest recommendations and videos from the channels you are subscribed to. With this, you may see a video and in a second it disappears from your feed before you even play it. The good thing about YouTube Go is that this never happens, you will have to pull down when on the homepage for it to refresh. This is to save data that would have been wasted with constant refreshing of the homepage.
Allows Video Downloads (Not all videos are downloadable)
With YouTube Go, the company is targeting users in emerging markets and in such markets, data can be expensive and may not be reliable at all times. This is why the company made sure that the ability to download videos is one of the application's main features. When you tap to play a video on your feed, you are presented with two options, play it or download it. There are three different qualities available to play or download the videos, 'Basic quality' is the lowest one available followed by 'Standard quality' and then 'High quality'.  The one you choose depends on how strong or weak your internet connection is and how much space you have on your phone if you are planning to download that said video.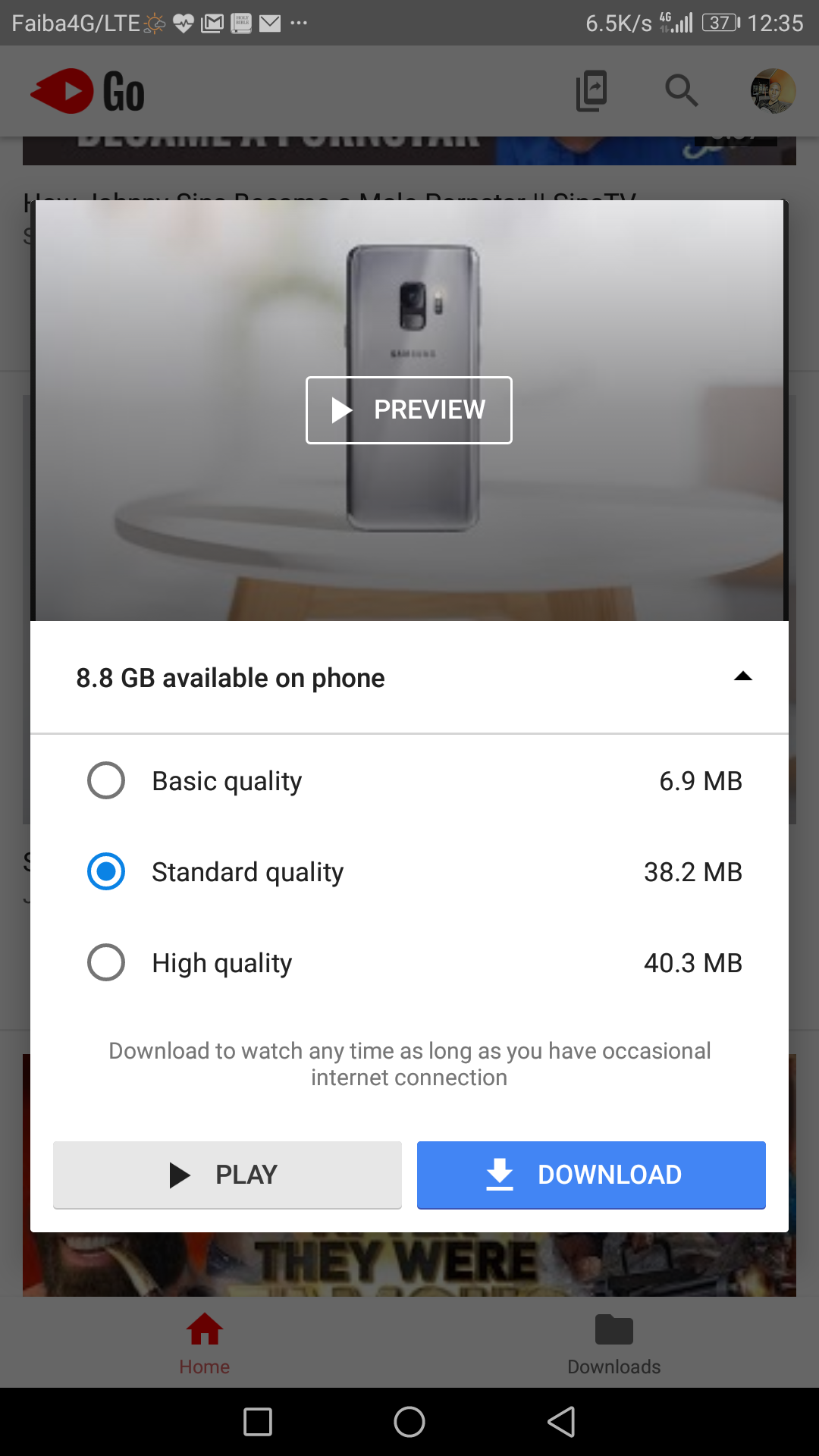 With that said, it is important to point out that not all videos can be downloaded. I noticed that most music videos cannot be downloaded but there are some that I was able to download. I am not sure why this was the case but you should know this if you are planning to download some of them. At the moment, there is no limit on the number of videos you can download, as long as you have space on your phone, you can download most videos.
You Can't View Channels
When you long in to YouTube Go, you will be presented with the latest videos from the channels you are subscribed to. You will also be able to search for the channels you want but you will not be able to access a specific channel and view all their videos. This makes the app difficult to use in situations where you want to go to a channel's homepage and see all their recent uploads.
All you are left to do is use the search button to search for that channel and hope the search results are listed with the most recent upload at the top. Given that you cannot view the channels, you cannot subscribe to any of them either. To do so, you will have to use the YouTube for Android app.
No Commenting on Videos
To continue with the things you cannot do with YouTube Go, you can't comment on the videos you are watching. The comment box is not available and this may be a non-issue for those who rarely comment on YouTube videos but can be an issue for the content creators as people are watching their videos without commenting. I don't see this as a big deal as this app is meant to be very basic and those who want extra features can use the official YouTube app for Android.
No Ads on Videos
If you are not a huge fan of the many ads on YouTube, you should be happy to know that on YouTube Go there are no ads when the video starts playing. Even if the content creator has enabled ads on their videos, they will not be shown when you are using YouTube Go. The moment you tap on play, the video starts and goes all the way to the end without any ad.
Auto Portrait Mode
When watching a video on YouTube Go, you do not have to tap the full screen icon at the bottom right to switch to portrait mode. Even when you have your phone locked to landscape mode (vertical), the video will be played in portrait mode (full screen mode), if you tilt your phone to that position. I found this to be cool as I did not have to keep tapping that little button at the bottom.
No Picture-in-Picture Mode
Have you even been on YouTube watching a video and want to keep it playing while you are watching other videos? This is called picture-in-picture mode, it minimizes the video to the bottom of the screen and allows you to interact with the app as the video is playing. This option is not available on YouTube Go, videos are not minimized and there is no option to browse through the app while watching a video in the background. The moment you tap the back button, the video stops playing.
And that is it, these are the things I found out about YouTube Go when using it. I will keep the app around for a while and will be using it from time to time. It will not be replacing the standard YouTube app but it will be cool to have both around.
Read Now: YouTube Plans To Add Picture-In-Picture Video Feature To Its Desktop Platform