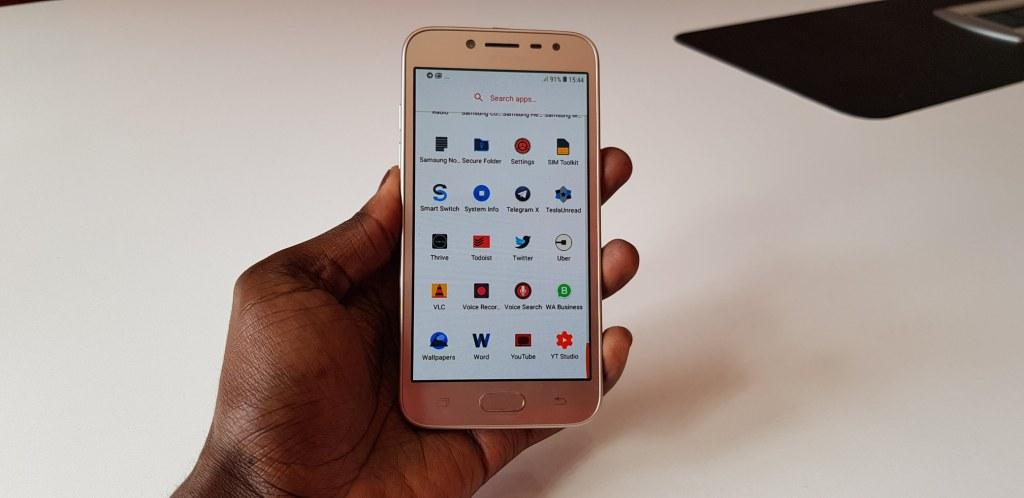 Once upon a time, Samsung dominated the entry level smartphone segment. These days, we don't see the company doing so much in this segment as it has been focusing on the mid-range and high-end segments.
In 2018, Samsung is out with the Galaxy Grand Prime Pro (2018) that it hopes will be perfect for those looking for an affordable smartphone under Ksh 20,000. The name is a mouthful and bear with me in this review as the phone offers more than just the name. The name aside, phone's price is what the company hopes will get people excited. It's recommended retail price is Ksh 13,000, not the cheapest smartphone out there but is one of the cheapest ones from the company. You can get this phone from Jumia here. 
Given that it's been a while since I saw a smartphone from Samsung within this price range, I was interested to see what the Galaxy Grand Prime Pro (2018) has to offer. We are used to seeing smartphones from Chinese manufacturers within this price and some of them are good and some bad so it is refreshing to see something from Samsung.

Design and Build
plastic back, aluminum frame
The Samsung Galaxy Grand Prime Pro (2018) has the same design we have seen on most smartphones from the company before. Nothing new here and that is disappointing to be honest, I was expecting a refreshed design that does not look like that of every Galaxy 'J' device we have seen before. At the front you have the physical home button that at first I thought had a fingerprint scanner embedded underneath but that was not the case. I am so used to unlocking my phones using some sort of biometric and would have hoped to have one on this phone.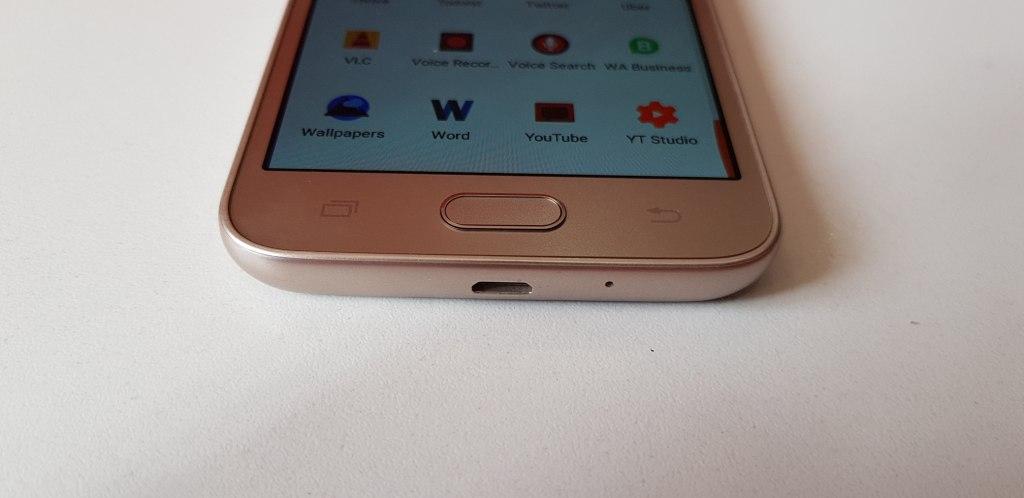 The other navigation keys are below the display and do not give any form of feedback when using them. I had to mention this as it ill take time before you get comfortable to use them. This is not that big of a deal but it is good to know before buying the phone.
As for the hardware used, the back is made of plastic and is removable to give you access to the two SIM slots and the MicroSD tray. The battery is also removable if that is something you care about. The plastic used here isn't exciting in any way, I was very disappointed when I got hold of the phone for the first time but after using the phone for a few weeks, I don't think it is that bad. The frame of the phone is made of aluminium which is a good complement to the plastic back.
Display
5.0 inch Super AMOLED
The Samsung Galaxy Grand Prime Pro (2018) comes with 5-inch Super AMOLED display with a resolution of 540 x 960 pixels. This resolution is disappointing to be honest and the fact that it is a Super AMOLED one is probably the exciting thing. Most of the devices the Grand Prime Pro (2018) is competing with have Full HD resolutions and this means that those who want such a display will look somewhere else.
Even though this resolution isn't the best, it still gets the job done. I used it for watching movies and it wasn't that bad. If you are coming from a phone with a better resolution, you will notice this but if you are not, you won't.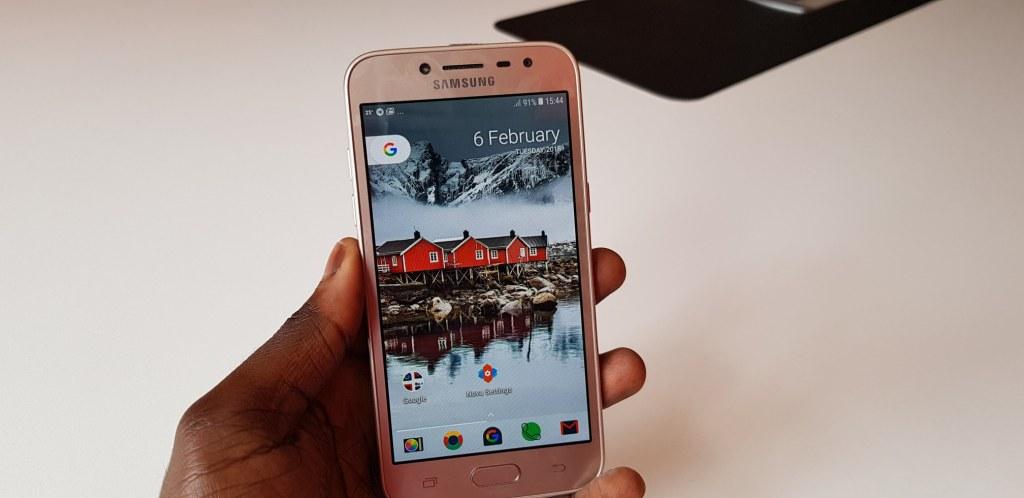 The display gets bright enough to use outdoors and even has an outdoor mode that increase the brightness further to make it easier to use it under direct sunlight. You have to activate the outdoor mode manually and it is switched off automatically when the phone is locked.
Samsung has also added different screen modes to give you the freedom to adjust the colours of your display to your liking. I have set mine to 'Adaptive display' as that is the option that ensures the display is very vibrant and the colours pop.
Given that this display is very bright, it can be uncomfortable to use in the dark but the good news is that there is a Night mode option that lets you use the blue light filter to make it easier to use the display at night or if you just want to use the phone for an extended period of time without straining your eyes.
Performance and Software
Snapdragon 425, 1.5GB RAM, 16GB Storage
The Samsung Galaxy Grand Prime Pro (2018) is not a performance-oriented device but still handles some tasks better that I expected it to. It is powered by the 1.4 GHz Snapdragon 425 processor paired with 1.5GB of RAM and the Adreno 308 GPU. With this combination, the phone handles most basic tasks easily but it really slows down when you start running heavy applications. If you are into mobile gaming and play graphics intensive games, this may not be the phone for you. On the other hand, if you are an average user, you can use it without any problems.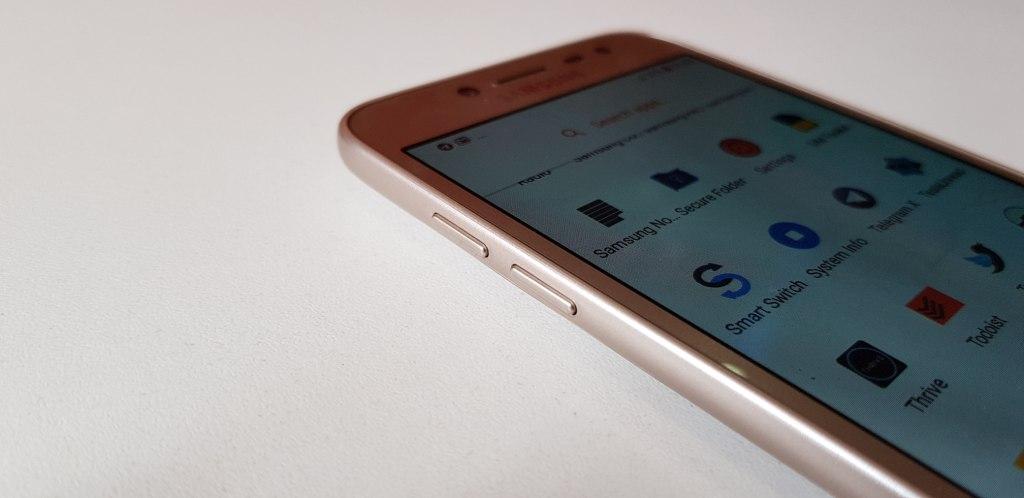 The RAM is also small and this means that multitasking will not be that smooth. Switching between different applications is a pain sometimes, not the worst experience I have had but given that this is a Samsung phone, I was expecting better. This phone also comes with 16GB of storage space. It comes with some apps pre-loaded and most of them cannot be deleted so you will need a MicroSD if you plan to install many applications on this phone. The phone will notify you when you are running out of space, this can be annoying sometimes especially when you do not have a MicroSD card and you cannot delete some of the pre-installed apps like Google Duo that I never used.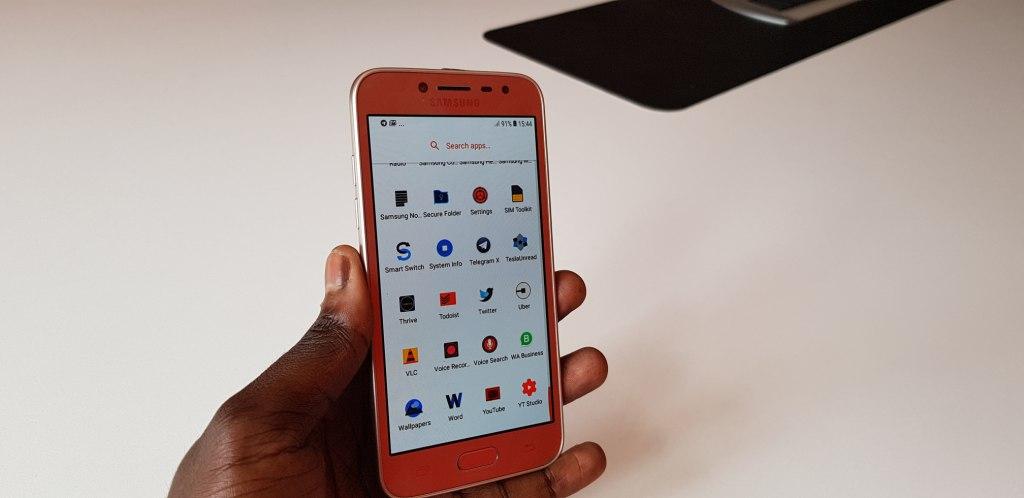 For the OS, the Galaxy Grand Prime Pro (2018) comes with Android 7.1 Nougat with Samsung Experience 8.5 UI on top. Apart from the bloatware that comes with the phone, the software experience was very good. The software feels light as if it is made for this specific phone. This is something you are not always guaranteed to experience with most other phones from China.
Camera
8MP, 5MP
The Galaxy Grand Prime Pro is not a camera centric device and do not expect it to blow your mind here. It has an 8MP camera at the back and a 5MO front facing one. They both take good photos but you will need good lighting to experience that. If you take many photos indoors or at night, you will really struggle to get a good shot that is worth sharing.
Battery
2600 mAh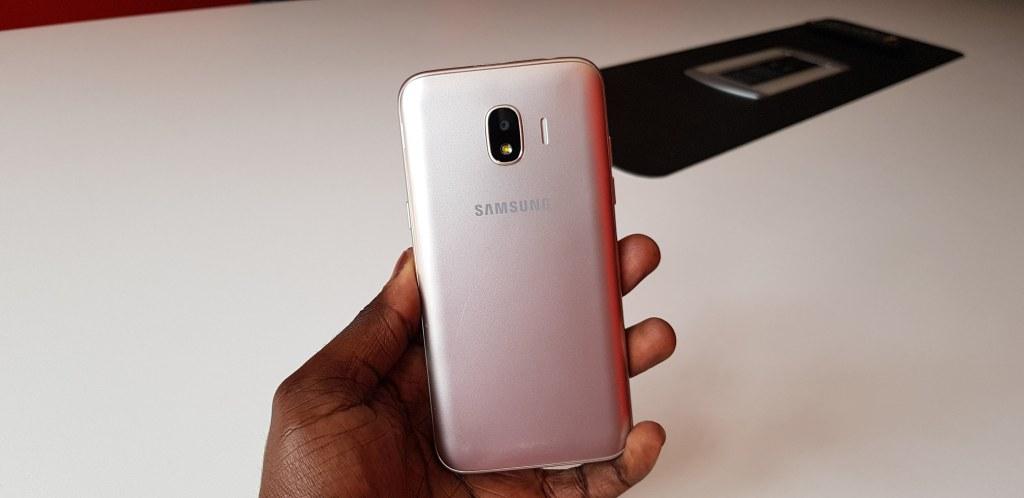 Given the fact that this is not a performance-oriented device, it means that it has a battery that can last you longer than you expect. The 2600 mAh battery used here is small but its considering the display has a low resolution and the phone's performance, you should expect it to last for at least 2 days with moderate usage. I am a heavy user and could get it to last for a day and still have some juice left when going to bed.
Conclusion
The Samsung Galaxy Grand Prime Pro (2018) is the latest affordable device from the company in Kenya. It is available for Ksh 13,000 which is not cheap. This phone is perfect for those who want a reliable device that can handle basic tasks with ease. If you demand so much from your phone, this is not the one for you. This is perfect for those who want to try out a smartphone from Samsung but do not want to spend so much on their mid range and premium devices. It is not loaded with most of the features you can get from devices offered by Chinese manufacturers but I did find any issues with this. Unless you are a heavy user or a photography enthusiast, this phone can handle almost everything you throw at it.
Also Read: Tecno Camon CM Review