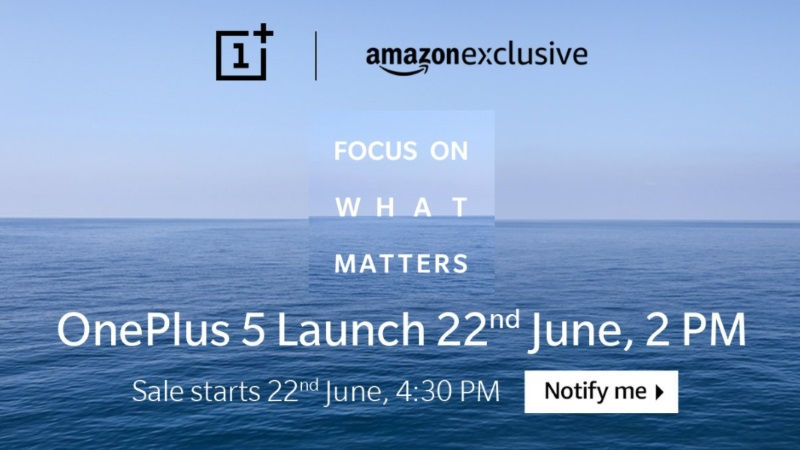 We Are a few days away to the official launch of the OnePlus 5. The company has confirmed that it will be launching this smartphone on June 20, 12 days from today. After its global unveiling, there will be local introductions in China on June 21 and in India on June 22.
The OnePlus will be available in retail stores (in India at least) on June 22, the same day it is introduced in the country. The phone will be introduced in the country at 2 PM and will be available in retail stores a couple of hours later (at 4:30 PM) Amazon India. Amazon will be the exclusive retail partner in the country and the retail giant has been revealing some key features the phone has.
The retail giant has a teaser page of the OnePlus 5 but that is not the most exciting thing. When you dig to the source code, you will find out that Amazon has revealed that the phone is to come with 8GB of RAM. We already know that this phone will be powered by the Snapdragon 835 processor, this was recently revealed by the company's CEO.
This is not the first time we are hearing about the possibility of having 8GB of RAM on the OnePlus 5. This latest revelation is a confirmation of some sort that the phone will be coming with 8GB of RAM as previous rumours had hinted on this. The OnePlus 3 which was unveiled in June last year came with 6GB of RAM and this is why we 8GB capacity on the OnePlus 5 isn't hard to believe. The 8GB model will be the premium version, rumours have pointed out that there might be a cheaper 6GB model.
We do not know much about the other specifications but we will know more as we get close to its launch.
Also Read: OnePlus To Discontinue The OnePlus 3T Very Soon