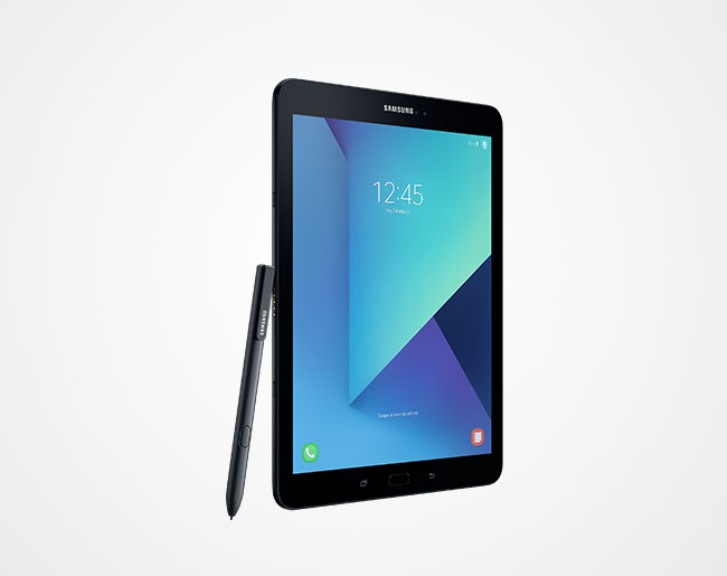 A couple of days ago, Samsung expanded its tablet line up with the unveiling of the Galaxy Tab S3 at Mobile World Congress (MWC 2017). Samsung is perhaps one of the few manufacturers who seem serious when it comes to Android tablets.
When unveiling this device, the company said, "The Galaxy Tab S3 delivers superior video and gaming experiences along with versatile usage as a productivity tool." This is kind of confusing as tablets are considered to be productivity devices these days and Samsung thinks they are for entertainment first and then productivity second. To be fair, not many Android tablets are considered productivity devices so I will not be so hard on Samsung.
The Galaxy Tab S3 comes with a 9.7 inch Super AMOLED display with a resolution of 2,048 x 1,536 pixels. This is not so bad and the size makes it portable for most people in professional and personal settings.
Powering this tablet is the powerful Qualcomm Snapdragon 820 processor that should probably be the first indication that this is a premium tablet. This processor is paired with 4GB of RAM and 32GB of internal storage space that can be expanded to 256GB. These are quite impressive specifications for Samsung to include in the tablet.
Samsung says that the battery on the Tab S3 can last up to 12 hours in video playback mode. This is a bold statement for a 6000 mAh battery and I doubt there is anyone who can get 12 hours of video playback on this device.
Given that this tablet is made for entertainment, it comes with quad-stereo speakers. Commenting on this, the company said, "In addition, the Galaxy Tab S3 is the first Samsung tablet to feature quad-stereo speakers tuned by AKG by HARMAN for premium visual and listening experiences."
Below is a look at the Specifications of the Samsung Galaxy Tab S3.
Samsung Galaxy Tab S3

Dimensions
237.3 x 169.0 x 6.0 mm
Weight
429g (Wi-Fi) / 434g (LTE)
Display
9.7″ QXGA (2,048 x 1,536)
OS
Android 7.0
Processor
Qualcomm Snapdragon 820 Quad-Core 2.15GHz + 1.6GHz
RAM
4GB
Storage
32GB (MicroSD 256GB)
Camera rear
13MP
Camera front
5MP
Connectivity
USB Type-C, Wi-Fi, Bluetooth
Network
LTE Cat.6
Battery
6,000mAh
Tablet Market
The tablet market has not grown as fast as we had expected it to. With the rise of phablets and 2 in 1 laptops (mostly running Windows), not very many people are drawn to tablets. They just do not have a specific purpose in life as what they can do can also be done by the phablet or 2 in 1 devices. This is why it is interesting to see Samsung's commitment in pushing this high-end device. Only time will tell if Samsung will succeed with this or if it will fail.
Also Read: Samsung Announces A New Entry-Level Tablet, The Galaxy Tab J