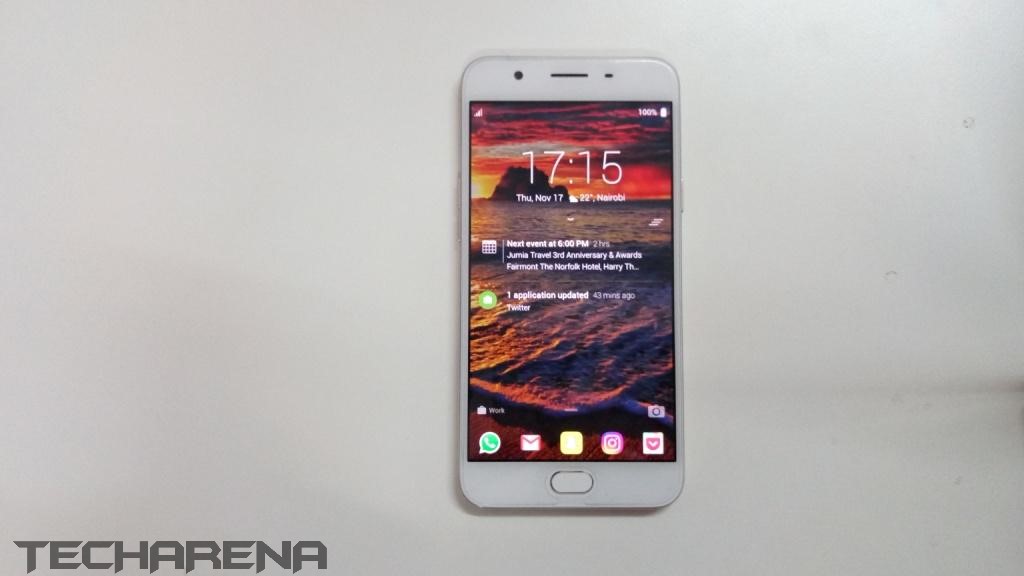 The Oppo F1s is one of the latest smartphones to be launched in Kenya. The phone is dubbed 'the Selfies Expert' and true to that, it takes some good selfies. We have already reviewed the Oppo F1s and we loved it but just like any other smartphone, it has some good things about it and bad ones as well. This post is meant to highlight what we liked about this phone, and what we did not like about it.
For those who may be interested with the price, Oppo is selling it for about Ksh 28,000. This puts the phone in the mid-range category competing with the Huawei P9 Lite, the Galaxy J7 Prime just to name a few. This market segment is open at the moment but is getting competitive by the day as we see more and more manufactures releasing new devices targeting it.
The Pros
In the spirit of being positive, we will start with what we like about the Oppo F1s.
Premium build
The design and build of the Oppo F1s is the first thing I loved about this phone. The phone has a metallic body that gives it a premium feel. Gone are the days where a phone is just there to make and receive calls, phones these days are fashion statements and should look the part. Throughout my review period, I have attracted eyeballs every time I took out this phone, it looks that good.
Besides looking good, the Oppo F1s has a solid build. This is important for a phone worth over 25K, you do not want to feel as if you are walking around carrying a device that can fall apart any second.
The overall design makes it look like and iPhone and I didn't like this, will cover that later in the cons section.
Performance Warrior
The Oppo F1s is very fast, period. It has a 1.5GHz processor paired with 3GB of RAM running on ColorOS 3.0. ColorOS 3.0 is based on Android Lollipop but is highly customized to run smoothly on this phone. Unlike most custom UIs you get on the market, ColorOS feels like it was specifically built for this phone. It runs like a beast, it never slowed down or lagged during my review period.
ColorOS feels very light and this is something you will appreciate if you always run demanding applications on your devices.
Excellent Cameras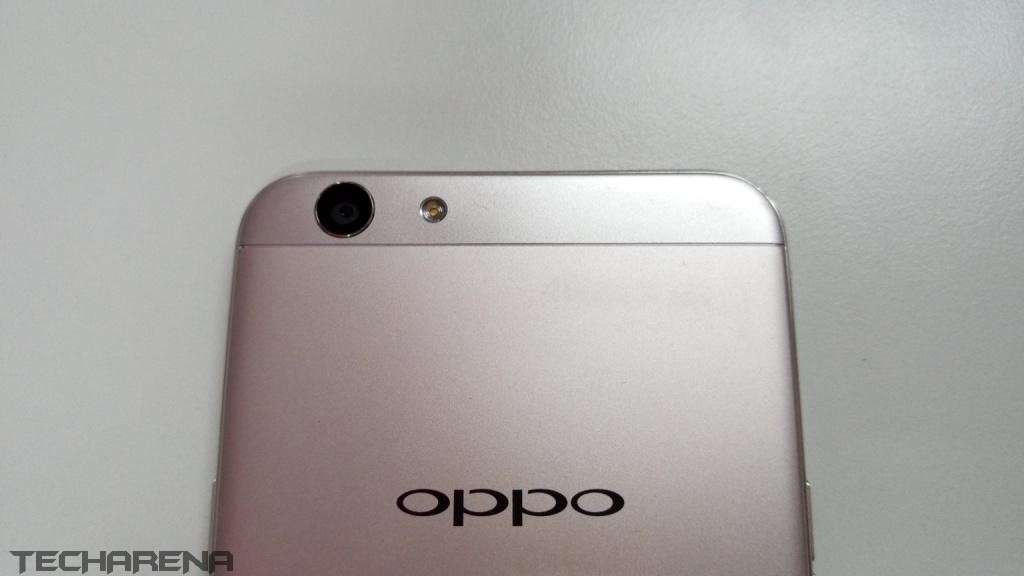 The Oppo F1s has a 13MP camera at the back and a 16MP front facing one. This phone is dubbed the 'Selfies Expert' and from the quality of selfies produced, it definitely is. The 16MP shooter does not disappoint in both good and bad lighting conditions, it captures all the details with no colour distortion. If you are into selfies, the Oppo F1s should definitely be on your list.
The 13MP back camera is also great, it takes some good shots in all lighting conditions. Oppo has been focusing on the camera with most of its smartphones and this can be seen on the F1s. This shows that the phone is targeting the younger generation. The camera app has a bunch of features for both beginners and professionals.
Backlit Capacitive keys
This may not be that serious for most people but it is important for me. The Oppo F1s has physical capacitive keys that are backlit making them easy to use in the dark. This is a small but important feature that am pretty sure those who buy the phone will appreciate. It is one of the features that gives the phone a premium appeal.
Good Battery Life
The good thing about a custom overlay such as ColorOS is that the manufacturer can ensure it is optimized for power consumption. This is the case with the Oppo F1s that has a 3075mAh battery that can last you a day or two depending on your usage. This is good as no one wants to keep charging their phone after every 2 hours or so.
The Cons
Having looked at what is good with this phone, let's look at what we did not like.
iPhone-Like Design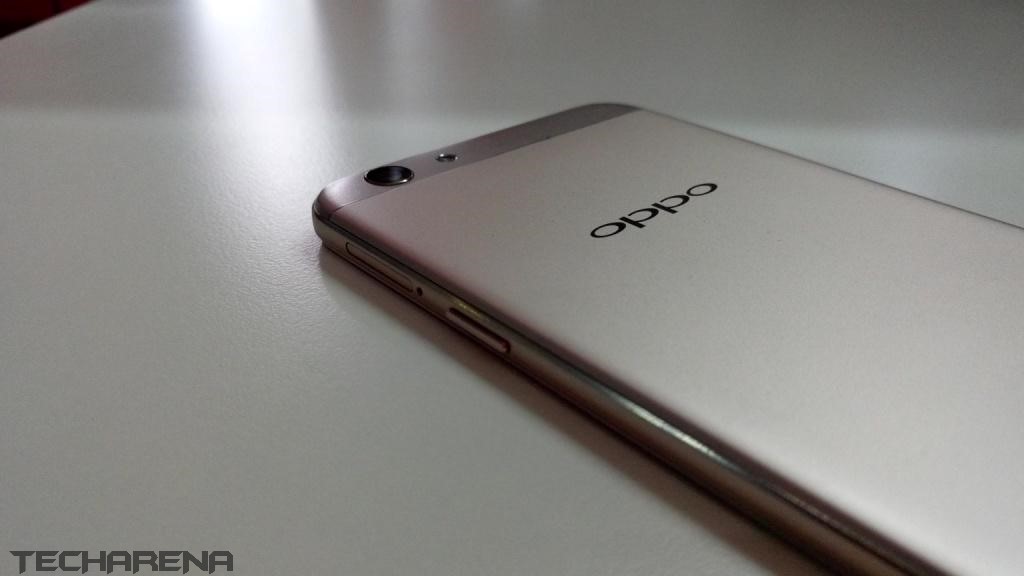 As mentioned above, the design and build of the Oppo F1s is pretty good. The one disappointing thing is that it looks a lot like the iPhone 6s. I don't have any issues with Apple but the lack of originality is disappointing. I believe that this phone can still succeed with an original and unique design, those who want an iPhone will have to save some cash and buy it.
iOS touch is Overdone
The software the Oppo F1s comes with is Android 5.1 Lollipop. That is itself disappointing as we have Android Nougat out but am not that disappointed with this as I don't believe in releasing smartphones with new Android iterations for the sake of it. Oppo can take its time to work on ColorOS that is based on Android Marshmallow or Nougat and release it when it is ready.
What disappoints me about this OS is that it looks a lot like iOS. This is coming from a person who has used a number of devices that have taken the same route including the Xiaomi Redmi Note 2. I prefer to use an OS that feels and looks like Android not iOS.
Fingerprint sensor placement
One other thing I didn't like with the Oppo F1s is the placement of the fingerprint. The sensor is embedded on the home button and does not feel natural. Am used to having the fingerprint sensor at the back and it feels natural there. Again, this will not be a big issue with some people but will be with others, it's all about preference and I do not prefer it embedded on the home button.
720p Display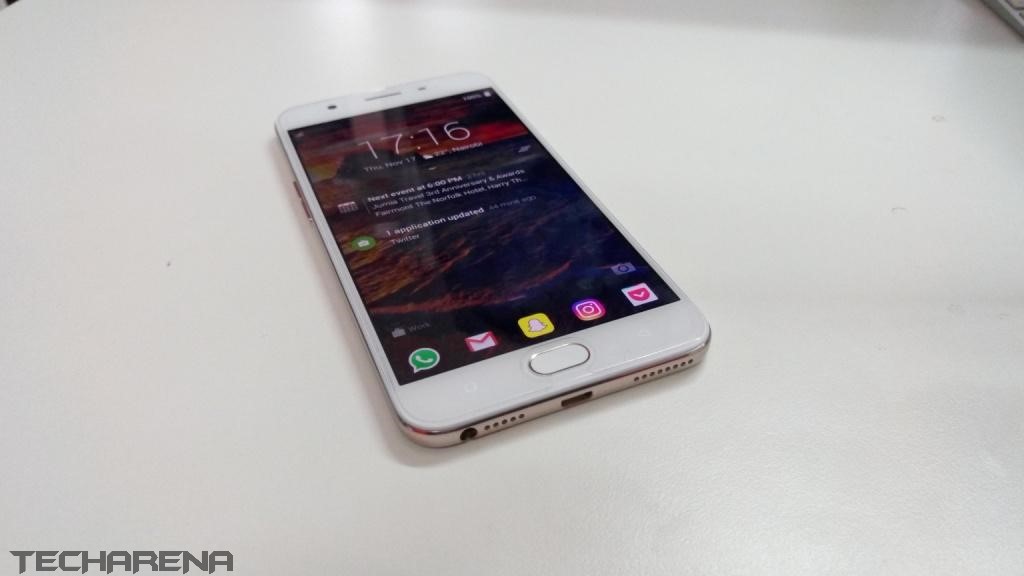 The Oppo F1s is available for Ksh 28,000 and has a 720p display. In this price range, we expect a Full HD (1080p) display which we did not find on this phone. Considering that the phone is competing with devices with Full HD displays and is targeting consumers who will probably be looking for that, I don't think it works well for Oppo.
No VOOC
Oppo is known for its VOOC fast charging feature that we have seen on some of its recent devices. This is missing on the Oppo F1s and its disappointing. The 3075mAh battery is not small and can take some time to charge it fully. Even though battery consumption of this phone is good, fast charging would have been the icing on the cake.
Also Read: The Huawei P9 Lite Review