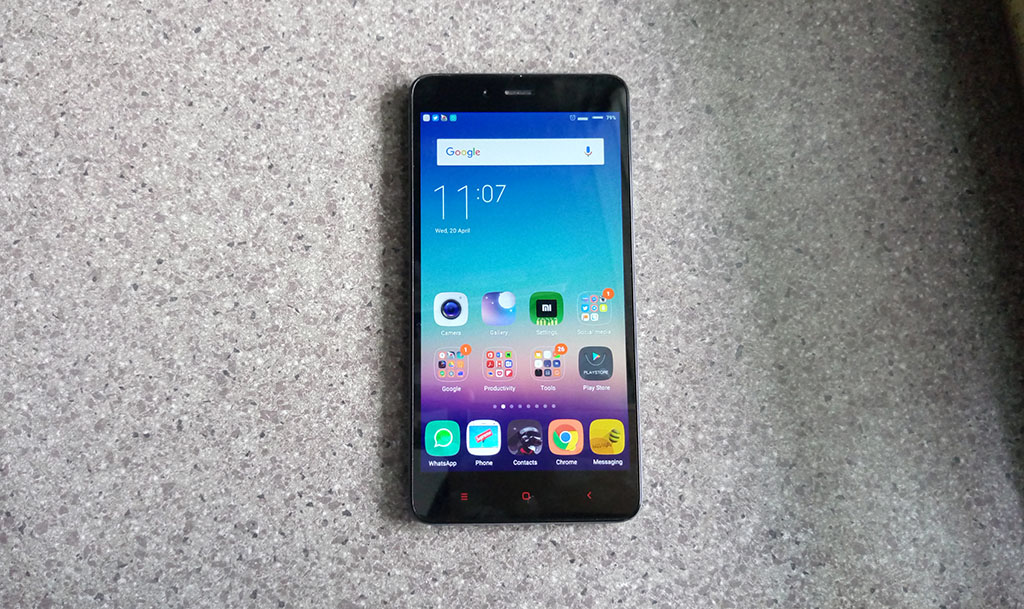 A few weeks ago, we told you that Xiaomi had plans to officially enter the Kenyan market through its distributor, Mobile in Africa. The first two Xiaomi devices that Mobile in Africa will be bringing to Kenya are the Xiaomi Redmi 2 PRO and Redmi Note 2. I have been using the Redmi Note 2 for a while now and I believe I have a better understanding of what it offers.
Read More: The Xiaomi Redmi 2 PRO and Redmi Note 2 Will Go On Sale in Kenya This Week
The recommended retail price for the Xiaomi Redmi Note 2 is Ksh 21,000 and unlike in other markets where Xiaomi sells its devices through online platforms, in Kenya the company will be selling its devices through offline channels.

Look and feel
Matte Plastic back cover, weighs 160 g
The Xiaomi Redmi Note 2 isn't a premium device and doesn't feel cheap even with its matte plastic back cover. Some people may be disappointed with the use of plastic but trust me it feels nice and comfortable to hold.
The phone doesn't look cheap either. When you take it out of the box for the first time you are really impressed with it. Its design is simple and elegant with nothing fancy about it. This is not a bad thing as what is really impressive about this phone is what is inside.
On the right hand side you get the volume keys and power buttons that feel comfortable to press. At the back sits the 13MP camera with LED flash on the top section and the speaker grille on the section. I will get to the camera later on in this review. Audio quality is really good with this speaker and MIUI has many audio settings that ensure you get the best quality when using the phone's speaker of earphones. Speaking of earphones, this phone doesn't come with any and you will have to buy them separately.
The Redmi Note 2 comes with the standard Micro-USB port for charging and data transfers. This is located on the bottom section of the phone with the earphone jack, a microphone and an IR blaster at the top. Yes, the Redmi Note 2 comes with an IR blaster. To give the phone a much more appealing look, the whole front section of the phone is covered by a black piece of glass.
Still at the front, you get the 5MP front camera and some sensors. The capacitive buttons are at the bottom and illuminated with red accents giving them a unique and beautiful look.
Display
Good, Full HD, responsive, visible under direct sunlight, plenty of features
The Xiaomi Redmi Note 2 has a 5.5 inch display with a resolution of 1080 x 1920 pixels. This gives a much higher pixel density of 403 ppi. This is much higher (over 120ppi) than what the Galaxy J5 or J7 offer. The J5 has the same retail price as the Redmi Note 2 while the J7 costs slightly above that.
This display is one of the things I like about the Redmi Note 2. This is an IPS LCD display and has very good color reproduction and is very visible even under direct sunlight. Viewing angles are also great with this phone and do not disappoint.
The display has many settings that allow you to adjust the contrast to your liking. There is also a reading mode setting that cuts out blue light and this is quite comfortable when reading. I found myself using this feature a lot especially in the evening when I wanted to read but did not want to strain my eyes so much. With the many settings, you can fine tune this display to your needs and this is something you have to appreciate.
If the 5.5-inch display is too big for you, there is a one-handed mode that allows you to shrink the screen to either 4.5, 4.0 or 3.5 inches perfect for use with one hand. You can activate this by sliding across your finger from the capacitive home button to either the left or the right depending on where you want the minimized display to be.
Software and Performance
Android Lollipop with MIUI 7.0, 2GB RAM, Mediatek MT6795 Helio X10 (2GHz), PowerVR G6200 GPU
The Xiaomi Redmi Note 2 comes with Android 5.0 Lollipop with MIUI 7.0 interface on top. MIUI is intuitive and to be honest beautiful when you compare it to other custom UIs on the market. It gives you a familiar Android experience but it different in its own way. MIUI allows you to trick out and personalize your phone the way you want.
As for apps, they are all packed on the home screen as there is no app drawer. This gives an iOS-like feel and the good thing is that you can put the apps in folders to bring some sanity to your display.
For performance, the Xiaomi Redmi Note 2 comes with 2.2 GHz octa-core Mediatek MT6795 Helio X10 paired with 2GB of RAM and 16 GB of storage space. I did not experience any performance issues with my unit during the review period. The phone handles any tasks with ease and even multitasking presents no lags at all.
The only issue I had with this phone has to do with 4G reception. I found that the phone had difficulties connecting to 4G most of the time even though I was in an area covered with 4G. I was forced to deal with 3G most of the times and I didn't like this.
Call quality was quite good with this phone and I did not experience issues at all. Even though I had some issues with 4G connectivity, overall network reception was good. This is a dual SIM phone and I used Airtel and Safaricom SIM cards at the same time and I didn't have any problems.
One main issue I had with this phone has to do with the SIM toolkit. As you probably already know, this is the app that gives you access to some services provided by your network operator. These include services such as M-PESA, Airtel Money and the likes. My issue with this is that I could not get M-PESA to work properly. Even though the app opens properly, I was not able to send money or even buy airtime though the app. The app does not crush but does not give you any commands/ notifications/prompts after you enter your PIN. The first time I used it, I thought the transaction had gone through but I never get the confirmation from Safaricom. If you have used M-PESA, then you know that after you enter your PIN, you get a confirmation that tells you if the transaction is successful or not.  It took me a while to realize that the phone is the one with the problem and I hope Xiaomi fixes this.
Camera
13 MP at the back, 5MP in front.
The back camera on the Redmi Note 2 is a 13MP unit that takes some good shots. This camera is equipped with LED flash for much better photos when the lighting is not so good.  Some of the extra camera features on this phone include phase detection autofocus, face/smile detection, HDR, panorama and touch focus. Image quality is good with the back camera and I have nothing to complain about that. For videos, the camera can record Full HD videos (1080p).
The 5MP front facing camera is also good if you have good lighting. Things change when you try to take photos in the dark and you can see from the images that the camera is trying so hard but still doesn't match up with competition (read Galaxy J5). The front camera can only record 720p videos.
Below are some camera samples:
Battery
The Xiaomi Redmi Note 2 comes with a 3060 mAh removable battery. This battery can easily last the whole day with normal usage. If you use it expensively, you may have to top up the battery after about 7 hours or so. There are a bunch of battery saving features which can help you get more battery life. With my review unit, I could easily get it to last for at least 8 hours with normal to heavy usage.
You can get the battery to last up to 2 days if you are a lite user who makes a few phone calls here and there, sends text messages and browse lightly.
Conclusion
The Xiaomi Redmi Note 2 is a very interesting device. The device has a simple build but what it packs inside give it an edge over competition and that is why I have included the "A Simple but Powerful Smartphone" phrase on the title. For a Ksh 21,000 price tag, this phone is a bargain. The only problems I have with the phone have to do with the SIM toolkit and the front facing camera, almost everything else impresses me.
I particularly like MIUI and how intuitive and rich it is compared to other Custom UIs you find on the market. It gives you a different experience that still makes you feel right at home if you have used Android before.
Performance is one other thing that impresses me about this phone. It handles anything you throw at it from basic tasks to heavy applications. This might as well be the ultimate smartphone for Ksh 21,000.
Should you get it? well, that is all up to you but I would recommend that you strongly consider it if you have Ksh 21,000 and are looking for a smartphone that will not disappoint you.
Read: Tecno Boom J8 Review