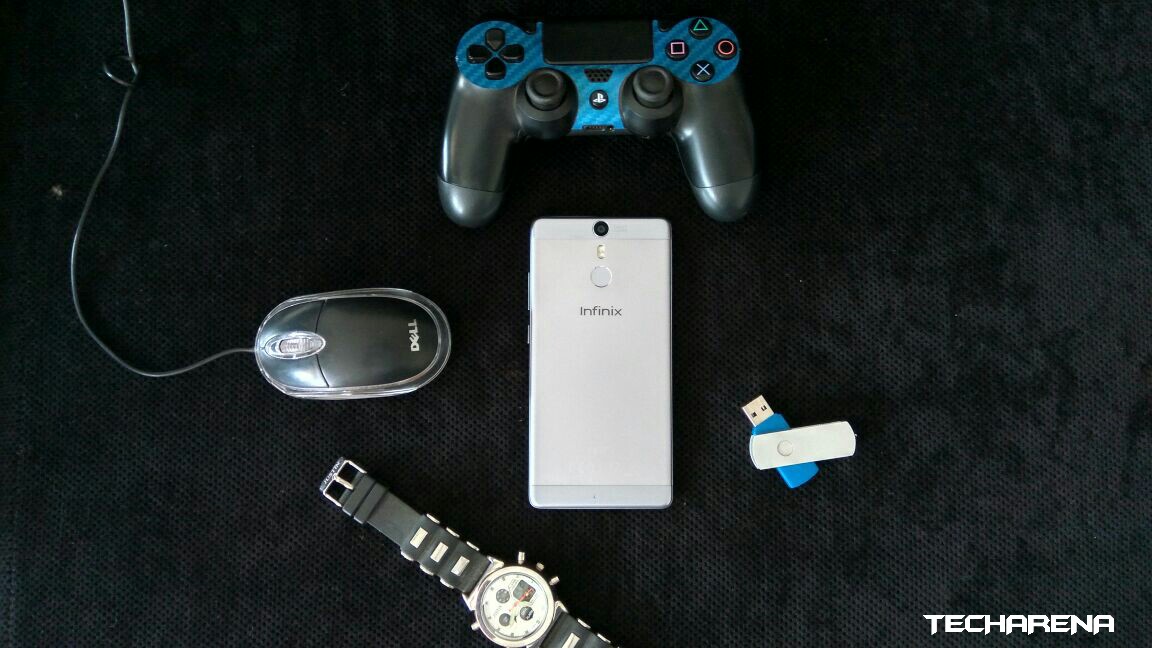 Better late than never right? Well this applies to both this review and the device being reviewed. Well, we've had the Infinix Hot S for a while and here's what we loved, didn't like so much and maybe even hated about the Infinix Hot S.
Design and Look
S is for Stylish
5.2" 720P Display means the phone fits perfectly in the hand. The subtle curves on the edges and the aluminum build feel slippery but really premium. I like the combination of the black front with the silver back. The textured power button makes it really easy to find and use. We have two speaker grills at the bottom, but only one is an actual speaker. The display does get bright enough for outdoor viewing which is great, but this becomes an issue when you are in the dark – the display is just too bright and lowering the brightness manually does nothing to help. Overall, the design is impressive and fits into multiple lifestyles.
Downside, those navigation buttons are too old Infinix, time to move on? Plus the top and bottom sections of the back are made of plastic (to aid with cellular reception) but this means they scratch easily. Getting a decent looking cover won't hurt.

Software, Performance and Battery
S is for Satiable
The Infinix Hot S runs Android 6.0 Marshmallow with XOS on top. XOS is a clean and beautiful UI but with issues that make me wish they had stuck to XUI. For instance, you cannot uninstall an app from the launcher and also all the apps add themselves to the homescreen – iOS like, which beats the purpose of having an app drawer anyway. I solved this by installing Nexus Launcher and things look just the way I like it.
When it comes to performance, things are good. The 2GB RAM does a good job at keeping the lags at bay but not always. Occasionally, the phone will stutter here and there. Takes forever to load even simple games but if you're the social media only kind of person, you'll have no problems with the Infinix Hot S performance.
Battery life on the Infinix Hot S is just ok. 3000mAh, nothing more. You can get through the day, that's from 7am to 6pm if you're on wifi and even a couple more hours if you're not connected to the internet at all. If you're constantly on mobile data, you'll hardly get to 3pm. Good thing, there's fast charging aboard the Infinix Hot S.
Camera
S is for Sumptuous
I'll cut to the chase, the 13MP main camera on the Infinix Hot S shoots better than that on the Tecno Camon C9. Color reproduction is not perfect but it's far much better than other devices at this price range. Dynamic range is also good enough for decent daylight shots. Lowlight performance is not comparable to the Tecno Camon C9 but it's decent enough. The front camera is an 8MP shooter with soft flash and it performs good enough for low light selfies and even better in broad daylight.
To cover it all, the cameras on the Infinix Hot S, coupled with the default camera app will make most people happy. For social media sharing and for memory keeps, the Infinix Hot S does not disappoint.
Fingerprint Reader
S is for Security
In this day and age, a phone without biometric security feels like its missing a very important feature. Infinix Hot S does not hold back on this. It has a fingerprint reader at the back which is a position where the index finger rests naturally on the back of the phone. Unlocking is a breeze, I have used faster readers but Infinix Hot S is fast enough. You can use the fingerprint reader to take photos, scroll the gallery and even pick calls. You can add up to 5 fingers, if you must! The accuracy is not that impressive. I do get a couple of misreads throughout the day, whether this can be attributed to software or the use of cheap hardware, it's something that you might notice more than you should.
In A Nutshell…
Not all is a bed of roses for the Infinix Hot S. I do wish we had a 1080P display on board, more appealing navigation buttons (or at least backlighting) and why did Infinix have to put a ring around the front camera? Other minor aspects of the Infinix Hot S, such as XOS, the unnecessary X -Apps and the sometimes annoying misreads by the fingerprint reader and somewhat unimpressive battery life are a constant reminder that Infinix Hot S isn't perfect but a strong contender in the mid-range category.
Infinix Hot S does stand-out and it doesn't leave you with debts while doing so.
Also Read: The Infinix Hot 4 (X557) Review