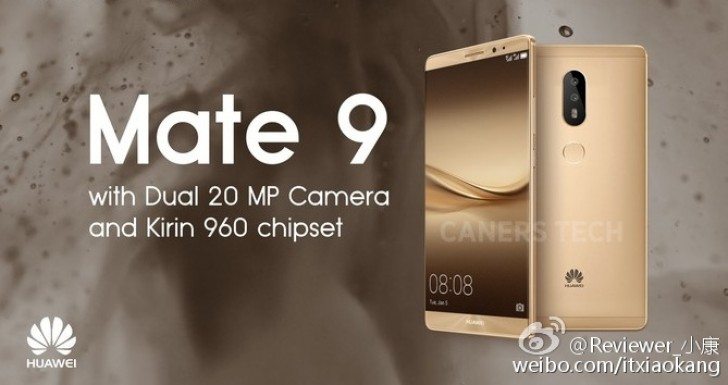 Huawei recently unveiled the Nova and Nova Plus Smartphones that target the mid range market segment. These are not the only Smartphones that the company has been working on this year, we are still expecting the Huawei Mate 9 that we initially thought the company was going to unveil at its IFA event that saw the unveiling of the Nova and Nova Plus.
Launching the Nova and Nova Plus at IFA was a bold move by Huawei as this could have backfired and worked against the company in favor of other manufacturers. This did not happen and in the end it worked perfectly for the company.
With the Nova devices out of the way, we are getting information that the company will be launching the Mate 9 on November 9. This was revealed on Weibo by a tipster who confirmed that the Mate 9's release date is November 9. Huawei has still not confirmed this and so we will treat these as rumors, at least for now.
We are still not sure if Huawei will be launching the phone on November 9 or if this will just be an announcement. Even if this is just an announcement, I still expect the Mate 9 to hit retail stores a few days or weeks later. Huawei cannot afford to miss the holiday shopping Window and has to have this device on the market by then.
Some of the specs we expect on the Huawei Mate 9 include a 6 inch display with a Quad HD resolution. It will be powered with the unreleased Kirin 960 processor which rivals the Qualcomm Snapdragon 821 processor. As for RAM, we expect the Mate 9 to come with either 4 or 6GB of that, we may end up having both variants targeting different markets.
We have also heard that the Mate 9 comes with a dual camera setup at the back, this is the same setup found on the Huawei P9. With these specs, the Mate 9 looks like an interesting device, am excited to see what it offers.
Also Read: Promo Image Confirms That the Huawei Mate 9 Will Have a Dual Camera Setup