We were all expecting to see the Huawei Mate 9 Phablet few weeks ago at IFA 2016 but the company came out and announced that the phone will not be there. since we did not see the phone at IFA 2016, we are expecting Huawei to unveil it anytime between now and the end of the year.
With that said, we have a new promo image leaked that shows that the Huawei Mate 9 will come with a dual 20MP cameras at the back and a Kirin 960 chipset. We have heard rumors of the dual camera setup before but this new promo image confirms its existence. As for the chipset, we were expecting the HiSilicon Hi3660 one but it looks like that is not the case.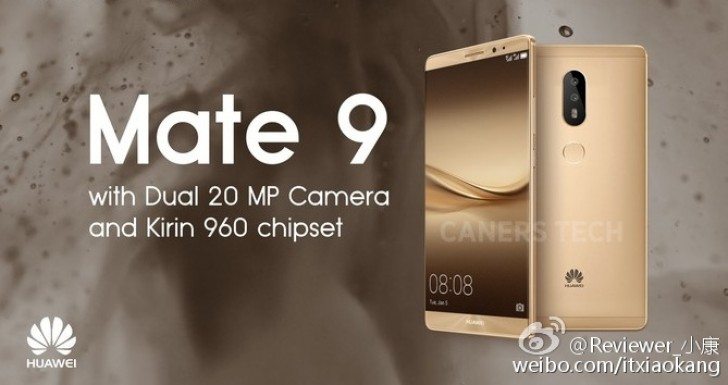 The 20MP dual cameras are certified by Leica just like the 12MP ones on the company's flagship, the Huawei P9. Besides the camera, the Huawei Mate 9 is expected to come with premium specs since it is a flagship phablet from the company. Some rumors have hinted that the RAM on this device will be 6GB which will be a huge deal for the company.

For the display, the Mate 9 will have a 6 inch one with a resolution of 1920 x 1080 pixels, this is the same display the company used on the Mate 8. As expected, the Mate 9 will come with Android 7.0 Nougat with Emotion UI 5.0 on top. I am yet to see EMUI 5.0 in action so I cannot comment on what it offers at this time.
We will know more about the Mate 9 in the coming days and weeks so keep it here to learn more about it as information trickles in.