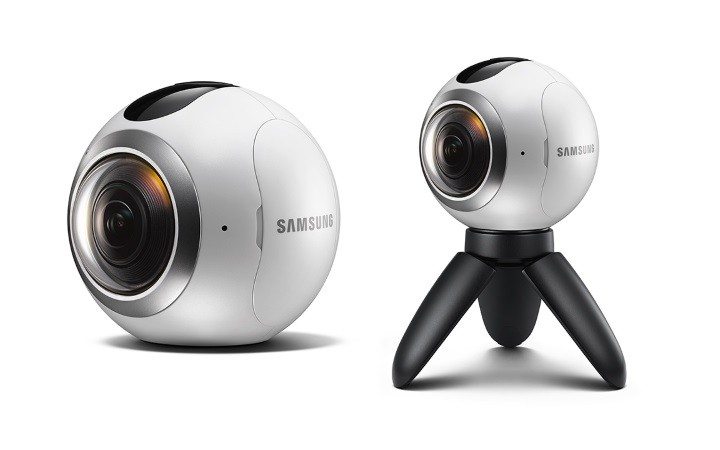 Samsung unveiled its latest flagship devices, the Galaxy S7 and Galaxy S7 Edge smartphones. These were not the only two devices Samsung unveiled yesterday as the company also introduced the Samsung Gear 360 which is a camera that can record everything around you at once.
The Samsung Gear comes with dual fisheye lenses both of which have 15MP sensors. This camera makes use of Samsung's technology that allows users to create their own virtual reality to enjoy the content on their Gear VR sets.
With the Samsung Gear 360, users will be able to shoot 360-degres videos with a resolution of up to 3,840×1,920 pixels. This camera is also able to shoot 30MP photos. Since it has dual fisheye lenses, you can decide to use just one of them and this allows you to shoot 180 degree wide-angle videos and images.

To give you an exceptional performance in low-light conditions, Samsung has included a Bright Lens F2.0 on the Gear 360. The company says this lens is able to create high resolution images under these conditions.
Compatibility
As expected, the Samsung Gear 360 is compatible with the latest Samsung devices that include the Galaxy S7, Galaxy S7 Edge, Galaxy S6 Edge+, Galaxy Note 5, Galaxy S6 Edge, and Galaxy S6. It will be available in select countries as from Q2 of 2016.
If you want to see what the Gear 360 can do for you, check out the video below.
[youtube url="https://www.youtube.com/watch?v=77Hm0eBnLpo" width="560″ height="315″]
Read More: Introducing the Galaxy S7 and S7 edge, The Next Generation Smartphones