Samsung has started updating the Galaxy Note 4 to Google's latest firmware, Android 6.0 Marshmallow. This has been reported by Napidroid after one of their editors in Hungary got the update. Below is a screenshot of the same.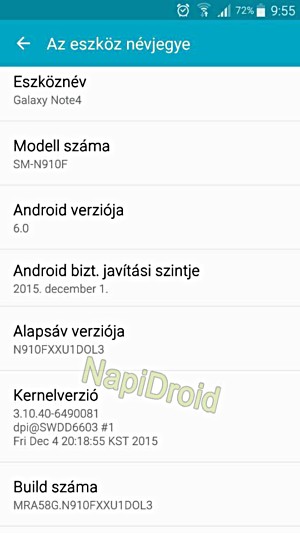 Samsung has not officially communicated this so it may still be testing it or the update. Even at this point, some of Samsung's other flagship devices released within the last 12 months have not been updated so it is strange to see the Note 4 being updated. Previously, we had reported that Samsung was planning to update some of its current flagships in December this year all way through to February next year.
Read More: Samsung's Roadmap to Update Its Current Galaxy Devices with Android Marshmallow Leaks Online

Android Marshmallow for the Galaxy Note 4 brings some needed feature to the device. Some of these include the Screen off memo function that allows users to start taking notes with the S Pen as soon as it is taken from its slot. This update also brings new icons, faster User Interface, smooth animations and Air command menu.
We will still be waiting for official communication from Samsung and see its plans on how to roll out this update to all its Galaxy Note 4 devices globally. Personally I was expecting Samsung to be proactive with updating its devices to Marshmallow. In my head, I was expecting Samsung to have started rolling out this update to its 2015 flagships. All in all, it is nice to see Samsung has plans to roll out Android marshmallow to its devices.
Read More: Android KitKat is Still The Most Popular Version with Jelly Bean Following in at Second Place