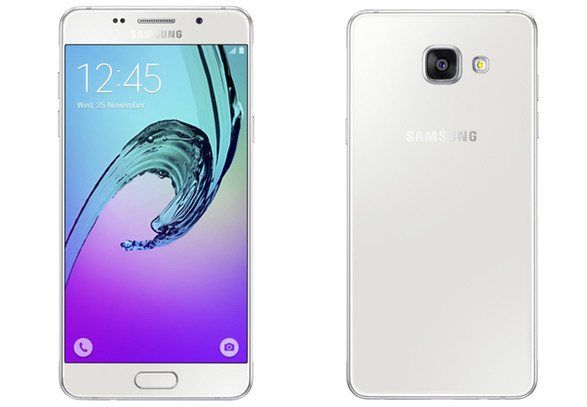 Samsung yesterday unveiled three new devices under its Galaxy A lineup. These three are the Galaxy A3, Galaxy A5 and the Galaxy A7 for 2016. These three devices will be launched in China in about a week or two before expanding to other markets.
The Samsung Galaxy A3 (2016)
The Samsung Galaxy A3 comes with a 4.7″ Super AMOLED screen with 720p resolution. Samsung hasn't confirmed which processor is powering this phone and all we know it will be an Octa Core one. The RAM will be a 1.5GB one while storage will be 16GB.
The phone has a 13MP camera at the back with a 5MP one in front for selfies and video calls. This is very impressive if you ask me even though it is something I expected from a Galaxy A device. The phone is available in dual-SIM version and is 4G ready. Providing all the power to the Galaxy A3 is 2,300mAh battery.

The Samsung Galaxy A5 (2016)
The Galaxy A5 for 2016 has a 5.2 inch Super AMOLED display with a full HD resolution of 1080p. This is an upgrade from the original Galaxy A5 which has a 5 inch display with a 720p resolution. Powering the Galaxy A5 (2016) is an octa-core processor, Samsung has not confirmed its exact model. It will have 2GB of RAM and 16GB of internal storage space.
A 13MP camera (with Optical Image Stabilization) sits at the back of the Galaxy A5 with a 5MP camera at the front. At the back also sits a fingerprint reader for enhanced security. Just like the Galaxy A3, the Galaxy A5 will have dual-SIM support. For the battery, it will have a 2,900mAh unit.
The Samsung Galaxy A7 (2016)
The Galaxy A7 for 2016 will come with a bigger 5.5 inch Super AMOLED display with a 1080p resolution. It will be powered by a 1.6 GHz octa-core processor and will have 3GB of RAM and 16GB of storage space.
At the back it will have a 13MP camera and a 5MP front facing camera. It will have a bigger 3300mAh battery that supports fast charging.
As for pricing, the Galaxy A3 will retail for $329 (approximately Ksh 34,000), the Galaxy A5 for $399 (approximately Ksh 41,000) while the Galaxy A7 for $499 (approximately 51,000).
Read More: The Successor to the Samsung Galaxy J1 Will Have a 4.5 Inch Display