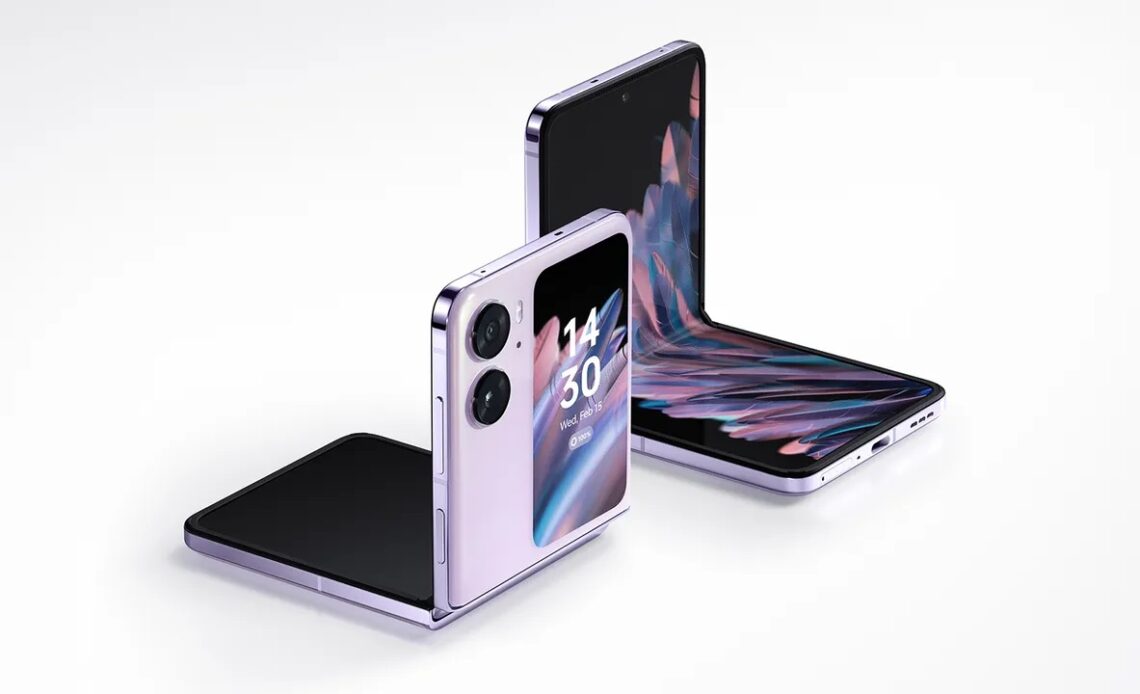 The Kenyan smartphone market about to witness an exciting addition with the upcoming launch of the Oppo Find N2 Flip next week. Samsung is leading the way with its Galaxy Z Fold and Z Flip series. Other manufacturers like Tecno also have their foldable devices locally and now Oppo wants a share of that pie. Oppo is set to launch, the Oppo Find N2 Flip, in Kenya on May 30th, 2023. This will be the company's first foldable device to officially launch in Kenya.
Compared to the Galaxy Flip series, the OPPO Find N2 Flip boasts a larger cover display, that Oppo says will provide users with enhanced viewing experiences, convenient notification access, and greater control over features without the need to unfold the device. This added versatility creates exciting possibilities for users to make the most of their foldable smartphone without compromising on functionality.
The Oppo Find N2 Flip has a sleek and polished design that seamlessly folds in half, resulting in a neat square shape with no visible screen gap. With a thickness of 16mm when folded and weighing 191 grams, the phone strikes a balance between portability and durability. Its hinge mechanism is smooth and sturdy, ensuring a satisfying folding experience without any noticeable gaps or creases on the screen.

OPPO Find N2 Flip Specifications
While Oppo's durability claims are yet to be tested extensively, the Find N2 Flip is rated to withstand 400,000 folding cycles, double the 200,000 cycles advertised for Samsung's Z Flip 4. This endurance equates to around 100 openings and closures per day for ten years, It is worth noting that the Find N2 Flip's durability against water and dust is not certified with an IP-rating, unlike Samsung's offering.
The Oppo Find N2 Flip's cover display is a standout feature, offering a generous 3.26-inch size and a 9:17 aspect ratio. This larger screen real estate allows users to access a range of functionalities without having to unfold the device. Oppo has addressed a common complaint with the Samsung Z Flip 4 by allowing users to edit pre-canned messages directly from the cover display. Additionally, built-in widgets make effective use of the cover screen, enabling features like camera viewfinder, weather updates, and timers. The Find N2 has a 6.8-inch internal foldable display with a resolution of 1080 x 2520. These displays have peak brightness reaching up to 1600 nits and a 120Hz refresh rate.
Powering the Oppo Find N2 Flip is the Mediatek Dimensity 9000+ chipset, paired with 8GB of RAM and 256GB of storage. This combination ensures smooth and responsive performance, ideal for multitasking and demanding applications. The phones does come with ColorOS 13, based on the latest Android 13 operating system.
Ensuring the phone stays on is the 4300mAh battery that supports 44W SuperVOOC.
OPPO Find N2 Flip Price and Availability in Kenya
At this point, we do not have the pricing information but I will update this article when I get that information. The phone is launching in the country next week and should be available on pre-order or in retail stores from then.
Also Read: OPPO's First Tablet, the Pad Air, is Now Available in Kenya for Ksh 34,999