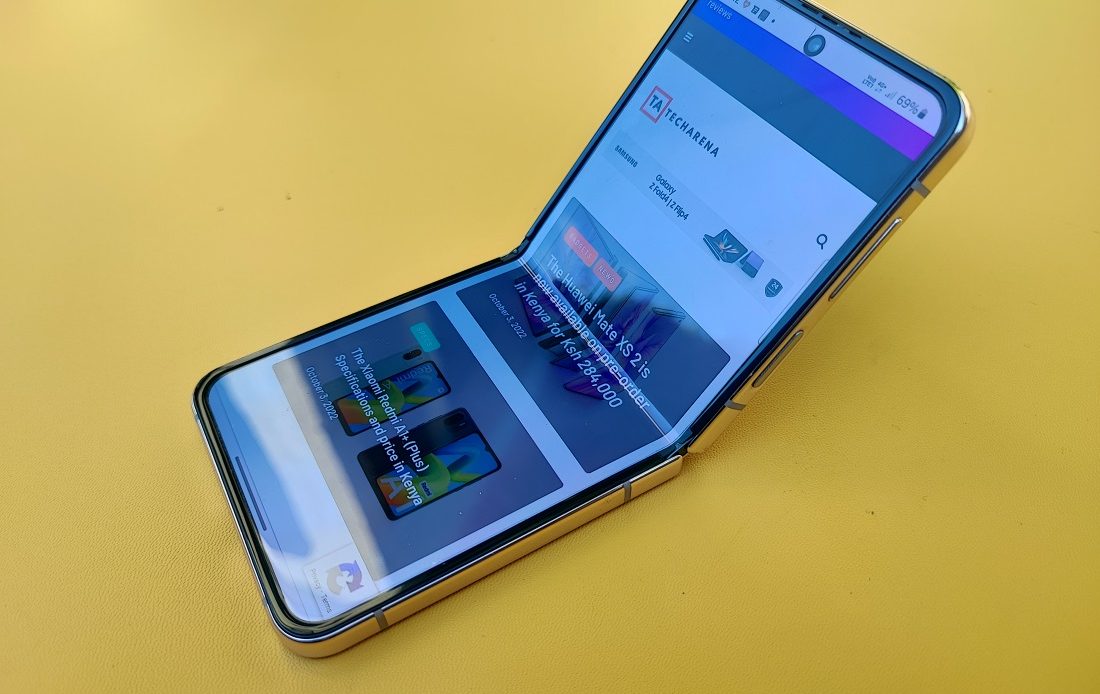 The Samsung Galaxy Z Flip 4 is  the latest flip phone  from the company to launch in Kenya. This phone is available locally from Ksh 142,000. On paper, the  Samsung Galaxy Z Flip 4 isn't a massive upgrade over last year's Flip 3. In reality, there are some notable upgrades including a bigger battery, tougher design, a faster processor and upgraded cameras. 
I have been using this smartphone for over a month and in this review I will be sharing my experience on that.
Before getting to the review, have a look at some of its key specifications.
6.7″120Hz Dynamic AMOLED display

1.9″ sAMOLED cover display

Snapdragon 8+ GEN 1 processor

Android 12

12MP dual cameras

10MP selfie camera

Up to 8GB RAM/512GB storage

3,700mAh battery with 25W fast charging
Design and Build
The flip form factor has been around for years and Samsung is banking on its comeback with the Galaxy Z Flip4. It's light and handy, easy to use with one hand, not bulky at all unlike the Galaxy Z Fold 4, and great form factor all-around.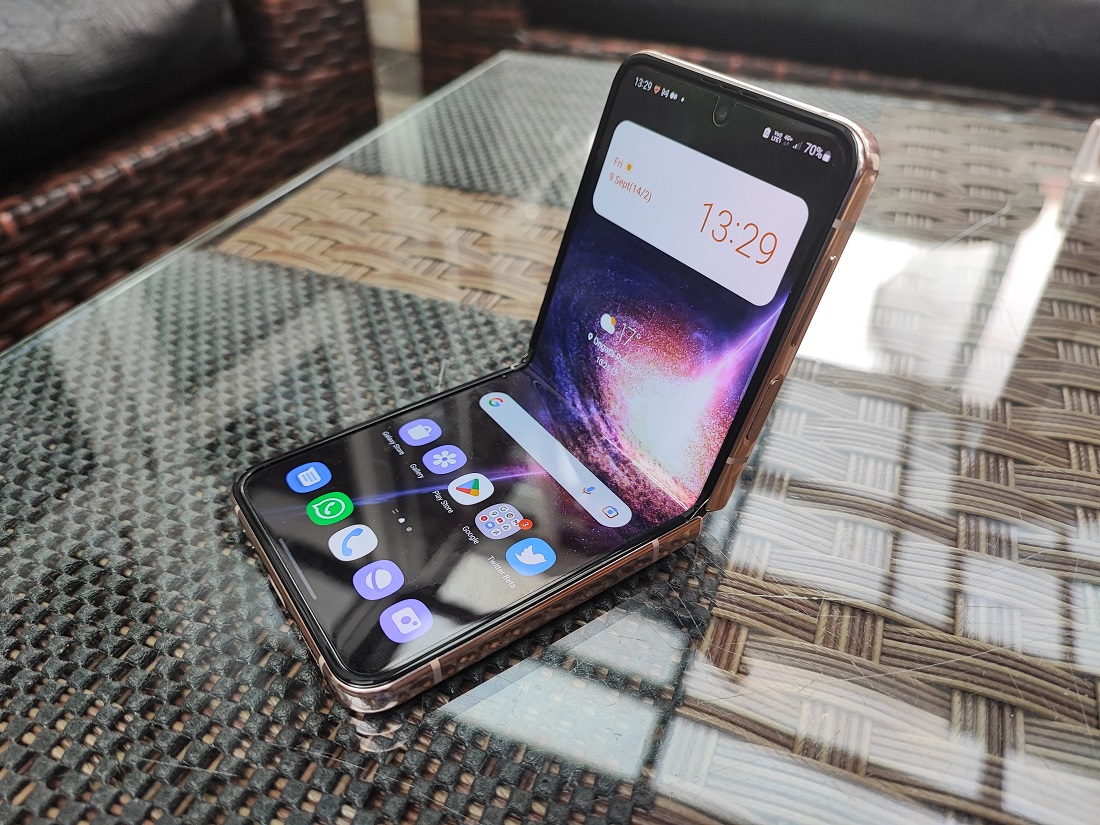 Samsung has somewhat "perfected" the flip form factor so not much has changed between the Galaxy Z Flip 3 and the new Z Flip 4 in terms of design. Besides the hinge, all the rest of the changes done here are purely cosmetic in nature and it's really up to personal taste.
Samsung claims to have factory-tested the new hinge mechanism to last an average of 200,000 flips so you are guaranteed that it will last quite a long time before the mechanism wears off or breaks down.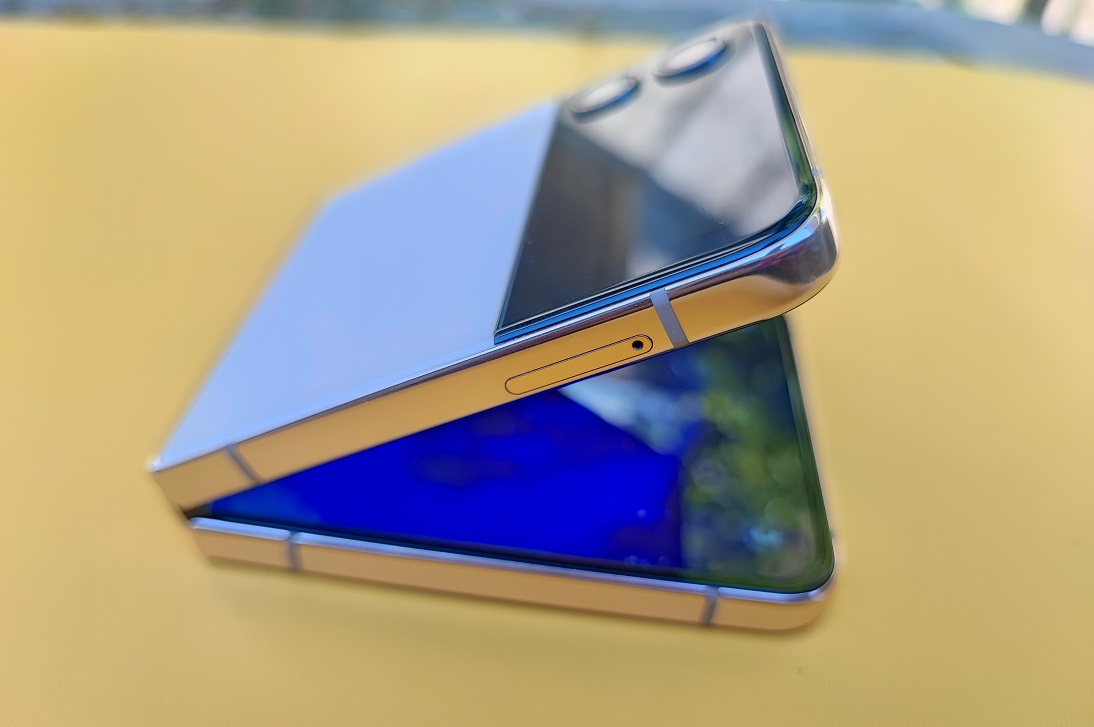 The Galaxy Z Flip 4 also has an IPX8 Rating for dust and water resistance of up to 1.5 meters in under 30 minutes. Also, note that this phone only comes with only one nano-SIM tray and no microSD card slot which could be a bummer for those wanting to expand storage and use a secondary line.
Display
The main display is a 6.7-inch full HD+ Dynamic AMOLED with a resolution of 2640x 1080 pixel resolution in a 22:9 aspect ratio and 120Hz adaptive refresh rate.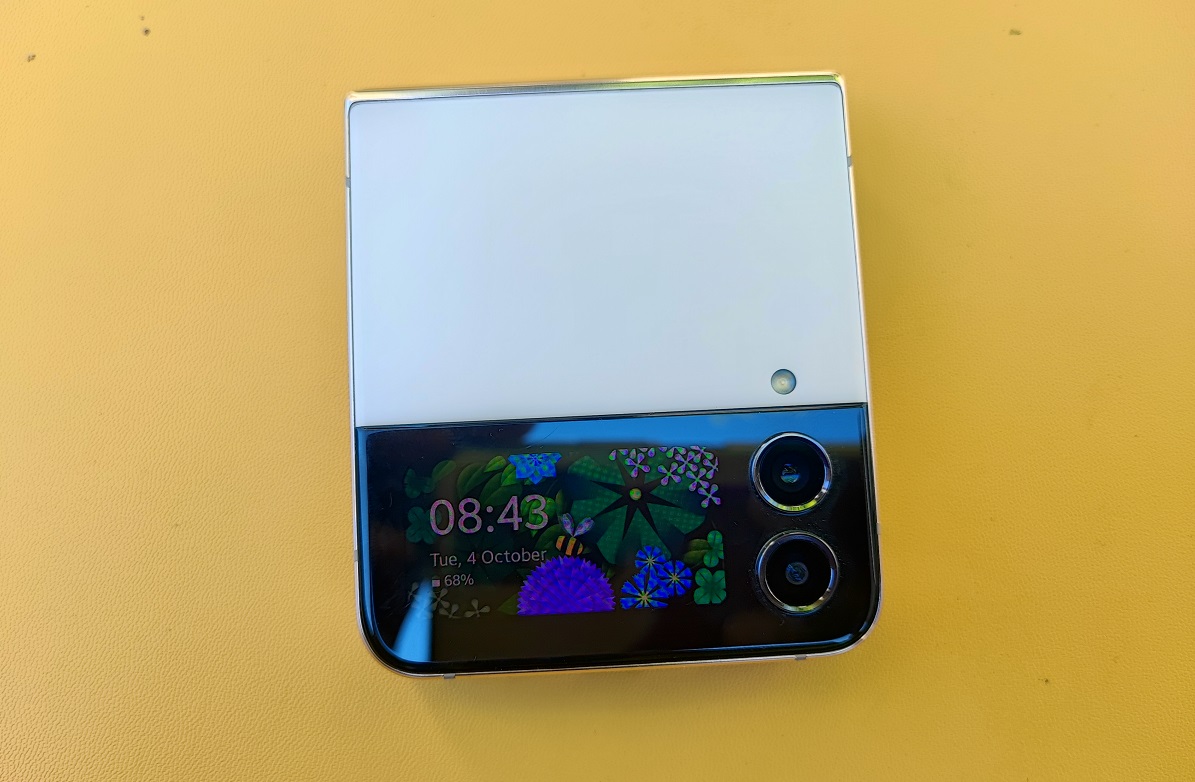 The Cover Screen on the other hand l has a 1.9-inch Super AMOLED Display with a 260×512-pixel resolution and is protected by Gorilla Glass Victus+.
The inner display is still made with a combination of ultra-thin glass  and plastic in order to achieve a balance between durability and flexibility. There's an initial layer of glass then topped with polycarbonate material which makes it look like glass but feels like a plastic screen protector. This is not as tough as the outer display and is more prone to scratches or creases. 
The display quality is very good with images having crisp with vivid colors, bright enough for the outdoors and very responsive with that 120Hz refresh rate. You won't really notice any difference between this flexible display and the typical AMOLED display of other Samsung phones.
Performance and Software
The Galaxy Z Flip4 is Android 12 with One UI 4.1.1. It's the familiar One UI of Samsung but this time they added some significant changes in the interface.
The Cover Screen has also been expanded to include more usable features like video wallpapers and picture avatars, shortcuts to often-used settings and be able to reply to SMS and make calls straight away.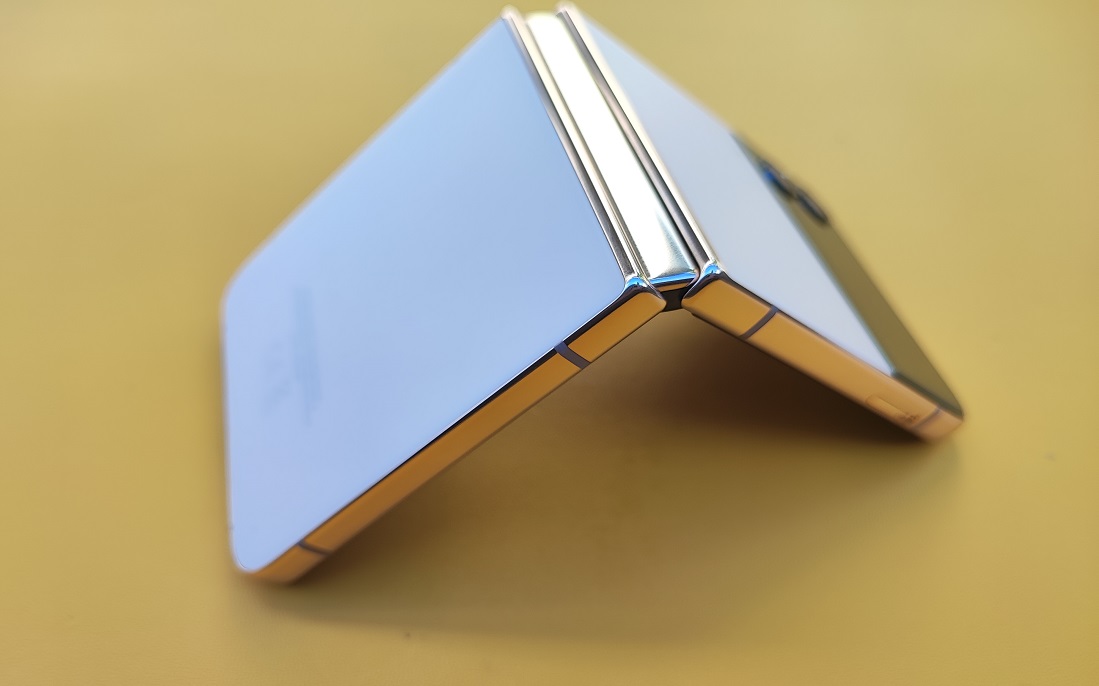 The Samsung One UI is actually very clean and simple but has a lot of features and customizations under the hood. 
The Galaxy Z Flip 4 is powered by the Snapdragon 8+ Gen 1 chipset which is paired with 8GB of RAM. You have storage options of 128GB, 256GB and 512GB. It still feels fast and responsive, handled multiple apps quite well and performance in mobile gaming was all smooth.
Cameras
The Galaxy Z Flip 4 carries the same set of cameras as the Z Flip 3, at least on paper. Samsung claims they've improved the low-light capabilities of the main cameras .
The main camera is a 12MP wide-angle while the secondary camera is another 12MP ultrawide angle. 
Photos look good with vibrant colors, nice contrast and sharp.Video quality is very good and can record up to 60fps in 4K.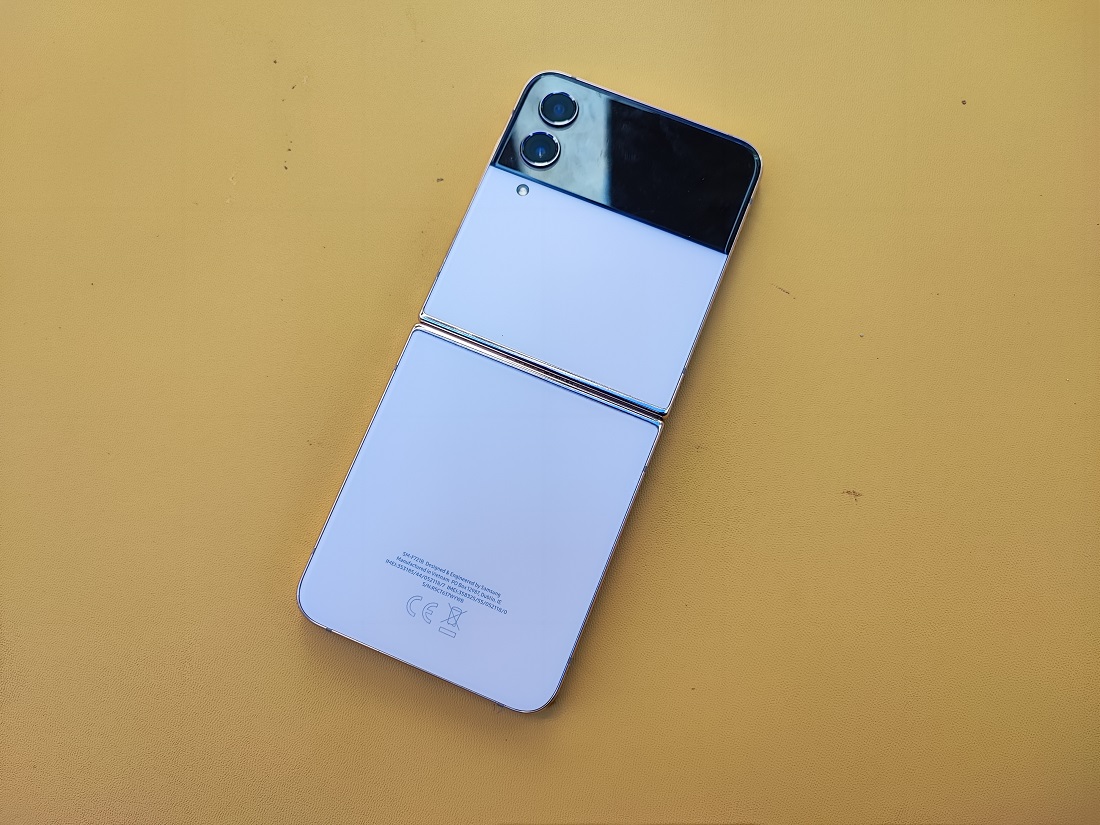 The flip camera mode allows you to fold the device at 45-degree angle and shoot photos and videos with the first half of the screen as the camera display. It can be useful for shooting footages with one hand. 
You can also shoot selfies using the main camera and frame the photo using the outer display or Cover Screen by double-tapping the power button.
Battery
The Flip 4 comes with a 3,700mAh dual battery, a slight increase in capacity from the 3,300mAh of the Flip 3. It's still not that large compared to other conventional smartphones but still a welcome improvement. The foldable form-factor somewhat helps reduce battery usage since the 1.9-inch Cover Screen doesn't eat up that much juice.
Super Fast Charging support is up to 25W which can do 50% charge in just 30 minutes. 
Verdict
The Galaxy Z Flip 4 is quite an upgrade from its predecessor. Very similar design, same display, almost identical camera, and RAM. On the other hand, it's got the latest chipset, a bigger storage option, and a larger battery capacity.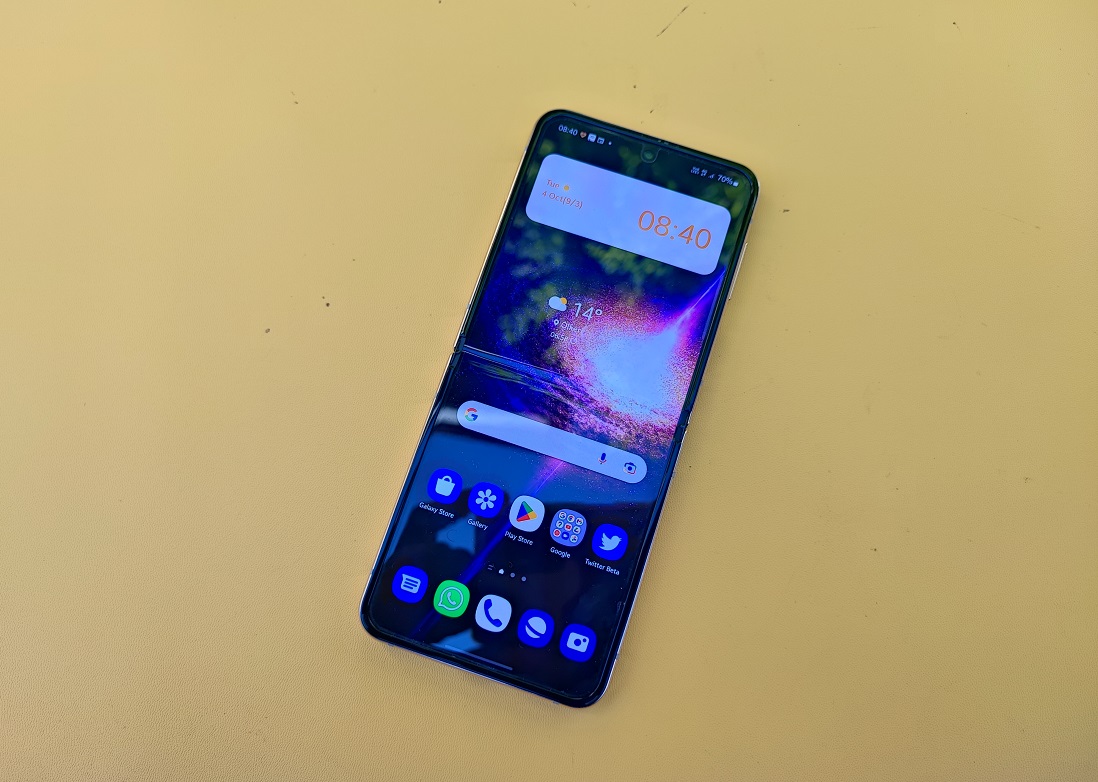 It is a beautiful flip phone and one of the best there is on the market today. Foldable phones are in another category altogether should not be compared with your typical flagship phones as there are technical challenges and limitations that come with the novelty. Nevertheless, they're pretty close to the ideal.
The one disappointment I still have is with the battery. It is just not enough for such a powerful smartphone. I could rarely get it to last an entire day on a single charge.
Read: Buying a New Phone? Here's What You Should Know about Samsung Galaxy A73 5G