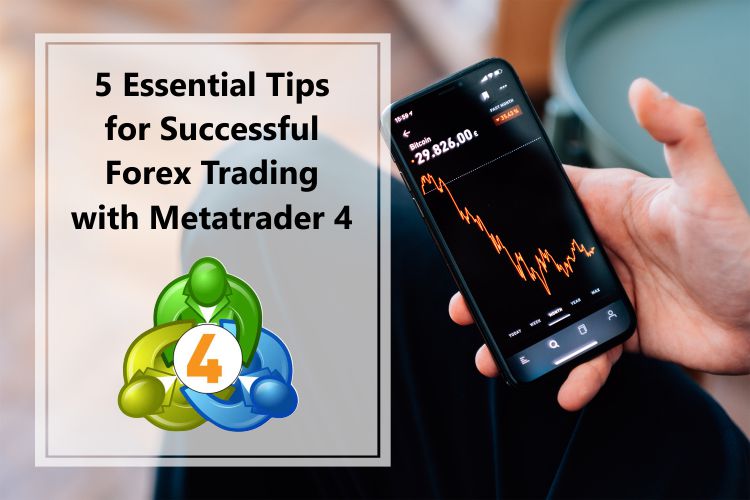 When trading the forex market, having the right tools and strategies is crucial for success. MT4 is a widely acclaimed trading platform with powerful features and capabilities to enhance your trading experience.
In this article, we will explore five essential tips for successful trading Foreign Exchange with MT4.
Tip 1 – Master the Basics of MT4
To maximise your trading potential, it is essential to master the basics of MetaTrader 4. Here is what you need to know:

Navigation: Familiarise yourself with the platform's interface, including the main menu, toolbar, and market watch window. Most reputable brokers typically offer resources and tutorials to help you navigate MT4 effectively.
Charting Tools: Learn to use MT4's charting tools, such as different chart types, timeframes, and drawing tools. These features enable comprehensive technical analysis.
Tip 2 – Use Technical Analysis Tools
Technical analysis is a vital component of Forex trading. Here is how to leverage MetaTrader 4's technical analysis tools:
Indicators: MetaTrader 4 offers a vast library of technical indicators. Experiment with moving averages, MACD, and RSI indicators to identify trends, momentum, and potential entry/exit points.
Customisation: Customise the indicators and chart settings to suit your trading strategy and preferences. Your forex and CFD broker's support team can guide you through customisation.
Tip 3 – Use Expert Advisors and Automated Trading
MT4's Expert Advisors (EAs) and automated trading capabilities can streamline your trading process. Here is how to make the most of them:
EAs: Explore pre-built EAs or develop your own to automate your trading strategies. Several reputable forex and CFD brokers typically support EAs, allowing you to execute trades based on predefined rules.
Backtesting: Before deploying an EA, back test it on historical data to assess its performance. This helps you gauge the effectiveness of the strategy before risking real capital.
Tip 4 – Implement Effective Risk Management Strategies
Risk management is paramount in Forex trading. Here is how to implement effective risk management with MetaTrader 4:
Position Sizing: Determine the appropriate size based on your risk tolerance and account size. You can easily use MT4's trade volume calculator to calculate position sizes accurately.
Stop-Loss and Take-Profit Orders: Always remember to set stop-loss and take-profit orders for each trade to limit potential losses and secure profits. Furthermore, Your trading platform typically will let you place these orders easily.
Tip 5 – Stay Informed and Educated
To succeed in Forex trading, staying informed and continuously educating yourself is crucial. Here is how to stay ahead:
Economic Calendar: Always stay updated with key economic events and their potential impact on the market using MT4's integrated economic calendar. This helps you make informed trading decisions.
Educational Resources: Traders can easily take advantage of their forex and CFD broker's educational resources, including articles, webinars, and tutorials. Moreover, continuous learning enhances your trading knowledge and skills.
Our Final Thoughts
Successful Forex trading requires skill, knowledge, and the right tools. You can elevate your trading game by mastering the basics of MetaTrader 4, using technical analysis tools, leveraging automated trading capabilities, implementing effective risk management, and staying informed through educational resources.
Also read: Best forex trading apps in Kenya