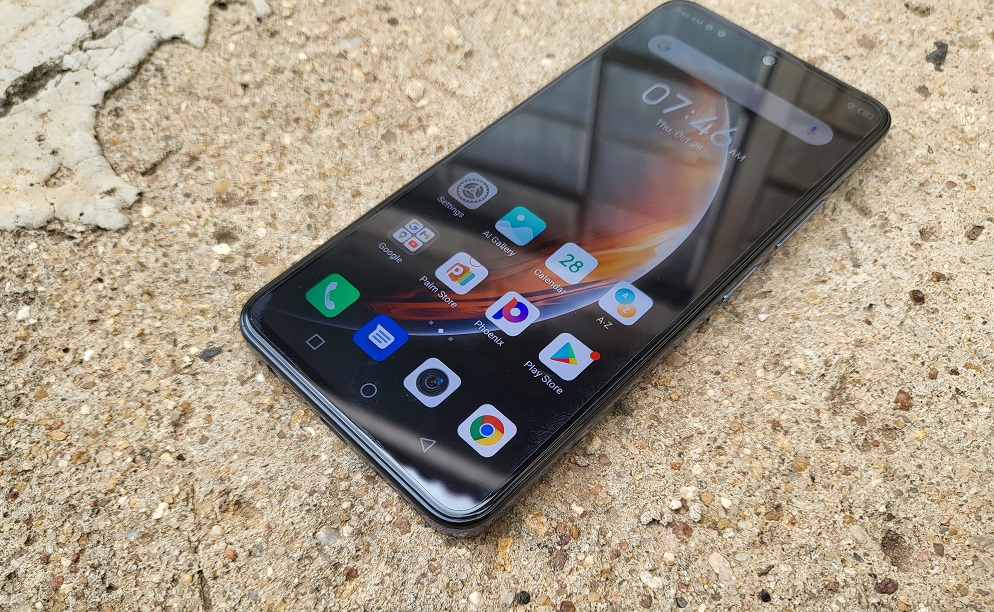 The Infinix Zero X Pro is one of the latest smartphones from the company to launch in Kenya. The phone is currently available in stores for Ksh 37,000. This is currently the most expensive smartphone from the company available in Kenya.
The Infinix Zero X Pro comes with a 108MP main camera at the back which has a 60X periscope moonshot camera and Infinix's Galileo Algorithm Engine, a top-notch software feature allowing a high resolution looking shot of the Moon. Users can capture a crisp image of the moon using Infinix's "Super Moon Mode" combined with the 108MP OIS main camera. This is the key selling point of this phone and it has really lived up to what it promises.
Read: Infinix Zero X Pro's Camera Rated the Best Smartphone Camera Under Ksh 40,000 by UberGizmo

I have been using the Infinix Zero X Pro for a few weeks and in this post I will be sharing my experiences on it. Before we get to the full review, let us look at the key specifications of this phone.
Display: 6.67-inch; 1080 x 2400 Pixels
Chipset: Helio G95
RAM: 8 GB RAM
Storage: 128GB
Rear cameras: 108MP Triple camera
Front camera: 16MP
Battery: 5,000mAh
Before we get to the details of what else the phone has to offer, let us first look at what you should expect to get in the box when you buy this phone.
The Infinix Zero X Pro
USB Cable
Wall Adapter for charging
Silicone Case
Earphones
Quick guide and Warranty card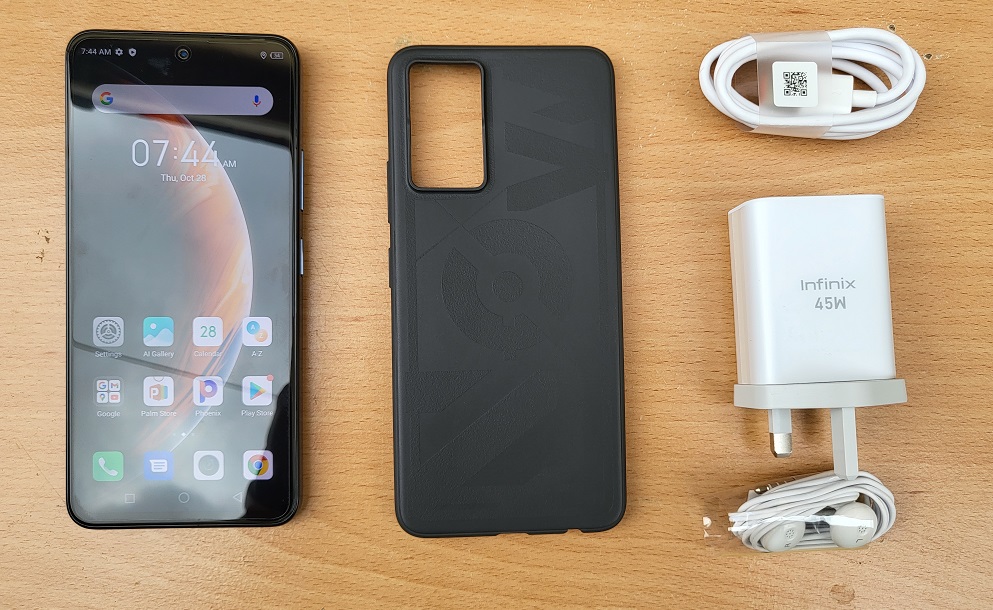 Design and Build Quality
The Infinix Zero X Pro is the company's flagship phone for 2021 and with that you expect it to have a fairly decent build quality. This is exactly what you get as the phone looks and feels like it should be the flagship. It has the quintessential design we have always seen on Infinix Zero devices. This is a boxy design that does look different and feels professional.
The phone is definitely a head turner and you will attract attention every time you take it out of the pocket. The back is sparkly and this goes a long way in giving the phone a premium feel.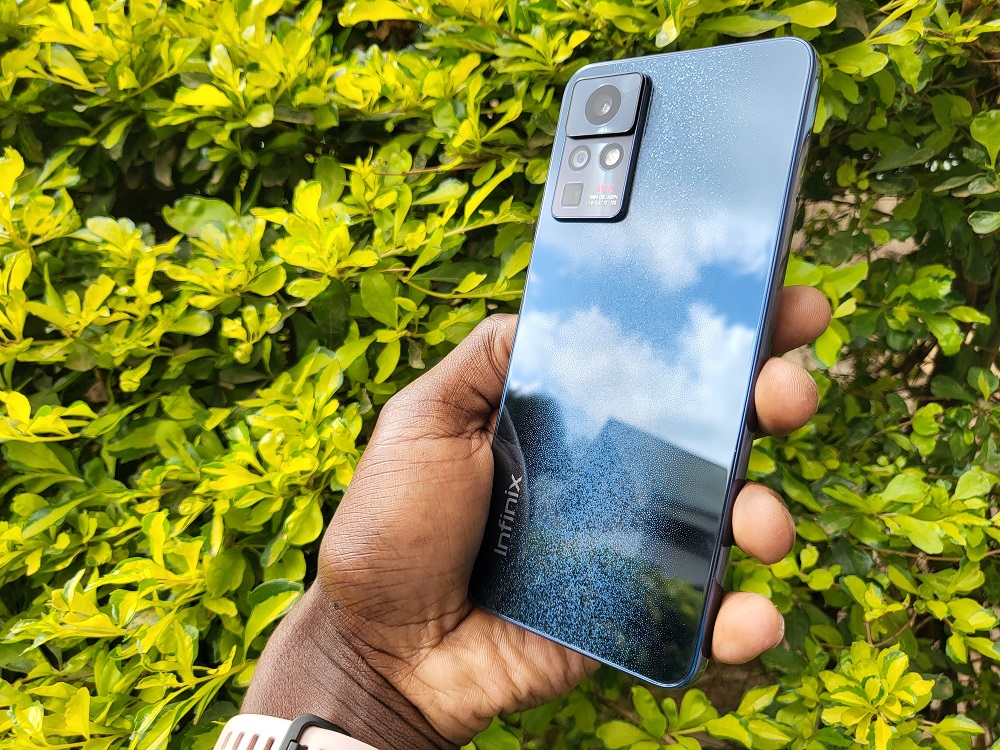 The build quality is great too. The phone does not feel slippery and there is a free back cover provided if you want to protect yours. I never got to use the back cover as I like how the Zero X Pro looks without one.
The camera module is the stand out feature at the back of the phone. It does really protrude and you will not miss it. This camera module is made up of a 108MP main sensor and two 8MP sensors.
Display
The Infinix Zero X Pro has a 6.67 inch display with a Full HD resolution. This display has a 120Hz refresh rate for smooth scrolling. You can set the refresh rate to automatically switch between 60Hz and 120Hz depending on your usage. 120Hz is perfect if you are gaming as it provides a better experience overall. It also uses more battery than 60Hz.
This display is very responsive with accurate colour reproduction. This is perfect if you watch movies and videos on your phone, you want the colour reproduction to be great and that is exactly what you get.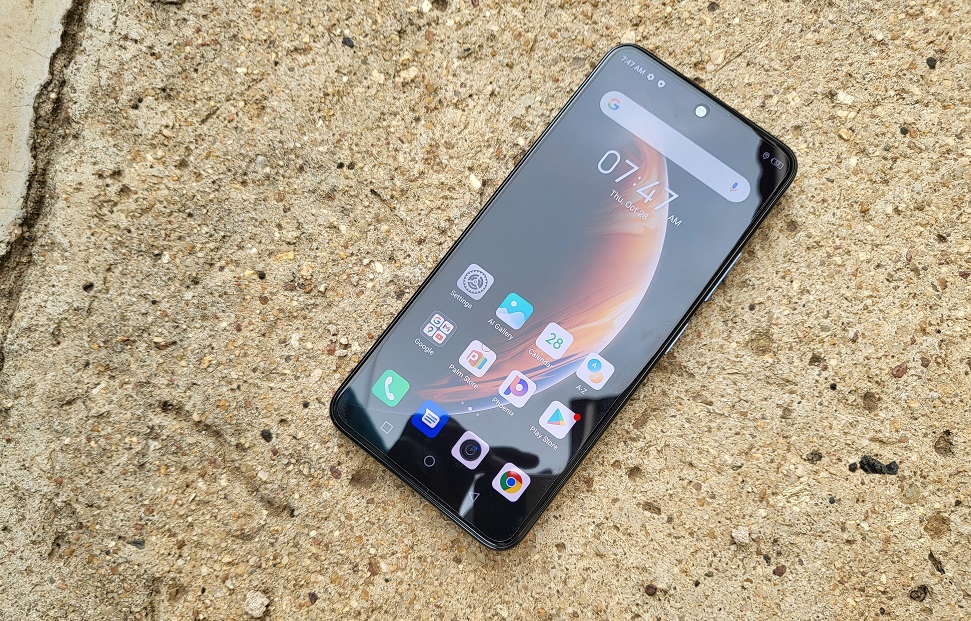 You will have no issues using this display under direct sunlight as it gets bright enough for that. Colours do not appear washed out when using this display under direct sunlight and that is what you expect from a flagship phone from any company.
Read: Infinix Zero X Pro Specifications and Price in Kenya
Performance and Software
The Infinix Zero X Pro is powered by the MediaTek Helio G95 processor that has been paired with 8GB of RAM and either 128 or 256GB of internal storage space. Performance has been great with the review unit I had, the phone could handle anything I throw at it without any issues.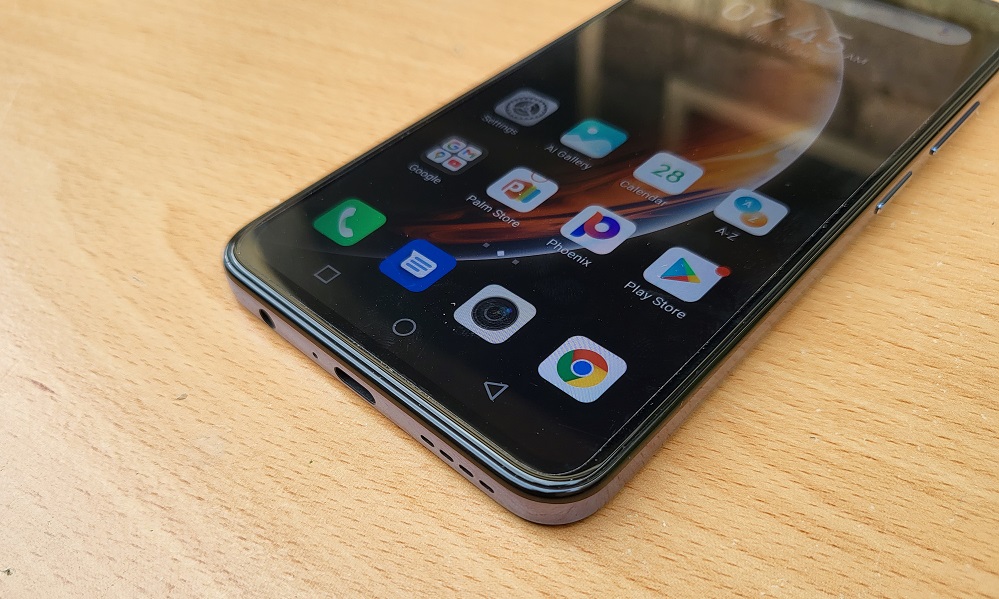 8GB of RAM is more than enough for multitasking for most people but in case it is not, you can expand the RAM to use a portion of the storage space. You can expand the RAM by up to 3GB.
For the software, the phone comes with Android 11 out of the box with XOS 7.6. There are some subtle changes to the OS but nothing major. Some of the changes you get include changes in the theme settings and features as well as some aesthetic changes.
Cameras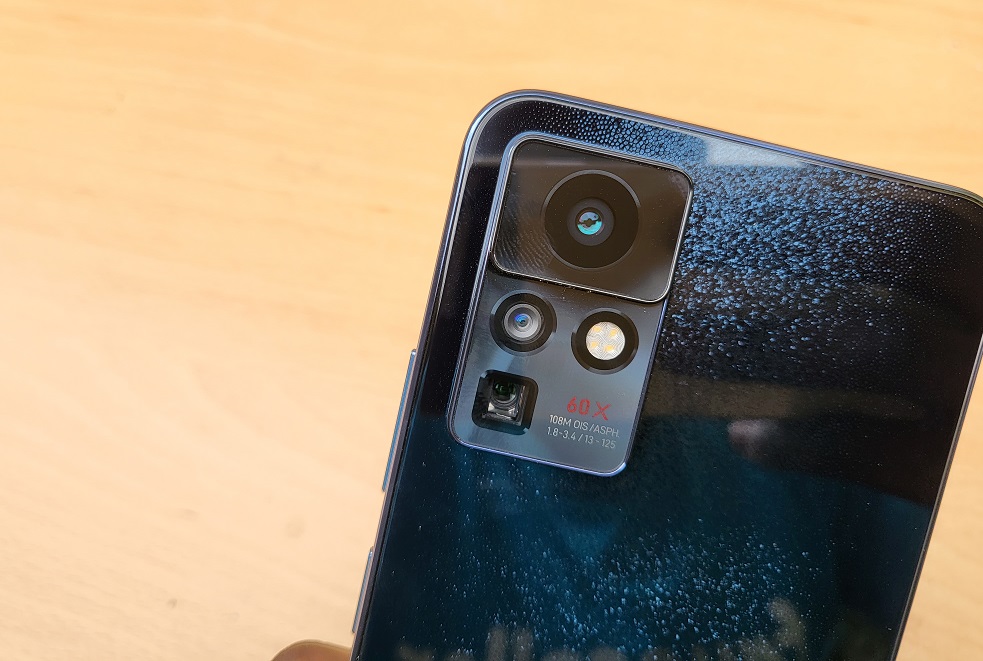 This is where the Infinix Zero X Pro shines and especially the Super Moon mode that make it easier to get detailed shots of the moon. You are not going to use this feature all the time but it just shows you how much time Infinix invested with this camera. Have a look at some of the shots below.
Besides the Super Moon mode, the back camera of the Zero X Pro takes some decently good shots. I noticed that some shots appear washed out especially when the light is too much. The dynamic range suffers in such cases but you can still get good photos.
Night mode is pretty good too, if you normally take photos when the lighting is not so good, this phone can help you take photos you will have no issues sharing online.
The selfie camera is also good with a very accurate portrait mode. Beauty mode is also quite good and can help clean up your selfies to your liking.
Battery
Infinix has always nailed it when it comes to its batteries. This is the case with the Infinix Zero X Pro which has a 4,500 mAh battery. This is a standard size that can easily last you an entire day on a single charge even with heavy usage.
There are some battery saving features built in to XOS that you can take advantage of to get the battery to last even longer.
If the battery is running low, you can top it up using the 45W charging adapter provided in the box. This speeds up the charging process and you can have an entire day of usage with just a few minutes of charging.
Conclusion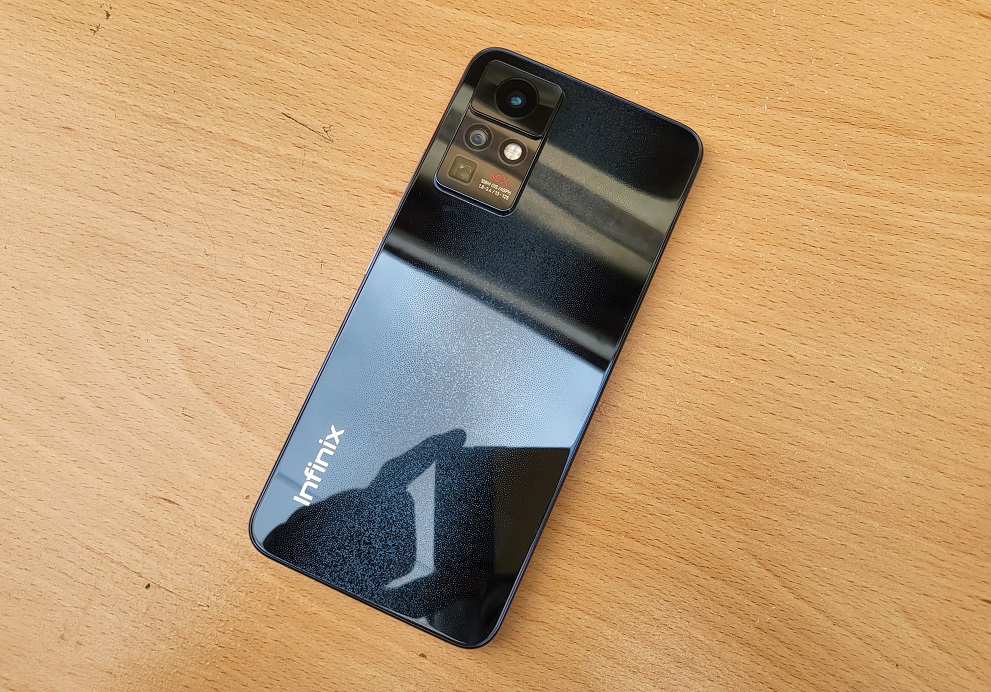 The Infinix Zero X Pro is the latest flagship from the company and it is worth the money. This phone is not Just about the camera. It does perform really well and is perfect for any kind of usage. I did not have any performance issues and even played a few intensive games and the phone was ok.
The build quality is top notch as expected and the phone does feel premium. I loved the design as it does stand out a bit.
At its price, the Infinix Zero X Pro is good value but I feel like the company is focusing more on the Super Moon camera mode which most people will not be using. The phone has a lot of good things going on about it and those should be its main selling points.
Now Read: Tecno Camon 18 Review