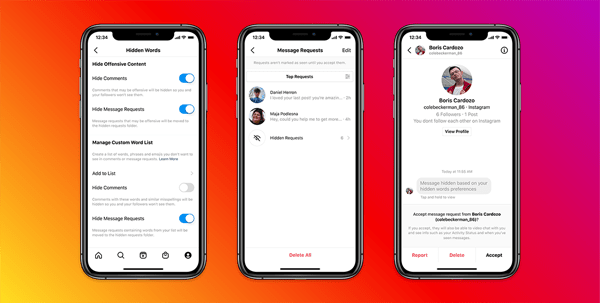 Instagram is rolling out a new feature to help combat abusive messages. The new tool will automatically filter direct messages containing offensive words, phrases, and emojis.
It works specifically for messages that land inside your DM requests folder, primarily where messages from people you don't follow are placed. The regular DM usually contains messages from friends – and other people you follow on Instagram. And, in extension, your Facebook friends, after the seamless integration between Instagram and Facebook Messenger.
It works by filtering messages based on a predefined list of words, emojis, and phrases considered offensive. Using the feature will automatically hide any messages containing such words from landing in your DM requests.

Instead, the filtered messages will be filed in another hidden requests folder. But you can still tap to uncover the messages if you want to see the contents. You'll have to turn on the feature manually, go to Settings and select Privacy Settings > Hidden Words.
"You then have the option to accept the message request, delete it, or report it," Instagram said.
Instagram says the feature will filter the messages on-device and "won't send any message content back to our servers." Unless you decide to report the message.
This tool widens the scope of Instagram's available tools targeted at combating abuse on the photo and video sharing app. You can also filter abusive comments via a feature that has been available on the platform.
Comment filter settings are also available under the dedicated Hidden Words section under Privacy Settings. You can choose who can comment on your posts – everyone, people you follow, or both those you follow and follow you back with comment filters.
You can hide certain comments and even select which terms people should not use while commenting on your posts. Instagram is also adding new terms to filter common misspellings of offensive words in the comment section.
DM requests filter feature will be rolling out "in several countries in the coming weeks." However, Instagram plans to expand it widely over the next few months. Another incoming future will toughen the chances of someone you've blocked from contacting you again with a new account.
Read Next: The Infinix Hot 10 T is Set for A Kenyan Unveiling Soon